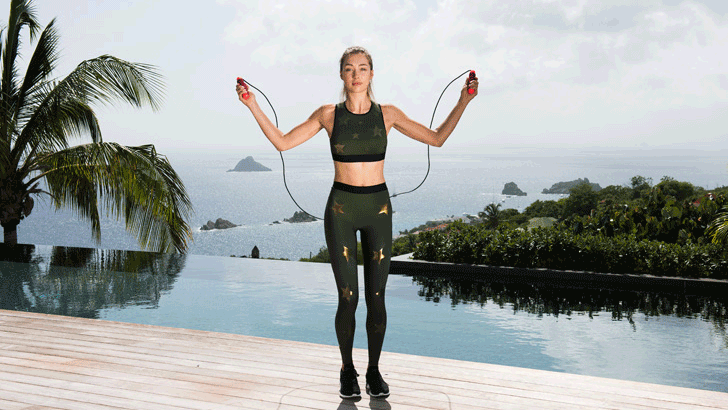 Fitness
6 Ways to Feel Your Best on Your Wedding Day
For best results, start a month before your big day.
If there is ever a time you want to feel like your best, we'd say that your wedding day is it. Whether it's an intimate affair with just you and your S.O. at city hall, or a full-blown four-day event with a hundred of your nearest and dearest in the South of France, having great energy and good health are as necessary as remembering your I do's. We caught up with trainer
Chase Weber
for his tips on how to sleep, work out, and eat your way to feeling your best.
---
Eat More Fiber

"When trying to trim down, aim to get at least 25 grams of fiber in your diet each day. Foods that are rich in fiber include pulses like lentils and beans; apples and pears with the skin; nuts and seeds; and cruciferous vegetables like broccoli and brussels sprouts."


Get More Sleep

"As much as we want to say that we have too much to do and there aren't enough hours in the day, sleep is one of the most neglected aspects of fitness. Of course, working out will help, but rarely do people talk about this hidden component. Sleep deprivation can increase levels of ghrelin (a hormone that promotes hunger) and can make you less likely to work out the next day."


Ditch the Coffee

"This may sound crazy—and also leave you a little cranky—but if you can minimize the coffee and transition to tea in the morning, it could be a game changer. Most people do not drink coffee black, let's be honest. After a couple cups of joe and some creamer, you have added almost a hundred calories to your day."


Add an Easy Ab Routine to Your Day

"Try to make a habit of doing some core work before bed and in the morning when you wake. It takes five to 10 minutes. Do sets of side planks at 60 seconds each, add in toe touches, Russian twists, and rocking hollow abs. Make it a habit, and you can [have] results in three weeks."


Try HIIT
"Add in a HIIT class that incorporates some kind of weight-lifting aspect to your week. As much as we want to say cardio is the best way, you still need to add in strength training. Muscle burns fat! These are not hard to find anymore. Favorites of mine are
Rumble Boxing
,
F45
,
Training Mate
."