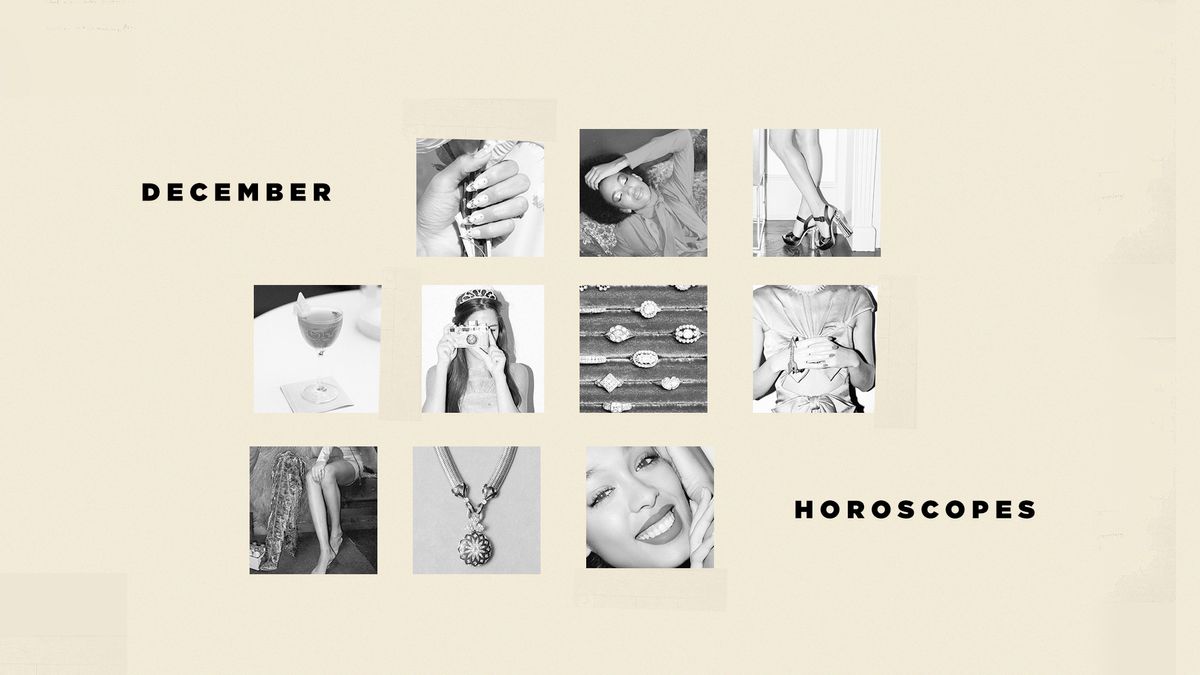 Horoscopes
Out with the old, in with the new.
For those who crave a fresh start, December is here to deliver. Sagittarius season is in full swing until the 21st—a festive time of year packed with transitions, indulgence, and good tidings. With only a few speed bumps in the first week, December begins on a relatively tempered note; all that changes with an invigorating Sagittarius solar eclipse on the early morning of December 14th. Eclipses are collective moments of "WHOA," usually marked by dramatic endings and beginnings on a personal and societal scale. The outcomes of eclipses are impossible to predict or influence, and are typically viewed as fated events; it's best to get comfy and let the chips fall where they may. If a door appears to be closing around this time, don't dismay—another door is bound to open soon.

While the fiery solar eclipse is certainly front-page news, it doesn't stop there: December 21st marks the "great conjunction," a prolific cosmic meetup of Jupiter and Saturn. These heavy-hitting planets are rendezvousing in Aquarius, the community-oriented air sign that encourages out-of-the-box thinking. This large shift from solid earth energy into boundless air energy is a once-in-a-lifetime occurrence, inviting us to reconfigure and refresh our social realms, especially as a collective. What are the new standards and styles?

Simultaneously, the season of Capricorn starts on the winter solstice, December 21st. Pragmatic Capricorn is a go-getter earth sign, and this time of year jives with conserving traditions and long-term thinking. Like a precariously perched mountain goat assessing the landscape during their ascent, Capricorns rarely take a step they aren't totally sure about. When Caps seriously commit to something, they follow through, an admirable trait during resolution setting. Capricorns and their worldliness remind us to respect the reality of situations: There's no going around the messiness of life, only through it—one step at a time.

A reflective full moon in Cancer on December 29th is ideal for looking back and honoring all that happened during this monumental year. It's an intimate, cozy start to new-year festivities, if not a little nostalgic—perfect for staying in with a warm beverage and blanket. Once the moon shifts into radiant Leo on the night of the 31st, expect lifted spirits and an optimistic entrance into 2021.
 

ARIES
Dream big, Aries. The entirety of December finds you bolstering your ambitions and committing to the person you want to be. Whether you're going back to school, networking, or refreshing your r
é
sum
é
, this month is perfect for strengthening your professional foundations. How do you plan on making your mark? The emotional full moon in Cancer on December 30th signals a release around home and family. Lovingly let things go, and leave the past where it belongs; the future is yours to create. 
TAURUS
December is about taking care of business—something you're quite skilled at. With the cooperative planet of partnership spicing up your chart, expect relationships on the brain. The mid-month solar eclipse may dredge up thorny topics (think debt, insurance, investments, etc.), but they're necessary for long-term prosperity and stability. The powerful great conjunction on the 21st highlights your public sector of reputation and career, possibly marking an increase in responsibility and visibility over the next few years. You are being called to define your purpose and start thoughtfully cultivating your legacy—no pressure! 
GEMINI
The winds of change may be strong, but we need them to fly. Just like Dorothy realizing she's not in Kansas anymore, December finds you awakened with a new mindset. The insightful solar eclipse mid-month suggests turning a new leaf around relationship dynamics. With a mature meetup of Saturn and Jupiter happening in your sector of higher meaning, it's a signal to broaden your horizons via education, travel, or spirituality. Explore your own path with abandon, ask questions, and always look behind the curtain. 
CANCER
Life isn't always picture-perfect, and that's OK. December urges you to rise to the occasion and work on the not-so-pretty stuff. A solar eclipse in your house of obligations could mark a radical shift around taking care of yourself and handling day-to-day duties. What really deserves your energy and time? The last week of the month puts things in perspective, kicking off a new era of courage and radical honesty as you welcome 2021. Enough holding back, it's time for transparency and authenticity. 
LEO
December turns up the heat, Leo. On December 14th, a profound solar eclipse suggests releasing old passion projects (or romances) so that new inspiration can blossom and expand. Notably, the great conjunction occurs in your one-on-one relationship sector, indicating a new reality around partnerships starting the 21st. There may be pressure to commit to something or someone—professional or personal—that will flavor the next few years. Who makes you feel like your best self? Trust your gut, and identify your unconditional support systems. 
VIRGO
Ready for a change of pace? December pushes you out of your comfort zone, but you're more than prepared. The intimate solar eclipse on the 14th marks a new chapter around home and living; perhaps you're moving, reorganizing, or your familial structure is changing somehow. The great conjunction on December 21st suggests new standards around your health and routine. What do you wish you started sooner? Be willing to forgive yourself, and embrace self-care as you embark on a more holistic path in 2021. 
LIBRA
This unpredictable world is still your oyster, Libra. The solar eclipse on the 14th indicates a sudden new beginning around your daily commute and routine, perhaps something involving siblings or neighbors. Stay flexible, don't rush, and beware of overbooking yourself! On December 21st, expect a big mindset shift, particularly around self-expression and romance. There may be pressure to get serious about something that once was casual. Whether it's turning a hobby into a business or turning a fling into a relationship—listen to your instincts and refuse to settle. 
SCORPIO
December gets a little personal, Scorpio. There are shades of magnetism and connection, thanks to Venus in your sign until the 15th. A provoking solar eclipse in your money sector signals that your bank account and property will be a major focus for the next few months—but don't let your possessions possess you! The great conjunction occurs in the deepest part of your chart on the 21st, indicating an update and commitment to your personal life and family. What does "providing" really mean? Focus on stabilization now so that you can receive and enjoy the bounty arriving in 2021. 
SAGITTARIUS
Change is the only constant. December is an especially noteworthy period for Sagittarians, accentuated by a motivating solar eclipse in your sign mid-month. This lunation signals that your concept of self is being put to the test somehow; perhaps your identity is being reborn from the ashes. When the winter solstice arrives on the 21st, prepare for a change of tempo. The planets moving forward indicate an increase in productivity, especially involving passion projects and daily routine. 2021 promises to keep you busy, so find some time to smell the roses this month. 
CAPRICORN
Pat yourself on the back, Capricorn. As the year wraps up, some of the pressure is lifted, thanks to industrious Saturn exiting your sign on the 17th. You've learned so much in the past few years—now you can put it to use. The introspective solar eclipse pushes self-care to the forefront: Set aside time to unwind and rest before your busy season arrives. The lofty meetup of Jupiter and Saturn on December 21st signals a fresh attitude and commitment involving wealth and worth. Invest, diversify, insure, budget—but don't you dare forget to treat yourself. 
AQUARIUS
You're the boss, Aquarius. December increases your self-awareness and raises the stakes. The Sagittarius solar eclipse on the 14th signals a change in your social networks and professional goals. Then the great conjunction in Aquarius arrives on the solstice, giving you the chance to refresh and refocus your trajectory. This mature meet-up in your sign suggests a radical new chapter in your life, one of long-term growth and prosperity if you commit to your goals. Who do you want to be in 2021 and beyond? Now is the time to walk the talk and get something off the ground. 
PISCES
Focus on fulfillment, not filler. December invites you to commit to your personal life and inner sanctum. A compelling solar eclipse in your career sector mid-month indicates one chapter crystallizing while another begins. What really sets your soul on fire? The great conjunction on December 21st signals new standards and responsibilities around taking care of your mental realm. Now is the time to recognize self-defeating behaviors and rewrite the script. Meditate, journal, read, and daydream as much as possible as you drift into 2021 with a clearer mind. 
Want more stories like this?
Nneka Julia Odum Was Born to Be a Storyteller
Jenny Welbourn Wants to Change Fashion from the Inside
Being a Role Model Is Second Nature for This Emerging Model