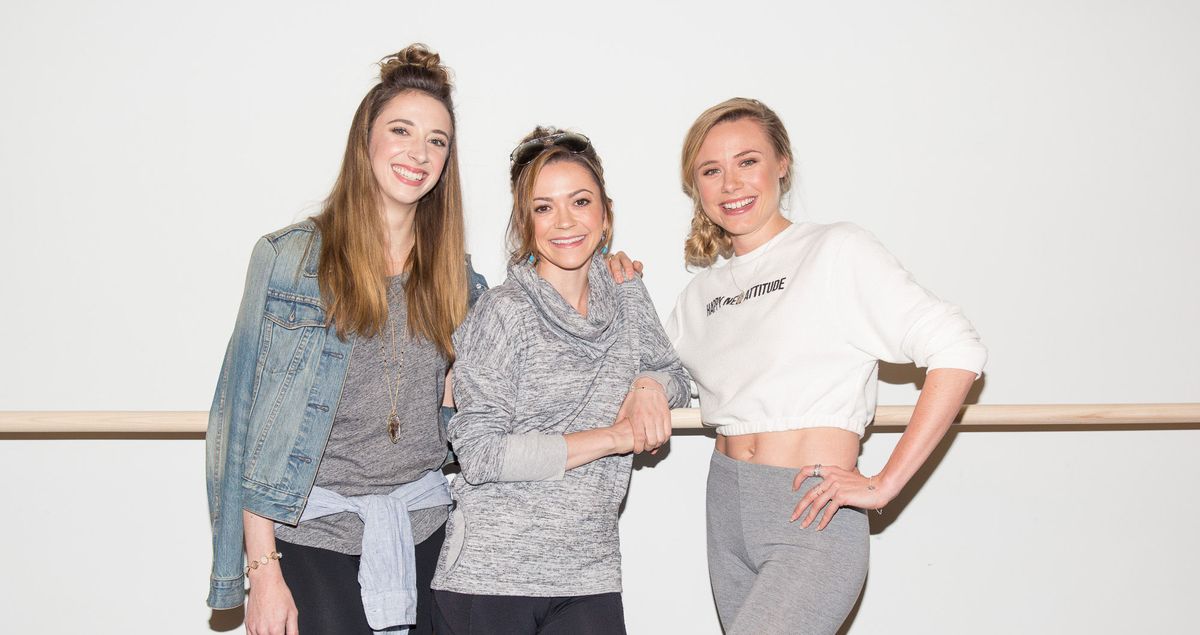 Nutrition
Sara Mearns, Gretchen Smith, & Megan Fairchild let us in on a day in their lives (& fridges).
Leslie Kirchhoff
Having shadowed ballet dancers at the height of show season, we know that their daily meals actually look a lot more human than you might imagine. So we were less than shocked to learn that the New York City Ballet's Corps de Ballet and principal dancers followed suit when it comes to their meals and snacks. Which, yes, include winding down with a post-work glass of vino (or champagne, or a good, stiff martini). Ballet dancers—they're just like us! Kind of.
---
---
Megan Fairchild
Principal Dancer
7:00 AM: "Before rehearsals, I get an English muffin with goat cheese, prosciutto, sautéed spinach, and two poached eggs with a banana and coffee (with milk)."
1:00 PM: "If I am having a snacking day (a day with lots of dancing), I eat a Powerbar, green juice, fruit, yogurt, and maybe a granola bar, as well. I always need to replenish while I'm exercising. Otherwise my favorite sandwich is the midtown melt from Blossom Dujour (best vegan restaurant in New York!) with a green juice."
Dinner: "I love gourmet tacos because of the portion size. I get a solid meal with some protein and veggies, but not too many carbs. Fish tacos are my go-to!
"I also will have a salmon filet or grilled shrimp with a veggie side, or a salad with mâche leaves, artichoke hearts, sun-dried tomatoes, olives (from the olive bar at Whole Foods), and feta. Sometimes an empanada on the side.
"I love to end my day with some dark-chocolate squares, but it's hard not to eat the whole bar! And every other day or so, I will have a glass of wine to unwind."
---
Sara Mearns
Principal Dancer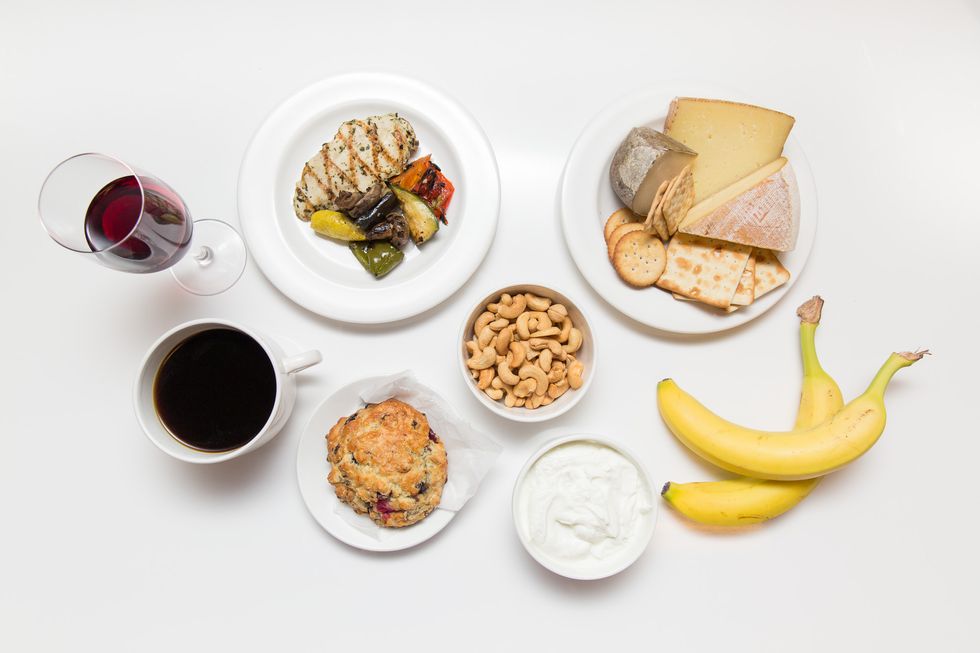 10:00 AM: "I start my morning with coffee from Starbucks and usually a muffin, croissant, or scone. I won't eat all of it, but I need a little energy booster to start the day."
11:30 AM – 6:00 PM: "I don't want a huge sandwich sitting my stomach while I'm trying to dance, so I have snacks in my dressing room like cashews, Greek yogurt, bananas, and Vitamin Water. This will last me through all of my rehearsals."
6:00 PM: "In the early evening, I'll get a wheat wrap with turkey, swiss, tomato, and mayo from the deli. I usually take most of the wrap off—I want the protein more. If I dance the last ballet or I've had a very long day, I'll have all of it. I always make sure I have the wrap two hours before I dance—this ensures I won't feel too full out onstage."
Post-show: "After a show, I'll cool down in my dressing room with a glass of wine. I don't rush out because shows take a lot out of me."
10:30 PM – 11:00 PM: "Once I get home, I don't like to eat a heavy dinner. I'm a very healthy eater, so dinner consists of vegetables, hummus, grilled chicken, or fish. I also eat a lot of salads, but I love sushi, Mediterranean, and Mexican food. Recently, I started cooking my own filet mignon or honey-butter roasted chicken! If I am finished earlier than 11:00 PM and I know I have an insanely hard, long day the next day, I will have pasta to ensure I have that extra boost of energy."
---
Gretchen Smith
Corps de Ballet
9:00 AM: "I grab a latte from my little neighborhood joint on the way to the subway for class. On the way to the theater, I'll stop at the neighborhood deli and pick up a sausage, egg, and cheese sandwich on either a croissant or an everything bagel. I'll usually only eat half before class because I rarely wake up hungry but want to make sure I have something in my stomach before a day of dancing. And when it's a greasy egg sandwich with hot sauce, it's hard to resist!"
11:30 AM – 12:00 PM: "By noon(ish), I'm hungry for the second half of that egg sandwich or I'll eat half a protein bar or some fruit. I love blueberries, strawberries, raspberries, and pineapple."
2:00 PM – 3:00 PM: "After two to three hours of rehearsal, it's time for lunch. I usually get a BLT from Indie Food & Wine (the best BLT!) or soup. I don't like dancing on a full stomach. There's nothing worse!"
5:30 PM – 7:00 PM: "Before the show I usually have a quick snack, which will consist of yogurt, fruit, some dark chocolate, and water with Emergen-C (for a little extra push for the show)."
10:30 PM – 11:00 PM: "The day's over! At this point, I eat what I'm craving—whether it's steak, pasta, Mexican, tapas, or a big salad, and I eat an avocado every day!
"I'll have a drink to end the day—champagne is always my go-to. Or a good stiff martini. But if it's an insane work week, I won't drink because I've found no alcohol helps so much more for muscle recovery."