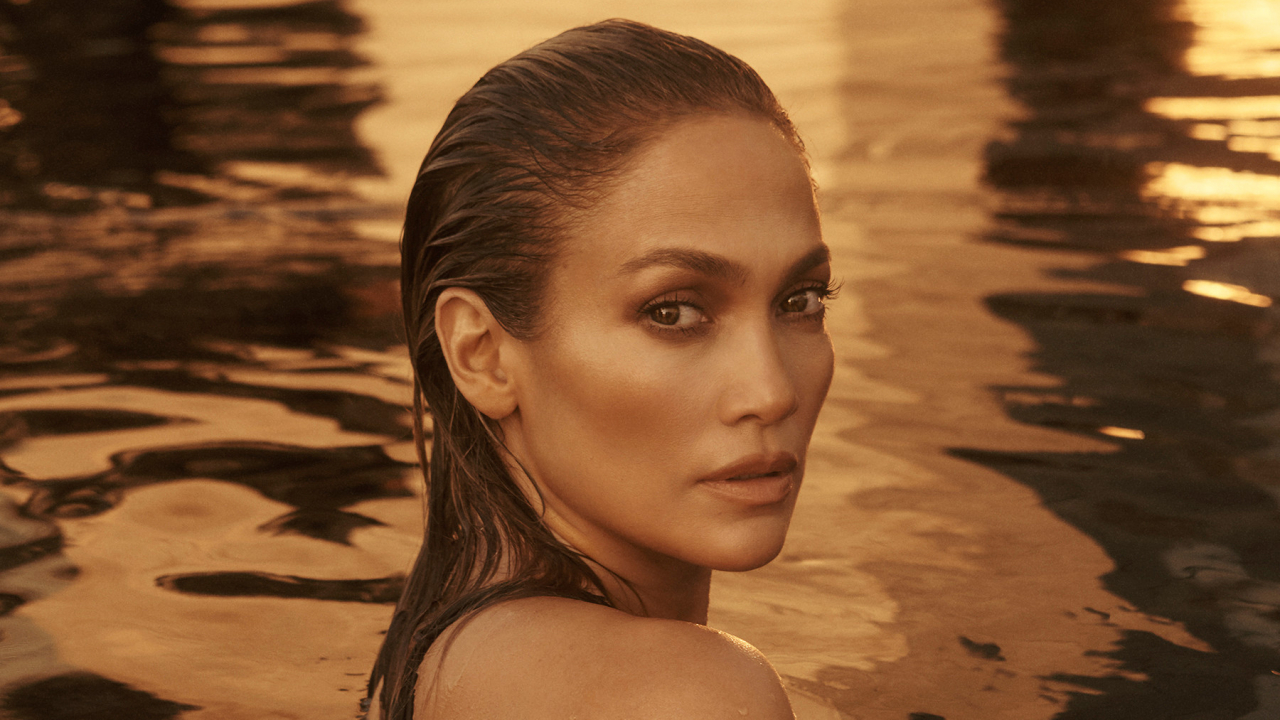 J.Lo Reveals Her Secret for Looking Youthful at Any Age
Hint: She's spent 20 years making products so you can glow like her.
If you haven't been blessed with seeing Jennifer Lopez in person, let us tell you right now—she does, in fact, glow with the light of a thousand makeup mirrors. Even through a computer screen (which this editor was limited to due to COVID-19), her radiance was tangible, leaping across time zones and makeshift WFH desks to remind us that J.Lo is every bit the beauty icon we believe her to be. What's more, the multi-hyphenate actress, dancer, singer, producer, and entrepreneur is adding a new line to her résumé with the release of JLo Beauty, joining the ranks of the many other celebrities who have felt called to share their skin secrets with the world (Pharrell, anyone?).
Lopez is no stranger to the beauty biz, what with 25 and counting fragrances to her name. But this pivot towards the crowded skin-care space is a significant moment for her personal brand, since the 50-year-old has become something of the de facto poster woman for aging gracefully (again, her skin). Still, as she stressed to the crowd of beauty editors on last week's Zoom call, she's exasperated by the notion of "looking good for…" (insert age over 30 here). "No one wants to hear Oh, you look great for 50," she says candidly. "You just want to hear You look great! Doesn't matter what age you are. For us, the idea that beauty has no expiration date, being youthful and timeless at every age, and beauty coming from the inside out, are really the mantras of the brand."
She goes on to explain that the notion of aging gracefully and taking care of yourself and your skin without apologizing can be seen as a radical act in this age of social-media filters and covert beauty treatments like fillers. "You can embrace yourself in all that you are and it doesn't matter what age you are."
So what exactly is included in her debut line of skin-care products, and how will it help the average consumer glow like J.Lo? The founder reveals that olive oil is the hero ingredient throughout the eight products in the line, which is based on her family's tradition of using it for everything from skin to hair care. "My mom, my grandmother, my aunt, they all used [olive oil] when they needed it for that extra hydration in their face, body, and hair. That's where we began, with that little family secret." And after 20 years and 100 rounds of product development, the brand has finally landed on the JLo Beauty Olive Complex, a patented blend of squalane, fermented oil, extra virgin olive oil and leaf extract, all of which are "clinically shown to deliver all-day moisturization and that star glow," according to the brand's press release.
Included in the collection is a gel cream cleanser, a brightening and hydrating serum, a tightening and plumping sheet mask, a calming face cream, an SPF 30 moisturizer, a line-reducing eye cream, a bronzing skin tint, and an antioxidant-rich supplement. The prices range from $18 (for the sheet mask) to $79 (for the serum), with Lopez emphasizing the luxuriousness yet accessibility of the line. Everything from the product names to the rose-gold sheen of the packaging seems to emphasize your glow potential—or, as Lopez quips, that bouncy, hydrated, and luminous complexion is just "a pump and a pill" away. "It's beauty from the inside out, [which] was always my philosophy. Not just physically, but spiritually and emotionally."
And although self-care and babying your skin and body are more pertinent in 2020 than ever, we had to know: Does J.Lo herself ever wake up, look in the mirror, and just feel blah? "I feel like I look like crap a lot of times," she says, our gobsmacked expressions belying our disbelief. "I tried to change those thoughts and go to the mirror and the next thing I tell myself, like one of my idols, Barbra Streisand, Hello, gorgeous, there you are. And I just try to bump myself up and I say, I am youthful and timeless at every age, I am happy, I'm whole, I am surrounded by love. I always keep those positive thoughts and those affirmations that I learned when I was in my twenties to this day. Those are things I hope to share through JLo Beauty—to help women be as empowered and inspired with themselves and what they're capable of. And to know that in their own, natural skin, that's when you feel the most beautiful."
JLo Beauty will be available on January 1, 2021, on jlobeauty.com, and Sephora and Amazon on January 14, 2021.
Photos: Courtesy of JLo Beauty
Want more stories like this?
Want to Age Backwards Like Pharrell? You Can Finally Shop His Skin-care Line
Are Clarifying Shampoos the Secret to Keeping Your Hair & Scalp Healthy?
3 Makeup Artists Reveal the Products They're Gifting This Year