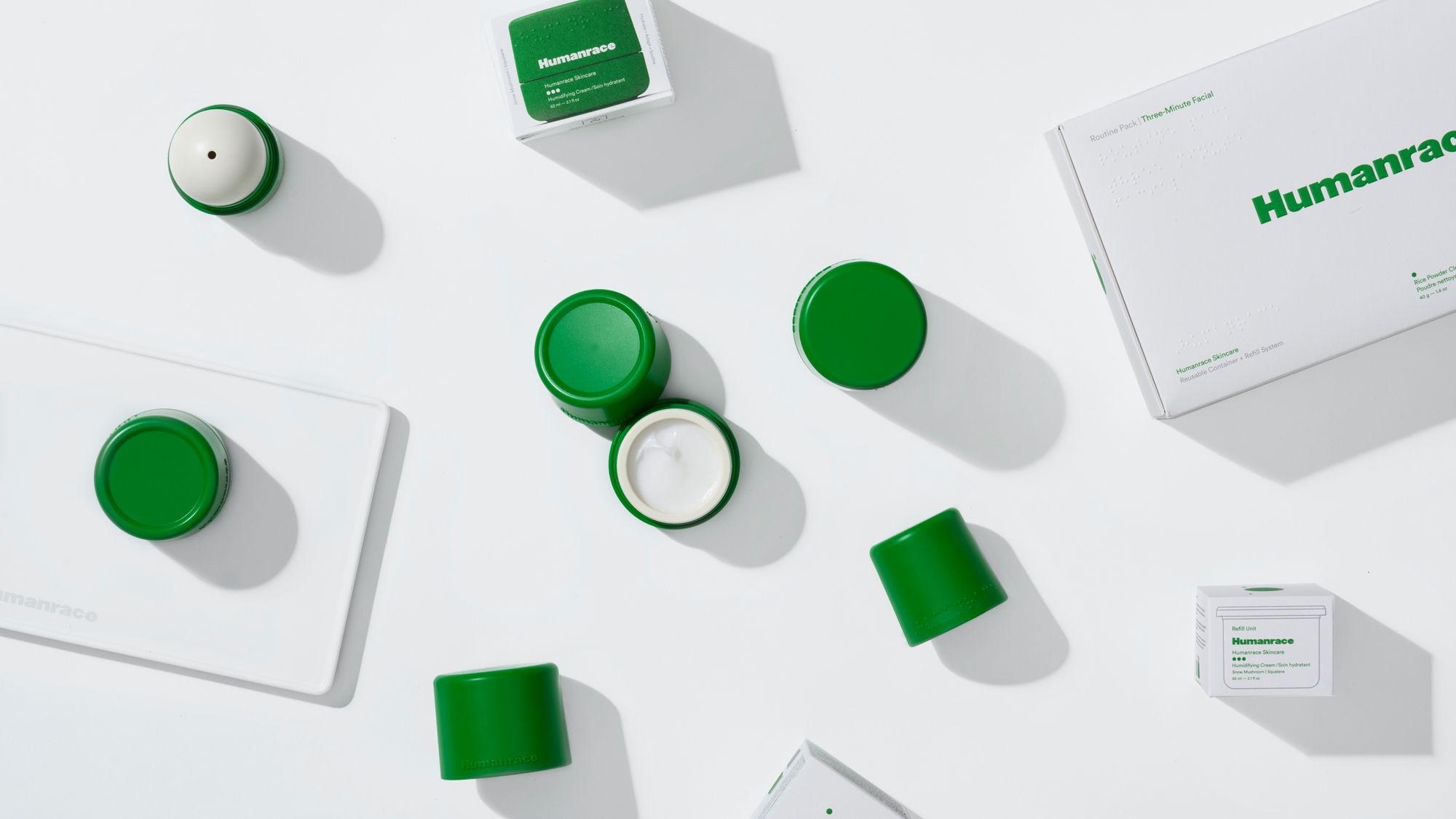 Skin
The new clean, genderless collection, Humanrace, is here.
A man who hasn't aged a day in 20 years—otherwise known as the multi-hyphenate singer, producer, designer, and entrepreneur Pharrell Williams—has teased us with his skin-care routine for years, with red carpet photos belying his pore-less, gravity-defying complexion. Well, the day has finally arrived when you can shop his preferred beauty products for yourself.
Humanrace
launches today, November 25th, auspiciously in time to help heal our complexions from the sodium and alcohol overload of the next few days. The three-piece collection, which he developed with his longtime dermatologist, Dr. Elena Jones, is vegan, fragrance free, and touted as an all-gender skin-care line. "Your face is the result of the spirit behind it—it's important to take care of your skin and to also take time for yourself each day," said Williams in the brand's press release. Humanrace also adheres to the EU's standard of clean, which bans over 1,300 ingredients from beauty product formulations.
First up is the foaming Rice Powder Cleanser (an
ingredient that's popular among J-beauty brands
like Tatcha and SK-II), which uses fruit AHAs to provide a gentle exfoliation and thorough cleanse. Next is the creamy glycolic-acid-packed Lotus Enzyme Exfoliator, and then the Humidifying Cream to finish it off, which utilizes
snow-mushroom extract
and soothing rice water. Snow-mushroom is a type of tremella mushroom, which, as Michael Ahmad,
Herbivore Botanicals
' national education manager, explains, "behaves quite similarly to hyaluronic acid—an ingredient considered by many to be the industry standard for hydration. It can retain up to 500 times its weight in water, making it a high-efficacy humectant. The distinction is that the tremella particles are even smaller than those of hyaluronic acid, allowing it to be more readily absorbed into skin." That hopefully means that your skin will resemble Pharrell's bouncy, dewy, ridiculously hydrated complexion after a few uses.
Altogether, Pharrell labels the trio of products as "The Three-Minute Facial," and they are available in a Routine Pack for $100 (or individually for $32, $46, and $48, respectively).
---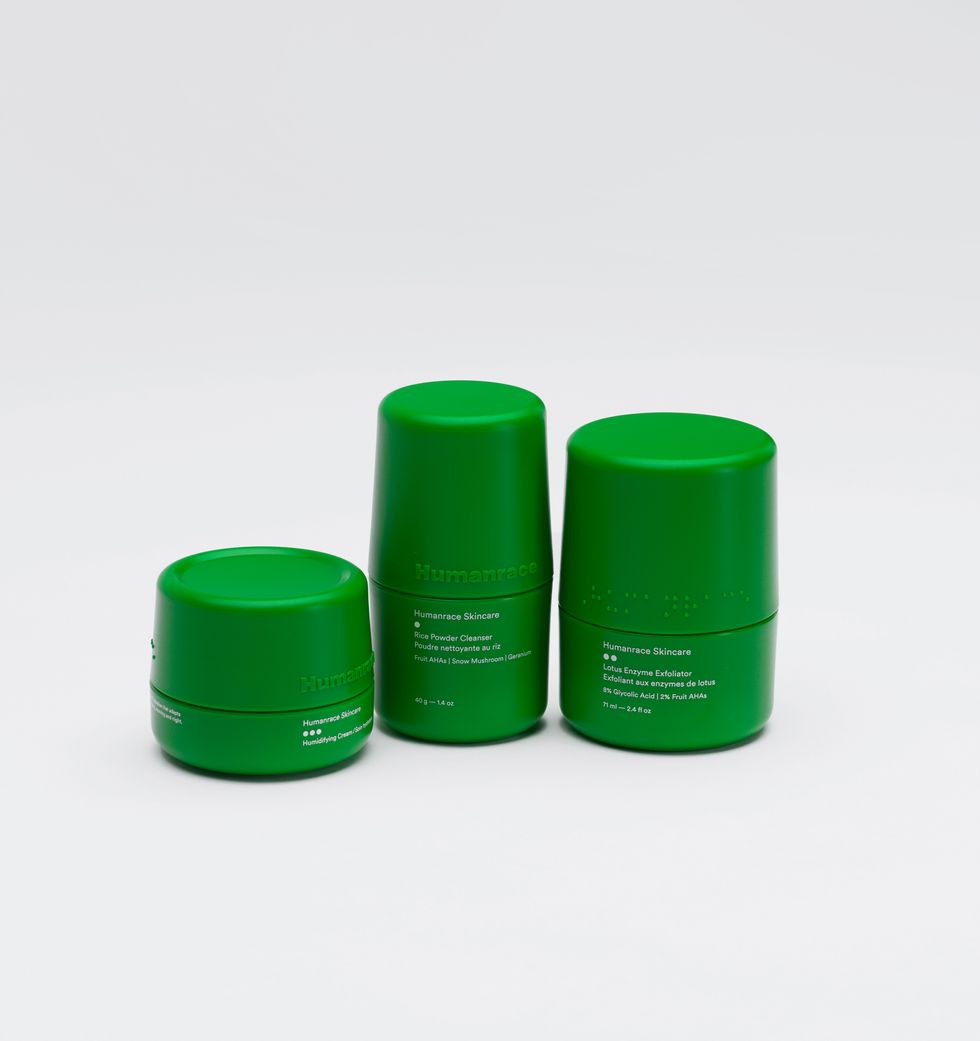 Photo: Courtesy of Humanrace
With two exfoliating products in the collection, it's natural to feel some apprehension as to how harsh the formulas might be on your skin; however, Dr. Jones states via the press release, "We worked to create products that had no rocks, nuts, seeds, or plastic particles in our formulas to ensure no microtears occur, which can result in damaging your skin." Still, if you have sensitive or dry skin, we'd recommend using either cleanser only at night so as to not
disrupt your skin barrier
, rather than washing with them twice a day.
The Kelly green packaging is designed to complement and enhance your home decor, as it resides on your bathroom counter (a hint, perhaps, at Pharrell's preferred home color scheme). Sustainability was also a priority for the founder in the development process, with each container made from more than 50 percent
post-consumer recycled landfill plastic
(PCR). And in keeping with the brand's dedication to transparency, functionality, and inclusion, each product includes braille on the outer packaging.
So is it really possible to glow like Pharrell with these products? Or does he simply possess near-superhuman genes that will keep him looking like a twentysomething well into his golden years? We'd recommend scooping up the Humanrace collection before it sells out to discover that for yourself.
Humanrace is available today, November 25th, exclusively on
humanrace.com
.
Humanrace
Humanrace
Humanrace