Tips for Bringing More Color Into Your Home, Straight from Interior Designers
Ward off seasonal depression by brightening up your space.
Decor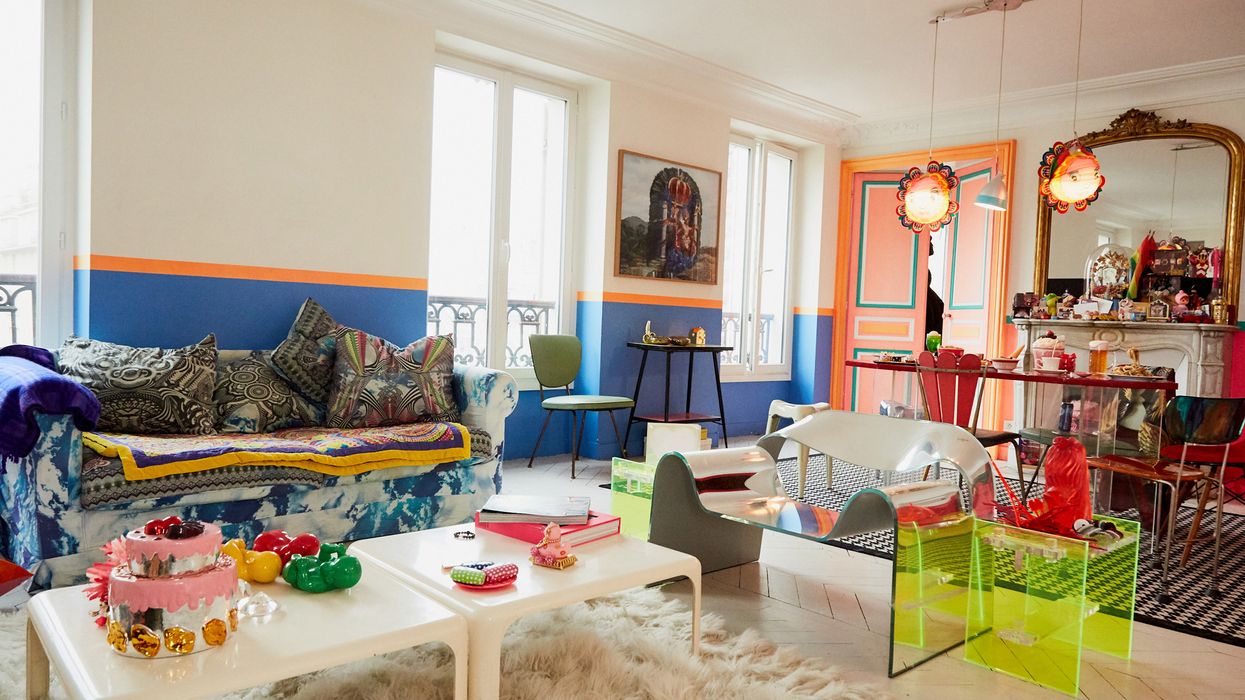 We know seasonal depression is real. Now couple that with COVID-19 isolation and run-of-the-mill anxiety, and you have a bleak-looking winter ahead. With us all heading back indoors for the foreseeable future, now is the time to ensure our home environments are as cozy, warm, inviting, and uplifting as humanly possible.

And the best way to do that? COLOR! Seriously, the sun is setting around 4:30 PM these days; we could really all use a bit of added brightness to our surroundings. We recently spoke with three interior designers to hear their tips for incorporating color into our spaces before the colder months ahead: Courtney McLeod, Juan Moreno López-Calull, and Abby Pendergrast. All have distinctly different design aesthetics, but each is beloved for their bold and unique uses of color—because there's no slump a new coat of paint can't put some pep into. Read on for more.
 

Dip a Toe
There are countless ways to liven up your existing space with pops of color that don't require a total remodel or costly investments. Small accessories are a perfect starting point where you can experiment with different palettes and moods. "I love switching up my pillows and decorative objects a few times a year to reflect the season," says Pendergrast. It's a great reminder that cost-effective accessories needn't be permanent fixtures; swapping in different curtains or a funky vase every so often can bring in new energy, keeping a space from feeling stale.
"The biggest thing for me right now has been having fresh flowers weekly. Always add more plants!" she says. It's true.
Studies actually show
that the process of caring for and living with houseplants decreases psychological distress and increases mental health amongst millennials.
But there are also ways to get even more creative with color in unexpected places. Courtney McLeod suggests painting the inside of your closet a bright color. "It's a great, low-commitment way to dabble with a joyful, color-filled moment," she says. And Juan Moreno López-Calull has been known to insert color into the most surprising of spaces—he
painted the crown molding
in his own apartment in a rich, multi-color palette of jewel tones. Not only does the effect create a cheeky pop of color, it brings the eye up, helping your ceilings look higher and adding more light to the space. 
Go Big, Stay Home
"Don't be afraid to
paint
your entire room with a favorite color," shares McLeod. Oftentimes, her clients' biggest hesitation when it comes to using color in a bold way is the fear of becoming sick of it quickly. But she's found that this isn't usually true. "And after all, paint is pretty easy to change," she adds reassuringly. McLeod's
personal living room
has been painted a cobalt blue (
Dynamic Blue by Sherwin-Williams
) for over three years, and it still brings her joy. She also loves a pale lemony yellow painted on a ceiling.
For a less committed approach that still yields dramatic effect, Pendergrast extols the virtues of a
statement wall
. "It's cheap, easy, and packs a punch," she says. López-Calull also suggests
area rugs
and
large-scale art
as great ways to bring color into a space in an impactful way. One of his favorite artists,
Sandra Modrego
, is known for her large prints of the female form in a vivid blue. "Her work brings the feeling of summer and the sea into a space," says López-Calull. 
Surprising Shades + Proud Prints
When we say
color
, we don't just mean a touch of mauve or a hint of eggshell—have some fun with interesting pairings! McLeod cites her favorite color combos as: pale blue and cranberry red; lilac and coral; moss green and pale pink; and bold blue with saffron orange. Pendergrast adds, "I tend to use a lot of yellow, green, and pink because they are all very happy, but right now my favorite combo is rust and cobalt!" Both women are also huge fans of playing with and mixing prints. McLeod is a master when it comes to
wallpapers
and
patterned upholstery
; Pendergrast has a penchant for
wall murals
and
graphic illustrations
.
For McLeod, the secret is balance. "Create a hierarchy of color. There should be the main color, the secondary color, and a variety of accents," she explains. When it comes to prints, she says, "Be sure to mix the scale of patterns so they feel cohesive rather than chaotic."
Pendergrast views pattern as a conversation starter, "a catalyst to get your brain imagining." She says, "After all, daydreaming is a great mental escape!" We couldn't agree more—cue the ocean waves sound machine. 
Go Ahead, Get a Little Sentimental
"When facing seasonal depression," says McLeod, "it's really important to surround yourself with items that hold positive memories." Colorful picture frames filled with photos of loved ones, a worldly memento from an amazing trip, or a patterned blanket that brings you comfort can all be super-powerful mood boosters. You can also try color-coding your favorite
books
in rainbow order or keeping your twinkly holiday lights up all winter long. "The only opinion that really matters is your own," says McLeod, "so experiment and have fun."
---
Shop the Story:
The Sill
Missoni Home
Sherwin-Williams
West Elm
ABC Carpet & Home
Anthropologie
Otherland