This Little-Known Beauty Hack Can Help with Eyebrow Regrowth
Better yet—you already have all the tools you need in your bathroom.
Beauty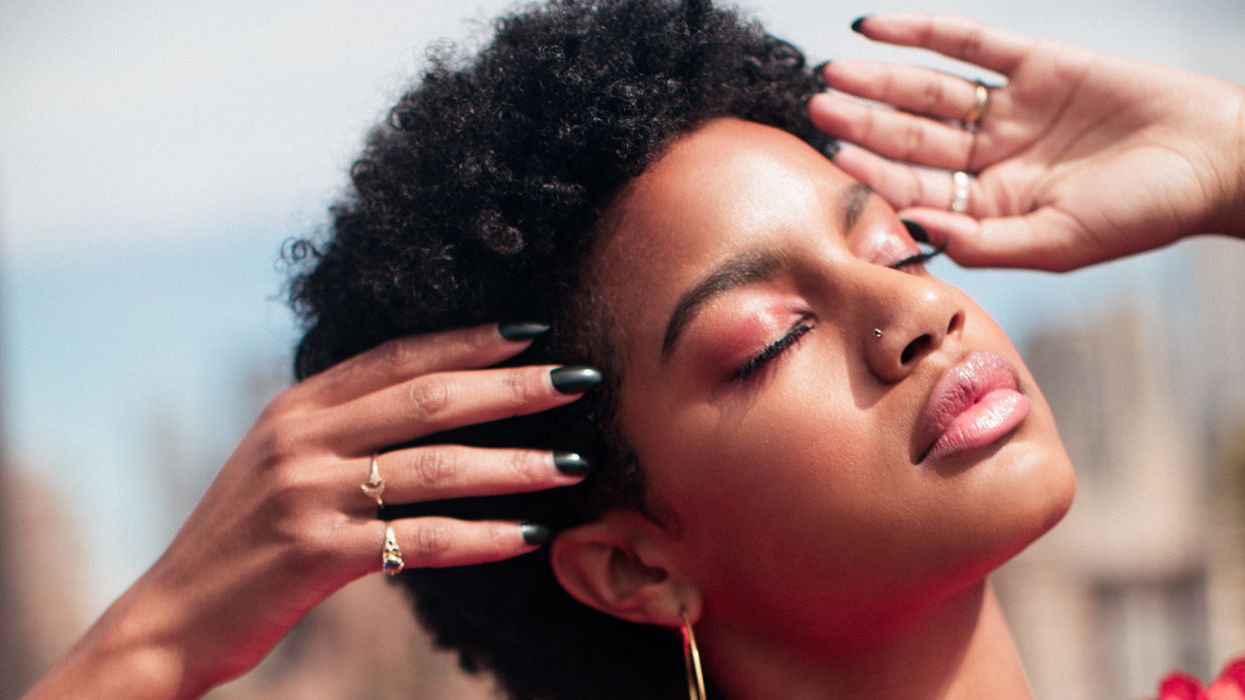 Whether you have thin, sparse brows or you're blessed with a pair of full arches, almost everyone agrees that eyebrows deserve their own grooming routine. That being said, the slew of products we slather onto our faces, necks, and lips pre-bedtime can feel like too much already, and the thought of adding yet another step that's unique to your brows (ahem, an eyebrow serum) can seem more like a chore and less like, well, valuable "me time."

But what if we told you that you don't have to go through an extra step in order to promote brow-hair growth? As it turns out, moisturizing your eyebrows with your face cream is a simple technique that nixes the need for an eyebrow growth serum—the strengthening properties of your facial moisturizer can work magic on your brows, just as it does on your skin. To learn everything there is to know about using your moisturizer for your brows—including the benefits and how to properly do it—we turned to New York City–based eyebrow expert Azi Sacks.
 

What Is Brow Moisturization?
Brow moisturization refers to feeding your brows nutrients in order to increase the likelihood of new hair growth. In this case, the moisturizing benefit stems from running the residual moisturizer from your face onto your brows. "A truly hydrated brow is the foundation for a perfect brow shape," says Sacks. "The brow is the frame of the face, so its health is as huge as the health of the hair in your head." Not to mention, when you moisturize the brow hair, you're also applying moisture to the skin underneath it, which helps prevent signs of premature aging in this area as well.
If you're looking to reap the brow-growth benefits of this technique, Sacks suggests using moisturizers that are rich in emollients, which are typically available in cream or oil form. She touts shea butter as a dual-purpose facial moisturizer ingredient that has conditioning benefits for both the face and brows. First Aid Beauty's shea-butter-rich
Ultra Repair Cream Intense Hydration
not only has a vitamin-dense formula that may help with brow growth, but it also protects against minor eczema-induced itchiness, which many experience around their brow area.
---
First Aid Beauty
The Benefits of Using a Face Cream on Your Brows
Having properly moisturized brows lays the foundation for everything from daily maintenance (like shaping) to more extensive treatments (like
tinting and microblading
). It also creates a healthy environment for new brow hairs to grow. Says Sacks, "I believe more in moisturizing the brows than anything else brow-related. Brow hairs tend to be delicate in texture, and, like the hair on our head, we shed brow hair naturally all the time. When the brow lacks a barrier, it slowly shatters. A well-moisturized brow, however, invites quick turnaround in new growth, no matter its natural texture or density level. It simply helps prevent the brow from becoming fragile, thus breaking and appearing like it has holes."
And, if you're struggling with eyebrow dandruff (which can be a sign of dry skin, irritation, or an allergic reaction to a product), Sacks says that using an emollient-based product (think coconut oil or shea butter) will help nourish the area instantly. "When you hydrate daily, eyebrow dandruff is something that will likely be avoided as long as you don't have an allergy," says Sacks. "You'll know you're having a bad reaction if the skin around or under the eyebrow breaks out or a rash appears."
Finally, if you're doing this technique during the day, you're likely using a moisturizer that contains SPF in it (heads up: if you're not, you should be). This won't necessarily help with moisturizing, but applying a small bit of residual SPF on your brows can help prevent premature aging, sun damage, and fine lines around the brow area, all of which are things that can alter your brow shape. Just make sure not to apply a heavy amount of product, as Sacks says that many SPF formulas can be quite drying. Try
Supergoop!'s Play Everyday Lotion SPF 50
—it absorbs quickly, has more than the recommended amount of daily SPF (which is 30, FYI), and doesn't leave behind a greasy residue.
Supergoop!
How to Promote Eyebrow Growth with Moisturizer
Sacks recommends applying moisturizer all over your face first, then lightly going over your eyebrows with any remaining product. "As you massage your cream into your forehead, swipe it into your brows. Avoid rubbing, scrubbing, or using harsh pressure—the brow area is a delicate patch of hair, and when we scrub or apply intense [pressure] on it, it can create brow shedding. This is due to the actual physical pull on them," says Sacks. She recommends using your fingertips, as they're naturally lighter in touch and you'll reduce your risk of pulling out your precious brow hairs.
If you're waiting patiently for your brows to grow and are looking for an-between solution, Sacks says you'll just need a spoolie. "Brush over your brows using a spoolie and a bit of product so that it appears groomed and tidy. This adds bulk, texture, seals in moisture, and adds shine," she says, adding that organic castor oil and almond oil are also highly effective at promoting hair growth—just keep them on the brow area as opposed to the rest of your face.
Want more stories like this?
How to Tint Your Brows Like a Professional
An Exhaustive List of Every Single Way to Enhance Your Eyebrows
Masks Are Emphasizing the Importance of Good Brows—Here's How to Keep Them on Point