WWWRN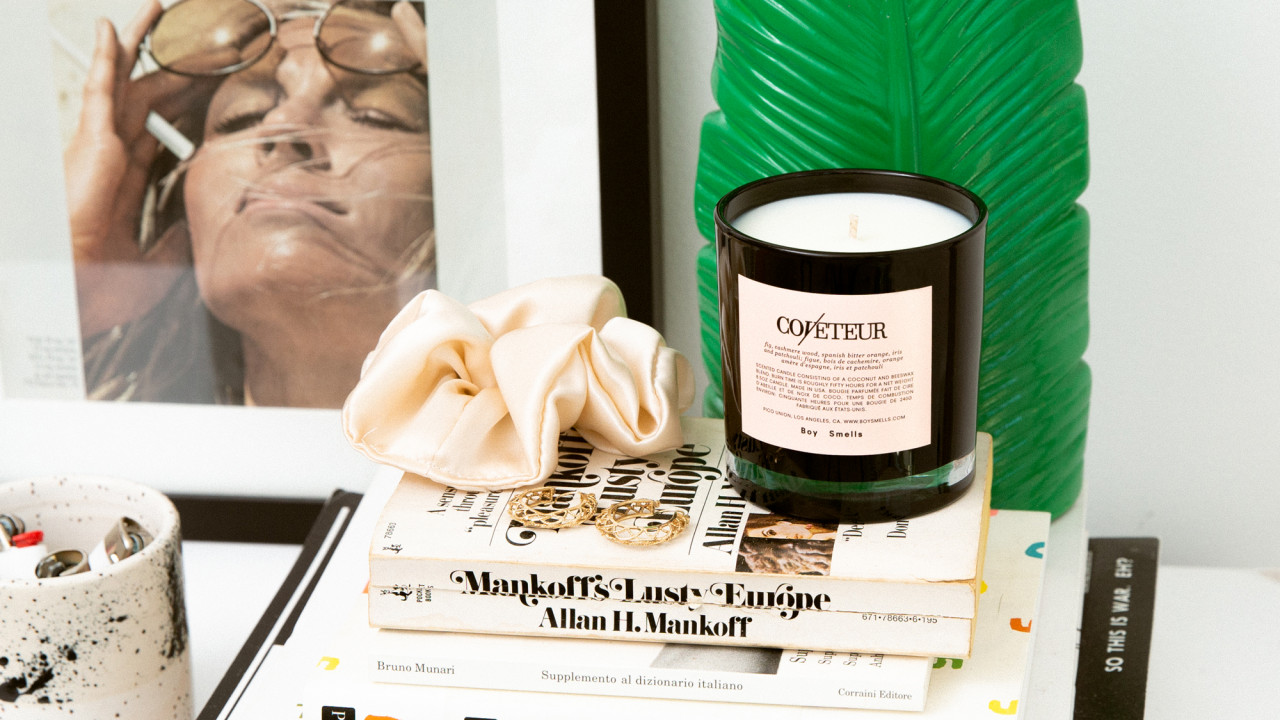 How Did the Candle Become 2020's Status Symbol?
In a year when showmanship is generally unwelcome, candles reign supreme.
First it was the closet tour, then it was the shelfie: The social media humble-brag has evolved from an ostentatious display of designer shoes and bags, then luxury face creams organized by color. The 2020 version then, of course, is the luxury candle. Over the last six months of lockdowns, quarantines, and stay-at-home orders, we had to take our virtue signaling into our own spaces, leaving the candle to take the helm as this year's status symbol.
"Nowadays scented candles are used the same way as we have always been using perfumes: as a way of adding personality, but to our homes," notes Elisabeth Heier, a photographer, stylist, and visual storyteller based in Oslo, who says the current chaos of the world is forcing us to look to our spaces for much-needed comfort. "In Scandinavia, lighting candles—especially during autumn and winter—is associated with hygge, or coziness. Being able to do it in an even more stylish way adds to the popularity of the candles. When you combine that with the luxurious feeling of lighting an expensive candle to relax and enjoy at home, it makes them a status symbol."
So then how did the Le Labos, Diptyques, and Byredos of the world replace Yankee Candle?
For one, a $68 candle feels like a luxury, but it's cheaper than a Chanel 19 bag or a Bottega Veneta Intrecciato Leather Tote by about 5,000 percent. And though, sure, you could very well display your Manolos on your mantle, that type of showmanship is generally unwelcome in 2020. But there's nothing intrinsically garish about a candle. It's meant to be out in the open, burned just so. When mid-century modern became the decor style du jour, if you weren't keen on replacing your IKEA dresser with a chartreuse credenza or your coffee table with a slab of travertine, it was easier to start with what went on top: coffee table books replaced magazines, and candles would lay just so in orange-tinted lucite trays from places like Coming Soon and Bi-Rite.
Furthermore, unlike other home ware or beauty products, a candle can take on a new life after it's gone: the makeup brush holder, the receptacle for loose odds and ends—a trend that a Diptyque spokesperson said started organically from customers who "wanted to give another life to this beautiful object." After all, even after it served its original purpose, it feels silly to discard your Santal 33, especially when it has such long-lasting Instagram potential.
When the minimalist wave hit the scene around the same time that Instagram became a viable marketing tool in 2014 or so, brands like Byredo and Boy Smells—who had simple but distinct branding—hit big. Suddenly, brands didn't just have customers—they had communities.
View this post on Instagram
"Our pink label became more iconic than we could have ever imagined," says Matthew Herman of Boy Smells, who adds that the Instagram phenomenon took him and co-founder David Kien by surprise. "It was by no means specifically designed to be an Instagrammable object, but we're thrilled to see it in homes all over the world, dressing the vanities, coffee tables, bedside tables, what have you."
Julien Gommichon, president of Diptyque Americas, adds that its now-iconic oval logo with dancing letters hasn't changed in the nearly 60 years it's been around, but that "the launch and growth of social media have opened the brand to a wider community."
But as the style set searches for the next best thing, smaller labels like Glaze Studios and Ann Ringstrand with similarly unfussy designs have enjoyed a more recent uptick in fans. Similarly, as we've all replaced our commutes with in-home offices, we get to peek inside each other's homes more than ever, something Byredo founder Ben Gorham credits as part of the brand's success this year. "We literally [have] insight into someone's home and personal behaviors," he says. "What I love about Instagram is that the response is instant," he says. "I love to see people tagging us, seeing how people use our products."
Lex Pott, the Swedish interior designer behind the eponymous label that became known stateside for its dual-wicked candlesticks, says he likens it to a sculpture or a piece of art within the home. "I always learned that the art on the walls of people, their bookshelf, and the interior can tell a lot about a person," he says. The recent popularity of candles specifically "shows that people want an object that represents [something more]: meeting people, eating together, or reading a book on a rainy evening with a candle. Maybe I'm too romantic, but for me, a candle [sets] the atmosphere."
Luxury fashion houses have been releasing candles—oftentimes limited edition or as gifts to friends of the brands—for decades. Paco Rabanne gave out white candles at its spring 2020 re-sees in Paris, and Nanushka sent a mini version of its wax candle with its press information to editors earlier this year. When LOEWE's Jonathan Anderson debuted a collection of candles for retail sale in September, it felt like the perfect pivot for a luxury label who could no longer stage its much-anticipated runway show. Influencers like Christie Tyler of @nycbambi took to Instagram to document their in-store searches for the candle, which sold out swiftly.
View this post on Instagram
"When I joined LOEWE, I already had in mind to create candles and add an olfactory dimension," Anderson said in a release last month. He continues: "Tactility is key for me, as LOEWE's ongoing engagement with the art of ceramics testifies. The ribbed Terracotta pot that holds our candles is based on a 5th century BC Greek mug I bought at an auction several years ago. In the rhythmic purity of this incredibly old object, I find unquestionable modernity and function: It offered the perfect template as a container for our candles."
While those with an art history degree can thoroughly appreciate the thought that went into designing the $175 candle ($90 for the small; $375 for the large), the rest of us can understand its objective beauty. Besides, with America in the middle of a pandemic, an election, and a reckoning on race relations, it's a bizarre time to show off a new four-figure handbag purchase—and the candle sells for much less than the brand's other newly released products, like its iconic Puzzle bag.
Of course, this is not dissimilar to the much-documented lipstick effect. Candles are the low-hanging fruit of the decor world, and with more people at home than ever in 2020, it's easier to buy a candle than replace your couch or refinish your floors. Because of this, some brands like storied French brand Maison Louis Marie have seen an uptick in sales: "It's clear that because of COVID-19 and people staying home, there seems to be a huge interest in making sure one's home smells nice," Matthew of Maison Louis Marie explained via email.
Herman of Boy Smells credits the candle as a simple way to "shift moods and inspire optimism" in 2020. He adds that there was a growing demand for product throughout the pandemic, and though wholesale orders tanked, the brand had a 1,200 percent increase in online order volume in the spring. He credits the existing e-commerce infrastructure with its success. "We've been fortunate to outpace our initial sales goals for this year, with numbers continuing to increase," he says. "We're now hovering at being 1,000 percent above plan for the year."
While there's quite a bit that goes into staging a home for a photo, an Instagram-ready vignette is a less time-consuming undertaking. Add to that the satisfaction that comes with buying something that feels luxurious for much less than the price of another fashion it-item, and it's no wonder the lowly candle became one of 2020's most popular purchases. After all, it doesn't require any steaming, primping, or complicated poses to look good.
Shop Our Favorite Candles:
Part of the series:
WWWRN