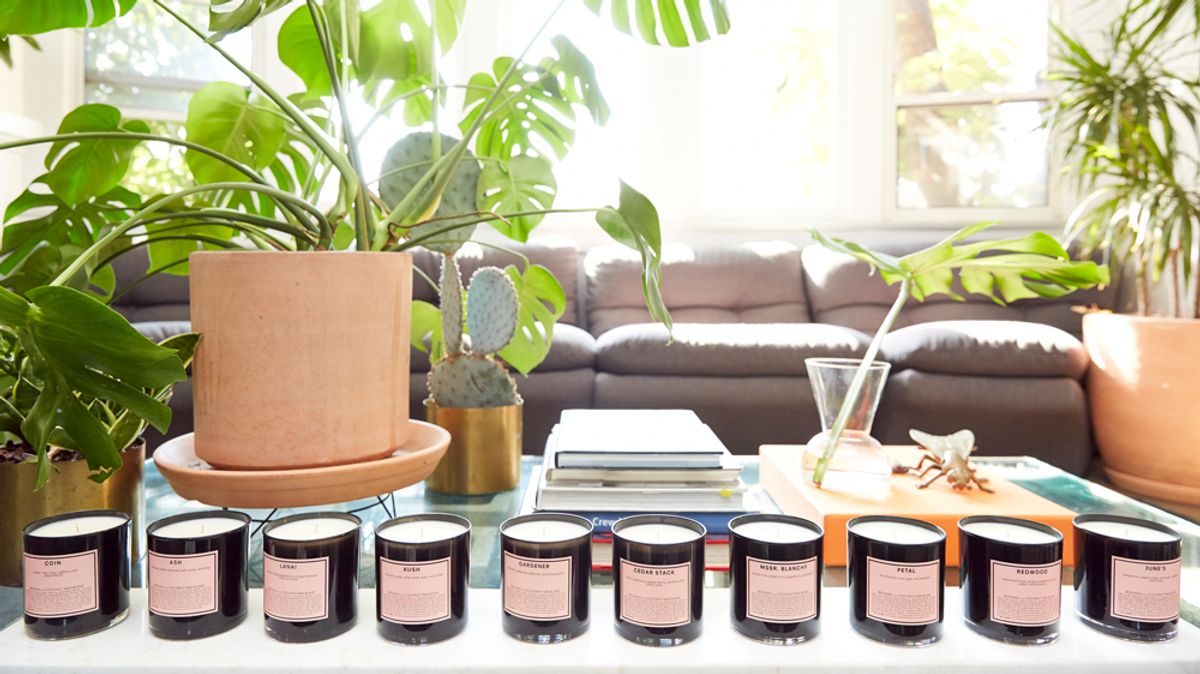 Career
Meet the couple behind everyone's favorite candle brand, Boy Smells.
Tristan Kallas
Whether you currently have one or not, there's no denying that we're living in the age of the side hustle. It feels like every other day we hear yet another person has thrown caution to the wind and abandoned the stability of their day job to invest more time and effort into a passion project. There are few people better equipped to exalt the merits of such a risk than David Kien and Matthew Herman, the co-founders and designers of Boy Smells candles. You've probably spotted their sleek millennial-pink packaging and coconut beeswax blended candles on your Instagram feed recently. The company's picture-perfect branding and affordable luxury concept have made them the stuff of career legends—a real-life couple transforming their weekend candle-making hobby into a wildly successful independent venture. We should all be so lucky.
The occasion for their success—thanks in large part to the wonders of social media—is not lost on the founders. Says David, "I think it's really indicative of our generation and the way people think about themselves, their hobbies, and their identity. Because of the internet and social media, people are really able to make careers out of their hobbies, and there's such a resurgence and interest in craft, that you can take something that you're passionate about and turn it into a business."
 
---
Both Matthew and David left their respective corners of the fashion industry—the former a designer at Nasty Gal and the latter in production at Elder Statesman—in 2014 to pursue their shared hobby full-time. Since then, they've embraced the slower pace that their new industry affords. "Working in the apparel side of fast fashion, you're often expected to produce [around] sixty new styles every month," says Matthew. "What appeals to us about candles is that not only does it represent a slower lifestyle, but we only launch a new product every six months. Being able to spend that extra time and [concentration] when we release a new scent—that's something we really believe in."
Amazingly, they continue to run the business out of the basement of their Pico-Union home—albeit the most LA-chic basement we've ever seen in our lives. The space is filled with orderly towers of boxes and shelves loaded with minimalist glass bottles, all carefully labeled. It looks as if a particularly meticulous and aesthetically minded mad scientist has suddenly taken up candle-making. The eleven scents in Boy Smells' repertoire (with two more set to release in the fall) are all carefully curated by both Matthew and David, who noticed a growing trend within the fragrance industry. Says Matthew, "I think scent is having this renaissance of sorts. I think for a long time, through the '80s and '90s, scent got really stale. It became this thing that felt old—it didn't feel topical for our generation. There have been a couple companies that have come in and really shaken up scent and what [it] means for everyone."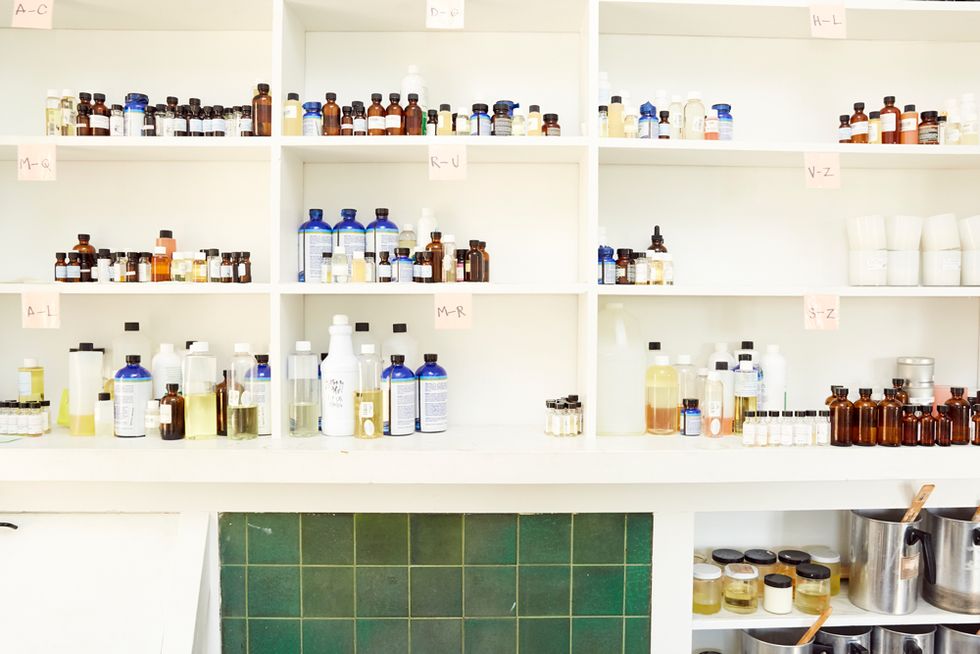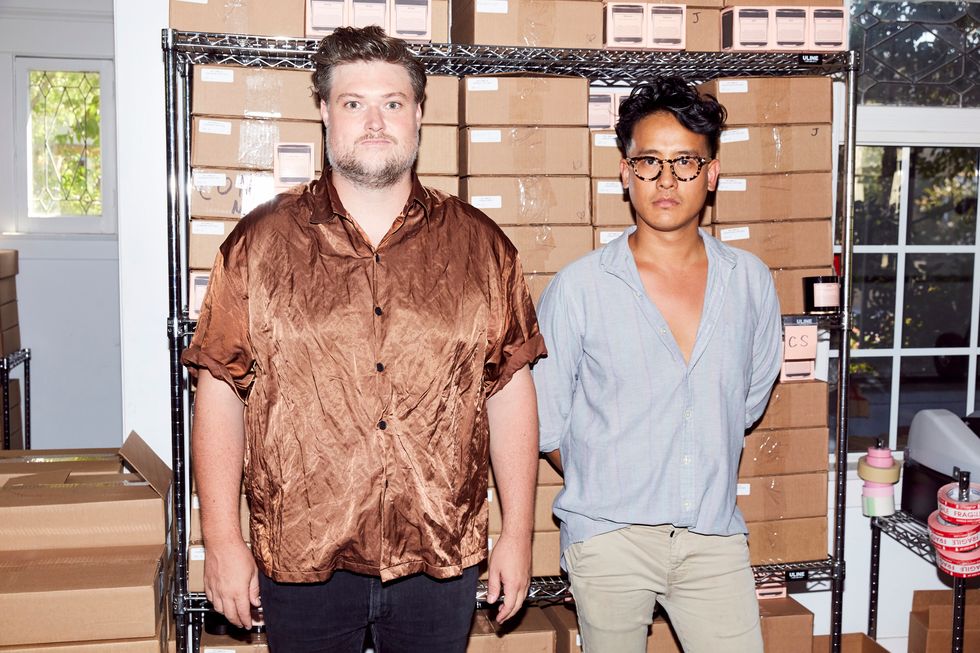 Inspired by brands like Aesop, Le Labo, and Byredo, the founders began to experiment with non-traditional scent pairings and pull from their diverse backgrounds. "David's Vietnamese and worked on a Vietnamese food truck for a couple years—he has an awesome palate for flavors—and I'm really addicted to all the high-end perfumes. We just started researching and playing and figuring out what works. Trial and error." Their first-ever candle, and David's favorite, might be their most infamous—Kush. "It embodies the whole concept of Boy Smells. We feel like scent can be high-concept and high-design, but it can also be playful and provocative in a very fun way." And yes, there is real cannabis fragrance in the candle, along with some hemp stalk, musk, and other florals. No, it will not get you high.
Aside from the candles themselves, which really are quite heavenly (and surprisingly affordable at $29 a pop) and the made-for-Instagram packaging, the Boy Smells name is also equal parts clever and introspective. Says David, "It's poking fun at assigning scent or color to gender. You know, it's called Boy Smells and it's in a pink box. So, we thought it'd be fun to give permission for everyone to enjoy whatever scents they like across the spectrum of masculine to feminine." Matthew agrees: "I think we have evolved so much culturally, and identity is a much more complex and layered thing than it used to be, [that] we really love this idea of layering masculine and feminine scents together. It reflects a much more complex sense of self than the way people used to think about it."