WWWRN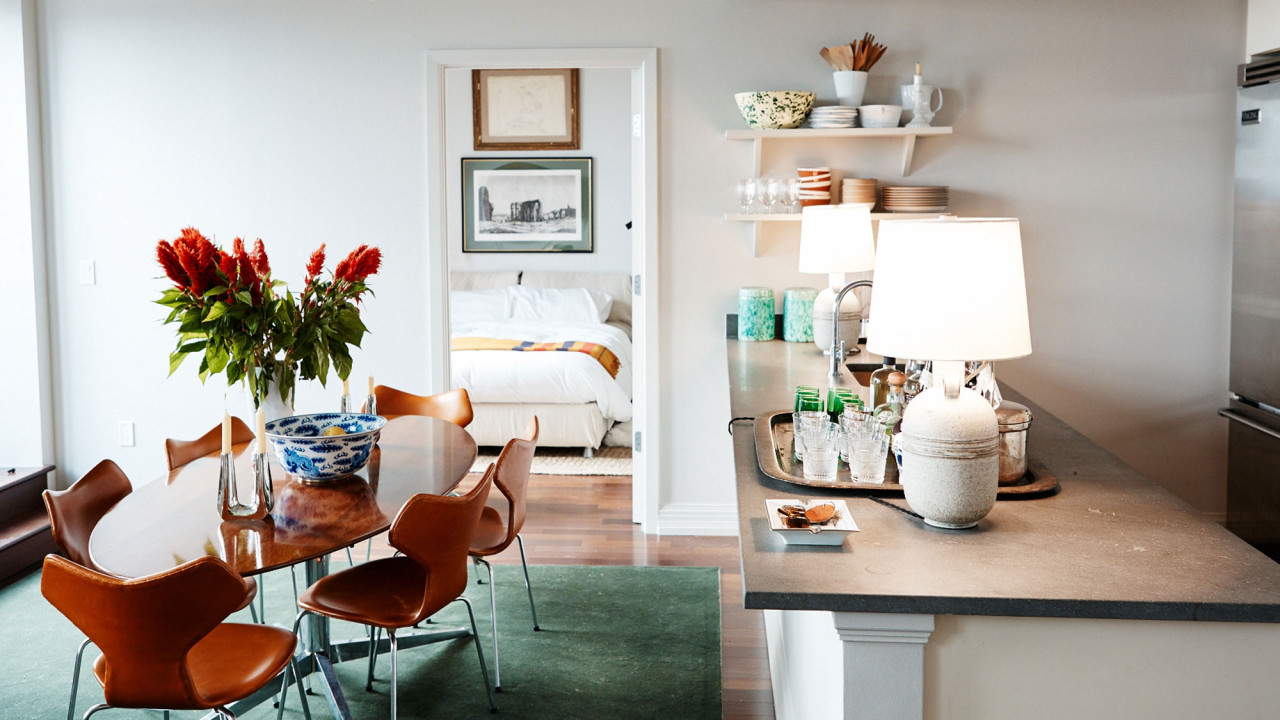 8 Ways to Update Your Apartment and Still Get Your Deposit Back
Who says you can't have the kitchen of your dreams?
As we continue on in what feels like an eternity of isolation, we've started to notice all the little things about our homes that irk us. Whether it's the hardware on our cabinets from the mid-2000s, showerheads that seem only to have a water pressure of "attack mode," and outdated light fixtures on our ceiling that resemble breasts (everyone knows what we're talking about here), what better time to perfect our personal sanctuary than right now?
Of course, many of us in major cities are renters, which means that we cannot necessarily demolish our bathrooms and install those subway tiles of our dreams. But we can come close. There are dozens of temporary changes we can make to our spaces to transform them into the homes of our dreams. It may take a bit of effort and elbow grease, but that's a small price to pay for a space you are happy to live, work, relax, cook, and teach in day after day.
First, a primer on what generally is and is not possible for renters. For the most part, leasing laws are quite flexible when it comes to cosmetic changes to your space. That means anything that does not require professional installment or modification. Switching out antiquated light fixtures, cabinets, tiling, and flooring are all fun to dream about on our respective Pinterest pages, but unfortunately, they don't fall under the umbrella of cosmetic modifications. Even if there is beautiful hardwood under the floor-to-floor carpeting in your bedroom, making this type of change will undoubtedly have you kissing your deposit goodbye.
Of course, we can't tell you all of the specific dos and don'ts of your apartment, since we're not your landlord! If there is a change you would like to make that is not cosmetic, contact your landlord and see which negotiations can be made. Disclaimer aside, here are eight ways to spruce up your interiors and still get your deposit back.
Release Your Inner Painter
Remember those painters' pants we all bought a few years back? Well, it's time for us to use them for their intended purposes. Whether you're looking to cover up a few scuffs that have accumulated over the years, or do to your walls what Michelangelo did to the Sistine Chapel, paint is the perfect way to change the ambiance of your space temporarily. With enough patience, anyone can paint stripes onto walls for a chic and tailored look, use the sponge-painting technique to create a hazy accent wall, gather stencils and create beautiful tracks of design, or just free-form a mural with some good old-fashioned paintbrushes.
Crush Your Fear of Wallpaper
Committing to painting can feel a little too serious for some people. We see you, and we feel you. Luckily, wallpaper exists. Now, you may be thinking, Why in the world would I subject myself to the terrible experience of applying wallpaper only to look forward to a borderline traumatic removal process? But it doesn't have to be such a painful project anymore. Removable wallpaper adheres with enough strength to withstand the test of time, yet peels away as easily as a sticker would once it's time for a change. The ease of removable wallpapers makes it simple for a person to switch their designs as their taste changes without causing damage to the Sheetrock underneath. We recommend applying it to bathroom walls to create an entirely new vibe for your at-home spa.
Wrap It Up
There is absolutely no point, at least in New York City, to invest so much time, energy, and money into demolishing and changing our countertops in a rented home. Now, does this mean that we must live through our leases with outdated faux-granite countertops? No. While we're talking adherable surfaces, we have to talk about countertop wraps. Although it can get complicated when trying to fit it around corners, these wraps are designed to act as removable wallpaper for surfaces. We recommend ordering more material than you need in case of any mistakes. Here's a tip: Try not to have the wraps overlap in areas of high traffic. This will minimize any lifting due to water damage or general wear and tear.
You Can Have Subway Tiles in Your Kitchen
To add to the slew of stickers we'll be removing once our leases are over, we can't forget about peel-and-stick tiles. These are essentially squares of flexible material that have been arranged in various patterns, grout and all. Simply cut the pieces to fit your backsplash area, peel, and apply. Luckily, these adherable tiles can withstand the heat of kitchens and humidity of restrooms.
Say Goodbye to Your Old Knobs
Changing out your cabinet hardware is one of the easiest ways to create a massive aesthetic change with a relatively tiny tweak. Given that the knobs and pulls on your cabinets are essentially ornate screws, replacing them will be one of the easiest projects on your quarantine to-do list. Simply unscrew the old knobs to remove and install the new ones. We recommend holding on to the old ones to easily make the transition back to the apartment's original state once it is time for you to move out. Pro tip: Why stop at your cabinets? Your dresser, nightstand, and armoire could probably use some love, too.
Create a Heavenly Shower
Living in quarantine has made us appreciate our bathrooms more than ever. The sound of a steamy shower after a long day of typing away is like music to our ears...until we hear our shower heads actually working. There are some pretty old-school shower heads out there that eject water at an almost dangerous pressure. Or they're little more than a sad dribble that can barely rinse out your conditioner. To make the transition to a better shower experience, consider changing your shower head. They are super simple to replace and can bring a contemporary feel to your personal spa. You'll thank us later.
Sweeping Things Under the Rug
We don't actually recommend sweeping anything under rugs; however, area rugs are fantastic for hiding the floors that may be eyesores to us. Even if you have wall-to-wall carpet, layering a design that fits your design aesthetic over it is an easy way to update the space without causing undue damage to your home.
Light Up Your Life
Depending on your landlord, you might be able to switch out your light fixtures. But if you're in the majority that are stuck with clinical-looking or outdated styles, it's probably time to invest in some cool lamps. Sprinkling a few different styles throughout your home can help you create a much more welcoming (and flattering) ambience while simultaneously opening up the space with added light in your previously dark corners.
Part of the series:
WWWRN