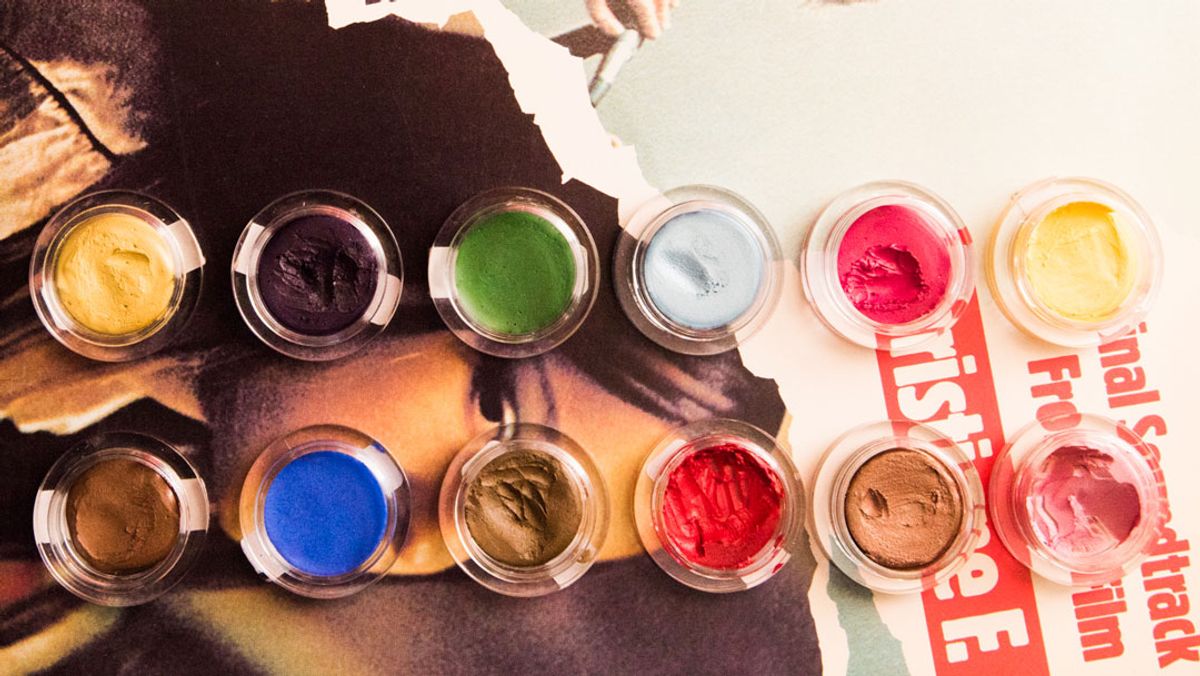 Makeup
These little pots are like adult face paint, and we are here for it.
We are currently in full-blown Leo season, and what better way to celebrate this amplified vibrancy than with some
bold eye makeup
? With masks taking the bottom half of our faces out of the picture (at least when we're outside), we're going full steam ahead on our
eye makeup game
. The latest trend to catch our eye and be spotted all over TikTok? Cake liners.
These eyeliners are similar to the watercolor paints you might have used to pass the time in quarantine. But unlike those sheer, wispy formulas, cake liners provide an opaque, matte, and long-lasting finish, making them great for killer neon wings or graphic shapes across the lid. It's essentially a solid block of pigment that activates with water and turns into a creamy texture that glides easily across the skin.
So how exactly do you use this product? First, wet a brush with either water or a setting spray, and swirl the brush into the pigment. After saturating the brush with your desired color, begin to apply how you would any other liner—along the lash line, extending beyond into a wing, or whatever your preferred style may be. While wet, cake liners blend easily, making this an excellent product for anyone looking to dabble in gradient liner looks. However, you have to be quick to blend these babies out—cake liners dry down fairly quickly for a smudge-free, matte finish that will stay put for hours.
Here are some of our favorite looks to consider admiring for a while:
---
Whether you are looking to create a striking technicolor medley, or opt for a simple pastel line hovering over the crease of your lid, cake liners are definitely worth considering this season. Here are a few of our favorites, plus some brushes for application. Just remember to have fun—this is truly a moment to experiment with your makeup.
We go ga-ga whenever these liners appear on our Instagram explore page. The colors are extremely pigmented and, in true cake-liner fashion, glow under blue light. We love this liner for a subtle pop of color to pair with a breezy summer dress.
As with most products Ben Nye makes, these cake liners are no joke. From an intense color payoff to a crack-free texture that stays put until removal, this product is one we reach for when looking to achieve a streak-free look that we can easily set and forget.
Beauty collectors, you're going to want to make space for this one. With over forty different shades to choose from, there's no wondering why these liners are in the collections of most people on Instagram and TikTok. Create a cloudscape on your lids with this baby blue, or choose a deep aubergine shade for a seamless transition into fall.
If you are a fan of sporting pastel halos around your eye, consider giving this liner a whirl. This creamy yellow shade looks fantastic on all skin tones, and it glows in the dark, too. Now that's fun.
As we begin to say au revoir to summer, these colors are ideal for celebrating those last few moments lounging at the beach. Although, who says neon can't make its way into the cooler months? We can certainly see this lime green transitioning into our fall lineup.
Although cake liners are fun tools for expressing ourselves through makeup, they can also help us with more subdued beauty looks. Use this black color for a simple yet effective lash-defining line on your upper lid.
This brush is ideal for those of you looking to scatter some intricate designs all around your eyes and face. We recommend using the bristles' length for sharp lines and the tip of the brush for finer details, like polka dots or small daisies.
An angled eyeliner brush is necessary for anybody looking to create sharp winged liner looks. This brush by Bobbi Brown is an ideal candidate because its bristles are compact and soft, making it perfect for a thin application that never tugs at the lid.
Sure, cake liners are technically eyeliners, but why put a halt on the fun at the lash line? We recommend wearing cake liners wherever you please. We like that this brush is thin and firm—it provides ultimate control while painting broad strokes of color on the lid.