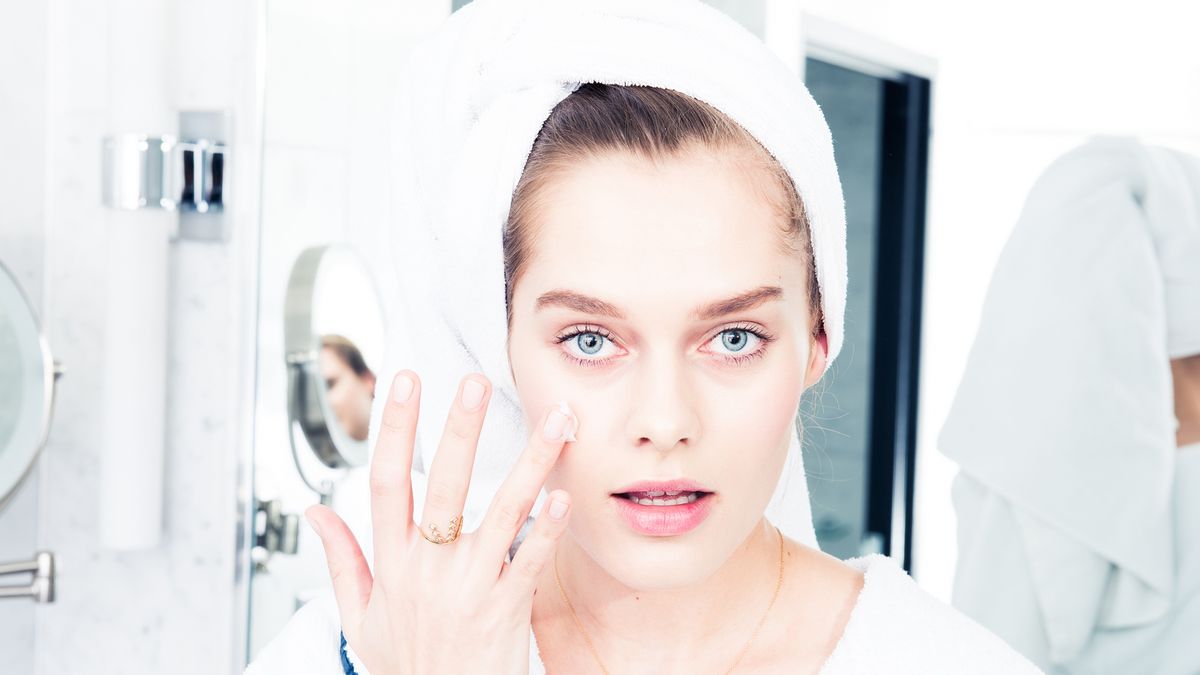 Skin
Our Favorite Dermatologist-Approved Sunscreens for Sensitive Skin
We got your back, front, and everywhere else that needs protection from UV rays.
Dealing with sensitive skin is frustrating, but in the summer especially, when the sun, heat, and increased environmental stressors are wreaking even more havoc than usual. Just when we think we've found the perfect routine to take care of our sometimes red and flaky skin, a new aggravation arises, forcing us to start all over again. And testing new products? Forget it.
Sure, we've found solace in
gentle cleansers
,
hydrating toners
, and
nourishing face oils
that help to keep our skin supple, but we need a little more help identifying the best sunscreens that won't cause inflammation or breakouts. That's why we turned to two board-certified dermatologists,
Dr. Michelle Henry
, a Harvard-trained Mohs surgeon and clinical instructor of dermatology at Weill Cornell Medical College, and Dr. David Lortscher, CEO of Curology, for their advice on the best ingredients and practices for sun safety for people with sensitive skin.
The plethora of sun protection products on the market today makes it challenging to choose the right formula. Luckily for us, sunscreen is categorized in a way that your first decision essentially boils down to this:
physical or chemical
. So which is the better bet for sensitive skin? Dr. Henry reveals, "I prefer [physical] sunscreens for sensitive skin. [Physical] sunscreens lay on top of the skin and reflect UV light. Chemical sunscreens bond with the skin and release UV light as heat, which can [irritate] sensitive skin." Furthermore, in somewhat more severe cases, some of the active ingredients in chemical sunscreen can cause irritation (although there is still more research to be done). She recommends that people with sensitive skin avoid formulas that contain oxybenzone, octinoxate, PABA, and avobenzone, since these can cause allergic reactions for some individuals.
In terms of strength, both Dr. Henry and Dr. Lortscher agree that an
SPF of 30 to 50
is adequate for everyone, including those with sensitive skin. Dr. Henry does recommend, though, to err on the higher side of
SPF during outdoor activities
to prevent sun damage, since you'll likely be more active and in more direct sunlight.
Like any other skin-care product that you'd avoid when you have sensitive skin, alcohol, fragrances, or essential oils are a no-go with sunscreen formulas. Dr. Lortscher adds, "Look out for these pore-clogging ingredients: sodium laureth sulfate, laureth-4, isopropyl myristate, cetyl acetate, acetylated lanolin alcohol, coconut oil/butter, isopropyl myristate, and potassium chloride. For those with oily, sensitive skin, look for oil-free formulas and products labeled
non-comedogenic
."
And what about reapplication—do our experts think that people with reactive skin should apply their sunscreen less often? Not necessarily. Both Dr. Henry and Dr. Lortscher explain that sunscreens work to protect the skin for up to two hours, meaning that anything more frequent
may
be superfluous. Dr. Henry adds, "Those who are very sensitive can reapply more frequently." Essentially, reapplication every two hours won't cause undue stress on your delicate skin, but always listen to your body, and reapply sunscreen whenever you think you need it (especially after swimming or sweating).
Furthermore, be mindful of applying enough sunscreen to ensure maximum protection. Says Dr. Lortscher, "You should apply about half a teaspoon to your face and neck and one ounce, or two tablespoons, to your body." Don't forget—if you're fearful of trying a new sunscreen formula, wearing protective gear like
hats
,
sunglasses
, and
breezy linens
is an easy way to prevent sun damage
and
avoid any skin irritation.
Here are some of Dr. Henry's and Dr. Lortscher's product recommendations for people with sensitive skin.
---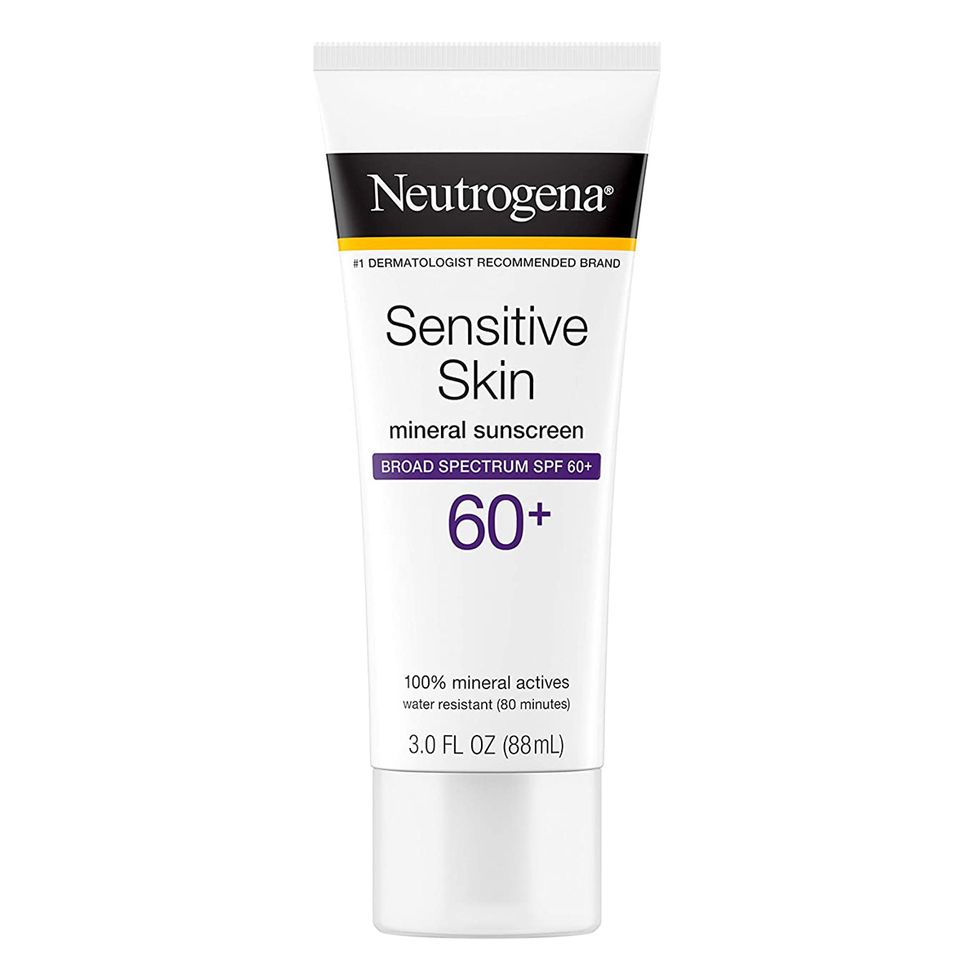 Both Dr. Henry and Dr. Lortscher recommend this product, placing it right at the top of our list. It is a mineral sunscreen, meaning that it will reflect sunscreen from our bodies rather than absorb the rays. Be mindful that you should reapply this sunscreen more often than others; every 80 minutes should do the trick.
For people with dry and sensitive skin, your favorite moisturizer brand also makes a great sunscreen. This mineral sunscreen contains ceramides, which work to hydrate the skin.
This product checks off all the boxes for an ideal sunscreen for outdoor activities. It's lightweight, which allows it to glide easily, while providing superior protection. Since it's a zinc formula, you'll need to work in the product for a minute or two to get rid of that white cast.
Hasn't the argument always been If it's good for babies, it's good for us adults, too? This sunscreen is ideal for both because it is free of harmful ingredients. Plus, it's tear-free, making it suitable for those looking to spend their summer days playing sports (when the product might run into your eyes a bit).
This chemical-free sunscreen is also oil-free, making it perfect for those with sensitive and oily skin. It also contains phytomoist, an ingredient that is four times more hydrating than hyaluronic acid, leaving you with supple and protected skin.
This sunscreen leaves virtually no white cast on the skin—seriously! With a main ingredient of cucumber, this sunscreen works to calm skin from sun heat while protecting it from UVA and UVB rays.
This sunscreen lotion contains sunflower extract, which hydrates the skin while protecting it from environmental stressors. The rosemary leaf extract also contains antioxidants that add another layer of protection against free radicals and sun damage.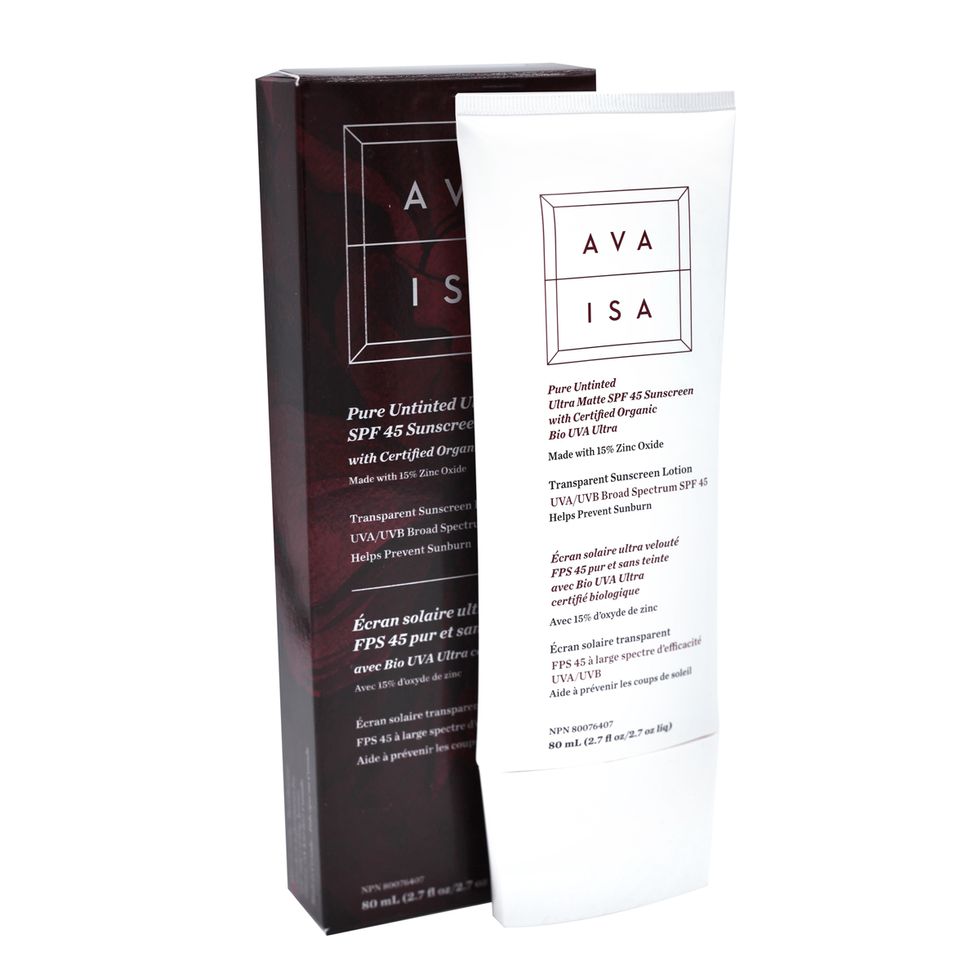 Got oily skin? This one's for you. This sunscreen is fragrance free, a must for preventing irritation, and is also matte, making it ideal for those who would like to avoid a shiny forehead from time to time.
The crème de la crème of all anti-acne sunscreens. This sunscreen is non-comedogenic, meaning that, while protecting you from harmful rays, it won't clog your pores. It also contains niacinamide and vitamin E, both ingredients that prevent free-radical damage and work overtime to hydrate your skin.