WWWRN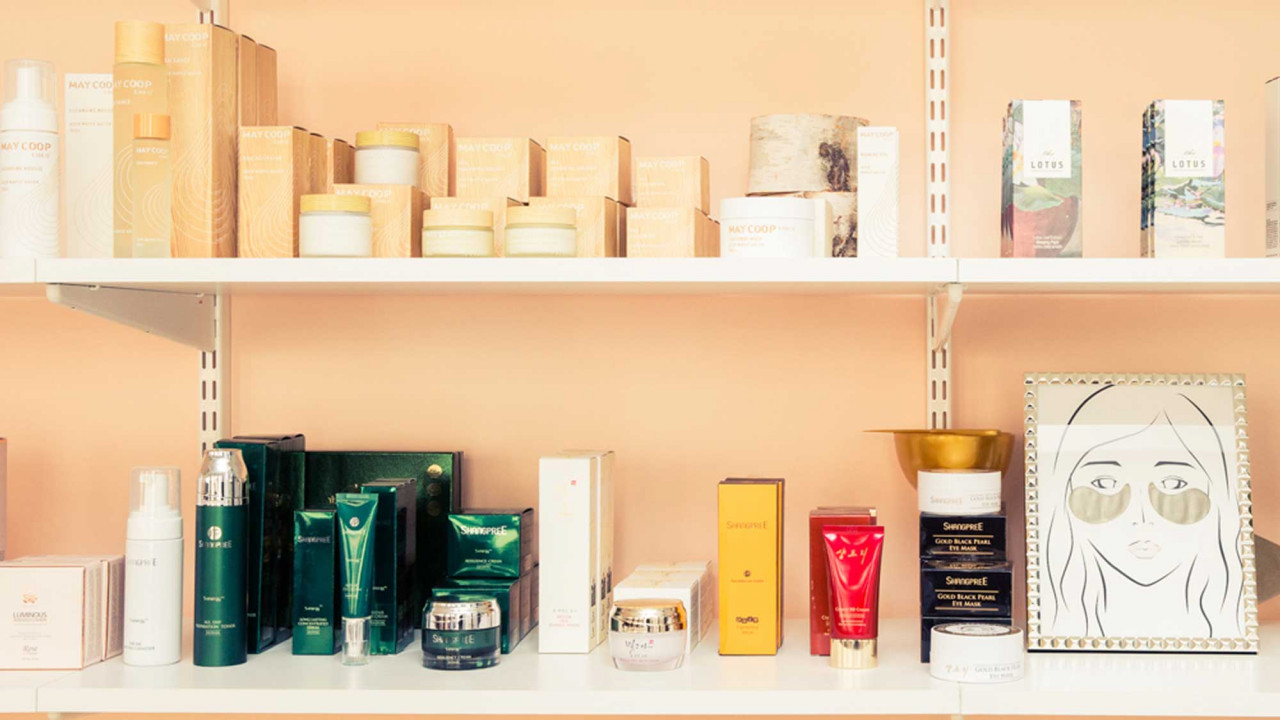 How to Pick the Right Cleanser for Your Skin Type
Tips from the experts, right this way.
Even if you don't subscribe to a super-involved skin-care routine, we'd wager a guess that you at least use a cleanser. How else would you remove the day's built-up dirt, oil, makeup, and acne-causing bacteria? Now, does this mean that everyone can simply use a run-of-the-mill soap to wash those away? That's a resounding no. Everyone has a unique skin type (and the condition of your skin can change due to a variety of environmental factors), which means that there are corresponding products for those types. So how do we determine what is right for us? We turned to board-certified dermatologist Dr. Macrene Alexiades and Deborah Kilgore, the director of skin-care knowledge at Paula's Choice, for advice.
When you're looking to buy a new cleanser (or really, any beauty product), it's important to pay attention to the ingredients. Dr. Alexiades says, "Avoid sulfated surfactants such as SLS (sodium laurel/laureth sulfate) or SDS (sodium dodecyl sulfate). They are toxic to marine life, and they do not maintain the acid mantle of the skin. Another set of ingredients to avoid in cleansers include DEA, MEA, and TEA (amines)." She explains that these ingredients are hormone disruptors that can bind to the hormone receptors in your skin, causing damage, and can lead to more serious illnesses, like cancer. And in order to err on the side of caution for your skin's sensitivity, she says that naturally derived masking fragrances such as limonene, citronella, cinnamates, and geraniol "[may] sound healthy, but are not." When in doubt, avoid using any skin-care product that contains fragrance.
Furthermore, be wary of products that claim to be suitable for every skin type. As Kilgore explains, "A cleanser that's going to be suitable for all skin types needs to be water-soluble and have a texture that will be compatible whether you're dry or oily (something like a hydrating gel). It should have gentle surfactants that won't strip skin." This means that even if an oil cleanser is marketed as being suitable for all skin types, it may not be enough for people with oily or acne-prone skin, since it is not water-soluble.
For people with mature skin, Kilgore explains, "Mid-life changes [can occur] that make [the skin] more oily or dry, so there's not really [a] one-size-fits-all here: You still need to select a cleanser whose texture works best with your particular skin type." This means that no matter your age, it is important to gravitate towards ingredients that help you to maintain a balanced and clear complexion without compromising the skin's barrier or its moisture content.
BAR SOAP
Whether you're a devout fan or can hardly fathom swapping out your liquid cleanser for one, most of us have used a bar soap to clean our skin before. Although bar soaps are traditionally known for leaving a residue behind that may be pore-clogging, there are many new formulas on the market today that are gentle enough for a range of skin types. Says Kilgore, "Look for options that come in skin-friendly pH levels, are free of paraffin and wax (to avoid a pore-clogging film on skin), and contain hydrating ingredients to keep skin smooth and soft (not stripped or dry)."
MILK CLEANSER
If your skin is dry, sensitive, or prone to redness, a milky hydrating cleanser may be the option for you. While they don't foam, they work exceptionally well to extract dirt and grime from the skin while still being gentle. For those of you who enjoy sporting a full beat, or apply sunscreen like your life depends on it, Kilgore mentions, "For more tenacious makeup or sunscreen, using a separate makeup remover first may be ideal."
MICELLAR WATER
Like most things invented out of necessity, micellar water is one of the best cleansing products on the market. Now, this isn't just a fancy water that French women use to remove their makeup; micellar water was created as an alternative to the hard water in France that was stripping people's skin barriers. As Dr. Alexiades explains, "Micellar water consists of lipid bubbles that minimize the disruption of the skin barrier. Micellar cleansers include surfactants in the micelles so you are cleansing while delivering lipids to the skin barrier." Micellar water is a great substitute for your morning cleanser, which should always be gentle enough not to strip your skin barrier.
GEL CLEANSER
If you have combination, oily, or acne-prone skin, gel cleansers are worth considering. They thoroughly clean the skin of daily stressors without stripping it of its barrier. The results? Skin that is clean and soft, never tight or dry.
POWDER CLEANSER
We can't help but feel like mad scientists as we measure out the perfect water-to-powder ratio for our routine when using this type of cleanser. Turns out, however, that powder cleansers are not that different from other types of cleansers. Says Kilgore, "[Powder cleansers are] less about skin type than it is about lifestyle choice. Powder cleansers can be handy for the world traveler who wants a formula they can mix with water in the palm of their hands on the go." Additionally, it can be great for people who prefer a more sustainable product.
FOAMING CLEANSER
Since we were little kids splashing around in the bubble bath, we have been conditioned to believe that the presence of suds is necessary for truly cleansed skin. However, the mark of an effective cleanser doesn't mean you need foam. Kilgore states, "[Cleansers] don't need to have a foaming action to work well; some [people] just prefer the feeling of lather when cleansing." If you're in that boat, you're in luck, because there are more options than ever that leave out sulfates (an old-school ingredient that creates a delightful foam but is potentially harmful). Because of the one-two punch of deep cleansing and hydration, this type of cleanser is ideal for combination and oily skin types.
OIL CLEANSER
Did you know that athletes in ancient Greece would oil-cleanse their bodies and scrape away the residue after a long day of working out? Oil cleansing has been around for thousands of years but has grown in its popularity over the past few. Oil cleansers have an ability, as Kilgore states, "to effortlessly remove heavy makeup and impurities while still leaving skin smooth and soft," making them great for most skin types, and especially for people with dry skin. Dr. Alexiades warns, however, "for acne-prone individuals, oil-based cleansers are sure to wreak havoc. Avoid cleansers with petrolatum or oils, as these will plug pores and cause breakouts." If you are acne-prone, however, and must use a cleansing oil, be sure to follow it with a milk or gel cleanser as a part of a double-cleansing experience at the end of a day.
CLEANSING BALM
Oil cleansers are quite similar to cleansing balms, but they are certainly not the same. Says Kilgore, "The supple, rich texture of cleansing balms makes them a great option for dry and sensitive skin types. On application, they warm up and transition into a silky texture that, after rinsing, leaves skin feeling soft, calm, and hydrated." Dr. Alexiades adds that these sorts of cleansers can be great for maturing skin, as "the goal for all skin types, but especially mature skin, is to maintain hydration, instead of drying out the skin." For people with acne-prone skin, make sure to double-cleanse, as cleansing balms used alone can clog pores and exacerbate breakouts.
EXFOLIATORS
Here is your guide for exfoliating correctly. Just remember to look for non-abrasive scrubs that gently buff the skin, or a BHA or AHA option for chemical exfoliation. If you must use exfoliating tools such as cleansing brushes, make sure to use one that is made of silicone or has softer bristles, as rougher bristles can also stretch your pores and make them appear wider. Says Kilgore, "Go with a chemical exfoliant such as AHA (alpha hydroxy acids like glycolic acid and lactic acid) or BHA (salicylic acid). These non-abrasive options are more effective than physical exfoliants and offer additional benefits. Not only do they exfoliate more gently and evenly, they can also help minimize the appearance of wrinkles, clarify dull/uneven skin tone, smooth rough texture, unclog pores, and increase hydration. Things that manual exfoliating or cleansing brushes just can't do!" However, don't go too intense; over-exfoliation can lead to the breakdown of the skin's barrier. Dr. Alexiades recommends to exfoliate intermittently—three times a week to start.
There's also a debate about whether or not toner is a part of the cleansing experience. Is toner truly the last step in cleansing skin, or should it rather be the first step in restoring pH balance in the skin? Kilgore explains, "No matter how gentle your face wash is, some beneficial substances still get whisked away from skin during the cleansing process." Toners are not meant to clean excess debris from the skin, but rather replenish the protective aspects of the skin barrier that were lost during the cleansing process. She adds, "Toners with replenishing hydrators, antioxidants, and soothing agents (as opposed to old-school toners that strip skin dry with alcohol or irritants like witch hazel and menthol) can give your skin a healthy dose of what it needs to look and feel younger, fresher, healthier, and smoother."
Want more stories like this?
Can You Really Stop Your Skin from Aging? This Dermatologist Says Yes
How to Donate Beauty Products to Healthcare Workers
12 Face Masks to Give Your Pores a Spring Cleaning
Part of the series:
WWWRN