Is SPF 100 Really *That* Much Better for Your Skin?
Decipher that sunscreen label like a pro.
Skin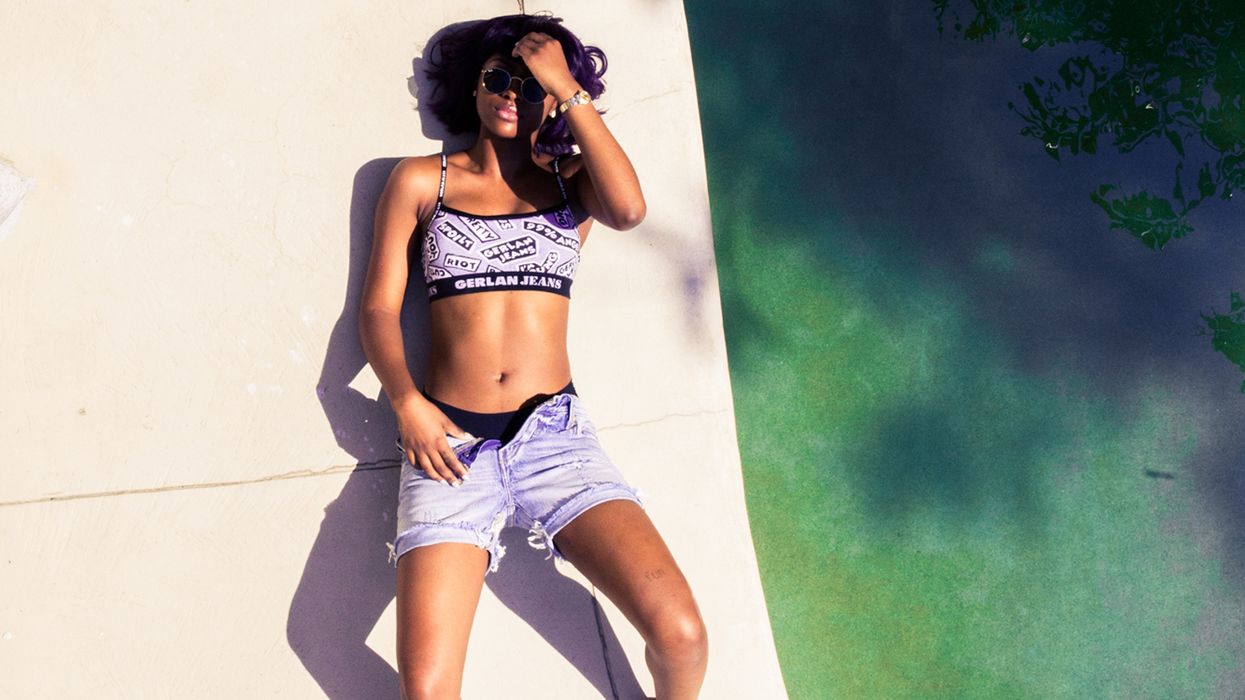 Let's face it—what should be a quick trip down the sunscreen aisle can leave you scratching your head with confusion. Should you go full throttle with an SPF 100, or will an SPF 30 suffice? While we're all well aware that protecting our skin keeps sun damage at bay, the question of what strength of sunscreen to use still remains a bit hazy. But first, let's get one thing straight: No matter what SPF strength you choose, experts say that you need to use the right amount of product to get the full level of protection that
'
s on the label. "Most people only apply 25 to 50 percent of the recommended amount of sunscreen," says Dr. Robyn Gmyrek, board-certified dermatologist at
Park View Laser Dermatology
. "An average-sized adult needs at least one ounce of sunscreen to evenly cover the body from head to toe, which is about the amount it takes to fill a shot glass. So if you buy an eight-ounce bottle of sunscreen, it should only last for eight applications."
When it comes to SPF numbers, "the higher, the better" logic makes sense. But to
really
find out if there's strength in numbers, we tapped a few board-certified dermatologists for their insights. Below, they share how to navigate through the slew of sunblock options as well as what strength we should be using to best
protect our skin
.
---
What Does SPF Mean?
SPF stands for sun protection factor, but it's only a measure of protection against UVB rays. "The sun produces two types of UV rays: UVB and UVA," says Dr. Todd Minars, board-certified dermatologist and owner of
Minars Dermatology
. "UVB is what's responsible for sun damage that's immediately known, such as
sunburns
, peeling, and elasticity issues, whereas UVA penetrates deeper and are the rays responsible for long-term concerns like wrinkles, deep creases, and indirect damage to your DNA."
Turns out that protection against UVA rays is just as crucial—it'll just take a little more research to make sure you're covered from both types of rays. Says Dr. Gmyrek, "UVA light comes right through window glass and penetrates the skin even more deeply than UVB light. In order to assure that your sunscreen is protecting against UVA rays as well, it must be labeled 'broad-spectrum.'"
Is Higher Better?

Both experts recommend a broad-spectrum SPF 30 at minimum for daily use. Still, as the SPF value increases, so too does the sunburn protection. "In the US, the FDA regulates sunscreens to ensure they meet safety standards and to improve their quality and effectiveness," says Dr. Gmyrek. "Properly applied SPF 15 blocks 93 percent of UVB rays; SPF 30 blocks 97 percent of UVB rays; SPF 50 blocks 98 percent of UVB rays; and SPF 100 blocks 99 percent of UVB rays." And while the difference in level of protection between SPF 30 and SPF 100 is only 2 percent, Dr. Gmyrek says that "day after day, year after year, that 1 to 2 percent of extra protection will go a long way."

That said, if your SPF 100 isn't broad-spectrum, you're better off going with a lower-strength one that is. "Many sunscreens only block against UVB rays; however, complete protection comes from also blocking UVA rays. It's more advantageous to get a well-rounded product that is SPF 30 to 45 and has both UVA/UVB protection than to get an SPF 100 product that only protects against UVB," says Dr. Minars.


The Downside of a Higher SPF

Using a higher SPF number can impart a false sense of security. Even if you're an SPF 100 devotee, applying a single layer in the morning doesn't mean you're in the clear for a full day at the lake or beach. Explains Dr. Minars, "No matter the SPF rating on your products, whether 30 or 100, you need to apply regularly and increase the frequency when you're particularly active or spending notable lengths of time outside. Topical sunscreens work by creating a barrier between your skin and the sun's rays. The more you're in the water, drying off throughout the day (towel-drying can remove sunscreen), playing sports, and even sweating, the less efficient your sunscreen is." Bottom line: The act of reapplying safeguards you against spots that you may have missed or that have worn off.

Another downside to a higher SPF is that the formula may be rather, well, undesirable. But to really stay committed to protecting your skin, Dr. Gmyrek recommends finding a formula you actually like, since you'll be more inclined to use it. "People will buy a product that has perfect protection, but not use it because they don't like it, whether because it's too thick or makes their skin look a strange color due to residue," she notes. "You are better off buying a product that is SPF 30 that you like than one that is SPF 100 that you hate and will not use."
Shop Our Sunscreen Picks:
Burn easily? Opt for this high-protection SPF 100, which offers broad-spectrum coverage along with antioxidants to fend off free radicals.
Dr. Minars says that while "spray-on sunscreens can have issues, it tends to be user oversight versus the product being inferior." For an even and consistent application, he recommends rubbing in the formula after spraying to ensure all areas of the skin are covered.
Even out your complexion while staying protected with this lightweight BB cream that offers both UVA and UVB protection.
Worried about parched skin? This physical sunscreen by Dear Dahlia is as moisturizing as it is effective at keeping skin protected.
We're big fans of mineral sunscreens that don't leave behind a white cast (and that prime our skin pre-makeup). This one from Maelove checks all the boxes.
This formula from Tula is so much more than a sunscreen—it protects against environmental damage, pollution, and blue light, and leaves skin looking radiant.
We're big fans of Soap & Glory's antioxidant-rich day cream—it contains skin-loving green tea and has a non-comedogenic formula that's ideal for even the most sensitive skin types.
If you're looking to amp up your clean skin-care routine (and your sustainability), this 100-percent natural sunscreen features plant-based ingredients and a reef-safe formula.
Dr. Gmyrek explains that skin cancer also can develop on your lips. "To protect your lips, apply a lip balm or lipstick that contains sunscreen with an SPF of 30 or higher," she advises. We love this one by Brush on Block—it protects, soothes, and gives a "your lips but better" look.