WWWRN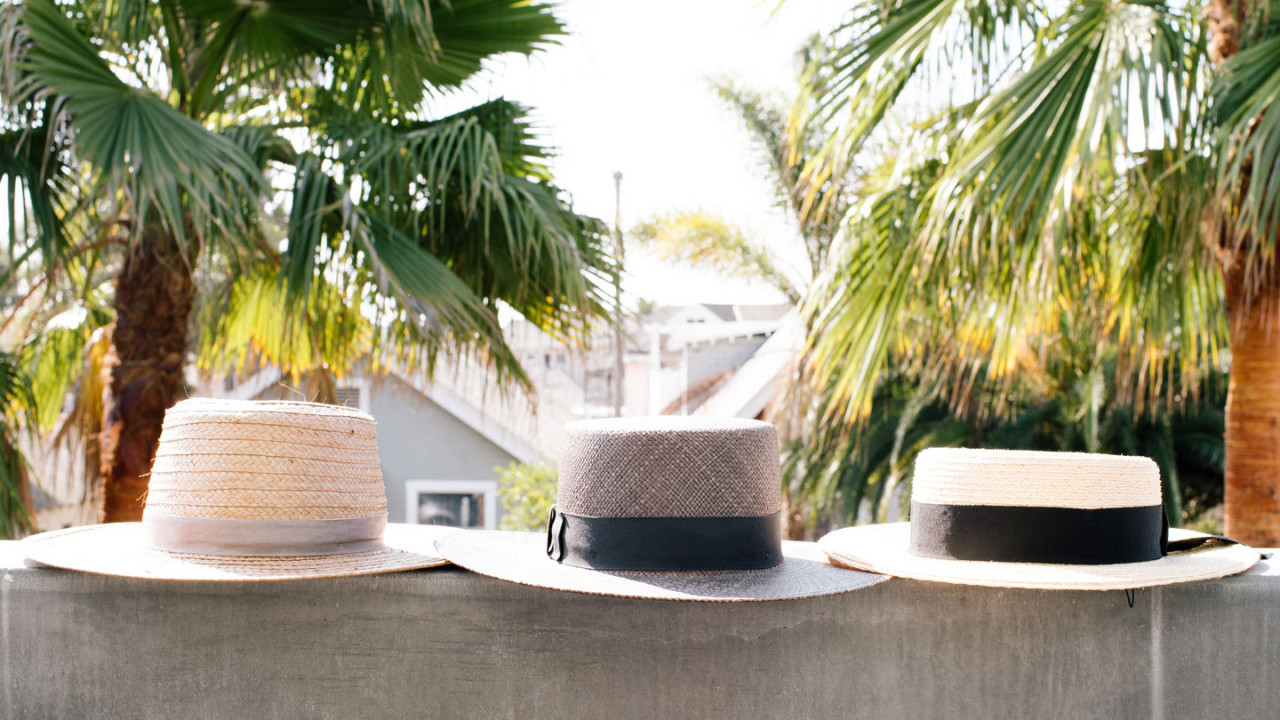 15 Hats Our Staffers Will Be Wearing All Summer Long
We're talking bucket hats, straw fedoras, baseball caps, and more!
The benefits of hats are twofold, both for practical and aesthetic purposes. First, they act as a buffer between your head and natural elements, be that wind, rain, or shine. In terms of shine, the only thing stronger than sunscreen is a layer of fabric cheerfully disguised as a chic hat. On the other hand, they just look cool. A wide-brimmed straw hat is perfect for lounging by the pool. An of-the-moment bucket hat is a great choice for your daily run to the grocery store. The limits are endless! We polled our staffers to see their current favorites, and the results are in: Hats are, without a doubt, the coolest accessory of the summer.
---
Jessica Teves
Head of Content
1. Sun Precautions Marathon Shade Cap: The judgment is real when I wear this hat (like, really real), but it is the absolute best for outdoor sports. This is my go-to for tennis and walking outside—don't forget to shade your neck, people! Oh, and wear sunscreen—even to bed (kidding).
2. Peter Grimm Extra-Wide Lifeguard Hat: I bought this lifeguard hat at a boutique hat store in downtown La Jolla (CA) years ago, and it's been a savior. The brim is massive—it almost covers half my chest—and it's perfect for long days on the beach or by the pool, when I need to make sure I'm fully shaded.
3. Lack of Color Teak Rancher Boater: For everyday running around the city (and after a toddler), this hat is perfect and easily transitions with me into cooler months when straw doesn't quite fit my look.
---
Alex Bair
Senior Sales & Brand Partnerships Manager
1. Prada Nylon Bucket Hat: OK, I know it may feel like the bucket-hat trend is fleeting, but I beg to differ. This nylon Prada baby is perfect for summer and is as timeless as it gets. Plus, it adds an instant, effortless cool factor to any look.
2. Maison Michel Straw Fedora Hat: While I'm not a big straw-hat gal, I'm a huge believer in sun protection and taking care of your skin. In effect, I've been searching high and low for the perfect summer beach hat. While it's definitely an investment piece, I know I'll cherish this one by Maison Michel forever.
3. Outdoor Voices "Doing Things" Cap: Living in New York, a trip to the bodega or farmers' market, for me, typically consists of wearing some interesting sweatshirt + pant combo, sunglasses, and sneakers. A baseball cap for some reason always makes my more low-key looks feel somewhat presentable. I love how Outdoor Voices infuses bright colors into all their pieces. This blue "Doing Things" hat always livens up my day!
---
Halle Lagatta
Associate Creative Producer
1. Cervo's Baseball Cap: How I miss my favorite restaurant in NYC… Since I'm not able to meet up with friends here like we usually would, I'm rocking this hat in solidarity with Cervo's staff. So looking forward to the day I can hang there again!
2. Jacquemus Le Chapeau Bomba: If there was one designer I had to live in for the rest of my life, it would be Jacquemus. The Bomba collection will go down in history, mark my words. Simon Porte's love of Hollywood vixen nostalgia (with a South of France flair) is simply perfect. This hat brings all of the DRAMA. I fantasize about wearing this hat at a beach club in Antibes, using the hat's large flaps to conceal the fact that I'm checking out a handsome man while sipping a spritz.
3. Gucci Raffia Hat: Super chic and practical, hats made from raffia are best suited for beach days. They're easy to roll up and stick into a tote fitted between sunscreen, a bottle of rosé, and a book. Here's to hoping we get some good beach days this summer!
---
Hannah Baxter
Senior Beauty Editor
1. KkCo. Vacationer Hat in Lichen Tie-Dye: I'm all about an oversized hat to help protect my skin from damaging UVA/UVB rays. This tie-dye style is reminiscent of a bucket hat, but with a little extra oomph to keep more of my shoulders shaded during my summer trips to the beach.
2. Mister Green Dualism Cap: I live in Bushwick, Brooklyn, so obviously I have a healthy collection of caps. Mister Green is one of my favorite small businesses out in L.A., and this yin-yang style is one of my current must-haves.
3. Carhartt WIP Acrylic Watch Hat: I'm 100 percent that jerk who wears beanies until it's above 75 degrees outside (see above: I live in Bushwick). I have no idea how many of this Carhartt style I own at this point, but between my partner and me, it's got to be at least a dozen. Electric orange, you're up next.
---
Camille Freestone
Freelance Writer
Part of the series:
WWWRN