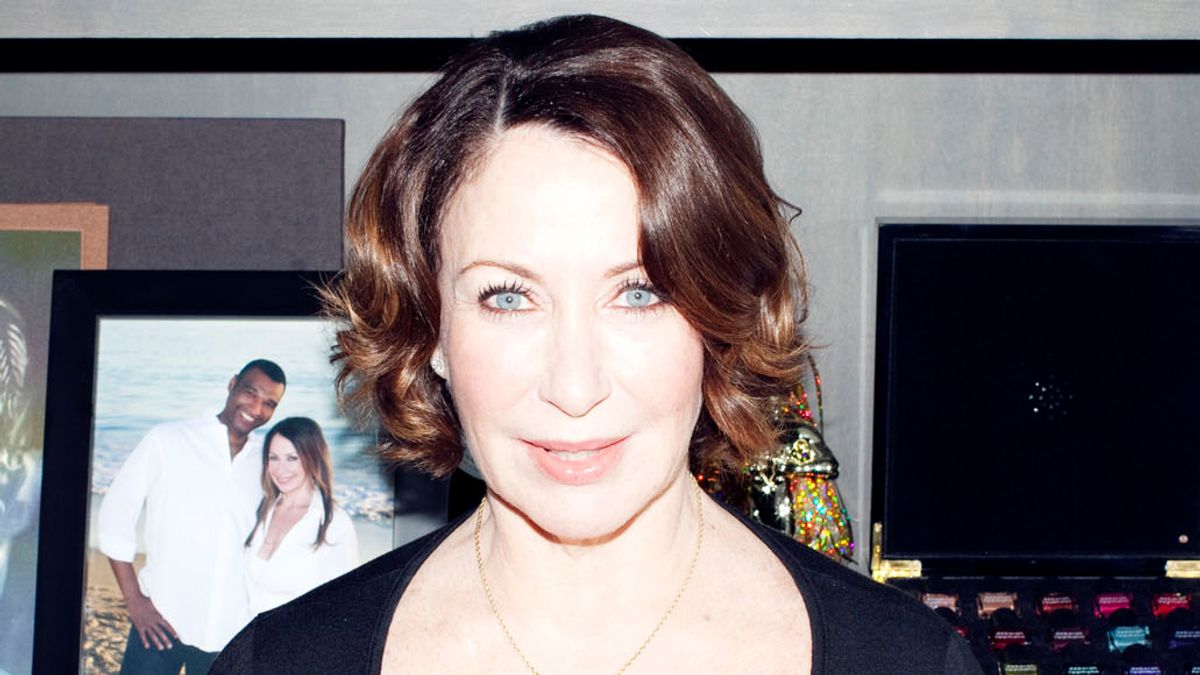 Nails
Deborah Lippmann's Genius At-Home Nail-Art Technique
And other dispatches from the polish guru's time in quarantine.
When I feel blue, I buy nail polish. I mean, not literally—every time I have a bad day, I don't buy a new bottle of polish—but sometimes, when I need a pick-me-up, I wander into C.O. Bigelow in the West Village and eye the options. They have a wide selection of Deborah Lippmann nail polishes, and I can count on feeling a little brighter whenever I leave with a shiny bottle in tow.

It turns out that Lippmann herself feels the same way—in quarantine, she told us that she's sometimes painting her fingernails two or three times a day, so it's safe to say that she's as enamored with her varnishes as I am. We chatted with her about yoga breathing exercises, the musical way she names her polishes, and how to do the perfect at-home manicure.
 

Her Go-To Colors
There are
132 different colors
on Lippmann's site right now, so the woman has options when it comes to painting her nails—and those are just her current hues. But Lippmann tells us that she comes back to three shades over and over.
"My three go-to colors are
Naked
, because it's the ultimate nude for those with pink undertones, such as myself;
Dirty Little Secret
, a sheer, holographic mauve, because you can't go wrong with a slightly dirty, modern, mauve shimmer; and
Lady Is a Tramp
, a classic, full-coverage red."
---
Deborah Lippmann
Deborah Lippmann
A Genius Nail-Art Hack
We all have way too many bottles of nail polish lying around, often in shades that we possibly/probably will never use again, but also don't throw out because we bought it in Miami or a best friend gave it to us as a gift or we just plain like the color, but it's too much whenever we paint all 10 fingernails with it.
Lippmann has a solution: "The easiest nail art to do is polka dots," she says. To start, she chooses 10 polishes, and paints each nail a different one. She uses two coats of polish, lets them dry for two minutes between each coat, and then she plays a little game.
"I shuffle the 10 colors I just used around on the table, and then choose different shades to create the polka dots," she says. "All you do is take the brush out of the bottle, wipe most of the polish off, and 'dot' the new shades on each nail. So colorful, so happy, so easy!" BRB, going to try this one immediately.
Why You Shouldn't Cut Your Cuticles at Home
Lippmann has tended to the nails of some of the world's biggest celebs—Kate Winslet, Reese Witherspoon, Ren
é
e Zellweger, and
Allison Janney
all accepted Oscars with hands (and nails) that had been manicured by Lippmann first. The woman knows her stuff, and she decrees that cuticle-cutting should
not
be tried at home.
"Leave cutting to the professionals, and just use a
cuticle remover
," she suggests. Once you apply remover, just push your cuticles back. "If you have a little piece of skin hanging, just barely attached, use your cuticle nippers," she says. "Place the head of your nipper at the base of the hanging skin. Close and open the jaw in the same spot, but do
not
pull. Simply place the cuticle nippers on the extra skin and open and close."
Voila
—cuticles tended.
Her WFH Routine
"I wake up every day with gratitude and do some Sukshma NaaIm yoga breathing to strengthen my lungs—I
highly
recommend this," Lippmann says. "I'm trying desperately to keep organized in a New York space. Breath work is important for me to keep calm trying to keep up!"
At home, Lippmann and her husband switch off when it comes to work. "My husband and I are working with each other, taking turns making calls on Zoom or otherwise," she says. We can relate!
On the Nail Industry in Quarantine
"Although this is a hard time for many nail technicians like myself, it's a great time to share our knowledge with consumers who are interested in trying out
at-home manis and pedis
," Lippmann says. "I think many consumers will be very excited to return back to their trusty nail technicians when salons open back up."
In the meantime, she points out that this time has helped people to evaluate their priorities. "This has given people a chance to reflect on how important those in the service industry are," she says.
On Nail Trends in 2020
Quarantine will just encourage all of us to become more fully ourselves, Lippmann says. "When it comes to nail trends, I predict the minimalists becoming even more minimal, with clear nails and very simple dots or squiggles," she says. "Those who love
pops of color
will come up with more intricate designs."
Every Polish Has a Story—Or a Song
Lippmann names her nail polishes after song titles. "As a singer, it was the perfect way to marry my two passions," she says. "I felt strongly that the names should evoke a feeling rather than a specific shade, because we all see color differently."
To pick the song title for each shade, it's a collaborative effort. "We have a creative process that works with the color selection," Lippmann says. Her team keeps a song library, and they have to "agree on the song to fit the shade color," she says. "We know we have a winner when everyone does the happy dance!"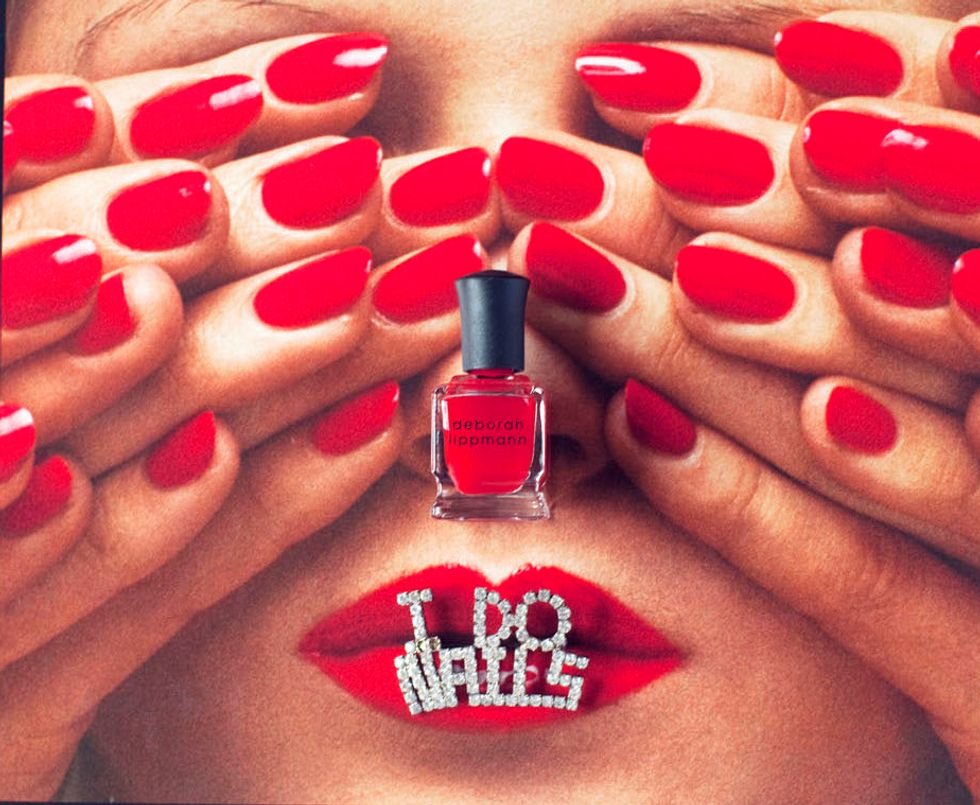 How She's Tending to Her Nails Right Now
When it comes to her mani, Lippmann keeps her nails "groomed" and ready for constant color changes. As for her pedi: "I am freshly pedicured using the shade
Fallin'
from my spring collection," she says. "At least it's spring on my toes!
"Both my fingernails and toenails are a 'sporty' length," she adds. "I'm hydrating my hands and feet like crazy—I don't like when my hands or feet feel dry."
How to Do the Perfect At-Home Mani
For starters, do
not
try to accomplish the perfect manicure on the floor in front of the TV. "Find a table—the height of a dining table with a chair," Lippmann says. "Set your tools out on a towel in front of you." Having your hands "grounded" on a table will go much better than "trying to polish with both hands in the air," she says.
Start polishing with your dominant hand. "I suggest this so that you will automatically work at a slower pace, which is one of the keys to perfect application," she says. "Pull the brush out of the bottle, making sure there is neither too much nor too little polish on the brush. This takes some practice, but once you learn to eyeball it your application will be so much easier."
And now things get technical. "Set the brush at the base of the nail plate, one-eighth of an inch away from the cuticle and in the middle of your nail," Lippmann says. Gently press down on the brush, and let the polish flow into the cuticle. From there, pull the brush toward the tip of your nail, gradually adding a little pressure.
"Place the brush back in the bottle if needed, then place the brush one-eighth of an inch away from the cuticle and just a little bit left of center," she says. Repeat the process above, and do it again a little bit left of center, so the whole nail is polished. "Just pull
straight
to the tip—resist the temptation to move the brush from left to right."
For the pièce de résistance, "cap the very edge of the nail, being careful not to get polish on the top of the nail," Lippmann says. "Wait two minutes for solvents to evaporate."
When It Comes to Nails, Patience Is a Virtue
A few more mani/pedi tips: Use a base coat, two coats of color, and a top coat, and use moderation. "Depositing just enough product on the nail is better than depositing too much," Lippmann says. "Your manicure will last longer." Less is more, she adds: "When painting, it's important to keep in mind that you only need a few strokes of nail polish to completely cover the nail."
It's sometimes hard to do a good at-home mani (or pedi), but that's at least partly because most of us are lazy and impatient. "There are three important steps that some people want to skip, but are essential for a good mani/pedi," Lippmann says: "Using a base coat, waiting for each and every coat of polish to dry, and using a top coat."
There's science to it. "The base coat gives the polish something to adhere to; waiting two full minutes between each coat allows each coat to dry properly to not interfere with the next coat; and a top coat creates shine and protects against chipping," she says. Drat. But she's right.
Even if you're not in the mood for any color, Lippmann suggests keeping a base or top coat on at all times. "I recommend always putting several layers of polish on to protect our nails—whether it's layers of base coat and top coat—if you don't want color," she says.
Lippmann's current shopping wish list:
Dyson
La Prairie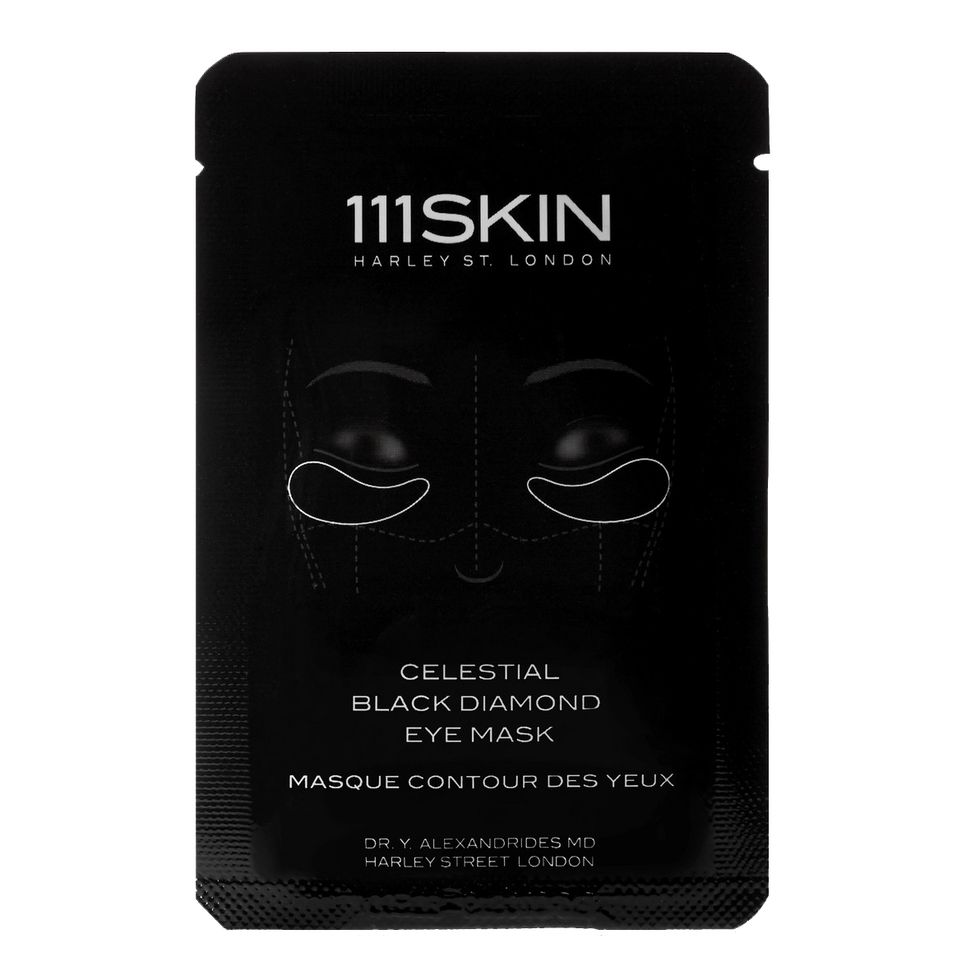 111Skin
Scanpan
Scanpan