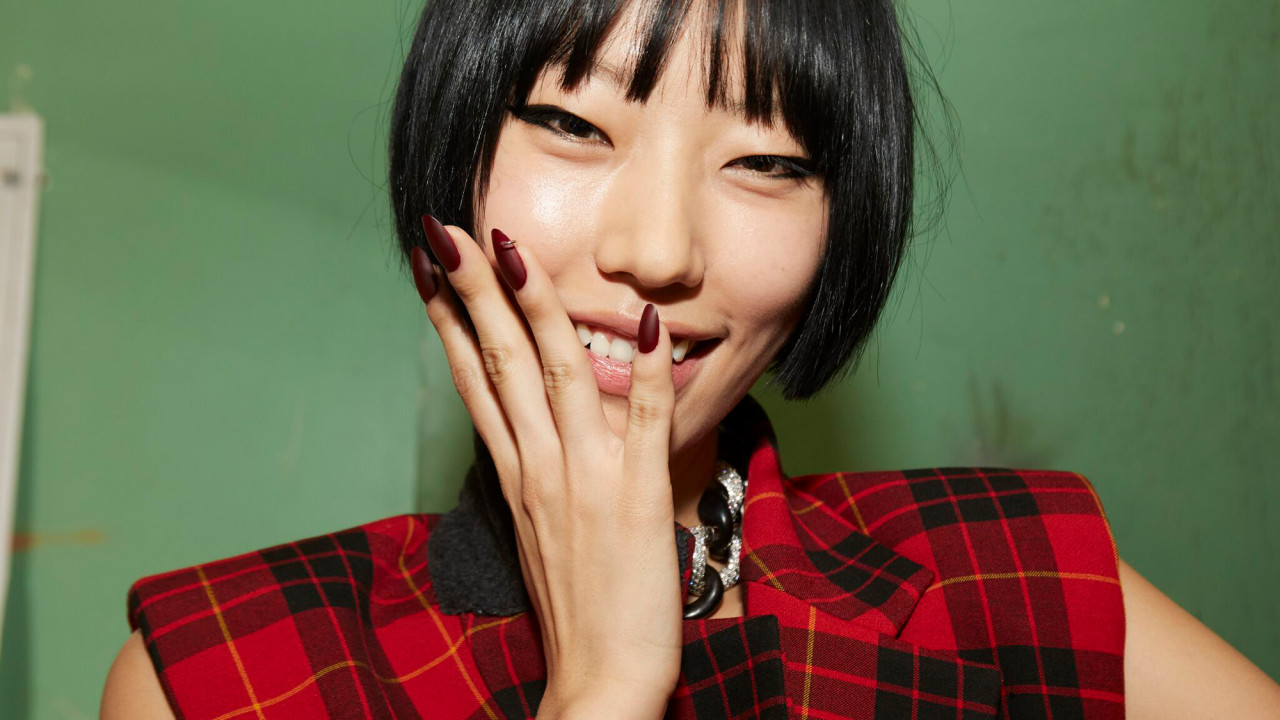 Our Favorite NYFW Nail Trend Is a Major '90s Throwback
Dark, moody nails for the win.
A blast from the past is almost always inevitable during fashion week. Trends start to emerge that are more often than not inspired by the last few decades. This season the beauty seems to be all about the '90s, and while it was spotted across the various hair and makeup looks, it was most evident when it came to nails. Black, maroon, blood red, and cocoa nails were everywhere from Rodarte to Oscar de la Renta, in both almond claws and short and natural finishes. Whatever the shape, it didn't matter as long as it looked Gothic and dark. So bid adieu to your minimalist, neutral mani, because dark, moody nails are here to stay.
---
Oscar de la Renta
Nail artist Miss Pop knows a thing or two about creating a nail trend. To complement the celestial and embellished collection, this wine-colored look was meant to evoke "sophistication, a feeling of enchantment, and timeless elegance that will never go out of season." The Zoya shade Alyssa gives us has such romantic yet mysterious vibes. This dark red exemplified the collection, which was inspired by the poem that was later adapted into the Disney film Fantasia.
Lead artist for Morgan Taylor, Danielle Candido took the perfect approach to Rodarte's vampire-bride-inspired show by making the models' nails look like they were dipped in blood. Spooky. First, the nails were painted with the shade In the Nude and then topped with Man of the Moment, Vixen and a Mask, and Rare as Rubies (a red-based glitter, for which they drained all the water out) for the splatter effect. Candido revealed that it took her team of six almost an entire day to create all 60 sets of these gel polish nails, dragging through the colors on each nail with an art brush to perfect the look. We love the deep, pointy vampire-red shade called Take the Lead she used for the second look as well.
Playing off the punk, grungy vibe from Monse's fall/winter 2020 collection, once again Miss Pop inspired us. First, she created a berry matte look using an oval-shaped tip, using Essie's Berry Naughty and Essie's Matte about You top coat. She then added the ultimate '90s accessory: a tiny hoop. "The clothes are pierced with safety pins, and many of the models' noses are pierced, so we're bringing that 'I'll pierce anything' vibe to the manicures, too," she said. Don't freak out, though—it was only gel nails that received a piercing, not the natural nail.
The battle between light and dark was on at Jason Wu with nail artist Jude Severin (filling in for his wife, Deborah Lippman, who was in L.A. for the Oscars), who used two coats of Lippman's Single Ladies to create a deep, glossy wine shade. It served as a nice contrast between the ladylike red lips and feminine dresses in the collection.
Romance was in the air at Brock Collection's fall/winter 2020 collection, where Essie's global educator, Rita Remark, created a moody nail with a perfect subtle detail: a miniature half-moon at the cuticle. Bahama Mama was the shade du jour, which complemented the luxe, weighty fabrics in the collection beautifully. Remark freehand-drew the crescent shape, but recommends using a sticker to recreate the look at home.
At Khaite, Jin Soon Choi and Catherine Holstein were inspired by cool girls in New York nightlife, which led to this chipped I don't give a f*&k nail look. They applied Jin Soon HyperRepair before the Absolute Black polish, topped it with HyperGloss and HyperDry, let it dry, and then actually chipped away at the polish for a lived-in look. Maybe this is all the encouragement you need to let that three-week-old manicure hang out for just a little bit longer.