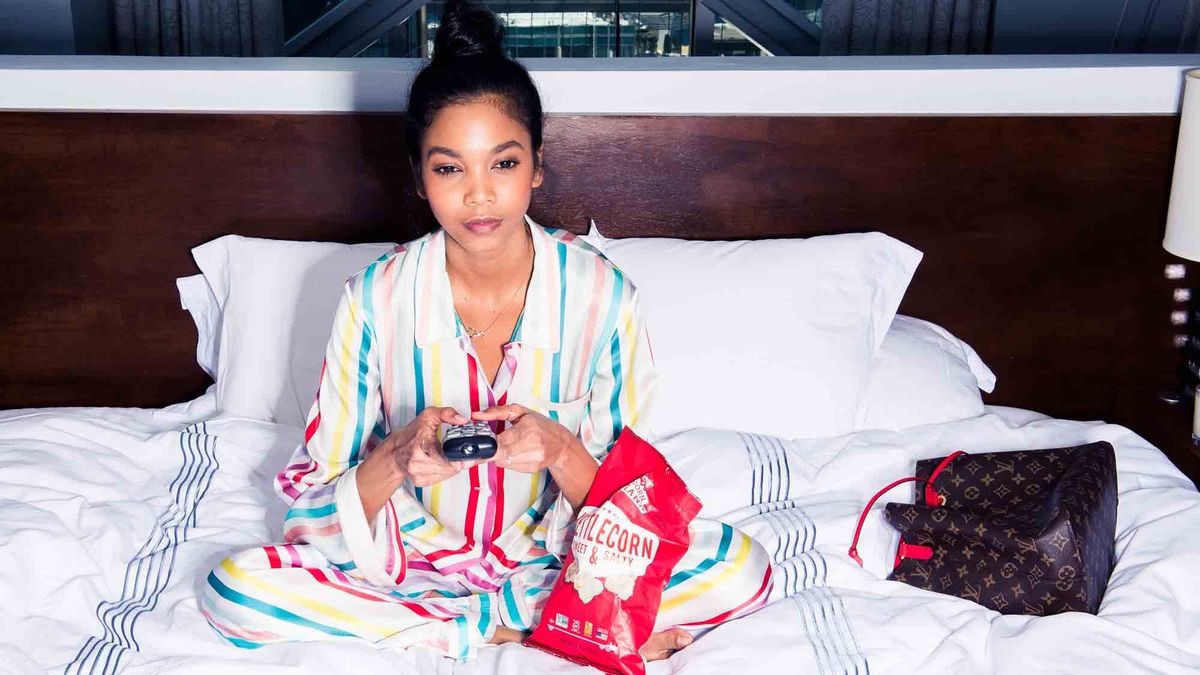 Culture
Need a Distraction? The Best Shows, Movies, and Books to Delve Into
Global pandemic who?
The news right now is like watching an apocalyptic horror film, so it's hard to keep our attention when we turn the channel away from the news and try watching a movie or a show, or—even harder—reading a book. And as lovely as meditation and being present may be, forgive us if we'd rather distract ourselves from the news at some point throughout the day.

So after we've Zoomed our last Zoom and we've FaceTimed enough family members that we're running out of breath and we've done some at-home exercise, we like to curl up with a good book or do a little Netflix and shelter in place.

This week, we're focusing on the shows, movies, and books that actually held our attention long enough that we put down our phones for at least a half hour and let ourselves be transported to places far, far away, where strangers grazed arms on public transport and friends took long walks in the park and bought ice cream from shops that were open. 


---
TV Shows
---
Tiger King
Better late than never, right? Some of us here at Coveteur (*raises hand*) have a bit of an opposition reflex and tried to resist the allure of this absolutely bonkers, totally bananas, incredibly outrageous true-crime show. But guess what? We finally started watching it, and though we don't love it, we're going to have to watch until it's over. Damn you, Joe Exotic! (Though we're most intrigued/horrified by Carole Baskin, TBH.) 
How to Fix a Drug Scandal
Created by badass documentarian Erin Lee Carr, the four-part series explores what happens when the people in charge of evidence in drug cases—namely, drug lab chemists—happen to be unreliable and/or battling drug addictions of their own. 
Succession
Good news: If you haven't watched
Succession
yet, you have something to do for the next twenty hours that is way more enticing than, oh, just about anything else. The story of a massively wealthy media family will sometimes make you feel horrible for feeling so sympathetic for a family of egomaniacs (at best), but who cares? You'll have a great time doing it. (Which, by the way, is what we're pretty sure all the characters tell themselves whenever they do anything a bit megalomanic.) 
---
Movies
---
Contagion
Yes, we know. No one wants to watch a movie about basically what we're all going through. But we will say: If you do choose to watch this, your attention will be thoroughly engaged. Will it be more pleasant than just watching the news? No. Will you feel better afterward? No. But like a five-alarm fire down the street from your apartment, you probably won't be able to tear yourself away until you've watched at least half of it. At least the acting's good. 
Parasite
We can't say anything about it at all. If you've gotten this far without watching it, great job, because now you have something to do. If you can somehow pull off going into it only knowing that it won the Oscar for best movie this year, props. You won't regret watching it. Well, probably not. 
A Quiet Place
Some of us cannot watch horror movies. We won't specify who among us exactly that might be, but we'll leave that to your imagination. However, if you're made of a stronger constitution, you might consider watching
A Quiet Place
. It got great reviews, it'll scare the shit out of you, and—well, what more can you ask for? Oh yeah: John Krasinski. He's in there, too. 
---
Books
---
---
Conversations with Friends
Sally Rooney's first book
is not the most beautifully crafted novel of all time, but the story of college student Frances' affair with an affable and rather annoyingly charming actor named Nick will keep you turning pages. We'd say it's somewhere in the genre of literary chick lit, and the psychological portrait of the main characters and their supporting cast of friends (and wife) is a lot of fun to read.
The Neapolitan Novels
What. Better. Time. Than. Now. To. Delve. Into.
The. Neapolitan. Novels
?? Elena Ferrante's quartet of perfect books will completely obliterate your desire to do anything but read them, and since there's
four
of them, you'll be fully distracted for a long, long time. And when you're done, you can watch the show based on the books,
My Brilliant Friend
.
Anna Karenina
Unpopular opinion, perhaps, but we're just going to throw this on the fire: Now is a great time to read
Anna Karenina
. It's so intense that it'll force you to focus on it, and the sense of accomplishment after plowing through about 800 pages is not to be missed. If you need a recommendation of which translation to buy, you could read
this
or
this
, or just
buy this edition
, which is the one I read because my friend gave it to me when she was done with it. It did the trick.
Photos: Shot on site at 6 Columbus, a Sixty Hotel. On Jonelle: Pajamas, Morgan Lane; Bag, Louis Vuitton.Want more stories like this?
The Definitive Guide to Working Out at Home
21 Funny Shows and Movies to Stream Right Now
Feeling Anxious? Try One of These Products for Some Quick Relief