Career
Deskside: Deborah Lippmann
Fashion & Celebrity Manicurist; Creator, Deborah Lippmann. New York
---
Welcome to Desksides, The Coveteur's series in which we sit down with leaders in various creative fields and figure out how they got there. We guess we could've also named this, "how the hell do I get your cool job," accompanied with a "help me I'm poor" GIF from Bridesmaids, but then we realized going the mononymous route was a little more succinct.
We originally wanted to sit down with Deborah Lippmann because she pretty much makes all the nail polish we ever want. And does the nails of everyone on our Pinterest boards. We mean, we're guessing you're in the same boat. But when we got to chatting at Lippmann's New York HQ, we found out there's way, WAY more to the story. So, yeah, she's done Oscar night nails for everyone from Lupita Nyong'o and Marion Cotillard to Reese Witherspoon and Meryl Streep, and she's a regular backstage at fashion week and on set for major campaigns. Oh, and she was the one behind that fire engine-red polish for Caitlyn Jenner's instantly iconic Vanity Fair debut. Vanity Fair debut. Yeah. But the story of her rise, from jazz singer to manicurist at Frederic Fekkai, to doing nails for the aforementioned starry names and launching her own brand, is a series of serendipitous, make-it-happen events and opportunities (involving the likes of Cher and Martha Stewart) that we couldn't make up if we tried. You'll just have to keep reading.
ON HER FIRST CAREER:
"After graduating college with a degree in music, I started my career as a jazz singer, a passion of mine that I still do today! Creating music is a part of me and I've had some truly magical moments along the way—I couldn't be prouder of the three albums I've made to date–Nightingale, Vinyl and Deck The Halls. One of my first years in New York, Martha Stewart asked me to produce her first television Christmas Special, and this past year, I sang back up for Leann Rimes at the Rockefellar Center Christmas Tree Lighting. With my brand, I've managed to incorporate this other important aspect of my life by naming all of my polishes after song titles.
I quickly realized, I needed to do something during the day to pay the bills, so I pursued my second love of the beauty industry and went to cosmetology school. While there, I decided to specialize in nails, which allowed me to sit during the day and stand at night in heels, singing!" 
ON THE JOYS OF BEING A MANICURIST:
"I was actually a nail biter as a child! After one of my first professional singing performances, the Director took one look at my hands and took me out to get tips. I couldn't believe how much it changed my overall attitude and confidence—I immediately stood up straighter and carried myself differently. When you greet someone, the first thing you do is look in their eyes and next you reach to shake their hand; they are a powerful representation of who we are.
As a manicurist, I loved (and still do!) the idea of sitting across the table from someone and holding hands with them; giving a manicure can be a very intimate service. In 30 minutes I have the power to make a woman feel more confident and beautiful.
I have been blessed in my work as a manicurist to hold hands with at least six women (and one man!) on the day they won their Oscar. I consider award shows to be like a wedding day for these actresses, it is such huge moment for everyone who is a part of it and it is their sacred space. Holding hands with someone on such a momentous day is very personal and something I have cherished."
ON HER BIG BREAK: 
"When I first started working with celebrities, I experienced a new level of stress and excitement that came with the territory. I've always been an overachiever, but working with celebrities really pushed me to do my best and strive for perfection.
When I was working at Frederic Fekkai, Martha Stewart sat in my chair and had a manicure with me. She told me that I was extremely talented and I was flabbergasted—it was a big deal to me that she was even in my salon chair! A little while after that, Allure sent a reporter in undercover and called the salon afterwards to let them know I was going to be included in 'The Directory,' a section of the nation's top industry spa, salon and stylist pros. It all happened within a year—I was blown away! After that, an agent called and said that they wanted to represent me as a manicurist. I eventually had to make a decision to leave my day job and dedicate my time entirely to freelance, which was a really big deal because I didn't know when my next job was coming or when I'd get paid, but I haven't looked back since! I love schlepping to a set with my suitcase and the creativity of being backstage, working in tandem with makeup artists and stylists. In the world of freelance, I get to work with different amazing people every, which has helped to unleash my creativity. I'm constantly excited by the next opportunity to try something new.
Cher was one of the first major celebrities that I worked with. She was a huge inspiration to me and even helped me pick out the bottle [for my line]! Later, we collaborated on a color together called Believe, a sizzling, shimmering gold-beige."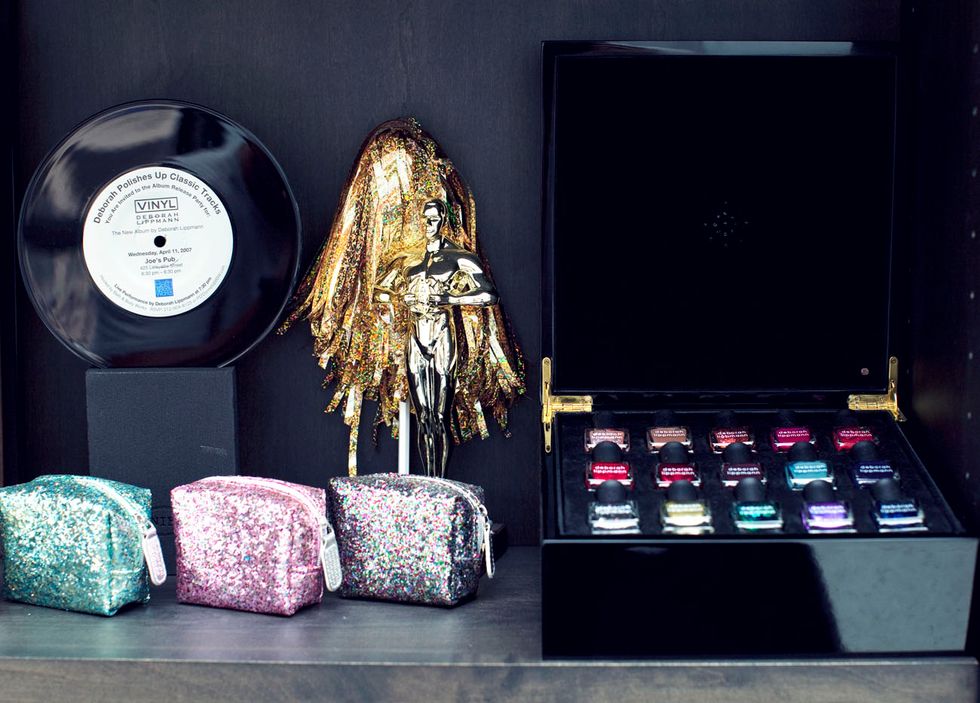 "I came to New York to start my career as a Jazz singer, which is a passion of mine that I still do today. I have released three records, one of which is pictured here. For the 15th anniversary of deborah lippmann we created a 'Until Your Dreams Come True 15th Anniversary Limited Edition Music Box.' Darrell Brown, a producer and dear friend, and I wrote a song about dreaming outside of the box. We put it inside a beautifully lacquered keepsake box with 15 brand new lacquers. Each lacquer's name tells a story about a different milestone of the brand, so the songs are very personal. [This mock Oscar] reminds me of the six actresses I have been blessed to work with on the day they won their Oscar; these have included Marion Cottiliard, Hilary Swank, Lupita Nyong'O, Reese Witherspoon, Kate Winslet, Meryl Streep…and one man, Common! Neiman Marcus award golden pom-poms pictured along with various sets in glitter bags; I've been dubbed the "Glitter Queen" by many in media."
WHAT ARE THE CRAZIEST NAILS YOU'VE EVER DONE AND FOR WHOM? WHO'S YOUR FAVORITE CLIENT TO WORK WITH AND WHY?
The craziest nail I've ever done was a "double nail" for Lady Gaga's "Born This Way" music video. Lady Gaga had a vision of wanting a double nail, inspired by a "host nail" and "parasite nail" type relationship – we had a lot of fun conceptualizing this with different decorative nail art elements and crystals. The inventiveness behind this look really pushed my creative boundaries and what the nail industry had seen before.
I have been lucky enough to collaborate with so many talented individuals that I could never choose just one favorite!
For my brand, I've had the great honor and pleasure of doing collaborations with Sarah Jessica Parker (Sarah Smile), Cher (Believe), Dree Hemingway (Supermodel), Pat Benetar (Hit Me With Your Best Shot), Kelly Ripa (Whatever Lola Wants), Mary J. Blige (No More Drama), Narcisco Rodriguez (Stormy Weather), Renee Zellweger (Just Walk Away Renee), Kelly Clarkson (Stronger), and most recently Inez van Lansweerde (Break 4 Love).
ON TAKING THE LEAP TO LAUNCHING HER OWN BRAND:
"While working at Fekkai I noticed a hole in the marketplace. As a luxury shopper, you couldn't find everything you wanted for nail care from one brand. CHANEL, Dior and YSL had nail shades, but not everything to address your nail needs, from a base coat and top coat, to cuticle oil and color. It simply didn't exist in the luxury sector. The affluent women who were coming into the salon understood their hair and skin needs and wants, but when it came to their hands, they didn't know about nail care—what ingredients to stay away from, what the steps to a proper manicure were, and more. There was a need and hunger for education. People have so many questions about their nails and it was exciting for me to educate women.  
I remember standing in C.O. Bigelow with one of my close girlfriends looking at polishes and daydreaming about what I would do differently if I had my own line of luxury lacquers and treatments. It was then, I decided to stop just talking about starting my own company, but actually take the leap and do it. I officially launched the brand in 1999 at Henri Bendel and Fred Segal and haven't looked back since!
I don't know where I would be without all of the people who have mentored me and been so generous with their time over the years; I feel very lucky in this regard. Laura Mercier and Bobbi Brown were two women I met while working at Frederic Fekkai who inspired me to launch my brand when I was first starting out. Martha Stewart approaches business is a way that I have always deeply admired and has personally always been a most helpful resource."
DID IT IMMEDIATELY TAKE OFF? WHAT WERE THE FIRST FEW MONTHS/YEARS LIKE?
"When I decided to launch my brand, I realized it was going to be a very long and gradual process, but I needed to just bite the bullet and go for it! I feel very blessed with our success. We launched in the very early days of the Internet so I was constantly on the phone cold calling different buyers and editors to get in-person meetings. Thankfully, I had already been doing a lot of editorial and celebrity work, so early on InStyle and Marie Claire did a feature on me and my brand, which helped to get my foot in the door and the word out to customers.
We were one of the first brands to straddle the luxury retail and spa spaces. Within the first year Nordstrom and various apothecary stores began to carry my lacquers and treatments. We gave women luxury options for their hand, foot and nail care, just as they readily had for skincare, cosmetics and hair."
ON HER CREATIVE PROCESS:
"When I was getting ready to launch my brand and figuring out how to name the shades, I considered the products that I personally buy.  For me, as a consumer, I'm extremely visual, but I also found that the name of a shade could make or break whether I bought a product or not. If the name didn't match my perception of the shade, I would get confused and not buy it. I decided to name my shades after song titles because I'm a jazz singer and passionate about music. I felt strongly that the names should evoke a feeling rather than a specific shade because we all see color differently. 
Brainstorming is a lot of fun at our office. Sometimes we'll pop open a bottle of wine, and get four or five people around computers looking on iTunes. We'll also review customer suggestions—so many people will email us song titles for potential colors. While we do have an ongoing list of songs, the color always comes before the name. I also really take time to think about what's missing from the marketplace and what trends I'm seeing on the red carpet and on the runway that I think my customers will love and want to wear.
I get my color inspiration from everything…everywhere… My inspiration is also always changing—it goes along with the trends, what I see around me, music that I am listening to, the people I am with. It comes from working on the runway with fashion designers; standing with Narciso Rodriguez and creating the colors for his collection… I am on a photo shoot today and working on the Hudson River, looking at the greenery and at the clouds in the sky… No matter what the inspiration, it is always very personal, that is always the most important thing for me."
ON THE JOURNEY OF STARTING YOUR OWN BUSINESS:
"Starting my own business was harder than I ever imagined. It's also the most incredible journey I've taken. I've had to learn things that I never thought possible and have grown in ways I've never imagined. Every day is a challenge, and every day is different.
There have been so many triumphs and moments that have taken my breath away since starting my own business. Looking back, I am so amazed and humbled to have my husband and brother working alongside me for the last 15 years. We are still friends and love each other, which is very special."
ON HER NOT-SO-AVERAGE DAYS?
"What I love about my job is that every day is different! It really depends on the time of year… January to March is red carpet season, so I'm usually either helping my clients prep for awards shows or on a plane flying back and forth between NYC and LA. For a few weeks in February and September, you can catch me backstage at NYFW or at hair, makeup and nail tests. Otherwise, I am usually on photo shoots for editorial and advertising campaigns throughout the year. And of course, I try to spend time in the office whenever I can!"
ON HER MOST POPULAR SHADES:
"The most popular polishes fluctuate depending on the trends, industry landscape and where they are sold. My red and nude lacquers are the most popular classic categories; I am always exploring to find new and innovative ways to redefine a red or a nude. 'Happy Birthday' put the brand on the map and gave me the title of 'Glitter Queen' since this lacquer really re-invented the category like no one had done before."
ON HER DREAM COLLABORATION:
"I've had the fortune to collaborate with truly great people through my career that have organically been able to lend their names to the brand to create truly beautiful shades.
For the future, my dream collaboration would be with someone [who comes] from an innovation and product development standpoint… maybe with a chemist I haven't even met yet that could make a hybrid between unhealthy gels and healthy polishes—that would be a dream come true!"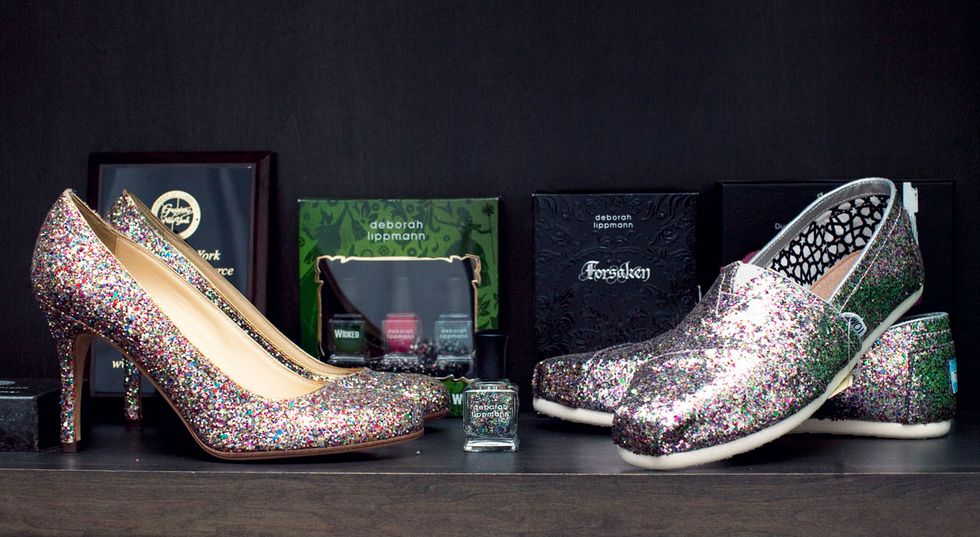 ON WORKING FOR DESIGNERS AND ON RUNWAY SHOWS:
"Beginning work with a designer starts with a flurry of emails that start weeks ahead of the show. It differs with every designer, wherein often I receive inspiration boards from them, or sometimes I see clothing weeks in advance, and then there are times when I don't see anything until the hair and makeup test!
The hair, makeup and nail tests, usually a few days in advance of the show, is my favorite moment. It is a collaborative process between the designer, the stylist, hair stylist, makeup artist and myself. It is one of the most magical and inspiring moments when we all get together and talk through the vision for the clothing, his or her customer, the vision of who this woman is.
The long hours and scheduling leading up to the show is of course my least favorite part!" 
ON SUPERMODELS WITH STICKY FINGERS:
"When I first started working backstage at runway shows early in my career as a freelancer, my manicure kit was my livelihood. I was giving a manicure to a major supermodel backstage as a favor once after the runway show had ended. When I turned to get a different lacquer, I saw in the reflection of the mirror that she reached into my kit and began putting things into her purse, stealing them from me. This happened several times! It was very awkward, as I had to approach her about it to get my items back since that was my craft and how I made money. Thankfully she finally relented."
ON WHY SHE'S PROUD OF HER CAREER:
"I launched a brand the year I got married and have been able to see its success for over the last 15 years. I'm proud of the fact that it's a family business, with my husband Jude as my partner and my brother Mark as a founding partner as well. 
Also, looking around our office, it is full of incredible talented people who choose to work with us every day. It's quite an extraordinary feeling! I hope for the brand to continue its innovation in the prestige category and stay on the cusp of modern technology and creativity for years to come."