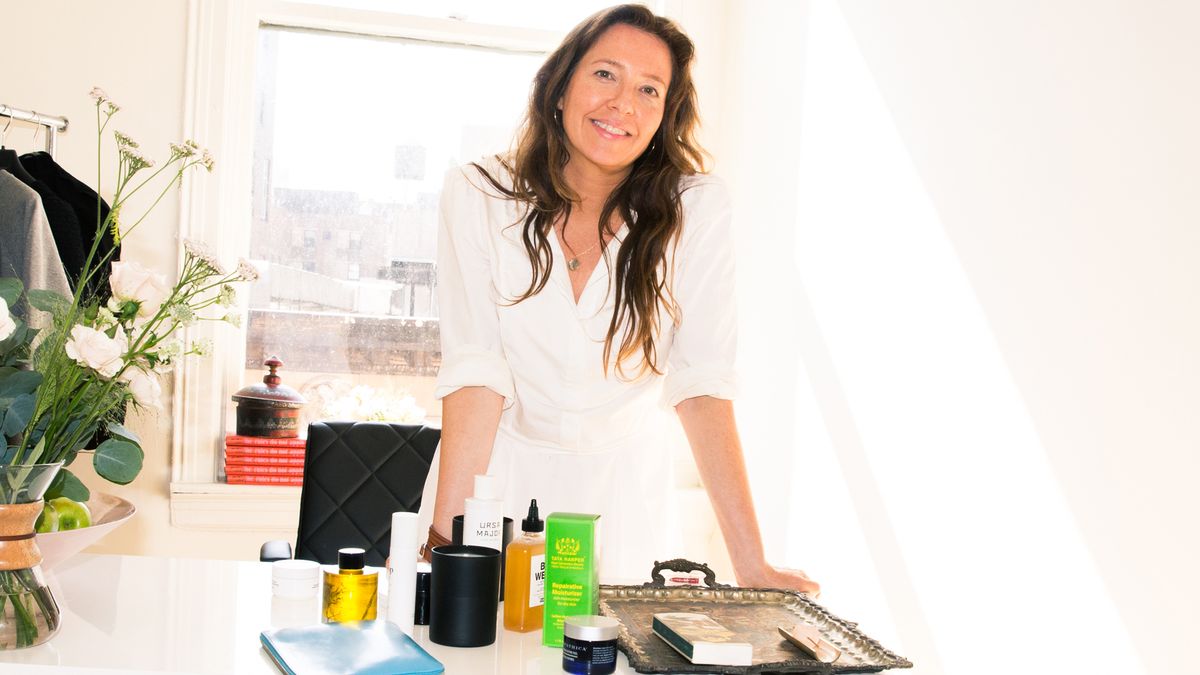 Shopping
The veteran beauty editor talks social distancing, weathering the COVD-19 storm, and tips for staying calm in quarantine.
---
How have you already started witnessing the changes across beauty editorial during this pandemic?
"We're all having a very similar experience in terms of we're at home. It's very leveling in a certain way, but it also points out vast inequalities, obviously. I think beauty editorial is as useful as ever, as long as journalists can adjust to what's happening. Right now, I wouldn't be so interested in hearing
here are these fancy people at this fancy party, and these are the jillion-dollar things they put on their faces
. It's pretty easy to adjust the tone because we're all in this soup right now."
Why do you feel that beauty and self-care are still just as important, if not more so, now?
"Beauty is one of those things that people can generalize about, [saying] that it's about vanity, and self-care is such a clich
é
. It's a clich
é
about turning your shower into a spa, but that is what we have in front of us right now, and it is a really helpful tool. If you sit in a bathtub for twenty minutes, you're going to feel better than when you got in. It's not about spending money, per se. Everyone I know, whether they're working from home or not working, is like, 
"
The days go so fast.
"
You kind of thought,
oh, I'm not going to be commuting; I'm going to have all this extra time,
and just taking care of your house, preparing every single meal, doing all of those things. It takes a lot more time. Those little things like taking a bath, or taking a second to
put on some mascara
to do your Zoom call with your old friends, is very restorative."
Do you think that makeup or the concept of being "presentable" will fall by the wayside a little more once we're back in the office?
"The funny thing is that you would think,
I'm at home, I don't need to zhuzh myself up
. I certainly feel that if I'm going to do a big call or something, I want to look presentable. For a call the other day, and I had to put on actual clothes, and my boyfriend was like, 
"
Wow! I haven't seen you like that!
"
A little bit of blush or something can make you feel like
"
game on.
"
Part of that is how we've been conditioned. Even without this crisis, I think we all know that our partners will love us whether we're wearing makeup or not, and our coworkers will still accept our work whether we're wearing it or not. There is so much [that is] useful in beauty, and we tend to see the word
makeup
and think, oh, oppression. And it's not really true."
What can consumers do to help ensure the livelihood of people working in the beauty service industry during this time?
"I had a call with
Sally Hershberger
a couple of days ago, and she was talking about doing consultations with clients over the phone. Let's say you get your hair colored—your colorist can talk to you about how to do your roots until this is over, or what colors they would recommend you can get from a box. I talked to
Jillian Dempsey
and she, not because of this crisis, has a new app that is like a studio, and makeup artists can go on there and do all of these tutorials.
"I think part of it is, say you have the person who cuts your hair, or who does your makeup
—
if they can give you any advice, you should pay them for it. We certainly have the technology to do those things, and there's a lot of love between clients and their [beauty] professionals. Of course, there are funds for people, but I think that the personal relationship that a person already has with their stylist, that is a big part of the solution.
"Certainly as journalists, we have experienced many people losing their jobs. Not from this crisis, but from the internet. Part of the problem with it is everything being free. I think particularly at this stage, if there is something that you can pay someone for who lost their job, you should absolutely pay rather than say, 
I'm going to go and try to figure this out myself
. Pay people for their expertise."
So what does your beauty and self-care routine look like now? What products are you loving?
"Everything I use beautywise at the moment kind of soothes me. If it's not doing that, it's not in the rotation. I've been taking
a lot
of baths.
The Goop Martini Bath
I love, and the
Goop Nurse! Bath
if I feel a little something coming on, especially because of allergy season. UMA makes this incredible
Calm Bath Oil
. It is the best scent on earth. Aimee de Mamiel makes this
Altitude Oil
—I inhale it before I meditate, but it's before you get on a plane. She made some bath salts with it, and I've been trying that. A non-product thing I've been doing is transcendental meditation. I love Jivamukti yoga, and they have it online, so I do that."