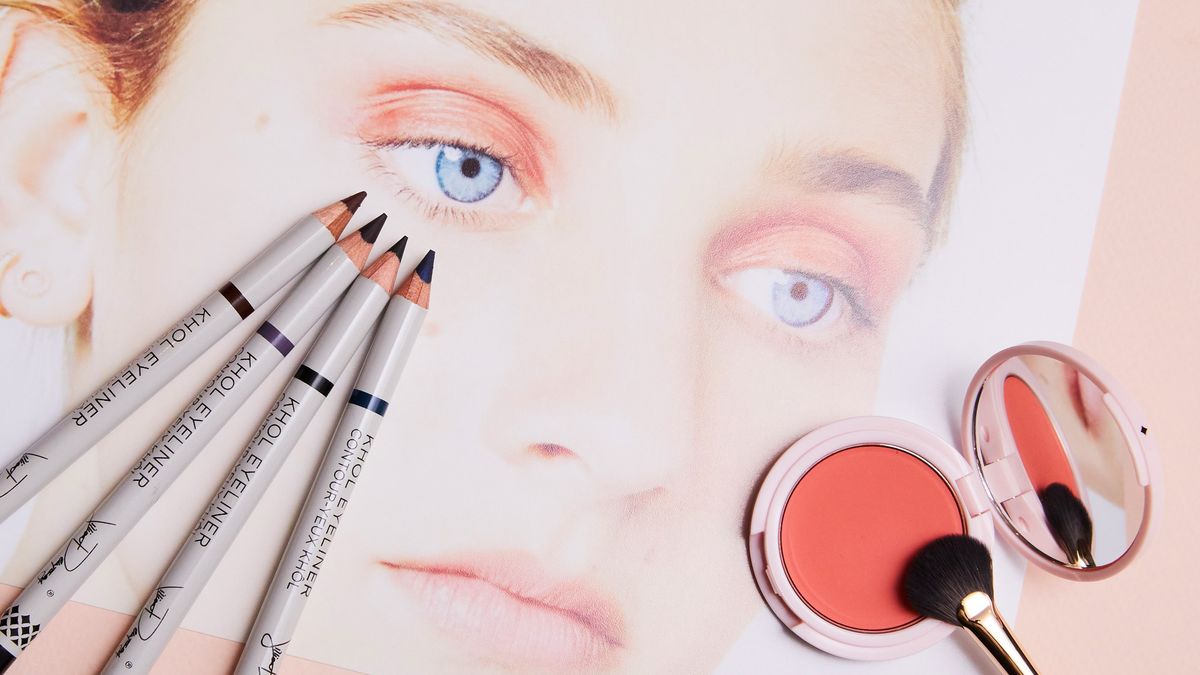 Makeup
Jillian Dempsey Makes the Organic Makeup Line with a Cult Following
Her celebrity clients are the biggest names in Hollywood.
Tristan Kallas
Los Angeles
–
based makeup artist
Jillian Dempsey
is the go-to for the likes of Kristen Stewart, Jennifer Aniston, Jennifer Lawrence, Kate Winslet, and Emilia Clarke (small potatoes, right?). She's known for her natural, minimal looks that still glow on the red carpet and, in the last few years, her organic
eponymous makeup brand,
which has grown a cult following among beauty snobs and celebrities. Her hero product is the
Lid Tint
, a sheer cream eye shadow in eight shades designed specifically to be used easily with your fingers. "My favorite makeup tool for the face has always been my fingers," she says from her Venice Beach office, where she's currently working on a secret project. "I'm always blending, tapping, using my hands. I like to feel the bone structure of what's happening on the face."
The Jillian Dempsey makeup line quickly expanded and today includes six cheek tints, four pencil eyeliners, and a small cruelty-free makeup brush. Most recently she introduced something totally new: a vibrating Japanese face-massage tool called
The Gold Bar
that lifts and contours the skin before makeup. "I've always been a fan of
J-beauty
for years and years, and I discovered this tool while traveling there recently," she says. "I find that [the tool is] really important to my game—my personal game in my own life, and in my professional life as well. I know that's an overused term but I find that it's a game changer for prepping skin before makeup."
That said, using her hands seems to be a big part of Dempsey's creative power. In fact, as we learn during our afternoon together, it almost seems like her craftiness is a compulsion. For example, she created a papier-mâché chair out of recycled beauty product cartons and sculpted her own makeup brush cups with little faces on them (see below). Maybe most endearing is the "worry necklace" she created within her own Jillian Dempsey jewelry line (indeed—her own jewelry line, too!), which is a concave gold medallion imprinted with her own finger. Naturally we were curious how she started her own line.
---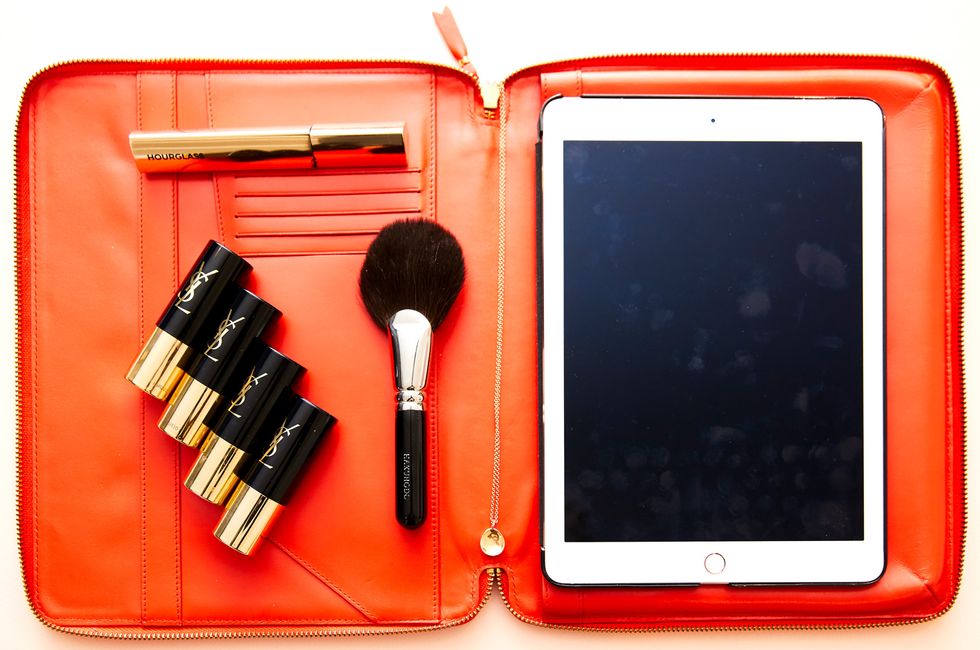 You have lots of arts supplies and projects in your office. Is that an important part of your process?

"My friends call me the female MacGyver because I'm always like, if it's not here, I'm going to make it. I'll make a concoction. Even if you don't have something, why can't you just make it? I'm very arts-and-craftsy. You better believe I use everything in this office, no matter what it is."

Are you an iPad person?

"It's funny because all the people that work for me are younger than me, but they don't use an iPad. The reason I like the iPad so much is because I can draw on it. It feels more artistic to me to use an iPad. Even though they hate it, I love it. We're a perfect match. The case is Comme des Garçons. I got that in Japan."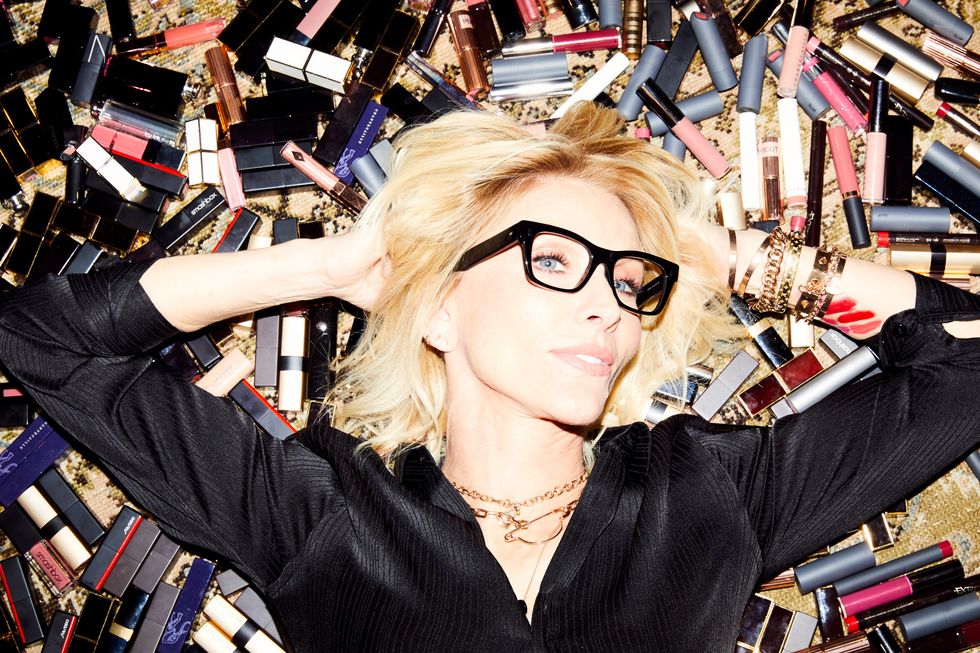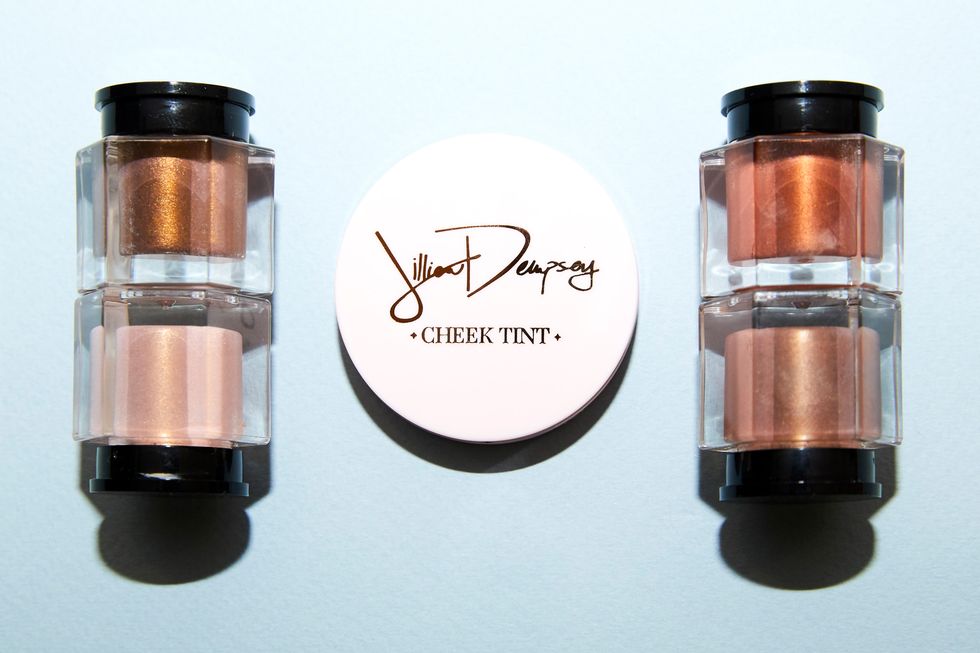 What's the secret to the cult-loved Lid Tint?

"I told my lab that I wanted something that looked like a cup of black coffee with a little bit of cream in it; that's how I wanted it to look. I mix tinctures all the time. As a makeup artist, you mix a squirt of this and a squirt of that to get you where you want to be. I need to mix a cream with a liquid with a little bit of balm. I make little concoctions all the time, so for the lid tints, I knew I wanted them to have more of an opaque look, but yet the delivery would just be a subtle color. You know when you look at something and it's bright red, but then you touch it and hardly any color comes off at all? With my products, I wanted them to appear like they had a lot of color to them, but then you'd maybe get 50 percent of the color you were looking at, so like a tint with a little bit of shine to it. It's sort of known as the 'lazy girl' makeup, and I don't mind that."

And now your big news is the Gold Bar.

"This one actually has the 6,000 pulsating rotations that vibrate onto your face and can actually sculpt cheekbones, create jawlines, and take out sleep wrinkles and diminish fine lines. In Japan, they have many different beliefs about metals and golds and massage. They love to do massage because it's relaxing, and of course, who doesn't want to relax? But it is a great prep step for me as a makeup artist to start a job with a little moisturizer, some eye patches under the eyes, and a massage sculpting the face on my client—it makes the whole makeup totally change, the face, the skin, and the eyes. Everything just looks more awake, and the client is also more relaxed. It's like an eyelash curler. It's a big part of makeup prep."

Tell us about some of your other favorite products:

"Homeoplasmine is kind of like a makeup-artist industry player. You can use it anywhere on your face, but a lot of makeup artists prefer to use it when they don't want to get a shiny, glossy luster on the lips. And it's really good at giving you that perfect balance of a demi-semi matte. I do love Dr. Sturm herself, and I love her products. When I'm working with clients, I know I can always count on her face cream to never create that strange little pilling effect. I can't deal with products that dry down to that. I know that when I use the Gold Bar tool and a little bit of the cream, I can lock it in without any weird finish. And I also love Rituel de Filles—those sisters are cool. I think they're giving it a great shot by trying to come up with some natural, good-for-you products. I always like to support other indie brands. They have a really nice iridescent feel to them. I know a lot of makeup artists really like working with them."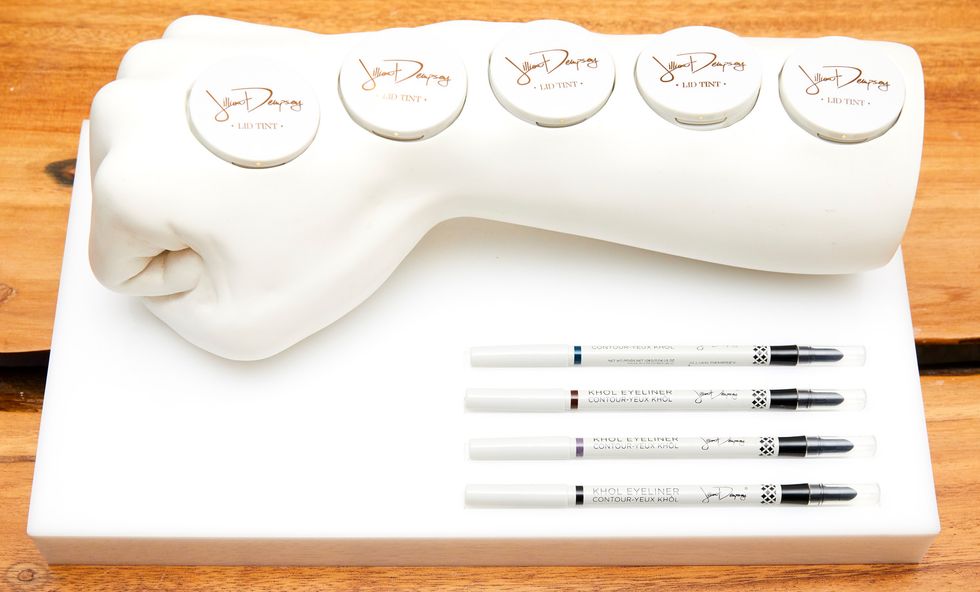 Do you ever feel jaded, or are you always excited about new launches?
"Do you want my honest answer about that? I won't lie to you, if somebody launches a line and they just do a palette of nude powder eyeshadows, they do the 101 basics, I don't really get that excited. If I see something with a new texture, a new formula, something that's eliminated animal testing, they're organic, they're natural, or they have a new way of applying it with a unique packaging, then I get excited. You know that brand W3ll People? I just tried their liquid liner, and I was amazed! I was like,
'
This black is so black!
'
It wasn't necessarily about the packaging for that one, but they just really nailed that black color. I get excited about things like that. It's definitely hard to create natural formulas. I've gone through about five or six different labs to try and get a mascara that is natural. I'm having a hard time. It's hard to find that, and I've tried a lot of brands out there."
So on top of everything, you started a jewelry line?
"I actually feel a little naughty with my jewelry line because, as a makeup artist, I'm not supposed to live in another industry. In 2013, I launched my jewelry line at Maxfield's, and I came out of the gate swinging, I had every single design. And I was so excited because I sculpted and made all of these designs, and I had this punk-rock necklace I was really excited about. Kristen Stewart, who's one of my close friends, she wears the silver Punk Lock around her neck every day—I'm more of a rose gold kind of girl—and to this day she does. It's a hobby I kind of keep on the side, I can't stop myself."
Want more stories like this?
Makeup Artist Jamie Greenberg Shows Us Her Makeup Mini-House
Nikki DeRoest Is the Makeup Artist Rosie Huntington-Whiteley Has on Speed Dial
Every Product Makeup Artist Jenn Streicher Swears By for Glowy Skin and Big Lashes