Career
The Three Beauty Products We All Use That Should 100% Be Clean
And other pearls of wisdom from Goop's Beauty Director, Jean Godfrey June.
Alec Kugler
I heard about Jean Godfrey June long before I met her. Rather, I read her before I met her. Starting my career as a beauty assistant at Teen Vogue, waaay back in the day, I was given a copy of her book, Free Gift With Purchase, and literally guffawed my way through her descriptions of the over-the-top beauty events I suddenly found myself attending. If you haven't read it, and you're even mildly interested in editorial or beauty, please do.

I lived for her advice column for Lucky (RIP!), and everyone in the industry raved about her wit and style. And that on top of that, she lives in Nyack, NY, not Manhattan! She's so cool, she has transcended Manhattan. (Check out her home and closet here!)

But then, years later I got a job at Lucky, too (again, RIP!!), and the legendary JGJ, then Beauty Director, and I became friends IRL. Dreams. They do come true!
She was every bit as fabulous as I thought she'd be—she had the answer to every question and was constantly dewy (a word I knew she loved) and lovely without looking like she put any effort into it. She's the real deal.
---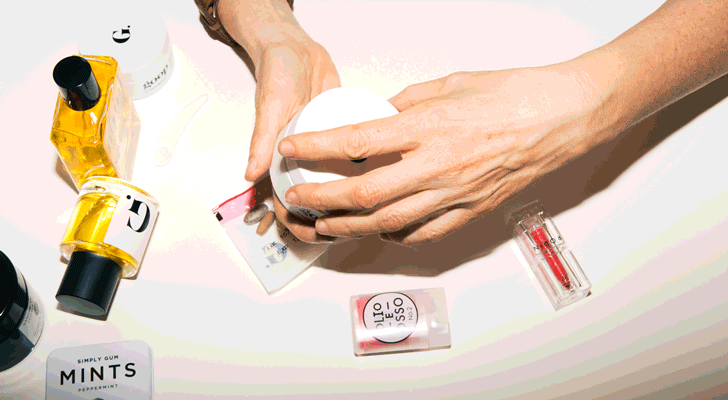 These days, she's the beauty director at Goop, where she's traded traditional beauty coverage for Goop's legendarily strict guidelines for clean-ness. Which suits Jean just fine (I remember her chastising me for asking for traditional sunscreens, and trying to convince me to use the old-school thick Zinc formulas, which are better for you, back in our Lucky days).

After Jean came to my apartment and Goop-ified my medicine cabinet, we had to visit her at her Flatiron office and hear all about green beauty and what it's like working at Goop.

"I produce all the beauty content for Goop, and I edit other stories having to do with wellness. I have a great dialogue with our merchandising people [for our shop] as far as they'll be like, 'Did you see this brand?' and vice versa, because the clean beauty space is so cool. You see something new and you're just like, 'Oh my god, I'm so excited!' I mostly produce all the beauty content on the site. I go to events—because we're so focused on clean, non-toxic beauty, I don't go [to] as many events as I used to at all, but I love to support people and see what's happening. The whole beauty industry is such an incredibly creative, fun industry. I love seeing what people are doing."
Her thoughts on "clean beauty":
"Somewhere between 10 and 15 years ago, I was at a huge industry convention, and they asked all the beauty editors to come to this particular talk that we were never usually invited to, and they were like, 'You need to be there.' And the president of a giant beauty company stood up and said, 'Beauty products are safe, and it's your job as journalists to report that.' That experience backfired in that it made us all go, 'Wait a minute. Beauty products aren't safe? Somebody says they're not safe?' I had no idea. The natural and green space was very small at that point, but there was Burt's Bees, there was Weleda, there were little companies that were doing clean beauty, and as I learned more in my magazine career, I'd always support a great green or non-toxic company and I'd point them out. I think a lot of those were tiny little companies and have grown up into big companies today. The space has really changed.
"At the same time, I always had that orientation. I wanted my beauty products to be safe; who doesn't want that? I eat organic food, and I am definitely consuming some of these beauty products, I'm definitely inhaling them, I'm putting them on my body. Beauty companies themselves are always telling me how much their products penetrate the skin, so then you think about what's actually in there...When I came to Goop, I learned a lot more than I ever knew about what's in those conventional products."
How the space has changed:
"People's perceptions were that clean makeup was really tough—the only color was this sort of fleshy pink-brown, and everything was that color, and that's completely changed.You look at my favorite Olio e Osso or look at Rodin, or Juice Beauty has incredible colors and incredible textures. People also always wonder, 'Does it work?' I've certainly found—at least where we are now—the technology is fantastic, but [the clean beauty industry is] less focused on having fillers and texturizers [in their products]. A lot of times you're getting a higher concentration of the [active ingredient]. The products are really like [traditional] beauty products. They're fun, they're beautiful, they work."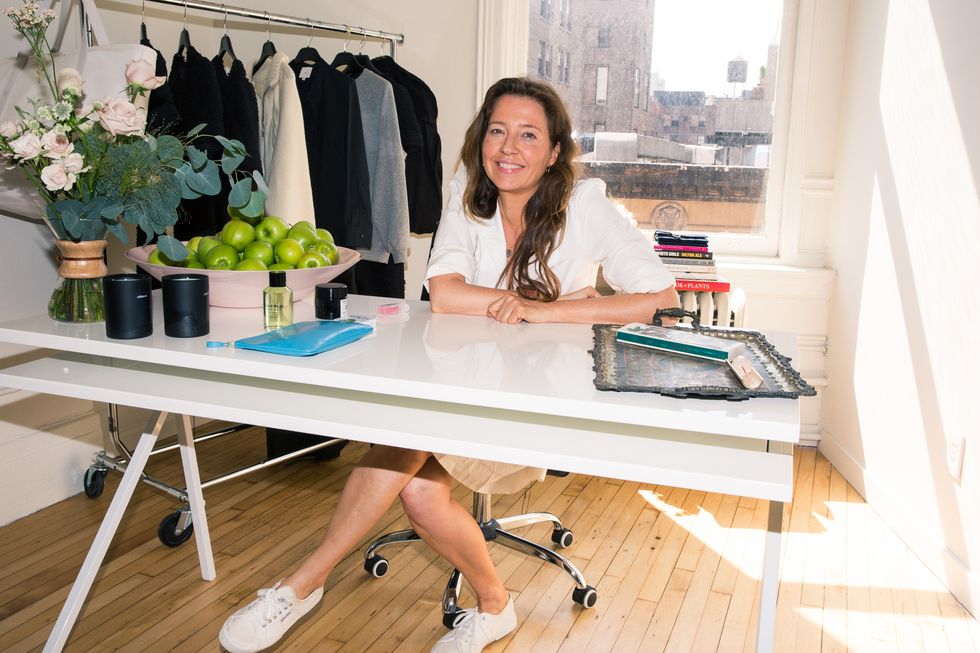 The products that should 100% be clean:
"The first thing I'd greenify is deodorant. They find stuff from conventional deodorant in breast cancer tumors. I stopped using conventional deodorant, I would say 15 years ago, when I found out all the stuff that's in it. And none of the non-toxic stuff, in my opinion, really worked, until I discovered Schmidt's last year. It's from this mom in Portland, and it works. My teenagers use it, my boyfriend who's a musician uses it and he's sweating onstage. It works. It comes in a thousand different flavors. It's the greatest. You can't go wrong with Schmidt's. I tell everybody about it. And they now have a sensitive skin line for people that are sensitive to baking soda.
"The second thing is sunscreen. Sunscreen ingredients are pretty nasty. They're among the most irritating chemicals in the beauty industry, and it's something you're putting on your face as a daily anti-aging treatment. If it's causing irritation, that can lead to inflammation, and inflammation is the root of all aging. They degrade in 2 hours, and if you're putting them on at the beach, they degrade coral. Mineral sunscreens are the ones that are harder to rub in, they've gotten much better. But if something rubs in super easily, be suspicious, turn it around and look, and if the active ingredients are anything other than titanium dioxide and zinc oxide, then it's not totally clean and wouldn't make it into our shop.
"The last one that's super important is fragrance, which is just a huge category because almost any beauty product has fragrance in it. [Look for] 'fragrance' as an ingredient on the back of a label. There's a loophole that made sense a long time ago, perfume makers wanted to keep their formulas secret from each other. Now, of course, anyone can make any smell, there's no need for that law anymore, but the law is that you can put anything into that ingredient, 'fragrance,' on the back of the label, anything, and not disclose it. So say you're someone who's trying to avoid parabens, and you look on the back of your cream and you're like 'I don't see any parabens,' and there is a fragrance ingredient, there could definitely be parabens in that product. There are definitely products that have hundreds of ingredients hidden in that label."
How she gets over writer's block:
"I have a sort of a weird faith that it's better to just write something even if it's crappy. Then you have something. So I let myself write the crappy thing and sometimes it turns out fine. I don't usually have a 'What am I going to say about this?' I don't write about beauty products that I don't have a strong feeling about, so that's part of it. Writing in general, I love. I'm much more articulate writing than I am speaking, so it's my time when I have more control over what I'm saying. And then I always want it to sound good and I want it to entertain people and be useful. [If you're really stuck,] you just have to write something and then go back and fix it."