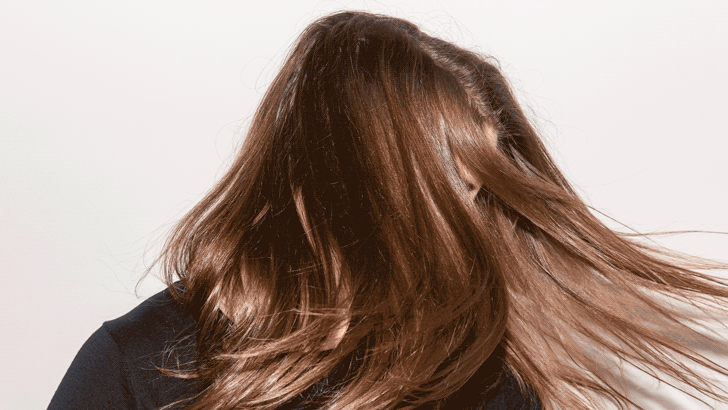 Hair
We Transformed a Soft Brunette Into an Icy Silver Unicorn
With spring just around the corner, it was time for a dramatic hair makeover.
Tim Buol
It may not seem like it, given the current frigid temperatures outside, but spring is less than three weeks away. What better time to undergo a
hair makeover
than the season of rebirth and renewal? Zero Coveteur staffers (this editor included) were willing to attempt anything drastic, so we enlisted reader and friend Liz to do so. Her very specific request? Transform her virgin brunette stands into a silvery platinum grey
—
silver-unicorn-meets-ice-queen status.
A dye job like this isn't as simple as adding a few
highlights or balayage
. On the contrary, this was a multi-hour process to ensure that Liz's hair remained healthy and that the color turned out exactly as she envisioned—not quite salt-and-pepper grey and not quite platinum, but a happy silver medium between the two. 
---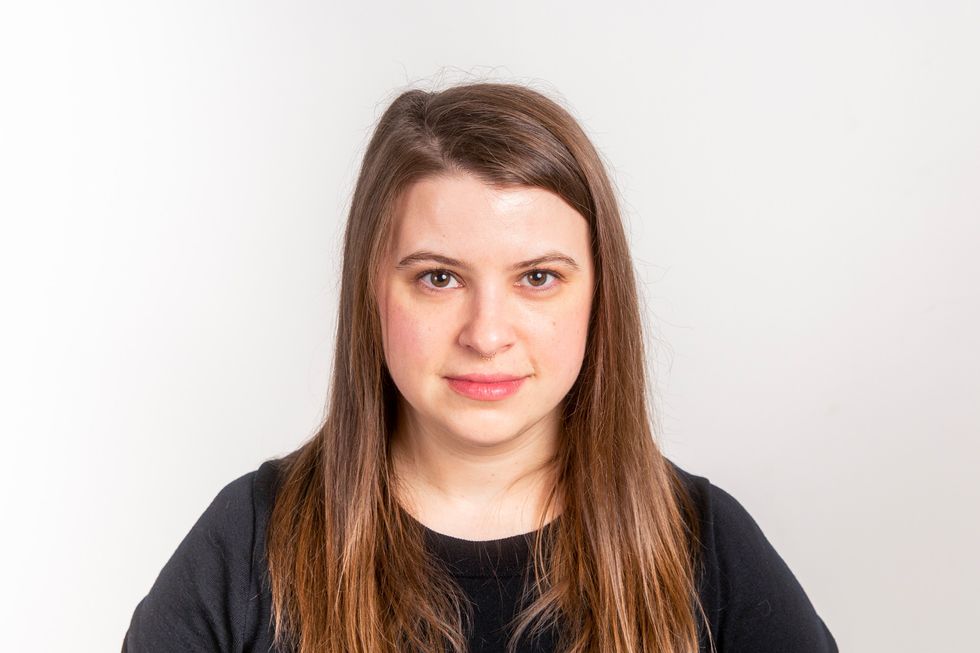 Cue our arrival at the
IGK salon
in SoHo, Manhattan, where master colorist
Stephanie Brown
assured us that Liz would resemble an ice queen in just a few hours
'
time. "I compare doing a double process to watching a toddler—you can't really take your eyes off of it," says Brown, "otherwise things can go drastically wrong. So when bleaching virgin hair—meaning not color-treated—from brunette to silver, I first sprayed it with
IGK Antisocial
, which is a bond-building mask. I do everything I can to maintain as much strength in the hair as possible."
For those unfamiliar with the double process of
bleaching and toning
, the first part causes the hair shaft to swell, opening and roughening the cuticle. For someone with fine hair like Liz, who has trouble holding a curl or maintaining any additional volume, this can give the hair significantly more texture and body. Consider it an added bonus of the process (although it does tend to leave the hair much drier than before). As the bleach removes the color from the hair, the brunette shade lightens to red, then orange, then yellow, until you reach the desired amount of lightness.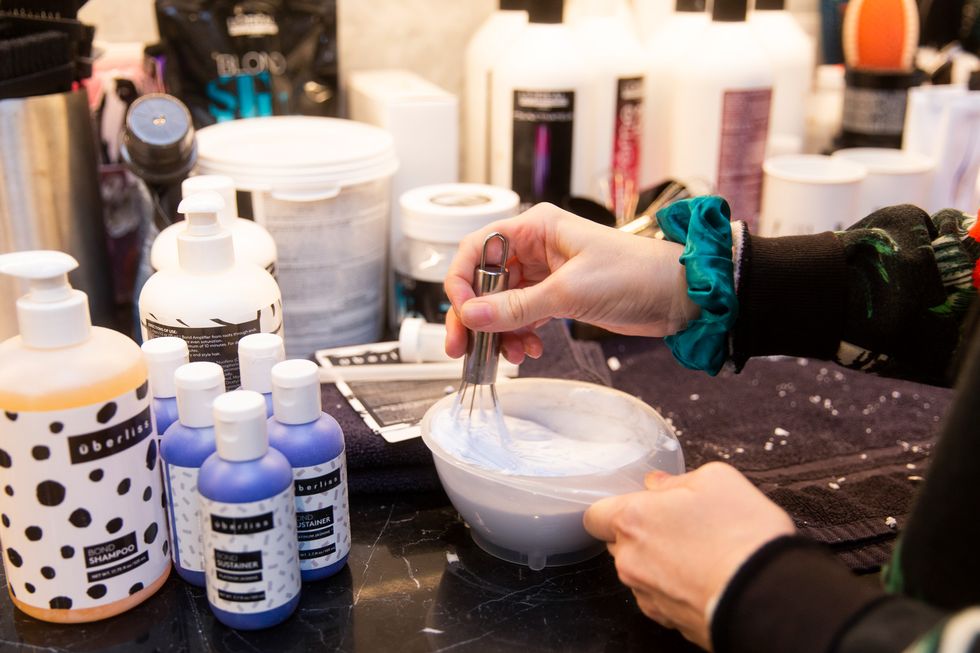 To do this, Brown applied paper-thin sections of bleach using many, many foils, and because Liz's hair lightened extremely quickly, she reapplied the bleach to the roots while they were still in place. From there, it was a waiting game of checking and rechecking how the hair responded to the bleach and re-saturating it to make sure the hair lifted evenly.

So how does this process differ from a typical platinum-blond double process? Says Brown, "Since we were going to a silver-grey shade, I needed to make sure that there was no yellow in the hair. Most of the time, when doing a double process, you want to lift the hair to look like the inside of a banana peel, but for silver-grey you don't want any yellow because it can make the color look greenish." That comes down to the way you tone that hair.

After a few hours of lifting the color, Brown and her team rinsed it in sections, adding a tad more bleach to the ends to brighten them up. Then, after a quick moisturizing shampoo, the toning process began. "You sometimes have to eyeball the toners when doing platinum. Since the hair is so porous, it can suck the toner right up, and you can get a color you don't really want. I used [a few different] Wella toners to get it really icy and grey and to make the roots a little darker. That softens the look slightly because fresh white hair on [lighter skin tones] can be shocking and not always the most flattering."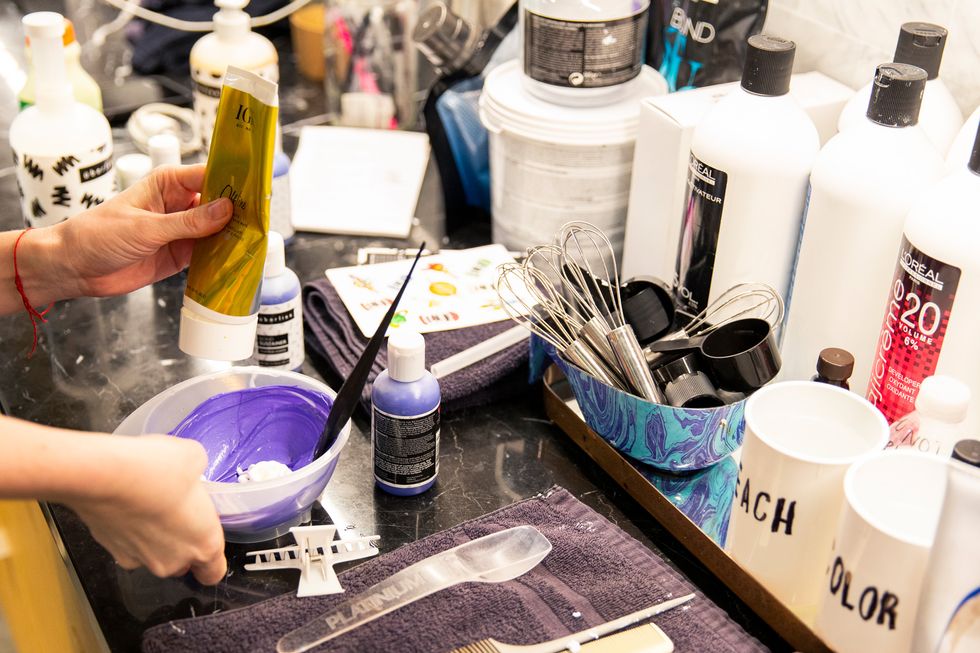 Next up was another gentle shampoo and a conditioning bond-building treatment. "I mixed together
Uberliss Bond Sustainer Platinum Jasmine
with
IGK Offline Hydrating Mask
for about 15 minutes. This helps the hair still feel really good [despite] the amount of bleaching we did. Altogether, the lifting and toning process took about four and a half hours. It does take time and patience, so be prepared to sit at the salon for several hours when getting something like this done."
The final step was a haircut. Although the team at IGK cut about three inches off Liz's hair beforehand to remove the dead ends, she decided to chop a few more inches from the length. The end result was a chic, asymmetrical cut just above her shoulders, which provided even more drama for her new icy grey color.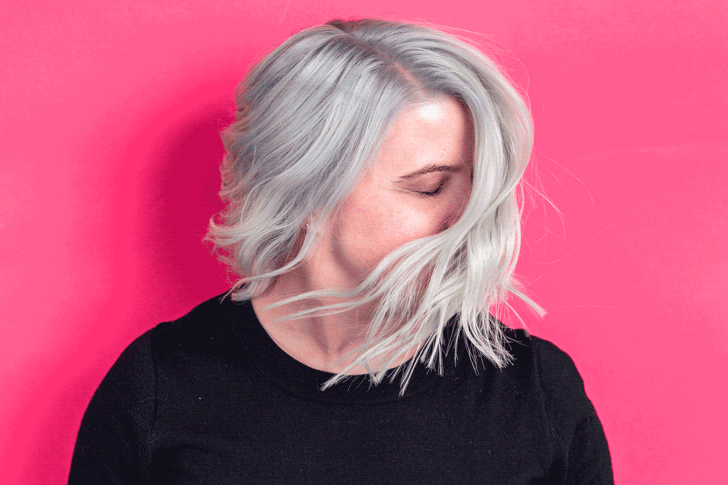 In terms of maintenance for double-processed hair, Brown advises keeping your shampoo routine to a minimum. "Try to wash it only about once a week with a color-safe moisturizing or repairing shampoo." Overwashing can cause the color to become dull, and for grey-platinum hair especially, the silvery tone can quickly fade. It's best to err on the side of caution and treat the hair like it's especially fragile and high-maintenance, and use color-safe or purple toning products to keep it from becoming brassy or faded.
So what did Liz think after her hair transformation was complete? "Ever since
St. Vincent
's self-titled album hit shelves in 2014, I have truly coveted the cool-girl grey-toned hair. I love the idea that my hair is now the ultimate accessory. It's also added to my personal color palette, in that I feel more confident with a dark lip or intense eyeshadow or liner. It's also fun to see how my favorite tried-and-true outfits have new life thanks to such a striking hair color."
So maybe a dramatic hair makeover isn't just the key to surviving the rest of winter—it's an easy way of updating your entire wardrobe without emptying your bank account in the process. Test it for yourself, and let us know—we're still too chicken to do it ourselves.