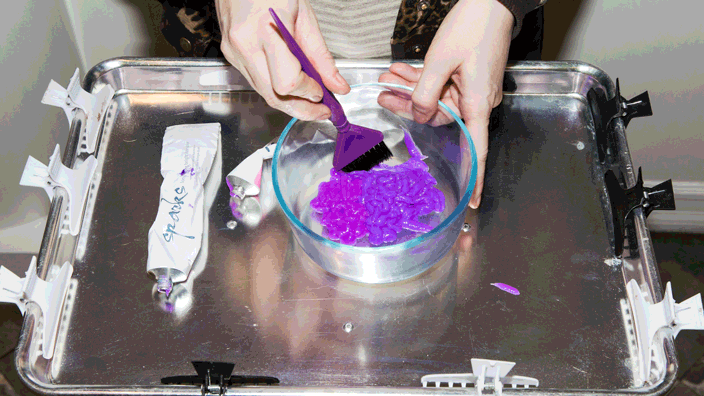 Hair
Stephanie Brown has mastered cool-girl hair.
Alec Kugler
While the saying suggests that blondes have more fun, the harsh reality is that beneath that supposedly bubbly exterior, said woman has likely spent years (and probably some tears) in search of her perfect hair color. Icy, honey, or somewhere in between, the ideal tone for your complexion is the result of a near-divine relationship between client and colorist. We're always on the hunt for the next great talent in beauty and hair, so when we got wind that some industry friends were all buzzing about the same person, we knew we had to pay her a visit.
Stephanie Brown is the name, and she's quietly perfected the type of sun-kissed highlights that only surfer girls seem to possess naturally. From her chair at Nunzio Saviano Salon on the Upper East Side, she sends legions of gorgeous, balayage blondes out into the world. "I think it's really laid-back, pretty, easy," she explains when we stop by to investigate what tools and tricks she swears by for obtaining her signature style. "Very low maintenance. I myself hate getting my hair done—sitting in the chair and doing all that—so you start to get clients that are kind of like you. Most of my clients do their highlights about one to three times a year. I try to make it as easy for everybody as possible, so you're not a slave to it." Lazy girl chic? Sign us up. Check out her best tips for maintaining your color, the newest hair trends for spring, and how to help your colorist achieve the exact shade you want.
---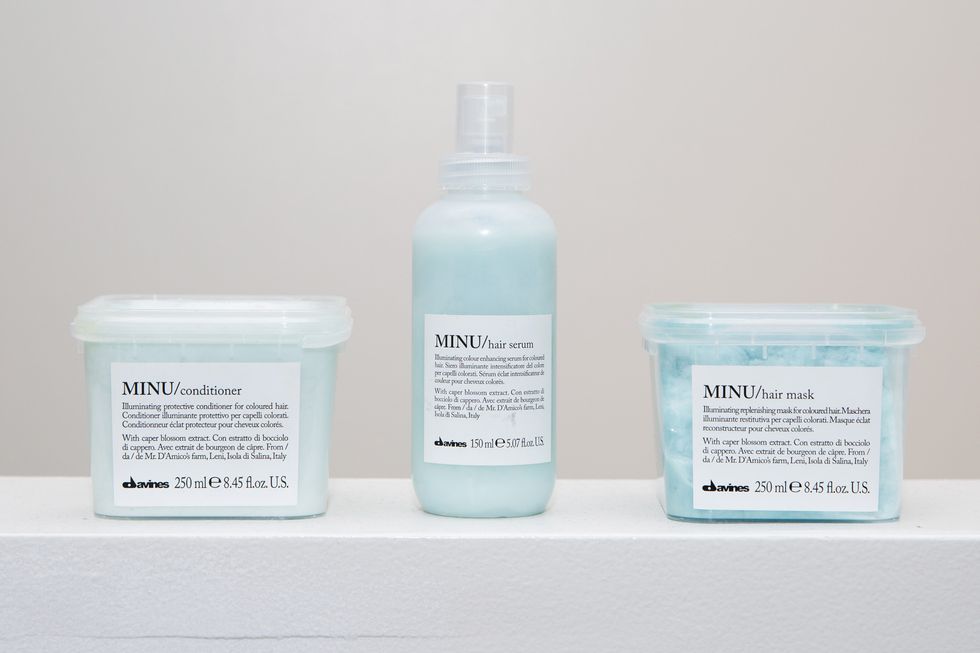 How did you first get into coloring hair?
"I'm from Staten Island and went to FIT for four years, doing fine arts. I didn't think that I could be a freelance artist—I just knew I had to go someplace to work. I still wanted to be creative, so I decided hair school was the way to go. When I went for my first job interview, they were like, 'Well, you have to choose cut or color,' and I chose color, because I was always told you make more money in color [laughs]."
What's your approach for coloring blond, since it's so personal for everyone?
"Blondes usually like to have brightness around their hairline. I've been trying to darken the root just slightly, so it's not as harsh because blondes like to feel blonde all the time. But if I deepen the root just slightly, so it's not as highlighted to the root—you know, sometimes it gets that stripe—I find that they wait a little bit longer to get it done. Blondes want to get it done all the time, and I don't want to ruin their hair while doing it, so I'd rather be a little bit conservative and have that little root look for them. I think it's prettier; it's easier. It's really client-by-client basis. You have to really listen to what they want."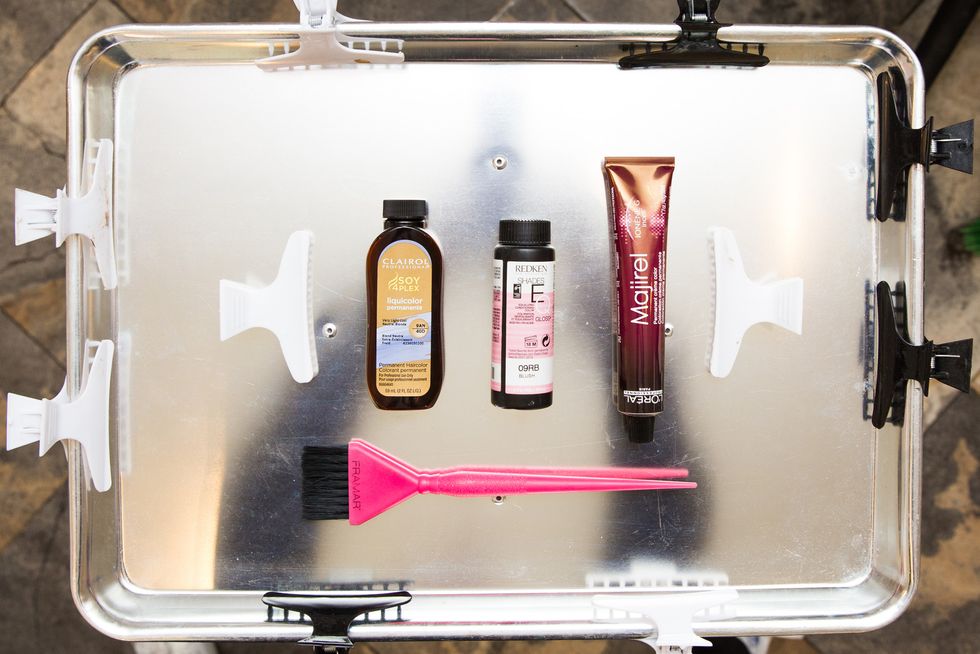 What's the best way for a client to communicate what tone she wants for her color?
"It's always good if they have a picture—multiple photos, but kind of the same look because sometimes the lighting is different in each picture. Sometimes somebody says, 'I hate warmth in my hair,' and then they're showing me a picture of somebody with red hair. It's easier to see what their tolerance for warmth is or what their tolerance for ash is. I've gotten to a point where I'm not afraid to be like, 'I don't understand you. I need you to spell it out for me.' Because I want you [to] leave happy."
Have you seen a trend in what clients are requesting lately?
"I always get a lot of 'sun-kissed,' 'really easy,' 'low-maintenance.' I think Instagram and things like that have changed it where I'm not going to get a lot of people who want hot pink hair. I don't post any pictures of that. They're going to come to me and say, 'I want something really pretty, natural, something that grows out really easy.' Every time they walk in, they say they want to be blonder and blonder [laughs]. For this season, it's been more of a honey [shade]. Like a bronze, dirty blonde. Then once the spring starts, everybody's like, 'I need to be brighter!' That's usually how it flows. But then when the fall comes, it's like, 'I want it warmer!' and that continues on."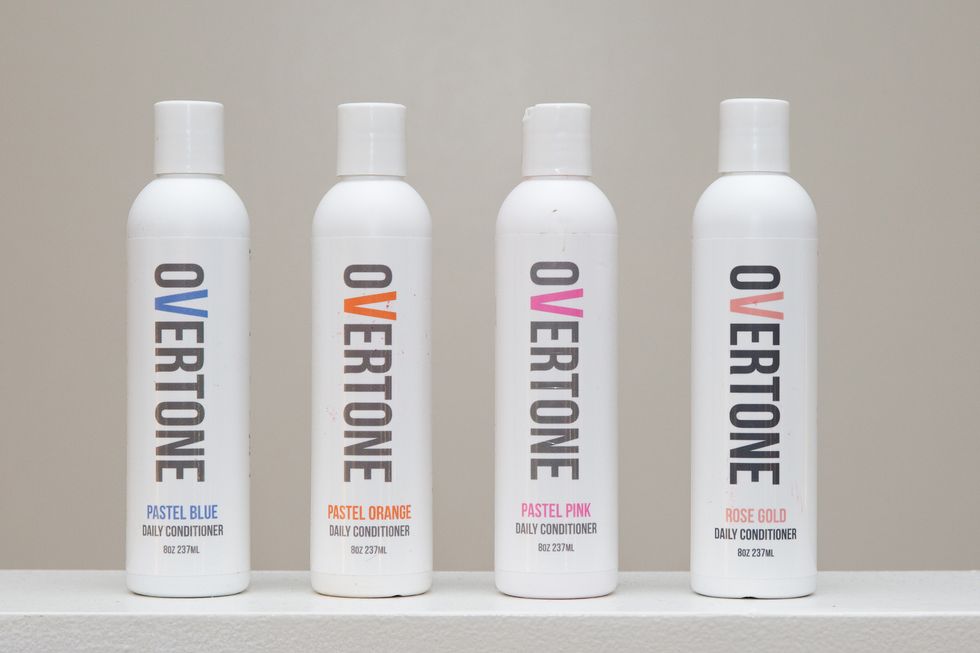 Do you think the platinum craze is over?
"When you're in your early twenties, I think platinum's great. Try it out; break your hair off; do whatever you want. As you get older, most people don't like that, because you want to look professional—you don't want those roots. So the platinum thing, you'll do it once, and then you'll understand, 'OK, my hair's breaking. It's turning yellow in a couple weeks, and then I have to get it done every couple weeks. It takes forever, and my head hurts' [laughs]."
What's your advice for maintaining your color as long as possible?
"The best thing is to take as cool a shower as you possibly can. It will be good for your skin and your hair, everything. Good products for color-treated hair. I get really greasy, so I use more of a cleansing type of shampoo, but it's always got to be color-safe, and I use a very moisturizing conditioner. Those will really help your hair [stay] nice and shiny. You always want to use heat protectant, something that you put on before you blowdry. When you go out into the sun, cover it up so it doesn't turn brassy on you. They do have sunscreens for the hair, but people don't realize that sunscreens for the hair are basically the same thing as sunscreen for your body. Or if you're on vacation, who cares about doing your hair? Just throw it up, throw some water on it, and throw either coconut oil, apricot oil, or a cheap conditioner, and twist it up. It's almost like a conditioning treatment because it stimulates your cuticle."
Any other products you swear by for blondes?
"I like Oribe—the purple shampoo and conditioner—and sometimes in a pinch, oVertone. I'll mix it with conditioner. Olaplex will help strengthen the hair. Unwash is really good—it's a mask. Nunzio's Cream is really good, too—it's a cream that helps add moisture into the hair and keeps the frizz away. Kérastase has great hair masks. Always go for moisturizing, because your hair looks better, shinier, less frizzy, when there's moisture in it."
Want more stories like this?
I Flew to Copenhagen in Search of Perfect Scandinavian Blond Hair
Even Beauty Editors Spiral Out about Their Hair Color
In Search of Products to Make Me Better, Brighter, Faster, Blonder