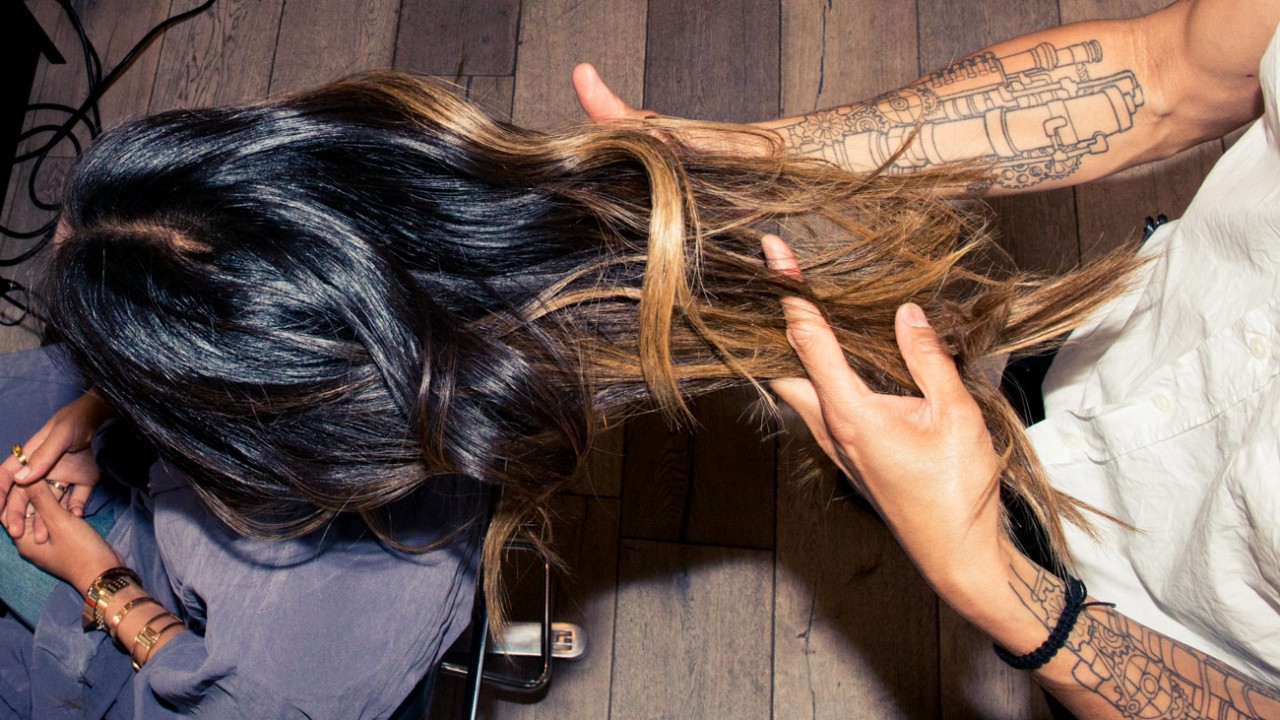 Exactly What to Tell Your Stylist to Get the Perfect Hair Color
What's the real difference between golden blonde and baby golden blonde?
If you've been hearing trendy hair-color terms like bronde and blorange, and wondering "WTF are people making up now?" we're in your camp. But the truth is that if you want really good hair color, the minute nuances in your language make a world of difference. "Color is tricky," says celebrity colorist Cassondra Kaeding, who dyes big names like Rooney Mara, Kate Hudson, Lea Michele, Rosie Huntington-Whiteley, and Olivia Munn. "People come in saying they want one thing, but to a professional colorist, those words might mean something else." While she agrees using pictures is the best way to get on the same page if you want a big color makeover, in the meantime, you should probably get your lingo down should you decide to pull a Kim K. or Emma Roberts and drop a major hair-color change. And if it happens to be blorange…we support you.
Baby Golden Blonde
"This is also called a sun-kissed blonde. A lot of clients bring in their daughter or son and say, 'I want this.' It's a cool gold blonde that has both enough warm gold and enough ash. It's in the middle and can go either way. This is what Kate Hudson's hair is like. Well, before she shaved her head."
Icey Blonde
"This is on the ashier side. That means it has an undertone of blue. You get this by lifting [aka bleaching] your hair light enough and then using a toner to cancel out any unwanted tones—in this case canceling out yellow."
Platinum
"Platinum doesn't really have any undertone. It's basically just white. All the protein and pigment get stripped out [by the bleach]. You're just seeing the hair strand completely stripped of its protein and minerals. That's also why you hear that the hair broke off. And maybe people like Kristen Stewart shaving her head. You'll notice a lot of them shave their head. Kim Kardashian's new color is platinum."
Dirty Blonde
"This is more on the ashy side. It can be any level of lift—darker or lighter—but it depends on how ashy they can take you. They also call it dishwater blonde. It's kind of a flat color."
Golden Blonde
"Rosie Huntington-Whiteley is a golden blonde. It's also called honey blonde, and it has more gold to it. It doesn't have red to it, but a pretty beige-y gold. You can have a dark to medium to light golden blonde."
Golden Copper
"It's a golden red with a pinch of copper. There are two tones in it. The primary tone is gold with a touch of copper. And copper is basically orange. Kat MacNamara is the perfect example."
Ruby Red
"For reds, always show a reference because it's so nuanced. It ranges fire-engine red to a deeper, more ruby red. It just depends on how dark or light, but it's all in the same family. For deeper, you add a pinch of black, which takes it into the ruby territory."
Blorange
"It would be a combo of blonde and orange—like a blonde-orange with a rose-gold undertone, which you would have to express to your colorist. This can actually be a color that is considered undesirable, but it can be flattering if done in the right tones."
Copper Sunset
"We will see a lot of this this fall. This is a copper color with other golden copper tones throughout for dimension. Bella Thorne has the softer transition from the deep copper to a softer medium toward the ends."
Strawberry Blonde
"Similar to golden copper, but has a little bit of red to it and is less orange. Nicole Kidman was a really pretty strawberry blonde."
Auburn
"—is a red violet tone. The primary color is red and secondary color is violet. Primary is the main ingredient, like one measurement of red and then half a measurement of a violet."
Golden Brown
"It has a little pinch of gold or warmth. Warmth covers gold copper and red, you just have to be specific on the type of warmth. Olivia Munn is now a golden brown."
Ash Brown
"This is brunette with no red in it, you're adding a blue or violet. If you want to be a dark ashy brown, you would add a little violet so it's not a flat tone."
Red Brown
"A brunette with red tone. That's when you look like a brunette, but when the sun hits it, you see the red."
Bronde
"It's in between blonde and brunette. Having a brunette base that blends gradually into the desired blonde. Jessica Alba is a good bronde right now."
Blue Black
"You see just a tint of blue. You're almost not sure when you look at it. You see a tone of blue. You're wondering, almost like it's translucent, like a blue shine. Kourtney Kardashian was blue black for a while."
Neutral Black
"It's exactly what you see, it's just black with no undertones. Cassie Ventura's hair is now a neutral black tone."
Rainbow Hair
"This has deep blue, deep purple, deep red, and a deeper magenta. It does wash out, so they basically end up with unicorn hair in a couple weeks (see below), but the bright purple and bright blue do last for a while."
Unicorn Hair
"The same as rainbow but softer, more pastel."
Technical Terms
Dimensional
"It just means it breaks up the color so it's not one flat color, so you don't just have one hue."
Low Lights
"This means going darker in certain places. It's like contouring. It gives dimension instead of a flat color. Like a lot of people who are platinum but want to go back to a natural blonde, I add the low lights. Takes it to a more dimensional, deeper color."
Highlights
"It's either in foils or brushed up, but always bleached. You can range from barely anything to having those ashy, almost white highlights. It's always lighter and broken up a little bit."
Inky
"This means too dark, too saturated. And when men color their hair at home, you're like, 'Wow, that's inky—you did that to yourself.' It's not dimensional, it's very, very dark. It can make you look older. It can bring out unwanted tones in your face. When people say this, it's not a good thing at all."
Gloss
"A gloss is a type of product added to the hair. You can go darker, you can add a tone, and it helps with shine, but never lightens. If you're blonde and want to go more golden, I can throw a golden gloss on you so you have pigment added."
Toner
"Toner can cancel out a tone. Like if your hair is too yellow, I'll use a toner with purple to counteract it."
Photos: Getty