Hair
With the GoT finale in sight, it's time to consider waist-length platinum hair.
Alec Kugler
In case you're in the 1 percent of the population not obsessed with
Game of Throne
s, then welcome to what might be the most obnoxious weekend in your social media feeds. The series finale is this Sunday, and after eight seasons and nearly *ten years* of anticipation, there's only one thing we know for sure: Daenerys has some of the best hair on TV. That's the flaxen-haired woman in braids riding around on dragons and accidentally sleeping with her nephew (seriously, watch the show). But all extra-curricular activities aside, Emilia Clarke's
GoT
character has had us aching for our own platinum 'do for a decade. Two weeks ago, one Coveteur reader finally made it happen.
To take our mother-of-dragons-to-be, Leilla, from her natural dark brunette to full-blown icy blonde, we knew we needed to call
Aura Friedman
. She's the master colorist at
Sally Hershberger
NoMad in NYC, and known for her artful way with bleaching and toning hair. "A lot of moms hate me," she laughs when we arrive at the salon for what would be nearly nine hours of cutting and dyeing Leilla's hair. But truly, if you're looking to keep your hair healthy and minimize breakage while still lightening it as far as it will possibly go, then she's your girl.
---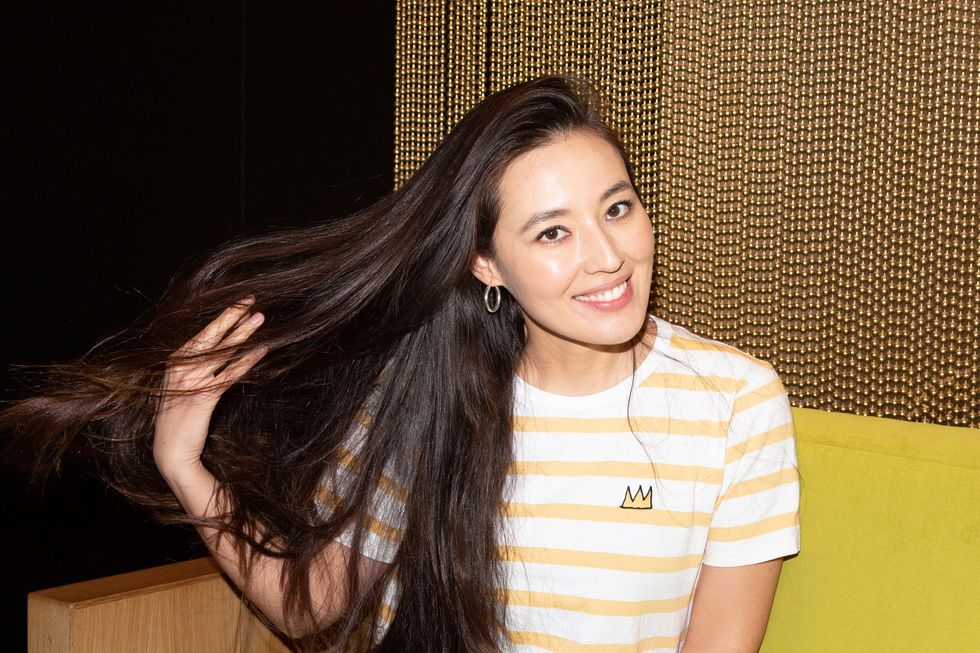 First up was a haircut from Hershberger herself. Since Leilla still had remnants of color deposit on her ends, it was recommended she trim a few inches rather than risk further damage. Using both scissors and a small peanut buzzer, the master hairstylist cut about four inches from Leilla's waist-long hair, incorporating long layers for dimension while still keeping it modern and blunt. Then it was time to go platinum.
Other than very minimal leftover highlights, Leilla had what Friedman calls "virgin hair," meaning it
'
s all-natural color and has never been
double-processed
. The colorist worked with an assistant to paint the bleach on paper-thin sections, leaving a half-inch at the top so the heat from Leilla's scalp wouldn't cause the hair to lighten too quickly—and wind up a different color than the ends. Friedman and her team use plastic wrap instead of foils to divide the hair, again, to keep it from incubating and lifting before the ends. The technique is all about applying the bleach as quickly as possible, and lightening as much as possible on the first round, since re-bleaching can cause significantly more damage to the hair follicle.
Once the application was done (which took about two hours), Leilla sat for an additional hour and a half until Friedman determined her hair had lifted as much as it could. This is where the "double" part of the double process comes in. The hair at this point was dandelion-yellow—which looks alarming—but the colorist employs a custom toning process for every client to achieve the right shade of platinum for him or her. In Leila's case, because she has more olive skin than Emilia Clarke, a
champagne, beige-y blonde
with some shadow at the roots better suited her, rather than pure white. Friedman then painted on the toner, rinsing and reassessing for another hour until it was the perfect blonde from top to bottom.
Then came the fun part—seeing the hair dried and styled, with plenty of Daenerys braids thrown in. Jae, another stylist at the salon, blow-dried Leilla's new blonde, then used
24k Liquid Assets Daily Conditioning Remedy
to protect and detangle her hair before loosely wrapping sections around a 1
1⁄4
inch barrel curling rod, creating soft waves. Next were two French braids, starting at the temples and braiding back to the ears, leaving a few inches at the bottom so it blended more seamlessly into the rest of the hair. A final spritz of hairspray, and suddenly it was as if Daenerys Targaryen herself was standing before us.