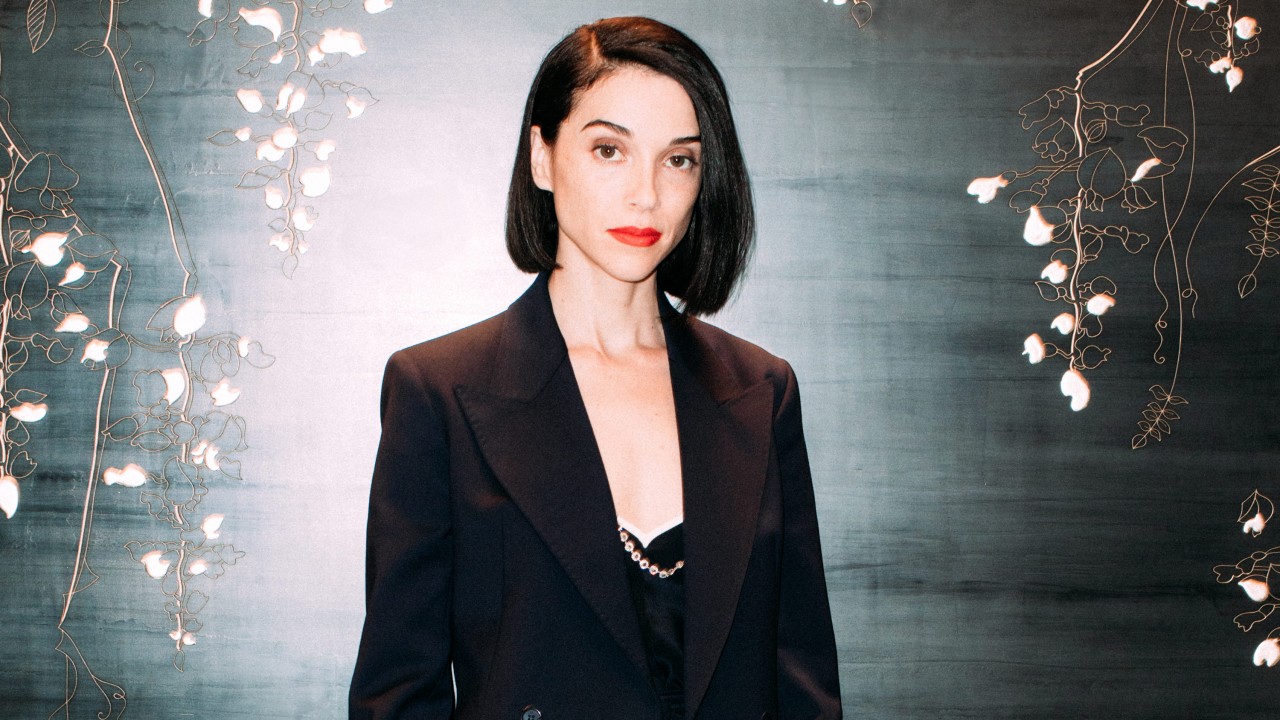 St. Vincent on Her New Album, Tea, and Her Favorite Places to Hang in NYC
Don't go stalking The Strand, now. Or, hey, maybe do.
There's a saying (accredited to whom I do not know) that you only become a true New Yorker after a decade in the city. That's ten years of sweltering summers, grueling hours, infuriating train delays, and evenings spent on a fire escape staring at the skyline, wondering if you'll ever make something of yourself. This year, Annie Clark has finally hit that coveted milestone, and it's safe to say that the multi-instrumentalist and songwriter has truly earned her new title. Clark, known better by her stage name, St. Vincent, has two major projects currently in the works—as a new face for Tiffany & Co. alongside Zoë Kravitz, Janelle Monáe, and Elle Fanning, among others, and her forthcoming album, Masseduction, which drops October 13th.
Partnering with the iconic New York brand is a fitting tribute to Clark's love for the city, as is her rendition of John Lennon and Paul McCartney's "All You Need Is Love" for the new Tiffany & Co. Eau de Parfum campaign. "I would say in general, the feeling I have when I put on perfume, even if I'm just going to the grocery store, is like I'm elegantly dressed up," says the 34-year-old, as we sit in the company headquarters on 5th Avenue. "It's a versatile fragrance—you can wear it during everyday life, and you can wear it for your bat mitzvah or wedding."
Since the first single off her new album is titled "New York," it's only natural that its seasonal scents remind Clark of the city's ultimate rite of passage—falling in love. "There is something about New York in fall—because some of the garbage smells of the summer have subsided, the light changes, and the city just feels fresher—that reminds me of falling in love. But it also reminds me of falling in love with New York City." She realized from a young age that this was the place she wanted to grow and develop as an artist, prompting her to eventually move at 24. "It seemed like [the city] was where the true freaks and weirdos were, and that's where I wanted to be. I felt like I could find people like me. In so many ways, it's like a city of outcasts. People flee their other lives to make a new one in New York."
Her beloved East Village neighborhood served as the bulk of the inspiration for this song in particular. "I was thinking about how many times I've walked the same blocks and how many things I've seen and done, and people I've met while still walking that same little square. Everybody has a story. Everybody is interesting once you get past a couple of layers." Clark also recognizes how essential the city has been for other people who, like her, arrived here hoping to create something meaningful. "[The record] is also about all of the artists who came before me and changed my life completely as a result of the things they made, which was a result of the bustle and the connective tissue of New York. So, it's a love letter."
With her upcoming tour taking her across the US and to Europe, Clark still makes time to get out and explore each new place. "Luckily, you can always find a good cup of coffee in every city now. So, I do that in the morning, but then at a certain point when I still want something hot, but I don't want to have a panic attack, I switch over to tea." As for her plans in between shows? "On this upcoming tour I'm going to find people in each city who I think are really interesting, artists or writers, and just see if they want to have tea with me." And if she finds herself in Belgium, there is one person in particular she is hoping to meet. "I really want to meet Anna Teresa de Keersmaeker, the choreographer. I got really obsessed with her."
Despite her hectic schedule and celebrity status, she still enjoys the days when she can step aside from St. Vincent and enjoy the city as Annie, just another New Yorker. "[My favorite moments here] really run down from the deeply mundane, like waking up early, getting a coffee, going to the Strand, reading a book in the park. That's such a happy day for me. Or going uptown to The Carlyle and getting mistaken for a prostitute. There's so many, and it runs the gamut from the most heartening and simple pleasures to nights out that you just can't even believe that you—some kid from the suburbs—ended up."