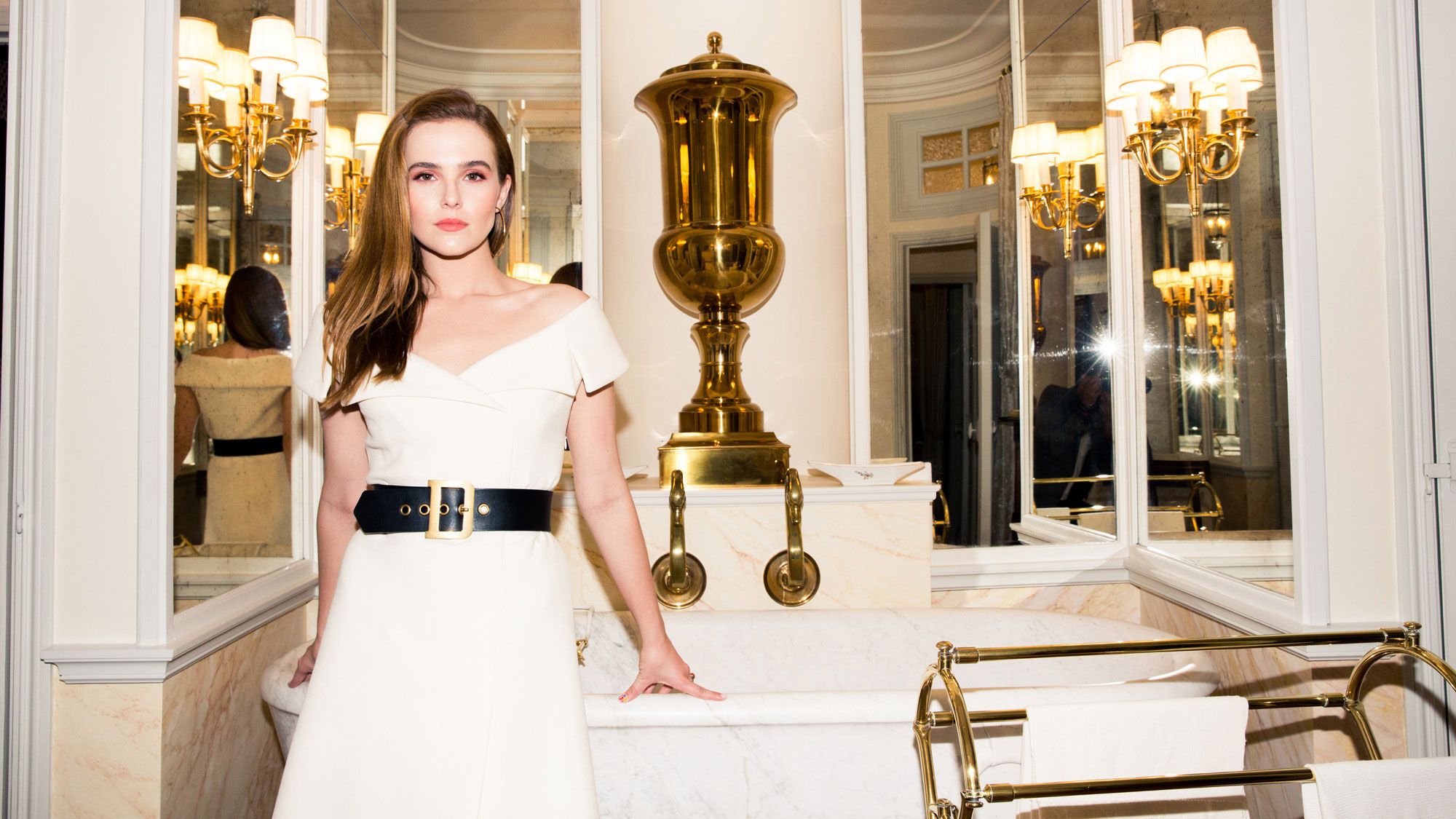 Celebrity
And how she avoids making art based on what other people think.
Alec Kugler
When we meet up with Zoey Deutch, the actress, director, and budding producer is in her room at Hotel du Cap Eden Roc in Antibes, France, with a wide view of the Mediterranean from her balcony. Cannes, where the annual film festival is about to begin, is so close we can see it across the water. But tonight Deutch is getting ready for a party inland with Dior, who is hosting her in France and dressing her for a party celebrating the Miss Dior fragrance. Her makeup is already finished with a rust-toned eyeshadow (from Dior palettes Heat Up and Inflame) by makeup artist Kelsey Deenihan. It gives an edge to her otherwise pristine white-and-black ensemble and plays off her signature red hair—a color, we learn, that was blended by Hollywood's favorite colorist, Tracey Cunningham.
"She gives me the formulas for local colorists to use when I'm filming in another city, or she gives me the dye so I can do my own roots," says Deutch, hopping from a chair where her hairstylist just finished a few face-framing waves. "I've gotten really good at doing my own roots."
The favor is particularly appreciated these days, as 24-year-old Deutch finds herself on more and more sets both in front of the camera and behind it. Last year she saw the release of five of her films, including her producing credit for The Year of Spectacular Men, and this year she already has two films in post-production. Later, when we meet with Deutch again at the party, we're at Christian Dior's former home in Grasse, Château de La Colle Noire, and take a seat side by side on what used to be Dior's own bed. We, of course, have plenty of questions queuing in our head—from the frivolous How do you get that *skin*? to the nosy What's like to grow up in Hollywood with a legendary mom like Lea Thompson? to the selfish What are your best career secrets? And we got the answers for you below.
---
Can you tell me a little bit about growing up with parents in the entertainment industry, and the career wisdom you learned from them?
"It's been my great fortune to be surrounded by people that have reminded me of how important process is, not outcome. When you're an actor, or really an artist of a collaborative form, you have so little control of the outcome. And if you are only focused on that...it won't turn out well [laughs]. If you're focused on the outcome, chances are you're focused on people's perceptions of the outcome—how much money something makes, how it looks, rather than how it feels. And I think that has been the most valuable—one of the most valuable—lessons I've learned is to really appreciate, recognize, and practice the process, not the outcome."
Do you think this is part of why you're getting more and more into producing?
"Yeah, I think it was something that I realized I loved so much. And it gives me an opportunity to have some semblance of control. I also enjoy being a part of every single piece of the puzzle. It's fun for me."
And I sense that you have a very clear vision:
"I do, but I think more important than that is learning how to harness that and listen to other people. I think it's really easy to have a vision. But again, when you're an artist and you've chosen a collaborative art form as your path, it's massively important to be not just a good listener, but to learn how to listen. I don't know if that makes any sense."
Have you noticed that there is a difference in the creative process, like when somebody really knows how to listen?
"Yeah, I also think—I don't know if you feel like this in your experience, and your career and life... I hate to put people into categories, but there are people that allow other people to do their jobs, and then there are other people that micromanage other people doing their jobs. And it's a really fine balance because if you really are somebody that wants to have a hand in every single pie, and wants to be a part of the whole process... It's a really delicate line to balance."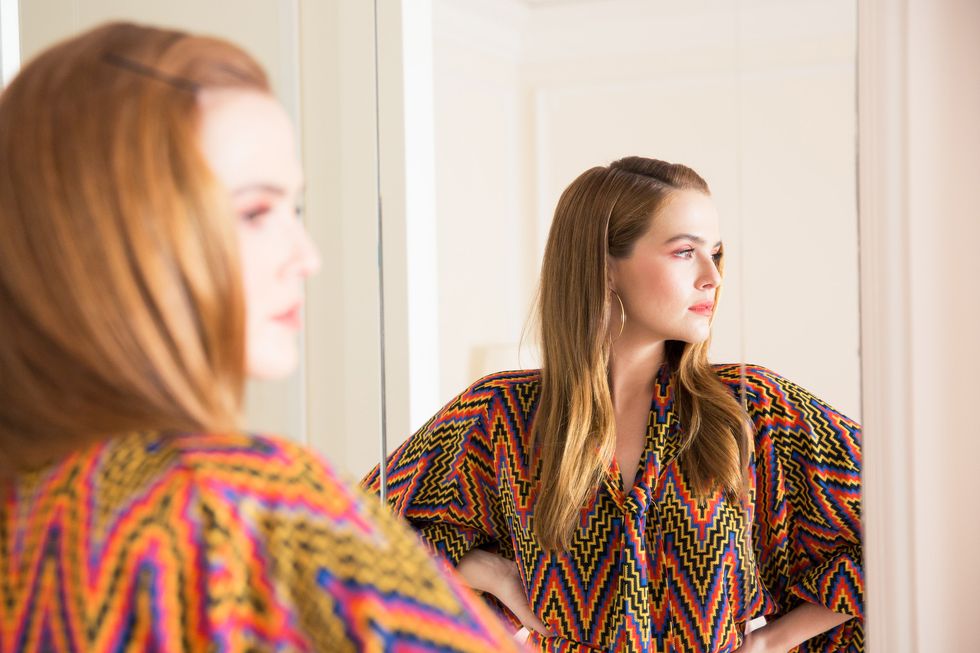 Do you feel like you've been able to kind of gain a lot of wisdom from your parents and your family?
"To be entirely honest, I think it's hard to have perspective on that. I've always been very honest about feeling deep gratitude to my parents for being really good people and really good at their jobs, so it didn't steer me away. I knew that it was possible to be in this industry and it not be a complete shit-show. Both my parents are nice, and they work so hard. And it really is about process, not outcome, for them. I've just watched them be good humans [laughs]."
Is there a subject that you're really passionate about right now?
"I think it's really crazy that there haven't been movies made about Margaret Sanger or Hedy Lamarr... I just think that that's interesting."
OK! Change of subject. Favorite beauty go-tos... We were talking about coloring your own hair:
"Me and my mom do my sister's hair, and they're a brunette and a blonde. We have our little salon. We do my mom's roots and the whole thing [laughs]. We're mixing colors and throwing shit [laughs]."
Do you have a skin routine that you swear by?
"Do you have an hour and a half [laughs]? I go to [facialist] Shani Darden. I have struggled in the past with hormonal stuff. I really like IS Clinical—their cleanser and their active serum is fantastic. I just started using the Sisley—the Black Rose moisturizer—and I love that. It's a cream. But I'm very hesitant toward scented moisturizers. I usually am just like, 'Screw it. I'm going for Cetaphil.' I don't want to risk it. I am a new lover of [Sisley]. I haven't tried anything else except that moisturizer. I'm obsessed with it. Honestly, I love witch hazel. I know it sounds like a bizarre drugstore thing. Witch hazel as a toner. It is very intense. It closes your pores."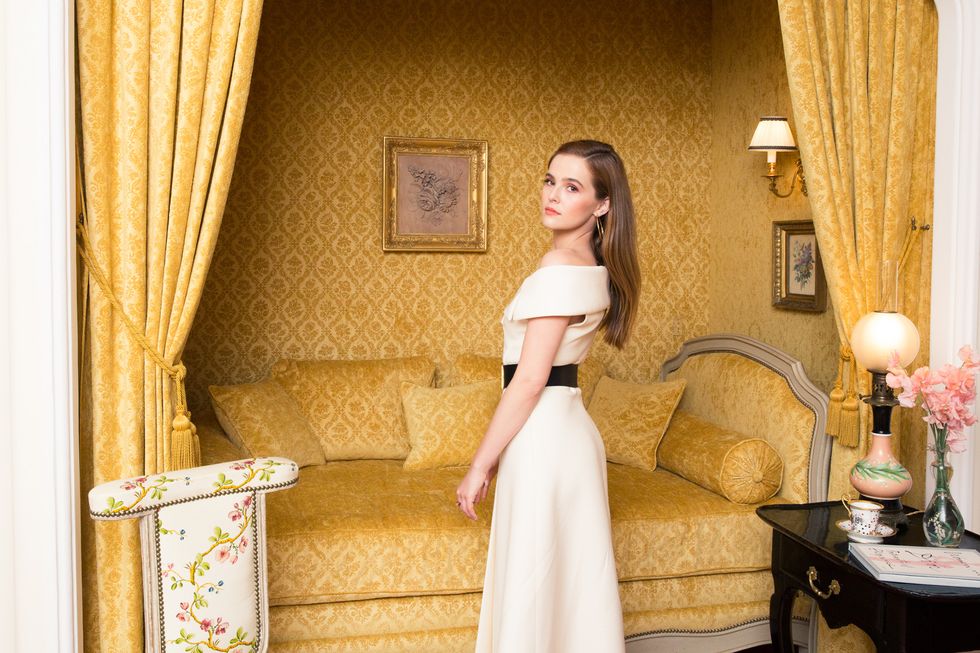 Do you wear makeup?
"I love the Dior eyebrow pencil because it has a little brush on the back. I love peach shadows. And then I use the Dior [Undercover Star Concealer] wand for my skin, and then I use Clé de Peau concealer for under the eyes."
For fragrance, you said you've long worn Miss Dior:
"I know, it's like, 'Really, Zoey?' I know it seems overly fitting. I refuse to throw out any of the Miss Dior bottles because they have the little bows on them. I actually tried to break one so that I could put like, roses in it. And they are very sturdy bottles. I think it broke part of the wall instead of the actual bottle. I alternate my fragrance. I wear Miss Dior, but I also wear Lys 41 Le Labo. [I like] very floral. I don't like a musk sort of thing. I really love roses. I love roses and gardenias and peonies, and that sort of feminine, beautiful kind of thing."