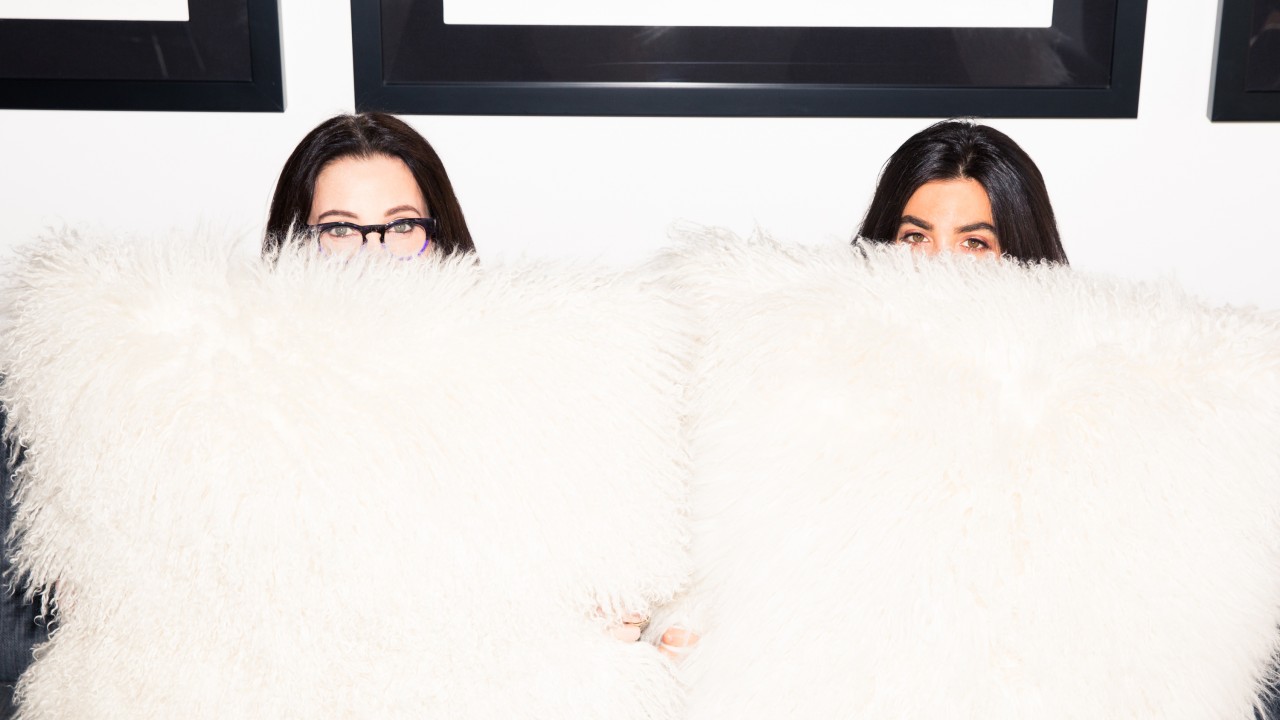 This Mother-Daughter Duo Share a Passion for CHANEL & Sneakers
Madison Blank grew up following her mom, a stylist at Saks, to work every day.
There's no doubt that we learn a heck of a lot from our moms. From cooking to dating advice, fashion tips (we'll admit, we don't take all of these), and how to make a good martini—you name it. When we realized just how close Cov-alum Madison Blank and her mom, Lisa Blank (who is a personal stylist at Saks), are, we had them give us the warm-and-fuzzies of their relationship. Everything from their love for streetwear and couture to the one trend Madison wishes her mom would give up. Things got really cute. 
THEIR PERSONAL STYLES ARE SOMEHWHAT ALIKE
Lisa Blank: "I'm a couture-head. I grew up in an age where women got really dressed up. Most of me is still that woman. Even when I mix in some street and urban stuff, I'm still that girl. I still gravitate toward the Diors, the CHANELs, and the Valentinos—I can't help it. It's what's in you. I've been in the industry for over 35 years—that's my heart.
"[Madison is] totally street. She's very attracted to what's happening and what's the latest. But she has a very classic understanding [of fashion], and I think that came from growing up together. She gets how things are made, she really understands the old houses, and I think that even in her street style she gravitates toward things that have longevity."
Madison Blank: "[My mom is] definitely more classic than I am, more tailored, and has more of a couture eye. I feel like I've taken those small tailoring influences with me. It could be one of her CHANEL vintage jackets or a vintage Dior jacket that I wear with a sweatpant jogger and a Timberland or a Nike. She has those pieces that I like to mix and match with my own style because it gives it an elevated edge."
MADISON FOLLOWED HER MOM TO WORK WHEN SHE WAS LITTLE

MB: "The way I feel [fashion] really hooked me was from going to work with [my mom] and seeing what she does on a daily basis: dressing women for events and going through their closets, changing them out for the season. I definitely gained insight through watching her. She was the voice for these women that we didn't know, and [when she] told them what to wear, they'd listen to her. I thought she was an almighty being because she knew how to dress them and they listened. [I did that] I feel like forever. Probably since I was eight years old."
THEY'VE BOTH GOT A SOFT SPOT FOR SNEAKERS
MB: "She likes designer sneakers—the Gucci designer sneakers. That's not really my style. I hate that she wears them, but she likes them, so…"
LB: "I [asked her], 'Should I get Nikes?' and she's like, 'Mom, nah. You shouldn't be wearing Nike. You can wear Nike to work out, but you shouldn't be sporting Nike.' It's funny. She puts me in place. Things look good to me, but I always check in with her to make sure, 'Am I cool wearing this?' I swear to you. When it comes to sneakers, some things are always on that cusp. You're not sure if they're kind of cool or if they're Euro-trashy, but she's the one who always says, 'You gotta get these CHANEL sneakers. They're old-school [and] classic.' That's my go-to."
& HAVE LEARNED A LOT FROM ONE ANOTHER
LB: "Other than new style, who to tap into, who to follow on Instagram, and what the best sneakers are? [laughs]. She is the hype culture. That's what I've learned from her. I really have, and I really like it. In that respect, we have a great deal in common. We are both very passionate women."
MB: "Work ethic. She's ingrained that in me since I was little. She was never a stay-at-home mom. She was always going to Europe for fashion week five to six times a year. That's definitely the best takeaway that I got growing up: Never lose your work ethic." 
THEY KEEP A CLOSE EYE ON ONE ANOTHER'S CLOSETS

MB: "[I'm currently coveting] her hand-painted Chrome Hearts leather jacket. Definitely."
LB: "She's into Fear of God and introduced to me all of that. We all share—it's just dumb to buy two [of the same thing]. When I know I want something desperately and she's a different size, then we buy two of something, but very rarely. It depends on what she has. We definitely rotate clothing.
"I am not allowed to ever purge anything. There's always council—we have to sit and discuss. I haven't really sold anything lately because if I try, Maddy's like, 'Well, you can't. That's Céline. That's Phoebe Philo.' I think I'll end up with 15 rooms of clothing and nowhere to live. My poor husband…"