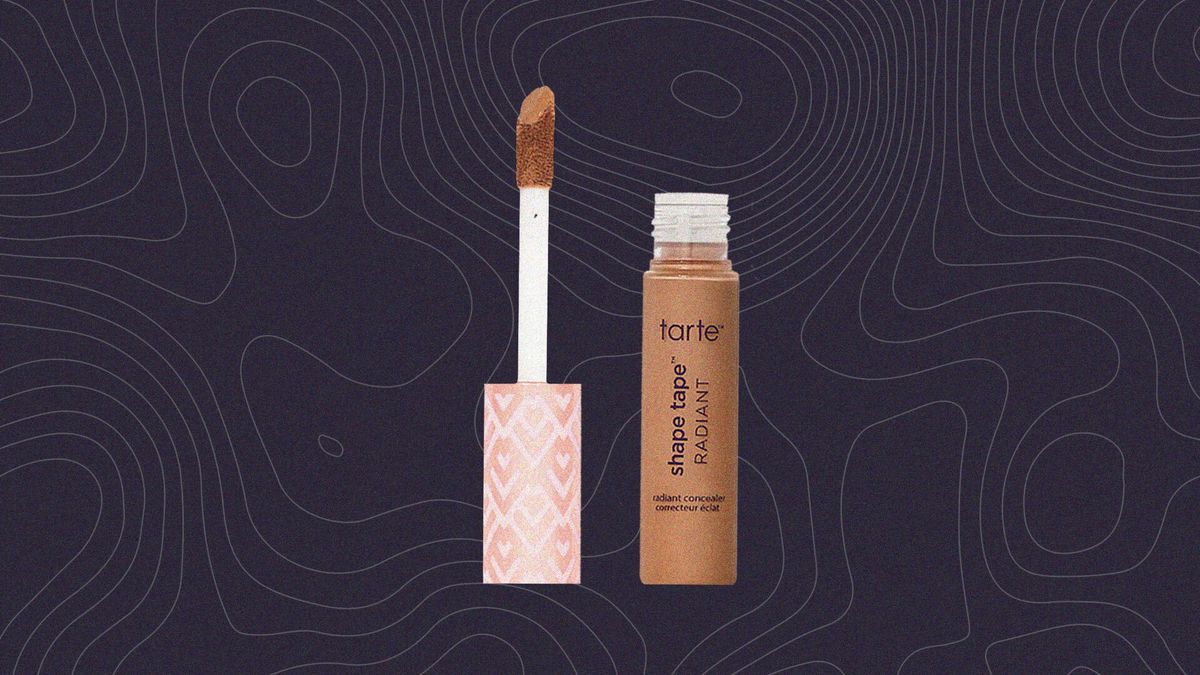 We Tried It
Is TikTok's Latest Favorite Concealer Worth Your Money?
Our team puts Tarte Cosmetics' latest launch to the test.
I am one of the many devotees who worships at the altar of Tarte Cosmetics Shape Tape Concealer. Very few makeup products inspire an intense reverence the way Tarte Cosmetics Shape Tape Concealer does. Rumor has it that one sells every 12 seconds. I have three tubes in my apartment right now, two at my family home in Ohio. I've recommended it to friends, strangers, and random passerbys on the street. It's one of the few beauty products I'd spend my own money on (a big statement coming from someone who receives products to test for free).
Whenever a brand announces a product extension, it can spur a rise in blood pressure for anyone who swears by the original formula, especially if there's a chance it might be discontinued. Thankfully, we can all take a collective deep breath. Tarte Cosmetics newest launch is offering another option to those who may not be in love with the original concealer's full coverage formula. Available in 37 shades, just like the other concealers in the line, Shape Tape Radiant is a medium coverage concealer that also has a brightening effect, hence the name.
The concealer has recently blown up on TikTok which made me wonder, is it really that good? To see if Shape Tape Radiant Concealer is worth the hype, our team decided to put it to the test. Ahead, more details on Shape Tape Concealer plus our honest reviews.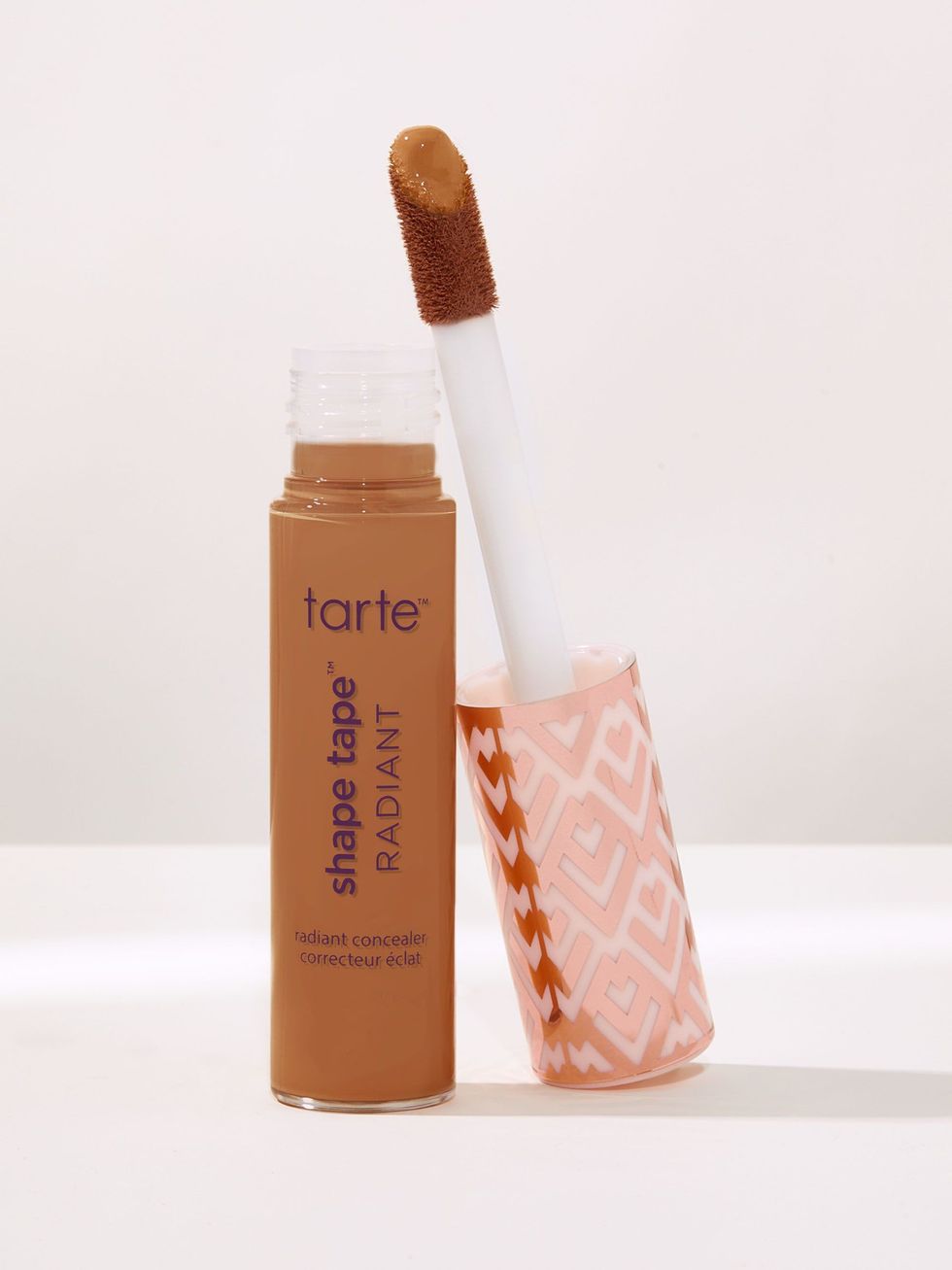 Tarte Cosmetics
The Formula 
Shape Tape Radiant's ingredient list reads as if it's a serum in your skincare routine. Translation: It makes your skin look better while you wear it and after you've washed it off. Inside the tube you'll find hyaluronic acid and niacinamide, the skincare industry's reigning golden children. Together, the two super-ingredients help to hydrate and plump skin while improving the appearance of dark spots. There's also a medley of anti-aging ingredients—seaberry seed and fruit oil—and soothing antioxidants—green tea and ginseng—that work to calm irritation and reduce the look of fine lines and wrinkles.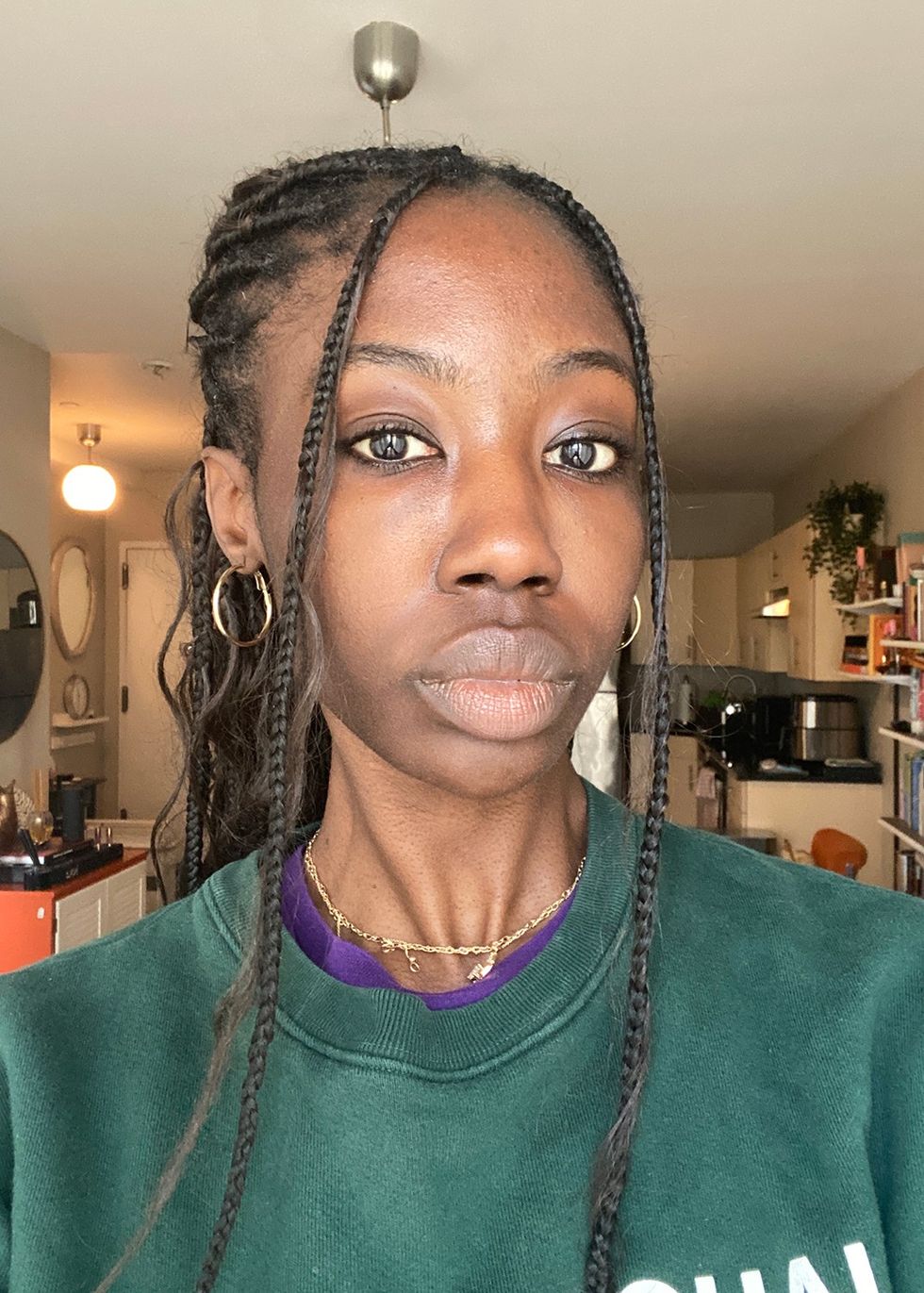 No makeup, just sunscreen.
Photo: Courtesy of Ama Kwarteng
After applying Shape Tape Radiant Concealer, eyebrow gel, mascara, and lip oil.
SHADE: 57S Rich Sand
"I descend from a long line of women with dark under-eye circles. I've come to terms with this fact but that doesn't mean I always want to look in perpetual need of a nap. That's where concealer comes in—aside from mascara, it's one of my desert island beauty products. I usually wear concealer on its own, sans foundation, on days when I don't want to frighten any young children on the subway (a.k.a. fresh, dewy, and alive). It's a difficult task for me to find a concealer that does it all—I need one that's lightweight, doesn't crease (obviously), and lasts longer than three hours. It's not an easy mission, which is why I was a little surprised when Tarte's latest launch met my very high standards.
"Radiant comes with Tarte's trademark fluffy doe foot applicator which allows for precise application. I used the wand to dab the formula under my eyes, above my upper lip, on my chin, and across my forehead before blending everything out with a damp beauty blender. The formula's texture is creamy and dries down to a glowy finish that isn't chalky, all while masking my dark spots in the most natural-looking way. One of my biggest makeup pet peeves is when you can feel it on your face and thankfully this concealer doesn't feel (or look) like you're wearing a mask. Plus, you know how some brightening or dewy concealers can veer oily skin into heavy grease territory? As someone who believes her oily T-zone is conspiring against her, I can confidently say you won't have to worry about that. Shape Tape Original should watch her back…I may have found a new favorite concealer."
Bare faced with just moisturizer and lip balm.
Photo: Courtesy of Katie Mok
My 10 minute routine using the Shape Tape Radiant Concealer.
SHADE: 22B Light Beige
"I'm the type of girl who likes the effortless look. Something that blends easy and quick, but still has coverage. I usually forego foundation for my everyday look, opting for concealer for the trouble spots–mainly my dark circles and blemishes. Like clockwork, this concealer landed on my lap during my PMS skin, which meant my face was tired and more dull than usual with a few unwelcome pimples taking up prime real estate. After applying moisturizer, this concealer slid right on. I've always thought of Shape Tape as the concealer to use for a full-face beat so I was a little surprised that this formula gave such a natural finish that didn't feel caked on. After dabbing on the concealer, I added on a quick touch of blush, some eyeliner, and swiped on a lip. I was out the door in 10, just how I like it."
Photo without Shape Tape Radiant Concealer.
Photo: Courtesy of Andie Eisen
With Tarte's Shape Tape Concealer.
SHADE: 22B Light Beige
"I am very lazy when it comes to makeup. I have a four-step routine and it involves a rotation of drugstore staples: a small wing of eyeliner, a brush of mascara, a suggestion of brow pencil, and concealer to mask my under-eye circles. Concealer has always been the messiest and least reliable cast member of the rotation. I've tried the cream compact products but they often came out a bit patchy and didn't layer well without lifting. Other products apply smoothly with a beauty blender but then the product's wetness/tackiness often picked up my mascara. To get rid of the mascara smudges I would often end up rubbing my concealer off by the end of the day.
"I've been using the Tarte Shape Tape for the last two days, and I can honestly attest to its staying power. The application stick is easy to swipe under the eyes and pats on evenly with my fingertips. It dries quickly and doesn't get chalky or patchy when layered. It is also allergy season, which means I tend to get a bit of redness around the nose. The Shape Tape masked that easily without irritating my dry skin. I also got a bit up my nose by mistake and I can say the smell is actually quite pleasant. I tend to use my concealer as a subtle highlight on the brow bone to hide the slight discoloration on my eyelids—it went on quite effortlessly with my index finger and didn't attract little stamp marks from my eyeliner. It also gets points for masking the dark spots left over from last week's blemishes. I wore it to a PR lunch across town and throughout my daily errands and I look just as airbrushed as I did hours ago when first applied. It's smooth and matte without drying up as the day progresses. I am also a glasses-wearer so that usually contributes to some concealer fallout but it held strong. Big thumbs up from me!"
No makeup selfie.
Photo: Courtesy of Amanda Beausoleil
Selfie with Shape Tape Radiant Concealer.
SHADE: 47S Tan-Deep Sand
"I don't wear a lot of makeup, so I didn't know what to expect when testing Shape Tape Radiant Concealer. I'm happy to report that I'm obsessed with this new launch. Usually, my sensitive skin breaks out when I use concealer—hence why I tend to avoid it—but my face didn't hate the formula. It's so light and airy that before I blended everything out, I wasn't sure if I'd applied enough product to even out my skin. I also love that my face doesn't feel like an amaretto wedding cake while weaning it(If you know, you know). If you're searching for a concealer that actually lives up to its claims, look no further."