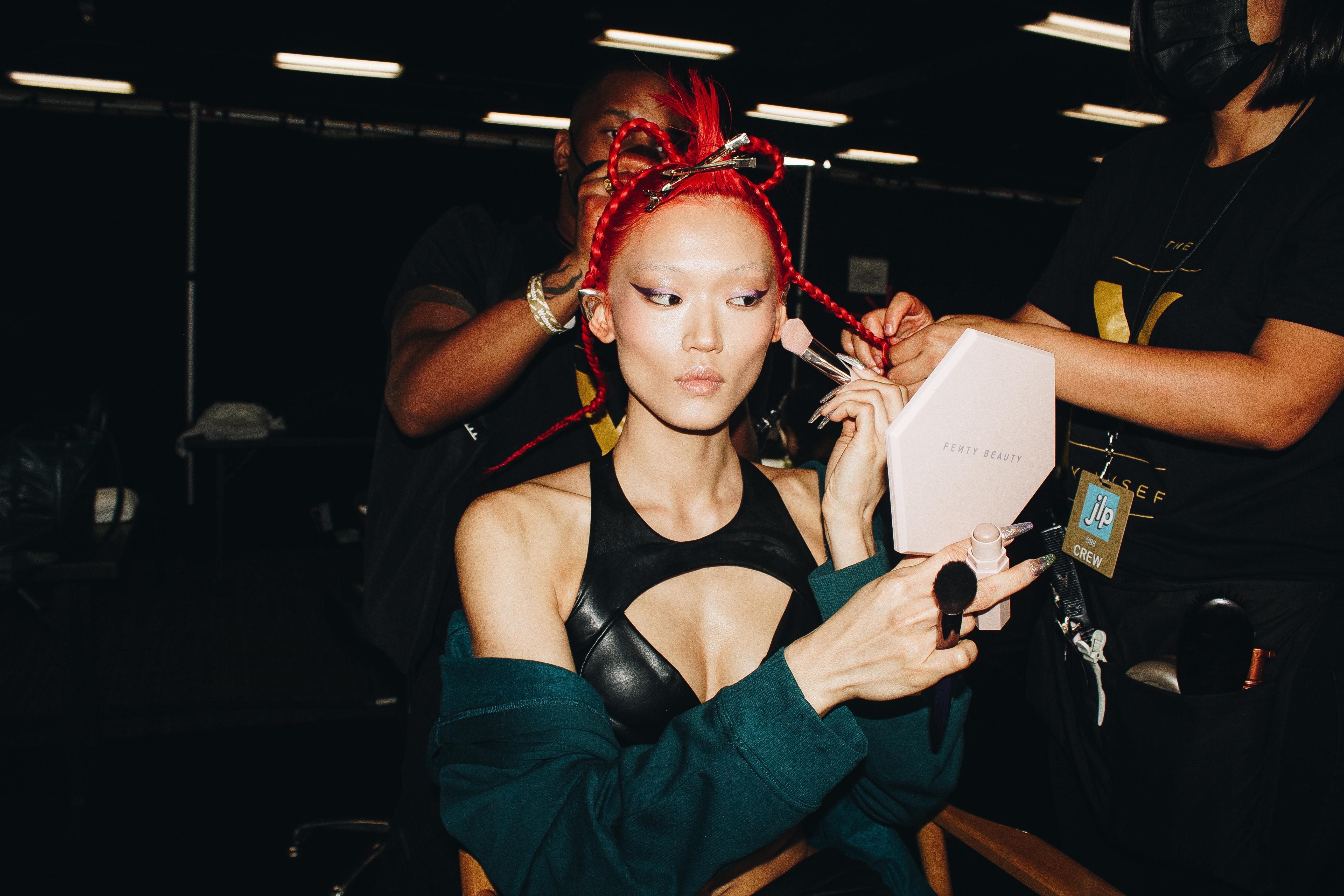 Makeup
You Didn't Think the Savage X Fenty Show Beauty Would be Basic, Did You?
From bold liners to bright lips, the show delivered full-on glam.
As the brainchild of the ultimate showgirl, it's in Savage X Fenty's DNA to show out. The third installment of the lingerie brand's annual Amazon Prime-exclusive showcase—which is more performance art than traditional fashion show—didn't disappoint. In every scene, there was so much to look at, listen to, and add to our Savage X Fenty carts. Ri Ri was in attendance, obviously, but the star sightings didn't stop there. Cindy Crawford opened the show with her iconic strut (!!!!) and Nas closed it with tracks from his new album King's Disease II. On top of those already-iconic appearances, there were moments that we'll be talking about until next year's show, from Sade's son Izaak Theo Adu making his Savage X Fenty debut to Normani's Inception-esque performance of "Wild Side" (I know I'm not the only one who had to take a Gravol after watching).
I didn't let out an audible "Woo!" until Lola Leon and Emily Ratajkowski's back-to-back appearances. During Lola's dreamy elevator scene I couldn't help but think of this Wendy Williams quote and I'll now be channelling EmRata when I'm walking out of public transit.
The show gave us so much to talk about, but the most pressing takeaway was the hair and makeup. Once everyone was prepped with Fenty Skin's four-step Start'rs (duh), the 200 models and dancers wore one of four looks dreamed up by Rihanna's longtime MUA Priscilla Ono and Fenty Beauty Global Makeup Artist Hector Espinal. The common thread was that each of the four looks was otherworldly and eye-catching, finding a common ground between edgy and glam, which is a hallmark of Rihanna's aesthetic. Below, we break down each of the show's main looks, with the precise Fenty Beauty products that you can use to look runway-ready in real life.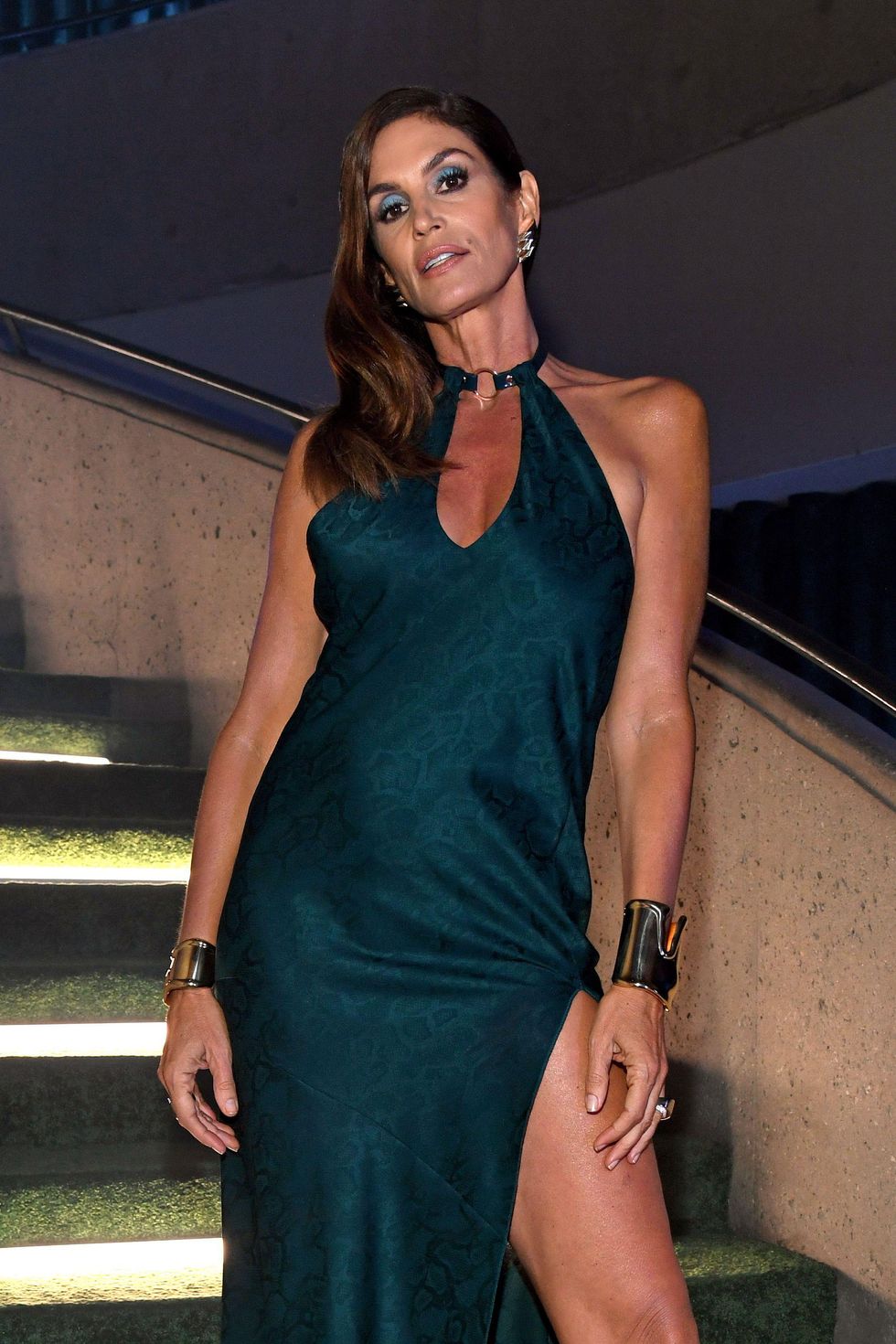 Photo: Getty
For the opening act, scored by Jade Novah, dancers and models wore their hair down, probably to emphasize all of the hair-flipping choreography. When Crawford first appeared, her hair was side-swept with Old Hollywood-style curls but the main attraction was her bold eye look.
"This look was all about an edgy graphic eye for a modern rocker type of look," Espinal shared in a post-show release. "Bold liner and metallic shadow to enhance everyone's unique eye shape. We wanted the shininess of the hair to pop against a bright bold liner." To bring the look to life, artists used Fenty Beauty's Killawatt Freestyle Highlighter in Chillz on the eyelids with the Flyaway Longwear Pencil Eyeliner in the shade Lady Lagoon along the waterline. Within the creases, they tapped in Shade 6 Smoky from the Snap Shadows Mix & Match Eyeshadow Palette. And to complete the eye look, they finished things off with the Full Frontal Mascara in Cuz I'm Black.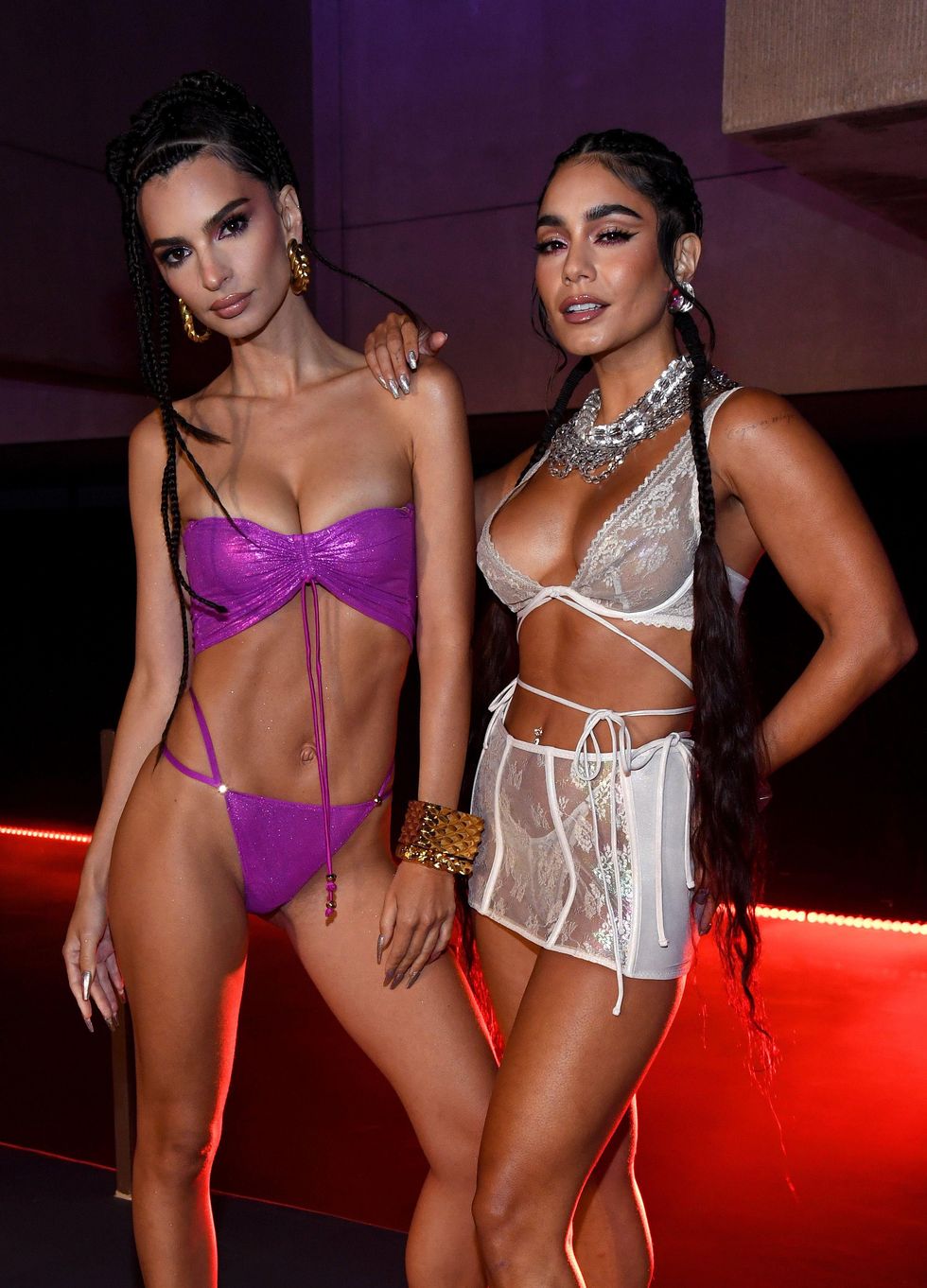 Photo: Getty
The show's rooftop second act, set to a performance by Ricky Martin, was all about sleek cornrows and swooped baby hairs. To match the fuchsia color scheme, models wore what Espinal described as "the ultimate flirty look." To soften the intense deep purple winged eyeliner, Espinal used the Flypencil Longwear Pencil Eyeliner in Purp-a-Trader and Cute Ting to create an ombre effect. He mimicked this on the lips with a transitional pink-to-purple look using three shades of Stunna Lip Paint: the shade Undefeated was used as a liner; Unlocked was used to fill in the lips; and a touch of Unattached was dabbed on at the center of the lip.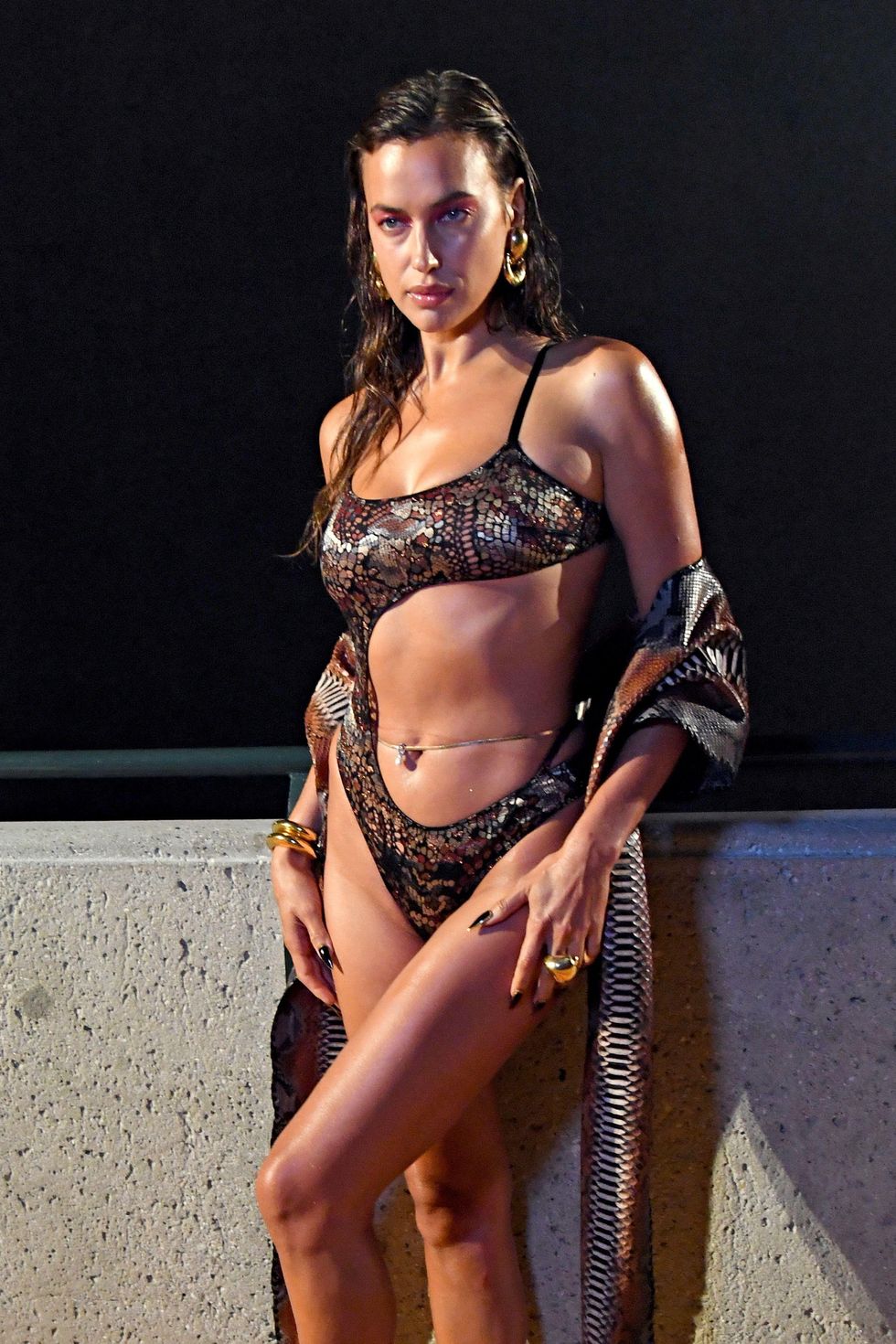 Photo: Getty
For what was arguably one of the show's hottest moments, where Raisa Flowers and Irina Shayk strutted side-by-side while Jasmine Sullivan sang "Sit On It", Ono turned up the volume on the wet hair and makeup trend. "We were really inspired by all the latex in the show and wanted to mimic that type of wet-like finish on the eyes and lips," Ono wrote.
To create the glossy "red latex eye", as Ono described it, she simply swiped on the Flypencil in Spaghetti Strapz with a gloss topper. On the lips, she paired Stunna's deep reds (Uncensored, Underdawg, and Uninvited), with
Gloss Bomb
in the clear Glass Slipper hue. One step closer to looking like Irina Shayk.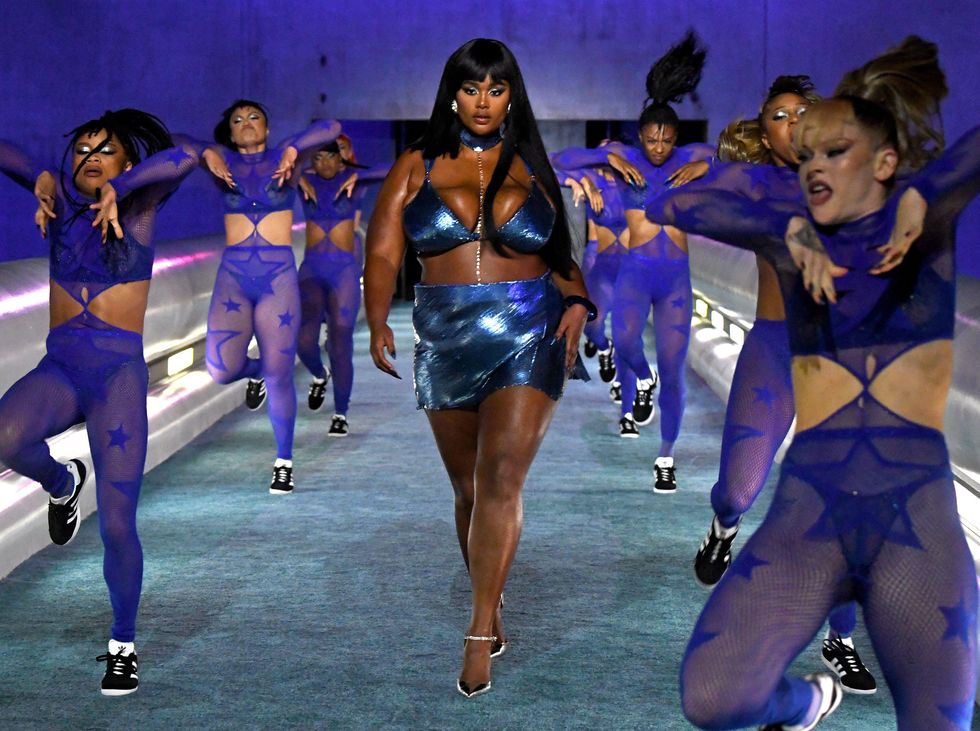 Photo: Getty
According to Ono, the icy aesthetic in the show's final act was a nod to the '70s. "We wanted to create a really cool metal eye that complimented the metal mesh designs that all the models and dancers were wearing," she wrote. "It felt very 70s, very Studio 54." To get the look that Joan Smalls and Precious Lee sported for the evening, artists went all out with Fenty's special edition CLF Killawatt Highlighter on the eyelids and paired it with Shade 1 True Neutrals from the Snap Shadows Palette to add extra dimension. With such a bold, sparkly eye, they kept things neutral on the lips with Stunna Lip Paint in Unbuttoned, Uncuffed, and Unveiled. Perfectly icy for the cooler months ahead.