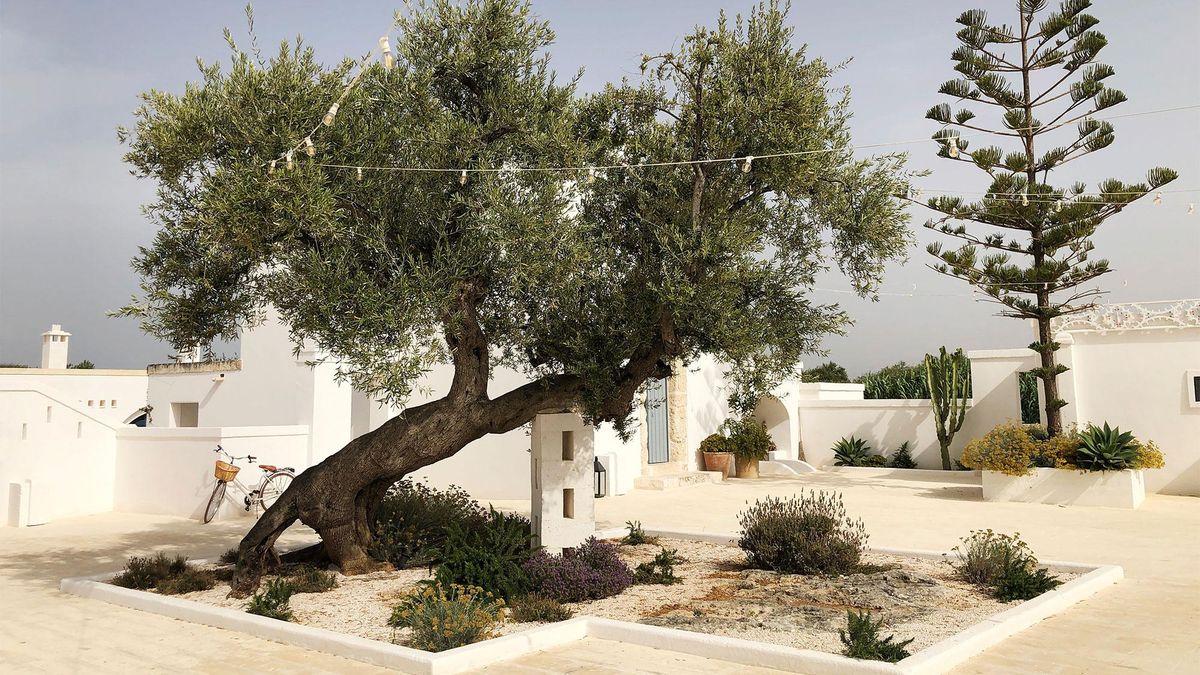 City Guide
Nicole Kliest
Rome may be considered the crown jewel of Italy, but drive farther south and you'll unearth a glistening gem: Puglia. Winding roads sandwiched between ancient olive groves, turquoise waters cradled by limestone cliffs, whitewashed villages dotted with historic churches and traces of centuries past—Puglia is prime road-trip country.
The region, commonly referred to as "the heel" of Italy's boot, is situated in the southern peninsula with the Adriatic Sea to the east and the Ionian Sea at the southeast border. Despite its near-limitless splendor, Puglia still feels untouched in many ways, such that if you're keen to plan a holiday that feels distinctly unique, a sojourn in this sun-drenched destination is in order.
The recipe to a successful road trip anywhere is equal parts planning and spontaneity. A certain degree of strategy before hopping in your rental is wise, but flexibility to pivot and follow your gut is just as important. In Puglia, making plans and following the open road is made effortless. Ahead, the lowdown on what makes Puglia a worthy road-trip destination all year-round and a detailed itinerary to jump-start your planning.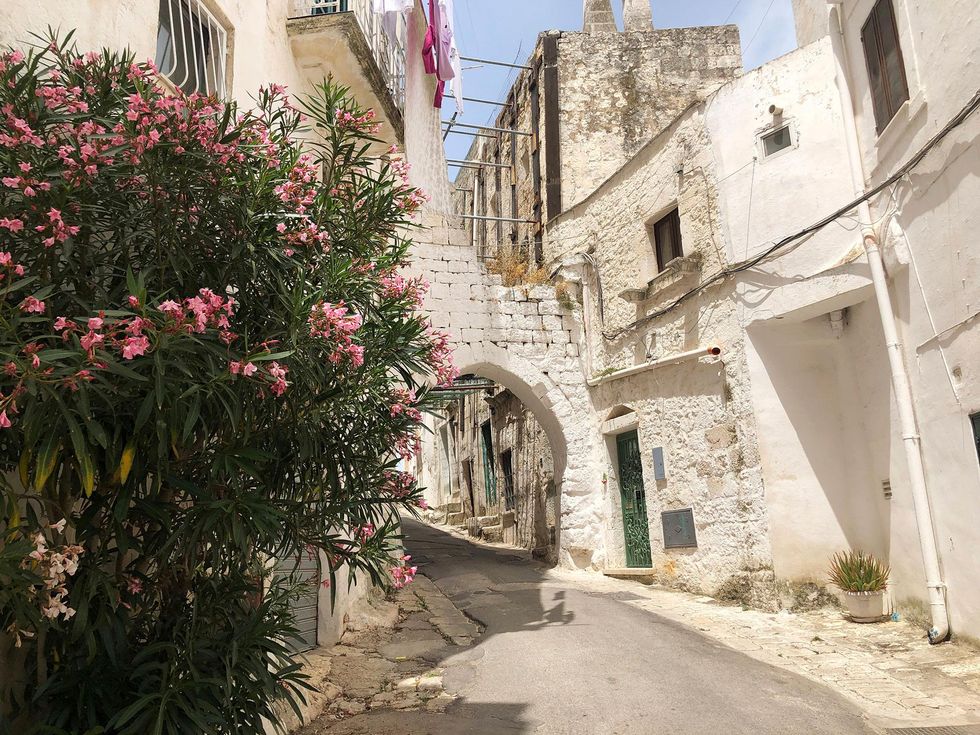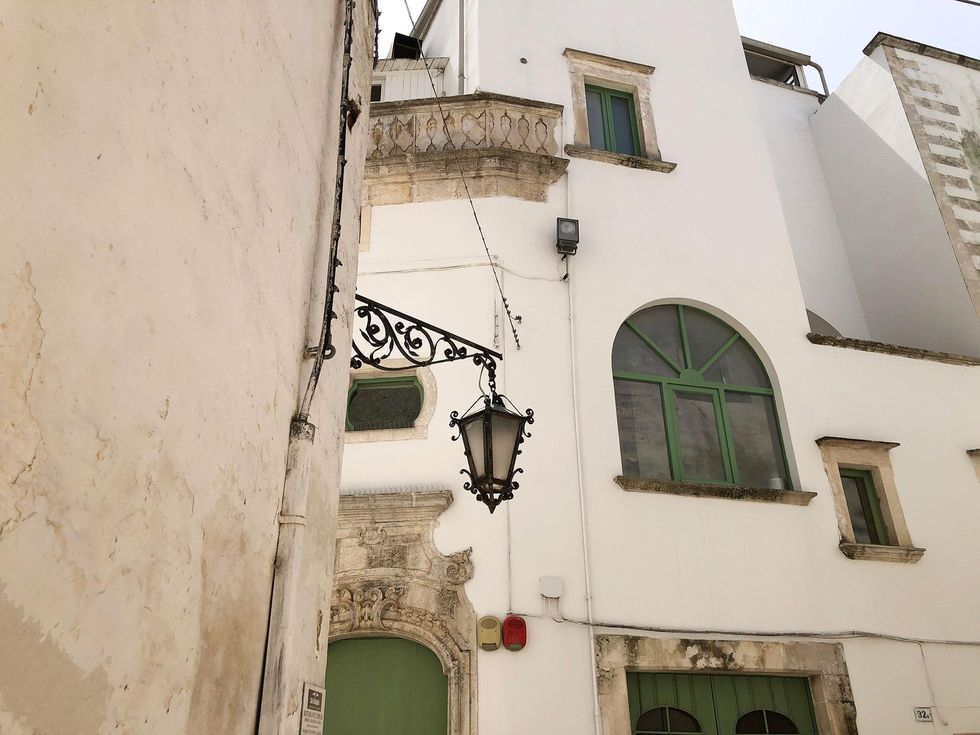 There are two main airports to fly in to Puglia: Bari and Brindisi. When selecting a rental car, you'll be given the choice of manual or automatic transmission—the former often being more affordable. If given the choice, opt for a smaller ride to make squeezing by other vehicles on narrow roads less anxiety-inducing. Also, be mindful of what the different traffic signs mean before arriving in Italy. Among the more important is "Zona Traffico Limitato"—these zones (usually in historic city centers) are off-limits to drivers to help with congestion, and if you drive through them, cameras will record your license plate number and you'll get a fine in the mail from your rental company. So if you see a white circle with a red border, pump the brakes and steer clear.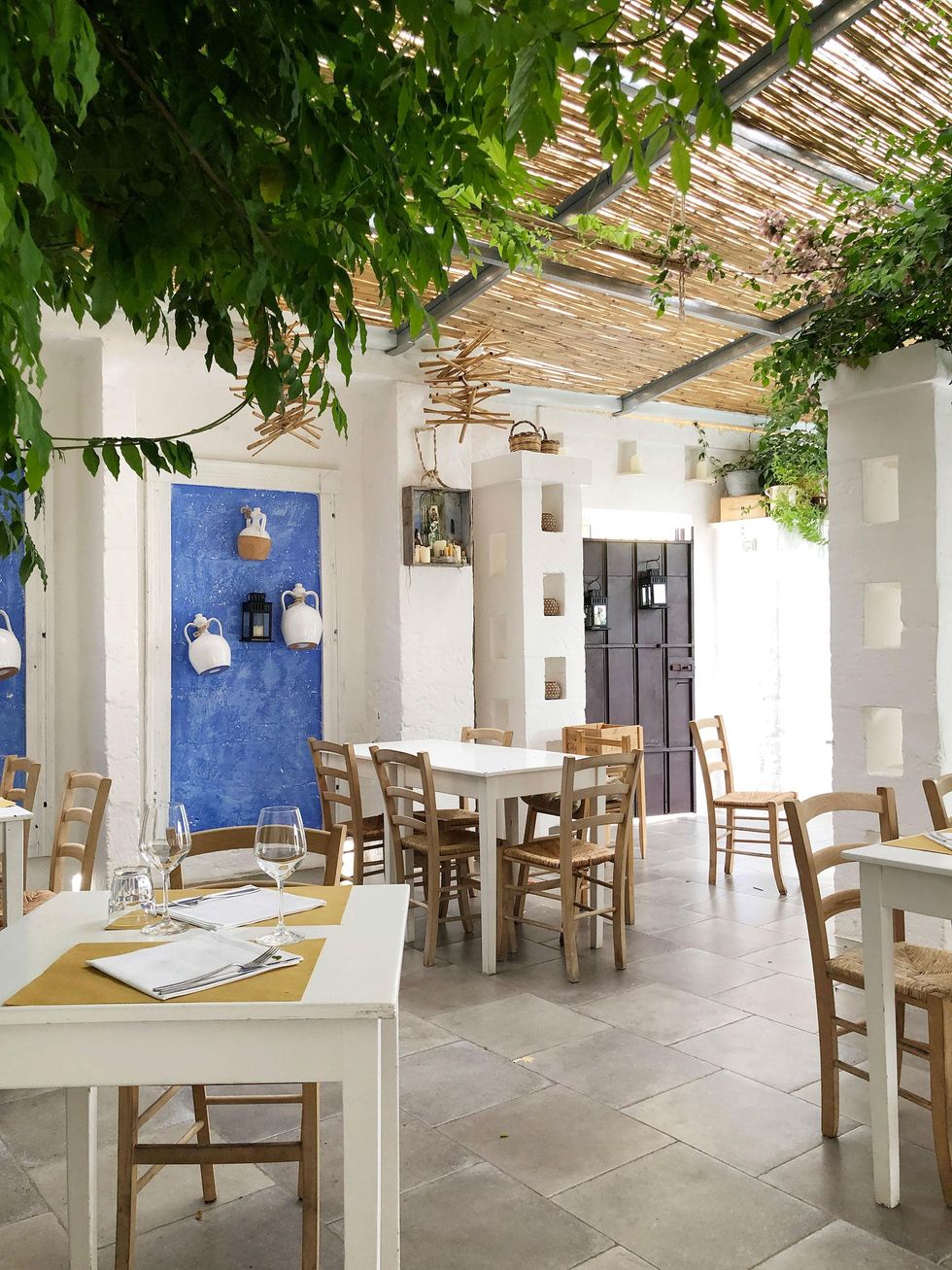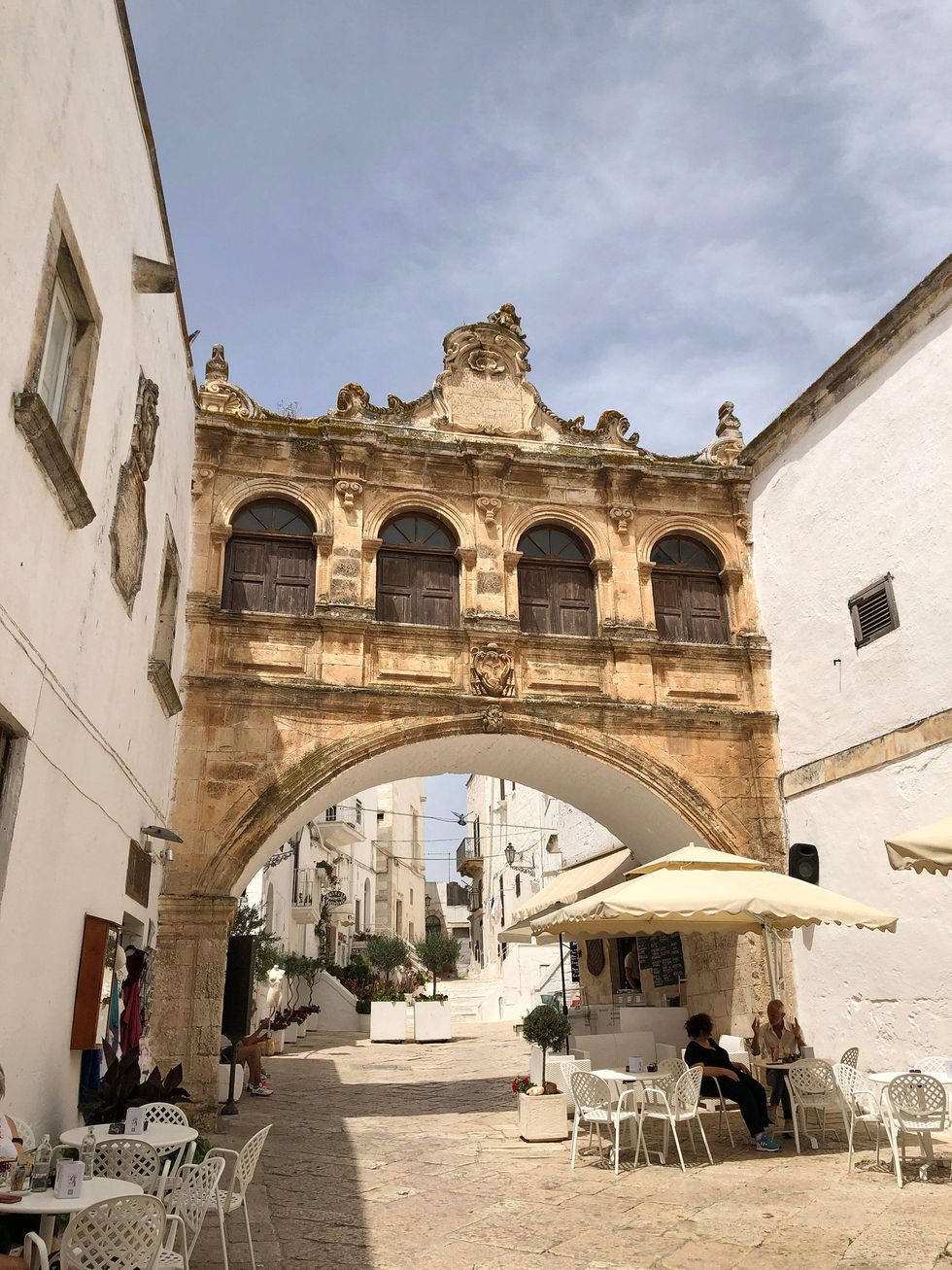 You can trust that you'll be well fed in the heel of Italy's boot. The region's agriculture abounds and is reflected in its simple, fresh cuisine. Drive around Puglia long enough, and you'll ascertain that despite the close proximity of all its famous towns, each area boasts a unique dish or drink. In Lecce, you can't leave without ordering pasticciotti, a heavenly custard-filled pastry. In Ciscterinino, a visit to one of the city's butchers where you can pick your meat and have them cook it up for you on the spot is a must. There are gastronomical favorites like orecchiette, olive oil, burrata, and abundant fresh seafood, too. And the wine! Primitivo is among the more popular varietals of the region, but others such as Nero di Troia and Negroamaro are equally worth a sip. If you want white, Verdeca is king.
Foodies traveling to Puglia should contact Zest of Italy, a bespoke food-and-wine travel company led by husband-and-wife duo Livio and Kathrin. They custom-craft itineraries that prioritize the region's authenticity and its local artisans while indulging travelers in compelling expeditions.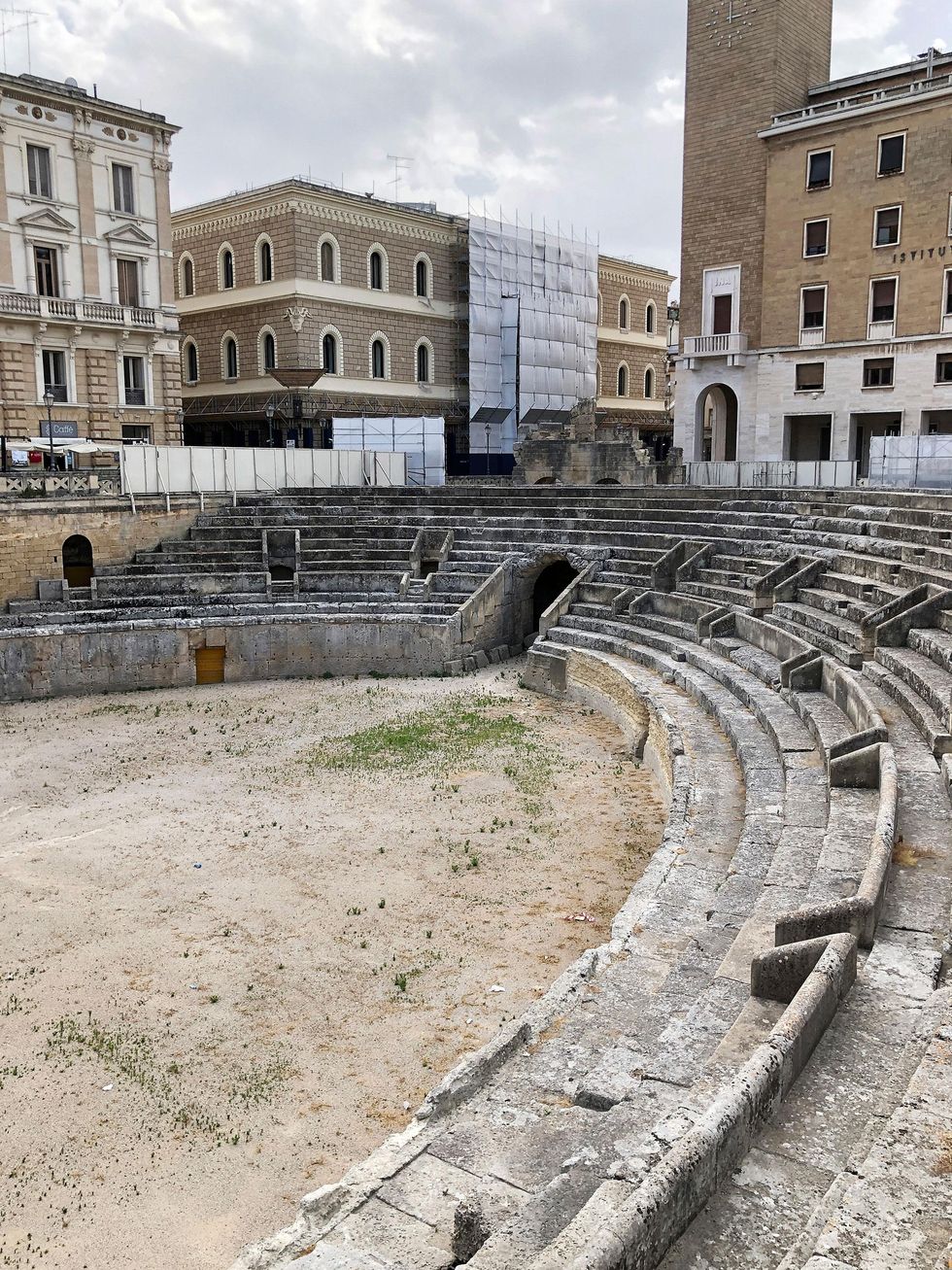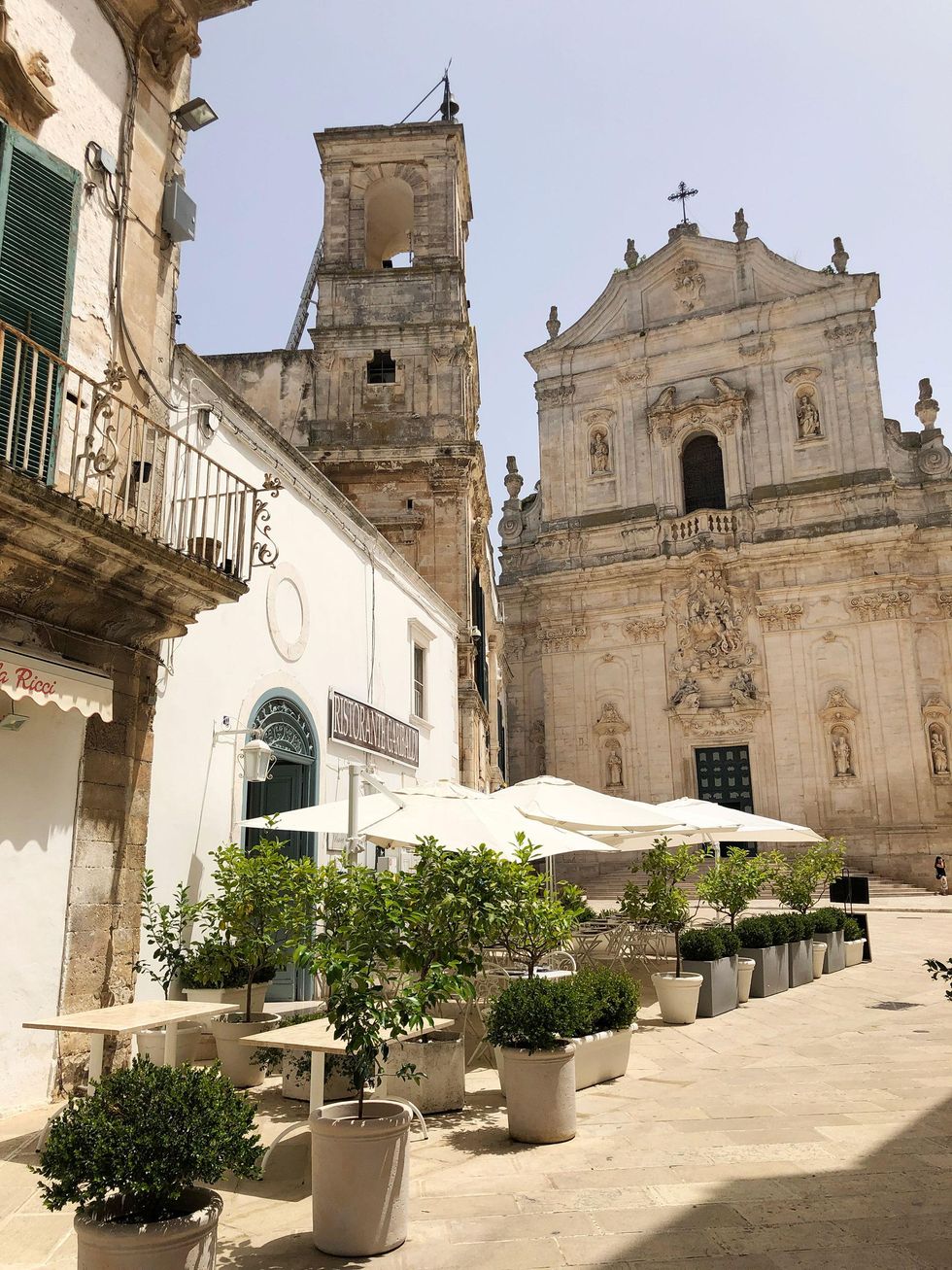 From coned-shaped Trulli to ancient Roman ruins that date back thousands of years, Puglia's architecture is, quite literally, a step back in time. The Baroque style thrived in the region during the 17th and 18th centuries, giving myriad whitewashed villages an air of elegance and extravagance. The region has also been subject to invaders over the last several centuries, and those influences can be seen in its varying styles including fortified cities, enigmatic castles, and masterpieces that artfully blend cultures.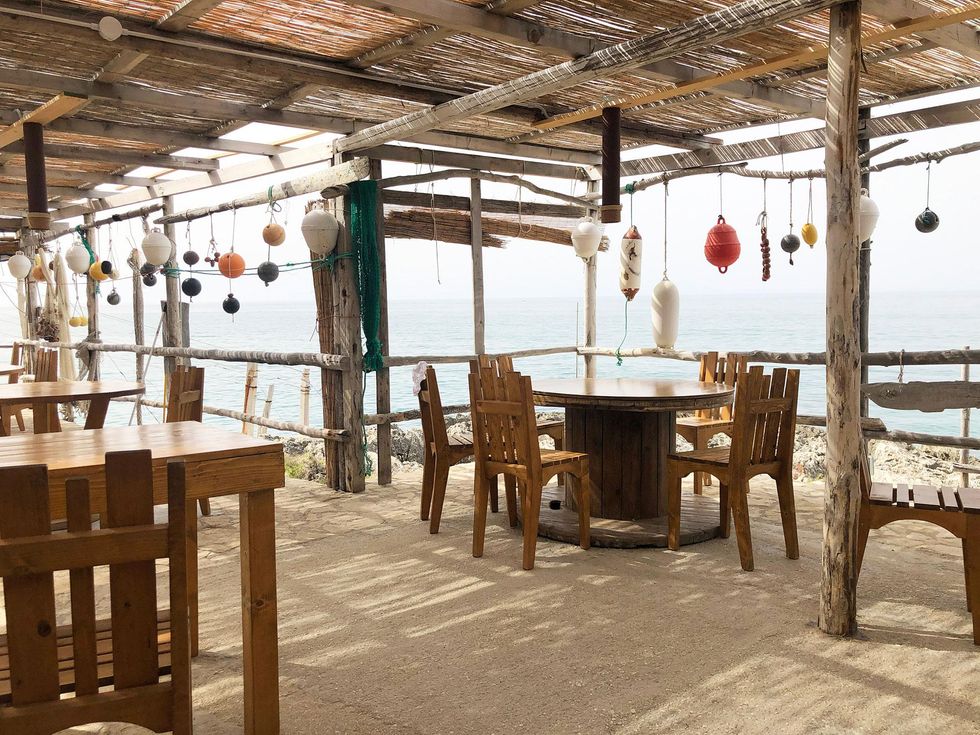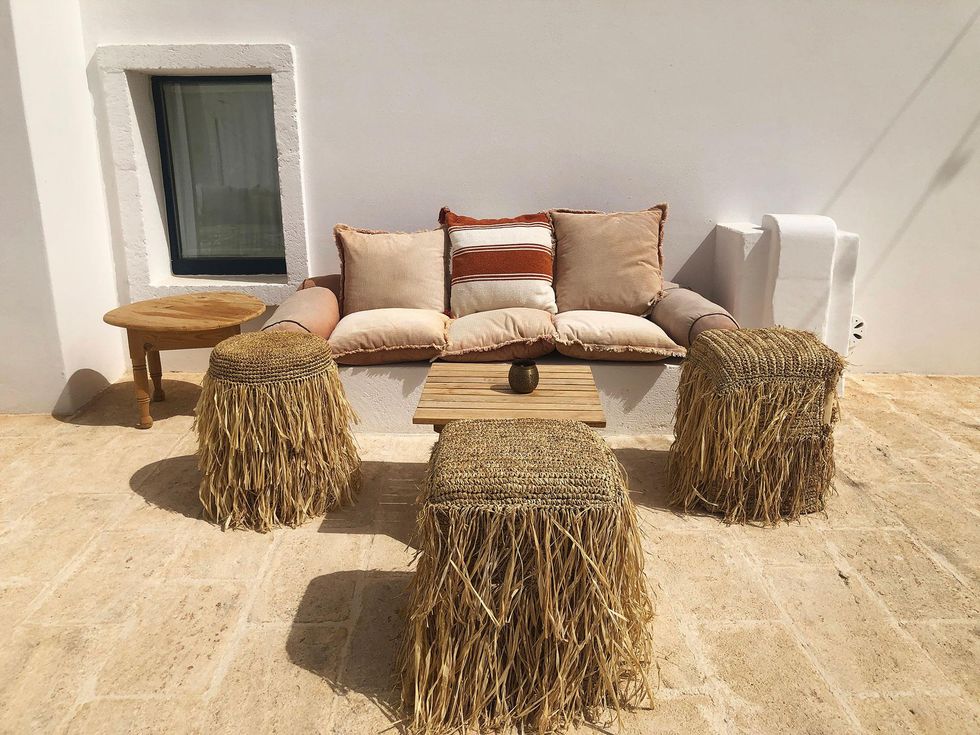 Unlike Italy's other cities of interest, big hotels aren't a thing in Puglia. Instead, you'll find yourself heading toward the Masseria, a fortified farmhouse typically dating back to between the 15th and 18th centuries. One such property is Masseria Calderisi, a tranquil 17th-century farm located in Fasano that's surrounded by 24 acres of olive groves, herb gardens, and citrus and almond trees. The boutique 24-room hotel spearheaded by Max and Jutta von Braunmühl is awash in white stone and punctuated by artisanal accents like raffia-embellished stools, woven and striped throw pillows, and locally produced ceramics. The plethora of blooming cactuses don't hurt the ambience, nor does the Masseria's antique oven or consecrated chapel. Take in the sounds of humming cicadas while enjoying a spritz at their apero bar followed up by freshly caught fish and local wines at La Corte, the property's restaurant that offers a contemporary spin on traditional Puglian cuisine.
COVID-19
At the time of publication of this article, American visitors are required to show proof of vaccination or a certificate of recovery to enter Italy. Alternatively, you can provide a negative COVID-19 test taken in the 48 hours prior to arrival (molecular or antigen). You are also required to fill out Italy's Digital Passenger Locator Form. When returning to the United States, you'll also need to show a negative test taken no more than three days before your flight. It's not the easiest feat to find testing sites in Puglia; your best bet would be to do it at the airport (there is a testing location inside the Bari airport).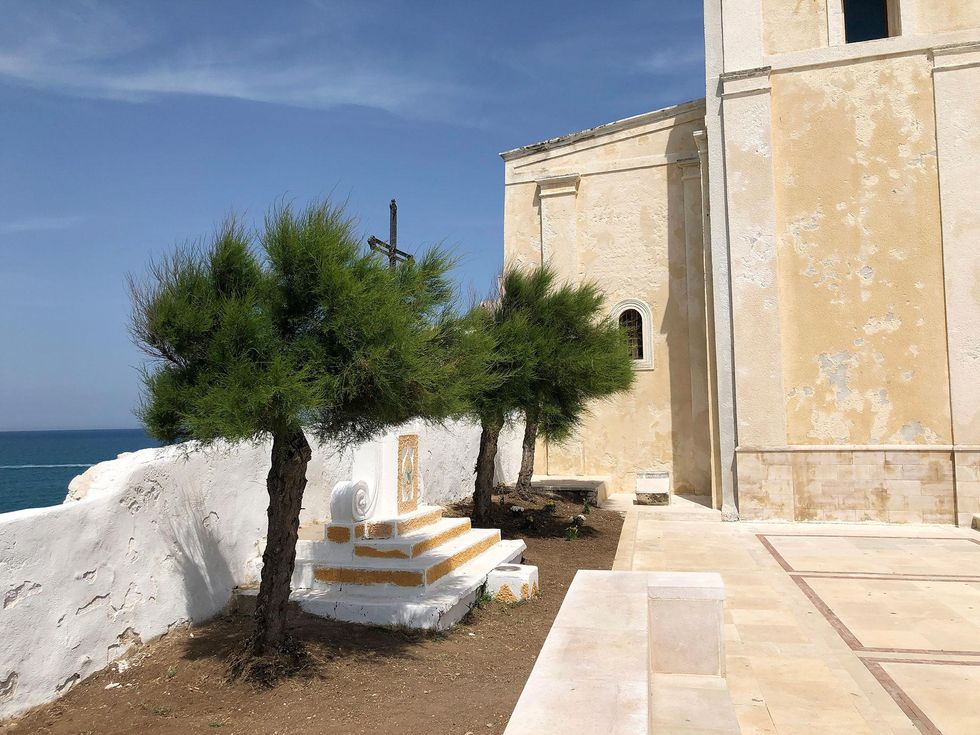 The Itinerary
Day 1: Bari to Mattinata
Fly into Bari International Airport and pick up your wheels. Many Puglia visitors head south toward the region's iconic beaches, but first go north to the Gargano, an oft-overlooked region. Enjoy seafood pasta with a glass of wine at Lido Cala Rosa, one of Livio's recommendations, before taking a dip in the ocean (it's a seafront restaurant, conveniently enough). If you have time, stop at Monte Sant'Angelo to see this 13th-century UNESCO World Heritage Site.
Day 2: Mattinata to Pescichi
Start the day off with a dip at Spiaggia di Vignanotica, a striking pebble beach positioned beside steep white cliffs. Then drive to Vieste, a tranquil seaside town, for a bite at Vecchia Vieste and a stroll to the Church of Saint Francis. Afterward, head to Peschici and cap off the day by exploring the old city center.
Day 3: Pescichi
Start your day with a hike in the Umbra Forest, part of the expansive Gargano National Park. Next, head to Al Trabucco da Mimi for lunch. It's a fishing platform turned restaurant that's been around since the '70s and offers a laid-back vibe but exquisitely delicious cuisine (the tasting menu is worth the splurge). Afterward, enjoy a swim in nearby Spiaggia di Procinisco.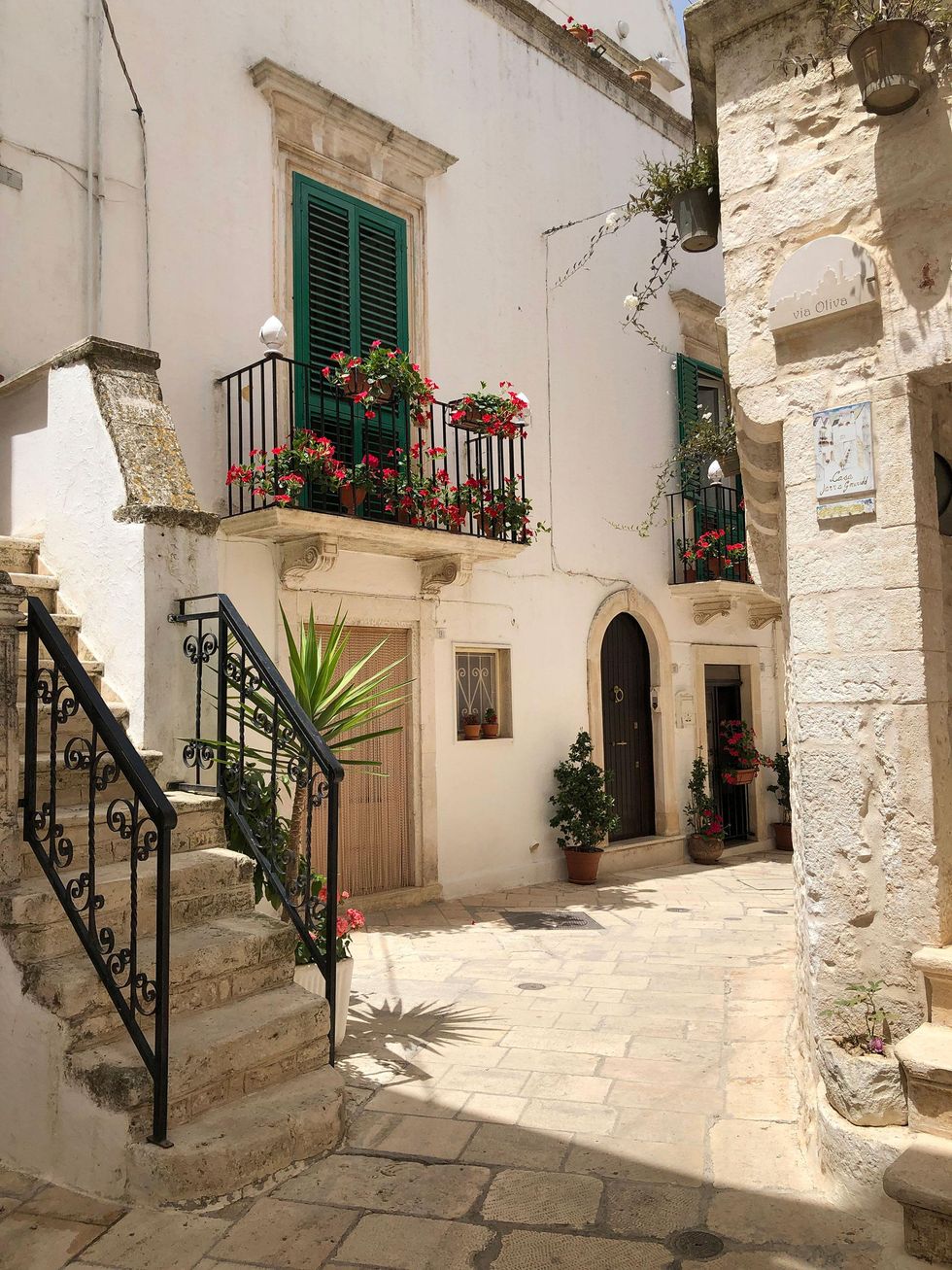 Day 4: Pescichi to Fasano
Before leaving the Gargano, wander the maze of narrow streets in Vico del Gargano (also known as the "Village of Love"). The drive down to Fasano will be your longest of the trip, around three hours, but the back-country roads give it charm. Check into Masseria Calderisi and go for a swim at the pool surrounded by stacked stones, olive trees, and cactuses. The property also offers complimentary bicycles, an onsite spa, and ample opportunities to indulge your gastronomic cravings.
Day 5: Fasano to Itria Valley
Head inland to the Itria Valley to take in some of Puglia's most picturesque towns. Cisternino is a good base, but any of the surrounding villages would work well. Start at Locorotondo, one of the most beautiful villages in Italy thanks to its white-walled corridors, charming shops and cafés, and circular orientation. Next, drive to nearby Alberobello to take in the sea of Trulli with their unmistakable cone-shaped stone roofs. Stop at the wine shop at 32 Via Monte Nero for a glass of wine and Taralli on the quaint back patio (Taralli are round crackers that are particularly popular in Puglia and have a similar crunch to breadsticks).
Day 6: Itria Valley
Architecture lovers will appreciate Martina Franca, a visually stunning town that used to be fully walled. Baroque curlicue gas lamps adorn the city's pastel-hued walls. A leisurely stroll followed up by capocolla (cured ham iconic to Martina Franca) is not to be missed. Your next stop involves fried folded pizza (panzerotti) at Tony Bar in Speziale—another Zest of Italy pick. It's just as good as it sounds and you should order two. Afterward, continue toward the sea for an afternoon swim at Spiaggia di Rosa Marina, followed up by dinner in Cisternino at a local butcher counter (Zio Pietro is a wise pick).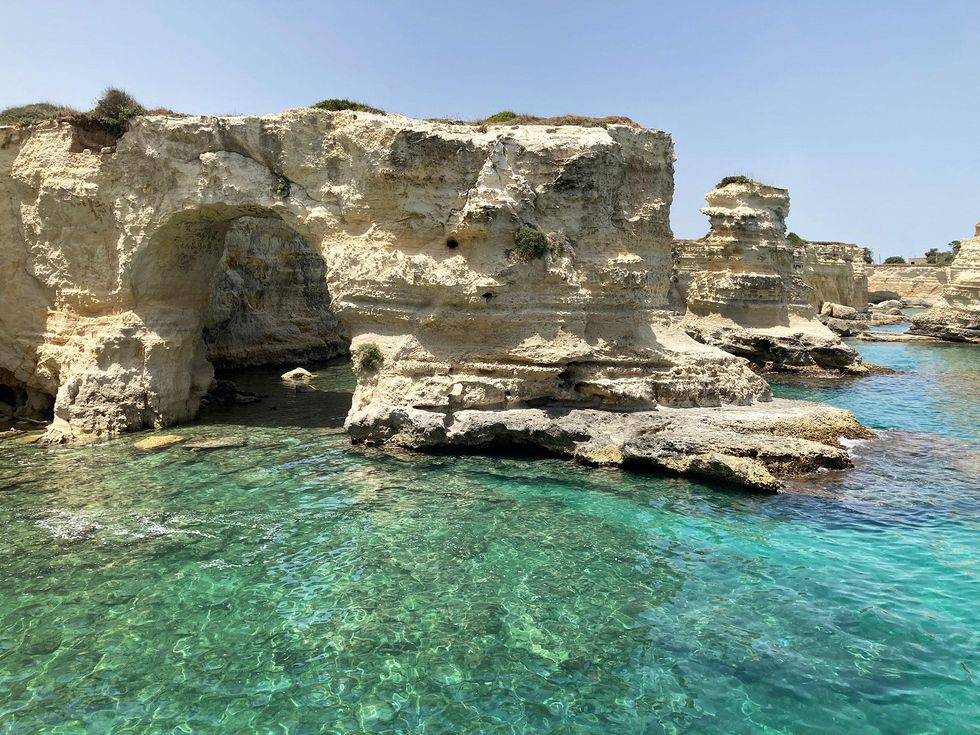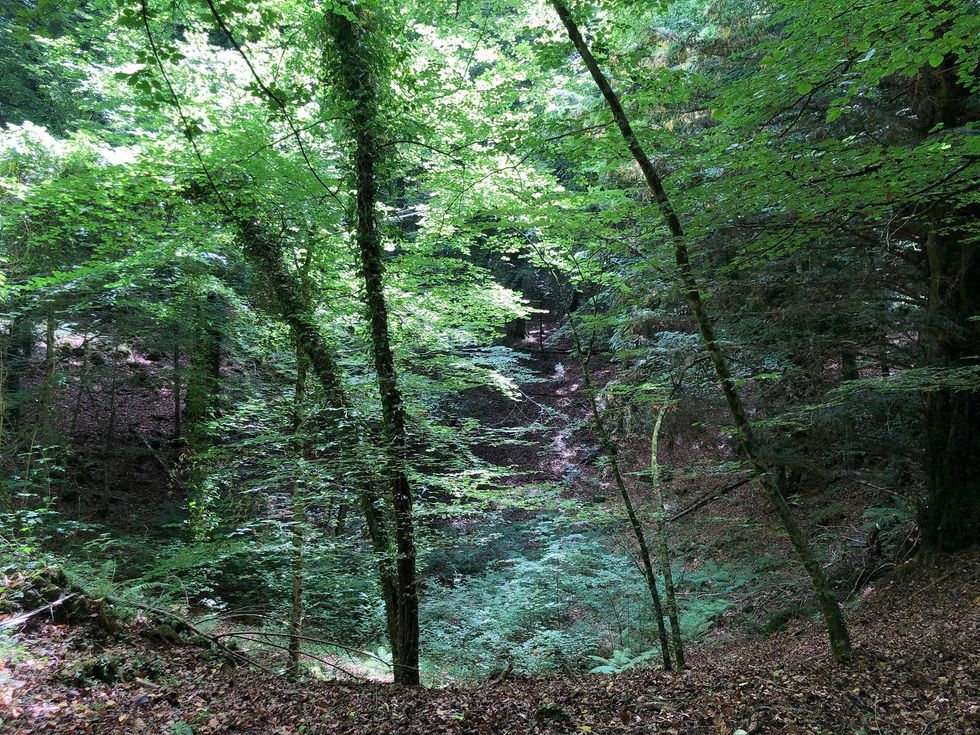 Day 7: Itria Valley to Lecce
Begin your day in Ostuni, an ancient city known for its enchanting white walls and history that dates back thousands of years. For lunch, drive 15 minutes to Il Cortiletto (another Zest of Italy rec). This cozy, unassuming restaurant on a low-traffic street is perfect for a midday meal. Across the street, pick up some burrata and pecorino at Crovace, a family-run Puglia dairy market. End the day in Lecce with dinner at Le Zie Trattoria, a restaurant that feels akin to your grandmother's kitchen—be sure to order the cheese-filled meatballs in white wine sauce.
Day 8: Lecce
The city of Lecce, nicknamed "the Florence of the South," is worth an entire day of exploration. Basilica di Santa Croce's jaw-dropping Baroque facade should be your first stop. And you won't want to miss the ancient Roman amphitheater that was built in the second century CE or the Faggiano Museum, a private house that unwittingly excavated archaeological relics dating back 2,000 years and shown to have served as a Knights Templar home. After a day of sightseeing, enjoy a pour of Primitivo and a meat-and-cheese plate at Viveur.
Day 9: Lecce to Otranto
At this juncture in the road trip, crystal-clear turquoise water beaches abound. Otranto is a good base for exploring the region's many spiaggia (as is Castro and Santa Cesarea Terme). Torre Sant'Andrea should be your first swim thanks to its dazzling rock formations and prime snorkeling opportunities. After a day in the sun, indulge in an aperitivo al fresco at L'Ortale in Otranto.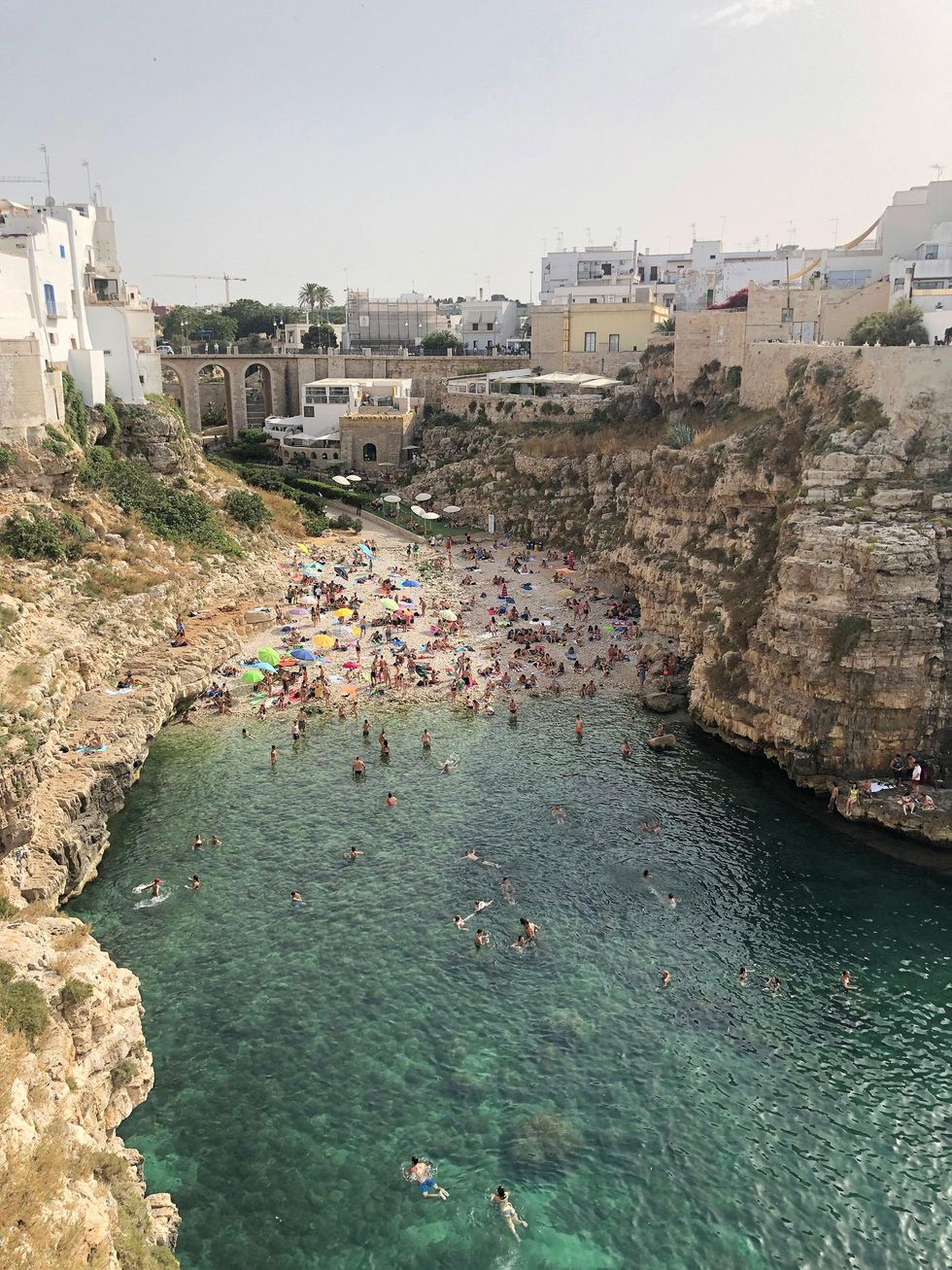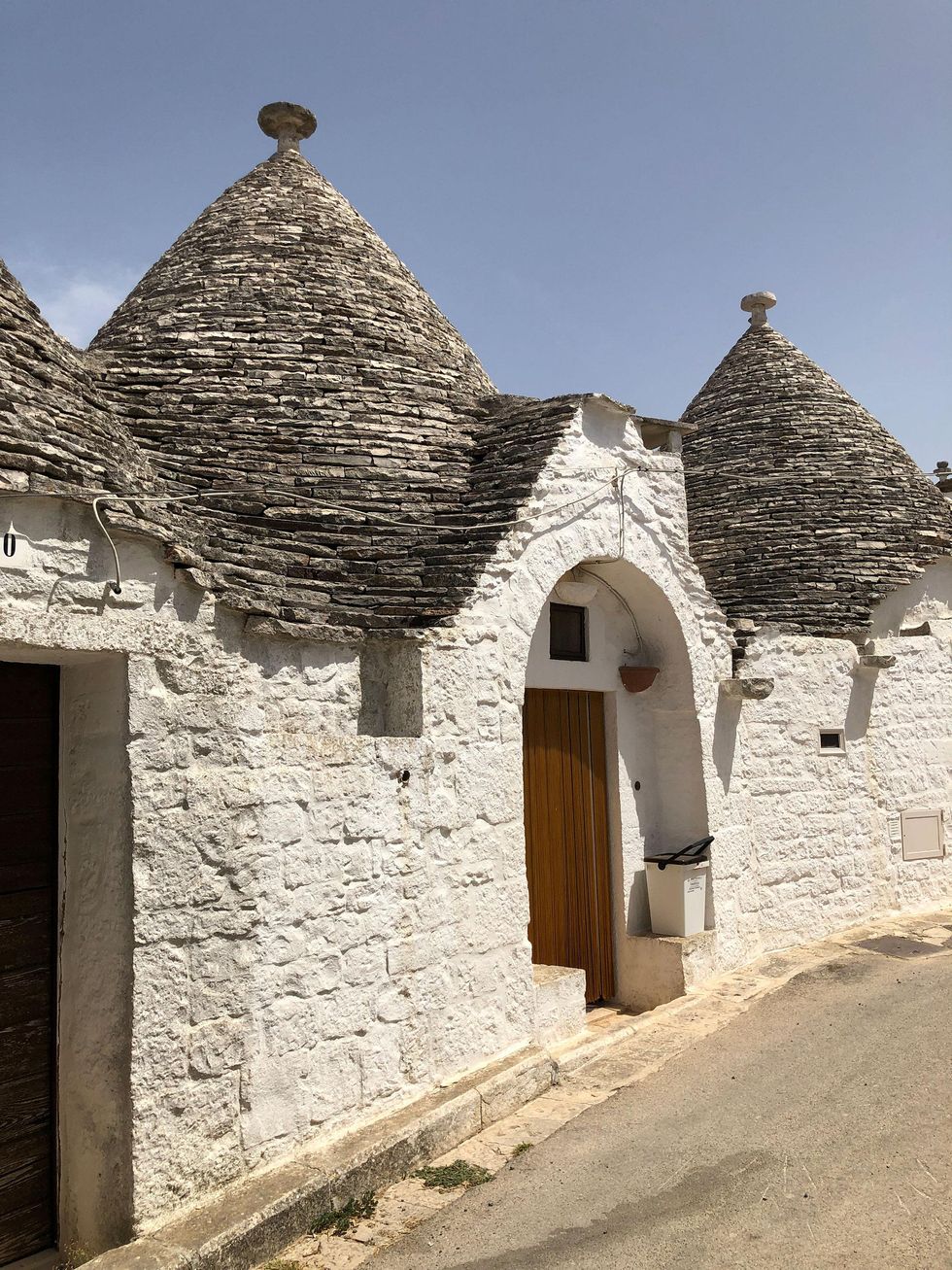 Day 9: Otranto
Another breathtaking beach in this region is Baia Dei Turchi; it is accessed via a short hike through a wooded area (as idyllic as it sounds). If you forgot to pack a lunch, you can grab a panini and beer at the food stand in the woods. Later on, visit Cathedral of Saint Mary of the Annunciation in Otranto. The mosaic floor is a site to behold and dates back to the 12th century. Further in, visitors will encounter a wall lined with skulls and other remains of martyrs who were killed inside the church during an Ottoman siege in 1480—a chilling, memorable tribute.
Day 10: Otranto to Polignano a Mare
The last day of the trip is back toward the airport in a tranquil seaside village called Polignano a Mare. Famed for its frequently photographed Cala Porto beach, while in town you should also get a Caffé Speciale from Il Super Mago del Gelo Mario Campanella (espresso, lemon peel, whipped cream, and amaretto). After a few hours wandering the charming city streets, head 20 minutes south for a final dinner at Masseria Torre Maizza. This 16th-century Masseria is surrounded by ancient olive groves and offers a supremely romantic backdrop for a farewell aperitif and dinner. Carosello, the on-property restaurant, is helmed by Chef Nicola Lenoci and menu offerings include handmade pastas, fresh fish, and local cheeses. Hot Tip: Order the "Courgettes, courgettes, courgettes" to start—zucchini crafted four distinctly mouthwatering ways.