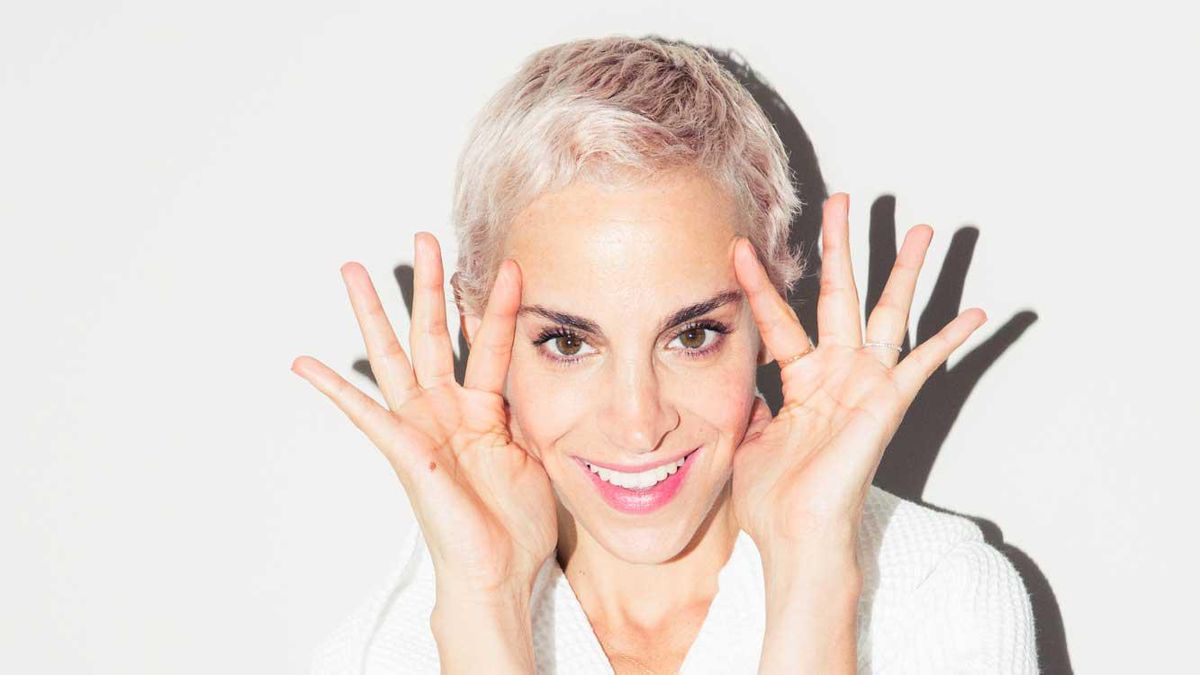 Skin
Neurophroline Is Out to Rescue Your Stress-Ravaged Skin—In Record Time
The skin-care ingredient is gaining major buzz for its reparative properties.
Even before the trash fire that was 2020, it's safe to say stress was a regular part of life for most of us. And, it turns out, stress can negatively impact our skin in a variety of ways, too. (Annoying, we know). It's how it works: When you're stressed, you release cortisol, sometimes referred to as the fight-or-flight hormone. "It's invisible, but it sort of comes out like sweat," explains Trinny Woodall, founder of Trinny London, and then it essentially just sits atop the skin.
And if you feel like your skin freaks out when your stress spikes, chances are you're exactly right. Stress on the skin can result from pollution, UV exposure, sleep deprivation, chemical exposure, smoke, and mechanical aggressors—even the stress we feel emotionally.
Says New York City–based, board-certified dermatologist Dr. Joshua Zeichner, "Stress has several negative impacts on the skin—impairing barrier function, interfering with the skin's ability to heal itself, and even contributing to acne. It also may cause skin to look dry, flaky, or dull."
So what can you do to mitigate the negative impact of stress on the skin, other than completely eliminating it from your life (impossible!) or committing to an hour of meditation every day?
Enter: Neurophroline, an ingredient patented by Givaudan and developed from wild indigo, which "has been used in the Ayurvedic tradition for its benefits on skin," explains Annee DeMamiel, founder of DeMamiel. Wild indigo is an Indian plant (aka Tephrosia Purpurea), and its seeds are used to create Neurophroline. To create the ingredient, "the seeds of the Wild indigo plant are enriched with other natural extracts to enhance its efficacy," explains psycho-dermatologist Dr. Francisco Tausk, an advisor to Loum, a skin-care line dedicated to combating the impact of stress on the skin with Neurophroline in all of its products.
Although it shows promising results for blocking the production of cortisol in the skin (remember that's the hormone that rises when you encounter stress), Zeichner adds, "We need more data to understand how effective this ingredient truly is in the skin and whether it has any clinically meaningful benefits." Still, brands are beginning to add the buzzy ingredient to their formulas to help combat the negative effects of stressed skin.
In studies, Neurophroline has been shown to work quickly—reducing cortisol production by almost 70 percent within just a few hours. Essentially, "Neurophroline inhibits the release of cortisol while stimulating a calming neuropeptide to counter its effects, which protects collagen against stress-driven damage and preserves the integrity of the cellular matrix," explains Tausk.
Other positive effects on the skin, DeMamiel notes, include "fighting the signs of fatigue and tiredness, recovering the cell energy that cortisol impacts, increasing radiance and brightness, soothing and calming the skin, and reducing redness."
Neurophroline is not the only ingredient being marketed as one that can help combat skin stress, but according to Dr. Tausk, it is the one with the most evidence behind it. "Many ingredients marketed for reducing stress on skin are based on their soothing or balancing properties (e.g., natural oils, adaptogens, superfoods), but they do not respond to the hormonal imbalance caused by stress in the skin. Neurophroline is unique in that it is clinically proven to dial down increases in cortisol to protect skin from stress-driven aging and de-stress skin from within," he says.
"We may not be able to control the stress that comes into our lives, but good topical products may help counter the impact on our skin," Zeichner says. "By using skin care that hydrates, protects, and calms the skin, we can minimize the negative effects of stress."
To incorporate Neurophroline (or at least, wild indigo) into your skin-care routine ASAP, shop five of our favorite products below: