Yes, It's Possible to Meditate Right Now
Here's how to get started—and our favorite guided meditations to try out.
Wellness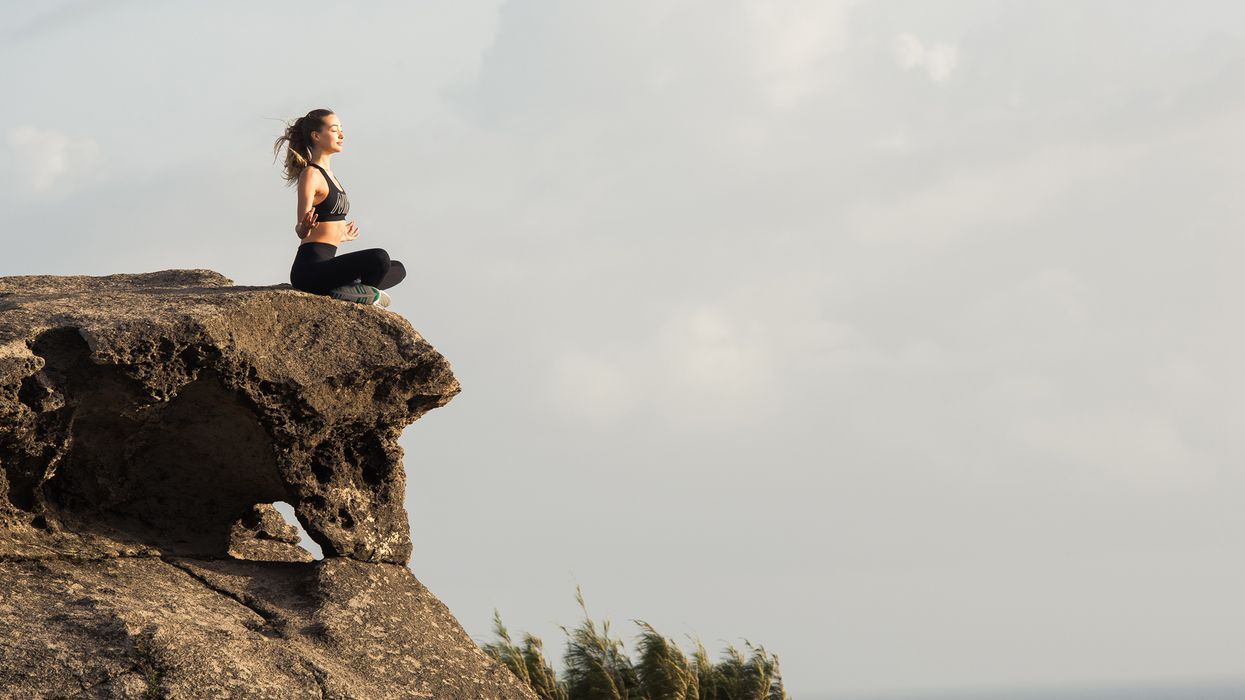 Meditation, for me, ebbs and flows. To hear it from the big guns—that's meditation teachers, in this case—meditation should ideally be a daily practice, but I have to say the only consistent thing about my meditation practice in my adult life is that I always come back to it. I don't do it every day, but when I do it, it helps.

Some would argue that means I should do it every day, but there have been long swaths of time when that has been the case, and there have been times when it hasn't, and I've been happy under both circumstances. For me, meditation is a particularly helpful tool in times of anxiety, so I've been meditating much more since March 11th (which was my first full day in quarantine, if dates mean anything to anyone anymore).

Whether you're like me and you dip in and out of meditation (but you'd like to be a little more regular with it), or you're a complete newbie who has never om'd a meditative breath in your life, meditation teachers are super helpful resources when it comes to getting started. So I spoke with a few of them about how to meditate right now—and what you need to know to hop on that mat and begin inhaling and exhaling intentionally.
 

How to Get Started
There are as many meditation techniques as there are colors in the rainbow (or something like that), so it's important to find what works for you. For someone trying this for the first time, start by identifying a space in your house that feels "uncluttered and allows you to sit facing something inspiring like a piece of art or a window," Joyce Englander Levy, director of mindful movement at
The Well
, tells us. As long as you don't do it from bed! "This can contribute to insomnia," she adds.
Once you've found your spot, "sit as close to the floor as possible," Englander Levy says. "Start by sitting in a crossed-leg position flat on the floor and see how it feels." One litmus test is if you can sit there comfortably for five minutes. "If your knees are higher than your hips, then chances are you will not be able to sit comfortably on the floor." If your hips are tight (like the best of us!), you'll probably need a pillow or two until your knees are at hip height and your feet are comfy. "If you can't achieve this with a cushion or pillow, then sit upright on a chair," she says.
Try to meditate at the same time each day. "You can start with five minutes and gradually increase," she says. "Begin by focusing on the sensations of breathing. Your mind will naturally wander—this is not a problem—but keep returning your focus to the sensations of welcoming the breath in, and letting the breath go."
Before you begin, try lighting a candle or placing a drop of essential oil on your wrists. Once you're done, end with "gratitude for that which is bigger than yourself," Englander Levy says. "It's nice to make a dedication of your practice to someone or something bigger than you as an individual. Meditation should help us to feel better on a personal level, but its aim is also to widen our perspective and help us to feel more compassionate." 
Help! I Feel Intimidated by Meditation, but I Know I Should Do It!
That's totally normal. But just as Rome wasn't built in a day, so too will your meditation practice require a chill and steady momentum. "Start small, keep it simple, and build on the practice slowly," Zander Gladish, board-certified holistic health and wellness coach, registered yoga instructor, and co-founder of
Vertly
, tells us.
What's more, it's wise to keep your expectations at an even keel. "Don't expect anything from meditation, and don't even call it meditation if that makes you anxious," Gladish says. "Do just one conscious breath if that is all you can handle, and slowly try to extend the period to 10 conscious breaths or a minute of sitting still." We love this suggestion, and we are here to say that just one deep conscious breath when things are feeling intense is enough to pause and reset. Seriously!
Once you've tried that, you can work up from there. "Next time, try to sit still and focus on your breath for two or three minutes," Gladish says. "It helps to set a timer so you aren't distracted by watching the clock." 
There's an App for That
While die-hard meditation practitioners often meditate sans technology, there are seemingly hundreds of apps designed to assist your zen. And just like there are many types of meditation techniques, different teachers recommend different online modes of assistance.
"There are so many amazing products and services online for meditation right now, but I do most of my meditation on my own," says Gladish. "If I'm in the mood to do something different, I like the app
Headspace
, or I'll YouTube people like Deepak Chopra and Eckhart Tolle.
"I highly recommend the meditation program that we have at
The Well
," Englander Levy says. As director of mindful movement at the health-and-wellness space, one could argue that she might be a little biased, but they
do
have excellent meditation teachers who are, as she puts it, "compassionate yet approachable and non-dogmatic."
"I would refer anyone looking for guided meditations to
MNDFL
in NYC," says Vedic meditation teacher
Théo Burkhardt
. "They're hosting guided meditations online." 
But It's Hard to Meditate Every Day!
"I've found the best way to build a practice is consistency," Gladish says. "If you can commit to doing it every day—if even for
one minute a day
—for 20 consecutive days, you are well on your way to forming the foundations of your practice." Well, damn. We can all commit to one minute a day, right? Right?!?!
"Keep in mind, it's always a practice because we are not trying to compete or achieve this perfect idea of anything," Gladish says. "We keep working at it, learning and exploring many different kinds of meditation techniques until you find something that resonates with you—ideally something you enjoy doing."
Eventually, you'll find your stride. "Once you find your preferred technique, then commit to doing it daily and keeping it on your schedule as a reminder," he says. "My preferred time is first thing in the morning, but do what works for you." And if you miss a day or two, don't panic. "Don't worry, come back to it the next day," he says. 
Is Meditation Really Going to Help Me?
"There is interesting research into how meditation and particular breathwork exercises help to restore balance to the nervous system, reduce inflammation, and improve sleep, among other benefits," says Englander Levy.
"My original motivation for meditation was to reduce anxiety, improve sleep, and make peace with myself so that I can express myself authentically and have healthy relationships," she says. "I've experienced all of these benefits and more."
Burkhardt agrees. "Chronic, seemingly incurable insomnia disappeared the day I learned Vedic meditation," he says. "Cognitive function returned after a brutal bout with Lyme disease that left me exhausted, depressed, and mentally fatigued. Digestion improved, sensory perception improved, and I stopped grinding my teeth."
It didn't end there. "My creativity came back," Burkhardt says. "Anxiety and depression vanished. But most importantly, my baseline happiness grew and grew. I notice that if I become stressed, I'm over it very quickly. Change doesn't scare me or even affect me. I'm happier, more creative, and more adventurous than I've ever been."
"This is why I teach Vedic meditation," he says. "No one should struggle with meditation. No one has to struggle. Learn this, practice it twice a day, and life becomes easier and more enjoyable." 
A Few Guided Meditations to Get Started
Living Carefree with Deepak Chopra
Daily Healing Meditations with Deva Premal and Miten
Feeding the Heart and Caring for Goodness with Sarah Blondin
Heal Your Body with Michael Mackintosh
Deep Sleep in Peace with Michael Mackintosh
Want more stories like this?
How Moon Juice Founder Amanda Chantal Bacon Is Staying Healthy at Home
Feeling Anxious? Try One of These Products for Some Quick Relief
You Can Actually Pronounce This Wellness Trend