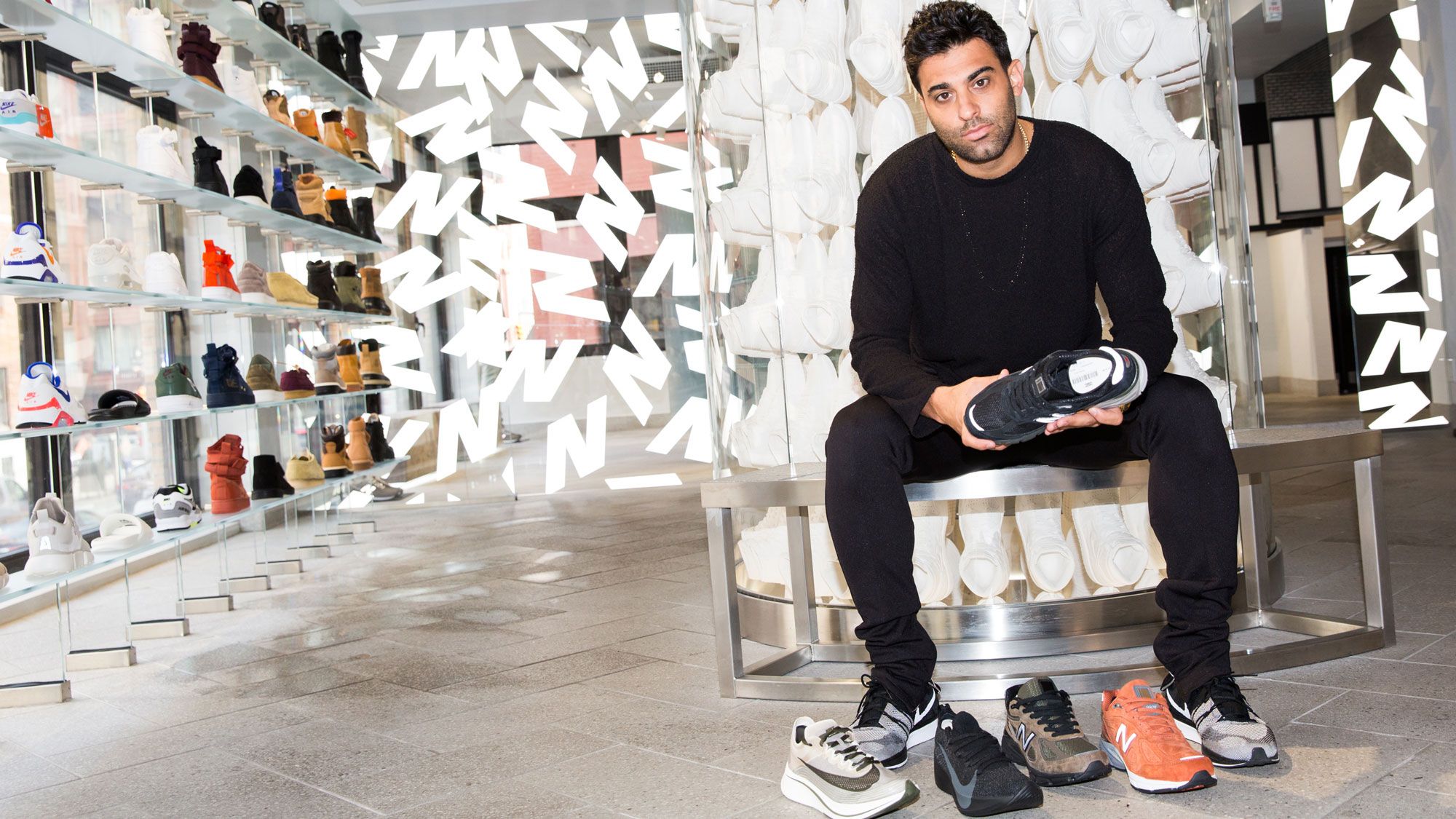 Fashion
Consider this your sneaker 101.
Alec Kugler
With 100+ "Sneaker Shopping" episodes under his belt and a career that spans over 13 years at Complex, Joe La Puma is, without a doubt, a key player in the sneaker world. The SVP of Content Strategy's affection for sneakers dates back to the early '90s, when he was given his first pair of infrared Jordan 6s. "I remember the way they made me feel," he says excitedly as we meet up at Kith Soho. "I remember the first day of sixth grade, I got the Air Max 97s in silver and red. I have to give it up to my parents for lacing me back then. It's pretty crazy when you can remember a pair of shoes that you owned at the age of eight."
La Puma—who is a Cov alum and regular source for everything sneakers—is not only the creator and host of the aforementioned "Sneaker Shopping" cult video series, but he also has impeccable taste and knows the history of sneakers like Wikipedia incarnate. From his thoughts on retroing (as in the re-release of old-school silhouettes) sneakers and this year's collabs, we got La Puma to spill it all while he showed us his current rotation. We also had him divulge his favorite story from "Sneaker Shopping" and the craziest sneaker collections he's ever seen.
---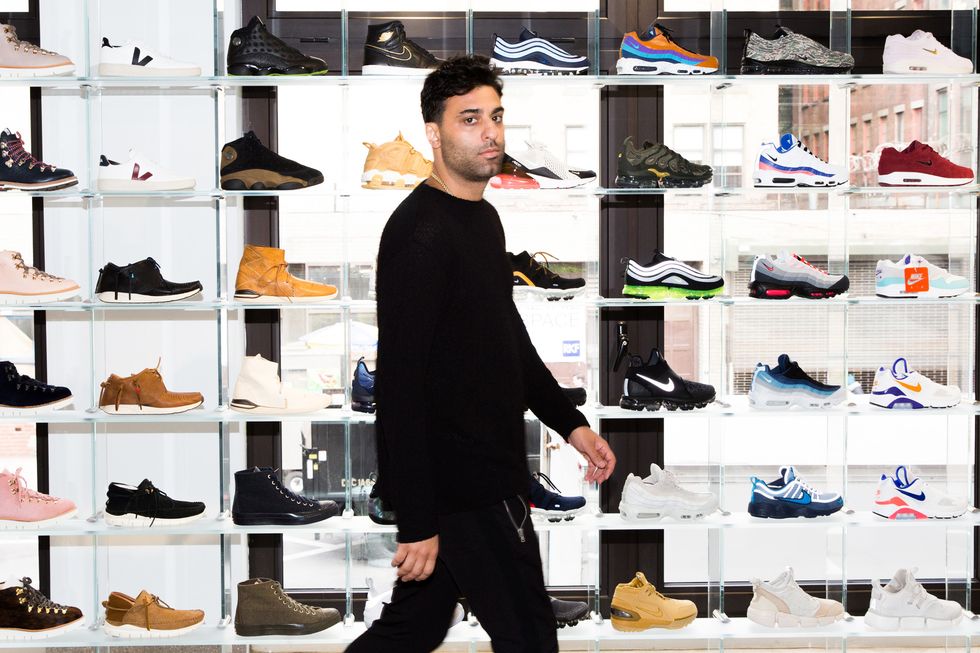 His current go-tos may surprise you:
"The Nike Zoom Fly was one of the best shoes in 2017. Nike and brands are built on technology, and there's always this push-and-pull with how to make a tech shoe that's super advanced in design and super wearable. The Zoom Fly married that. Then the new Nike Vapor Street Flyknit was based off a marathon shoe and is super techy. You can wear them with sweatpants or pants that are tailored at the bottom, which has been a really big style for the past few years.
"[The third is] the New Balance 990. I have to give credit to an editor here, Matt Welty, he loves the New Balance 990. The originator of [the dad] shoe was the New Balance 990, and it has such a rich history—it's a Philly hustler shoe. Now it's coming back and turning the corner into this 'cool-guy' sneaker. It's really no-frills—it's something you see one of the dads in your neighborhood wear to a deli every morning."
He admits there's no secret sauce for scoring exclusive pairs (sorry, guys):
"Following the right people, the right websites, and the right outlets that are trustworthy [is] the best way to find out about, not only sneaker releases, but basically anything that's going on. If you follow people that are legit in the space, have information, and are consistent in authenticity, you'll be well on your way. You'll have a much easier time getting these limited releases.
"We're in a time where it's really, really tough. Online shopping is super tough. We just had Shannon Sharpe on the show, he's an NFL Hall-of-Famer, and he said he can't get through to buy releases anymore. Websites crash. It's an even playing field for everyone now, there's no secret."
His favorite story from "Sneaker Shopping":
"We had Chris Rock on the show, and I asked him about Michael Jordan hosting SNL in 1991, when he was a cast member. He said he's met Michael Jackson, he's met Eddie Murphy—no one was like Jordan. No one. They had to have police outside the dressing rooms at SNL. He said that him, Adam Sandler, Chris Farley, and David Spade would go to McDonald's for lunch, and during that week of taping, Jordan tried to go to McDonald's with them, and they all looked at him like, 'Are you crazy? If you went outside right now, you would get mobbed.' They all advised him not to go. I remember him telling me that story, and it represented a pop-culture moment that was really cool to me."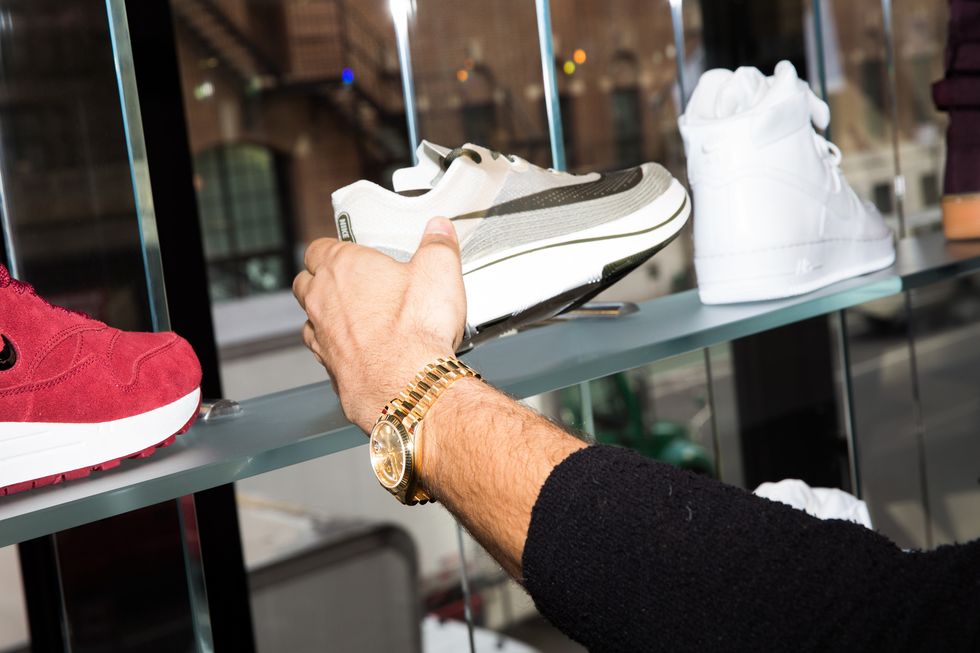 The most impressive collections he's seen:
"DJ Khaled's sneaker closet is presented in a crazy way. The ceilings are like church ceilings, and it's just a crazy, crazy collection. But Chris Brown's collection—a garage full of clothing and sneakers that aren't organized—is something I've never seen before. It looks like a mini flea market. Literally super-rare sneakers are piled on regular general-release sneakers, and you have to dig and find. It was the craziest sneaker collection I've ever seen ever in my life, honestly."
Will there ever be too many collaborations?
"You can go back and forth on that because collaborations pop up every day. How do you judge if it's too many? Look at [what happened] with the Air Max that Sean Wotherspoon designed for Air Max day. That's a collaboration between him and Nike—it's a hybrid of an Air Max 97 and the Air Max 1—and people are going absolutely crazy for it. Collaboration [means] there's something for everyone. What about Virgil? Ten Nikes and he blew it out of the water: 10 for 10. I don't think there are too many collaborations. Like anything, you pick and choose what you want, what you like."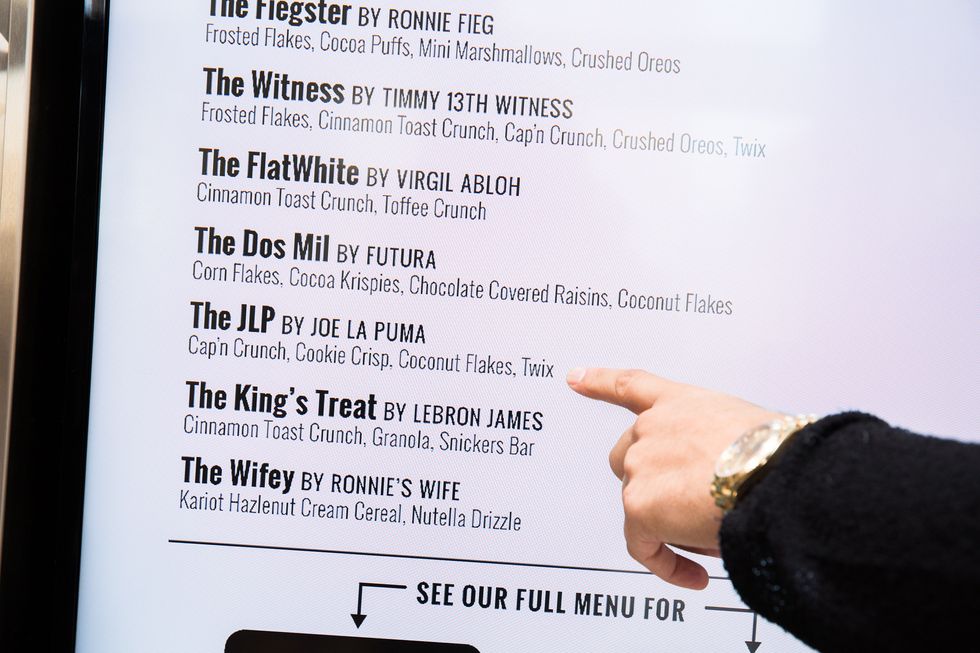 And what he thinks about sneakers being retroed:
"The Black Cement 3 [Jordan] is my favorite sneaker of all time, and that just came out again. It was basically the sneaker that saved Jordan from going to Adidas. The story goes: He was meeting with Nike, Tinker Hatfield, and his parents and he came in unhappy. [Nike and Jordan] thought they were going to lose him. Tinker says, 'Well, I want to show you your next shoe,' and it was in Jordan 3 [Black Cement] with the cement [design] put in the perfect place. To me, it's such a feat in design. They're considered one of the most iconic sneakers of all time. It's going to be a shoe that no matter how many times it comes out, you're going to buy a pair. It's that good.
"Adidas is basically opening up the archives. Even the Reebok workout shoe—one of the most basic fitness shoes—is having a moment right now. I'm totally for retroing. I think for the most part, if someone was like, 'there's going to be no more retros. It's only going to new silhouettes,'—even though there's been great silhouettes, if you look at what people really gravitate to, it's the retros. It's the difference between an iconic design and [a new silhouette] that you have to sell the public on, because it's the first time they're seeing it and there's no history. The retros aren't going anywhere and they're definitely necessary in terms of sneaker culture for the nostalgic factor."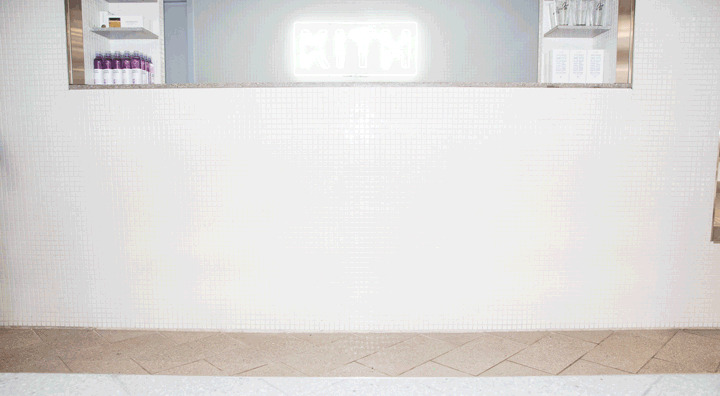 While he wears all of his sneakers, there is one pair he's waiting for the perfect moment to pull out:
"Macklemore, on one of the closet episodes, gave me a pair of Jordan 6s that he designed. Green suede Jordan 6s, and only 30 or so were made. He gave me them on set and surprised me. I was super, super taken aback—it was such a nice gesture. They're going for like, $20K in stores. For a sneaker like that, it has to be the right occasion—I can't mess it up. I have to give it up to DJ Clark Kent who taught me from a young age in this industry to wear all your sneakers."
And has that one sneaker that got away:
"It released in 2014, and I've been trying to get it since. Benjamin Kickz, the whiz kid of resale, claims he has it for me, but it's been years, and I still haven't got 'em. They're the Jordan 1 Fragments. Every few weeks I look at the prices on Stadium Goods or Flight Club, and they're over $2,000. Hopefully the next time we do a Coveteur interview, I'll have them in my collection. The last Coveteur interview, I said I wanted to get Allen Iverson on 'Sneaker Shopping,' and then a year later we got him. I'm speaking it into existence—you're the cheat code."
Want more stories like this?
Sneakerheads on Their Favorite Shoe of All Time
RSVP Gallery's Buyer on Being Able to Call His Peers His Idols
The Stories Behind the Best Rare Sneakers in Coveteur History