Trends
The Stories Behind the Best Rare Sneakers in Coveteur History
When a pair of shoes is better than a piece of stock.
As you know by now, our job involves getting the stories behind virtually every extra-special item we see in people's closets. Along the way, we've naturally gotten the sound bites behind some equally extra-special sneakers. You see where this is going, right? Given that it's sneaker week, we just couldn't leave gems like the unreleased Justin Timberlake Jordans we found at Lenny Santiago's Roc Nation offices (that JT hand-delivered, BTW), or being one of 300 people in the world to call *those* Eminem Jordans your own, un-rehashed. After reading these stories, you won't blame us for it, either.
---
"When we did the Magna Carta album, the Jay Z album that Timbaland produced, and at the time, Jay was also working on the 20/20 album with Justin Timberlake in NYC. Jay had one suite, Justin had one, and Timbaland, who was orchestrating both albums, was working in between both. Justin would come over to our sessions and we'd go over to his. He ended up being on three records on the album, helping us with vocals, background vocals, and production. We ended up developing a great relationship with him, we did the tour [with Justin and Jay].
"I promise you, [Justin is] one of the nicest, most genuine guys in the music industry. The type of guy that knows your aunt's name after seeing her once seven months ago. I'm a sneakerhead and since I do A&R, I'm in charge of Jay's album and I had to make sure Justin was good throughout it all. He made these exclusive Jordans, 1s, 2s and 3s for the tour we did, so they were only made in a limited amount of pairs. They were sent directly to him while he was on tour. I was in Jay's dressing room one day, and they're like, 'Hey, Justin's at the door,' and I was like, 'Okay, I'll go tell Jay'. They said, 'No, no, he's here to see you.' Of course, I go over and open the door and he has all three sneakers in his hand. He's like, 'You're a sneakerhead, you always have fresh kicks on and limited-edition kicks and here's some that we made for the tour.' They were all-red Jordan 1's, Jordan 2's, and Jordan 3's, and they were made specifically for the tour. On the insole it says, 'Legends of the Summer'—they were just for Justin and Jay but he hand-delivered me a pair of each in my size, too. He could have sent his manager or assistant over, but that's a testament to what kind of guy he is."
"I own a pair of Gore-Tex Dolomite Tibet Trek Kings from 1995, which I would consider to be the rarest item I own. It's hard to describe the insatiable demand for Dolomite hikers in New York in 1995. This pair was handmade in Italy, and has the craziest leather I've ever seen on any pair of shoes in my life."
"These shoes are one of two Asics I designed for my Kith Football Equipment collection that was launched in Sao Paolo, Brazil, for the 2014 World Cup. This pair of Gel Lyte III's represent the USA team, hence the red, white, and blue color scheme. I always enjoy working with the USA palette because I'm patriotic. I made these shoes from metallic gold leather to mirror the appearance of a trophy."
"The pair shown in this picture, the Nike Air Force 1 Linens, are the most sentimental item I own. They were the hardest shoes to get when they first came out. I was only able to purchase one pair back then, so I've kept them unworn in my closet since 2001. I just recently was able to purchase a second pair, so after 14 years I finally wore my first ones."
"This Christmas I was lucky enough to be one of the 313 people Eminem and Paul Rosenberg gifted a pair of their latest Jordan collaboration to. Using black Carhartt canvas on the upper, grey mid-soles and chrome eyelets, these Jordan IVs are legitimately gorgeous, but the association to Em and the extremely limited run drove their resale value to unprecedented heights. Consequently, un-deadstocking them is akin to driving a Porsche off the lot. It's a big commitment! But cars were made to be driven and sneakers were made to be worn."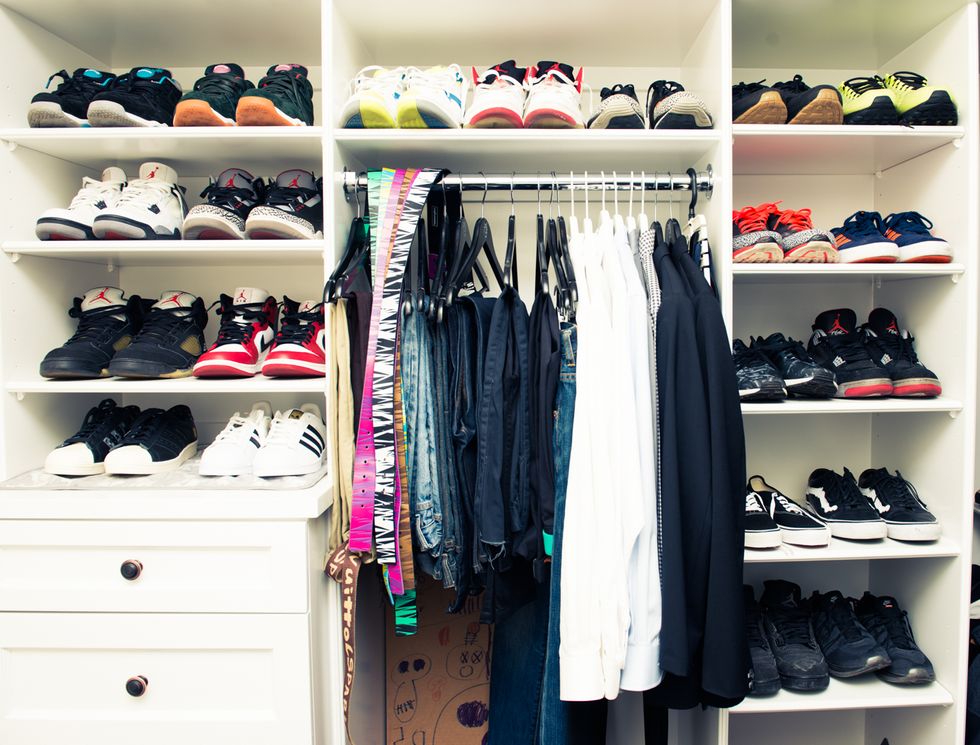 "In the late '90s, I used to be an avid sneaker collector. Then, my apartment got burglarized for my collection. I spent a good five minutes losing my mind, vowing bloody murder, renouncing mankind. Over a decade's worth of Dunks, Js, and other rarities I'd been gifted or discovered in an obscure Japanese boutique—gone! But then, I almost immediately felt silly; ashamed that I let something as material and inane as retro shoes govern my emotions (and my bank account)."
"I got these very limited-edition Nikes in a store in Antwerp, not realizing how rare they are. People stop me on the street in NYC whenever I wear them now."
"These are vintage 1985 Nike Air Jordans—the shoe that really started it all! The shoes that were banned from the NBA and started the whole sneaker collecting craze. They are still in great shape!"
"The world-famous artist Mister Cartoon wrote on those one day when I asked him, 'How come I don't have any of your art?' By the time I left his studio, those were there for me."
"Fresh sneakers have always been a part of me since 1981, when I got my first pair of Sky Force I's, and so I always have something to shit on folks with. These were a gift from CRSVR boutique and Nike and were the rarest sneaker to release that year. It drove people insane and fools were getting shot and stabbed over these Nike Galaxy Foamposites!"
"These are the friends-and-family shoes—there are only 50 in the world. I wind up having tons of Public School's rare sneakers. This is from their third collab with Jordan."
"The rarest sneaker I own is the Undefeated Jordan 4, which was limited to 72 pairs. It's better than owning a piece of stock."