Designers
Our chat with the designer as he launches his Nike collab.
"Super good" is how veritable It designer Virgil Abloh described how he was feeling on day one of Off-Campus, the Nike installation and speaker series celebrating his Ten Icons Reconstructed collaboration with the brand. The same could be said about the venue (a sprawling industrial-like space on Wall Street), the crowd (we spotted Cov alums Joe Holder, Matthew Henson, and Rachael Wang there) and the discussion between Abloh, Phoebe Lovatt and Nike VP of footwear design Andy Caine that we sat in on.
"I was a kid who would sleep with a Jordan 5 at the end of the bed just so I could see it in the morning," Abloh said at one point during the panel, later telling us his teenage strategy for getting his hands on the sneakers: "Talking my parents into spending that much money on a pair of shoes."
---
We guess that similar negotiations are taking place right now, as the collaboration is being pre-released during fashion weeks in New York (September 9–13), London (September 18–22), Milan (September 21–25), and Paris (September 26-30). (Though if you can't convince Mom and Dad this go-round, kids, there'll be another drop in November.)
Off-Campus features a pop-up with collaboration-inspired Nike merch, as well as an exhibit of Abloh's sneaker designs. The installation is in New York through September 8 before heading to London September 14–17.
The reconstructed Nikes, Abloh told us, came about the same way all of his designs do: dreamed up over conversations with friends ("I'm always only half-listening," he admitted), concepted with notes and images he stores on his iPhone, then crafted—or in this case, recrafted—with tools such as X-ACTO knives, Sharpies, and zip ties. The results are translucent uppers, soles emblazoned with "AIR," and white, black, and blue colorways. Like the apparel Abloh is known for, there's a streetwear-meets-high-fashion aesthetic at play—one that Abloh believes has staying power, even in the frenetic, ever-changing fashion industry.
"I think it's the way forward," he said. "It's something that's naturally already been happening, now we're just seeing someone underline it."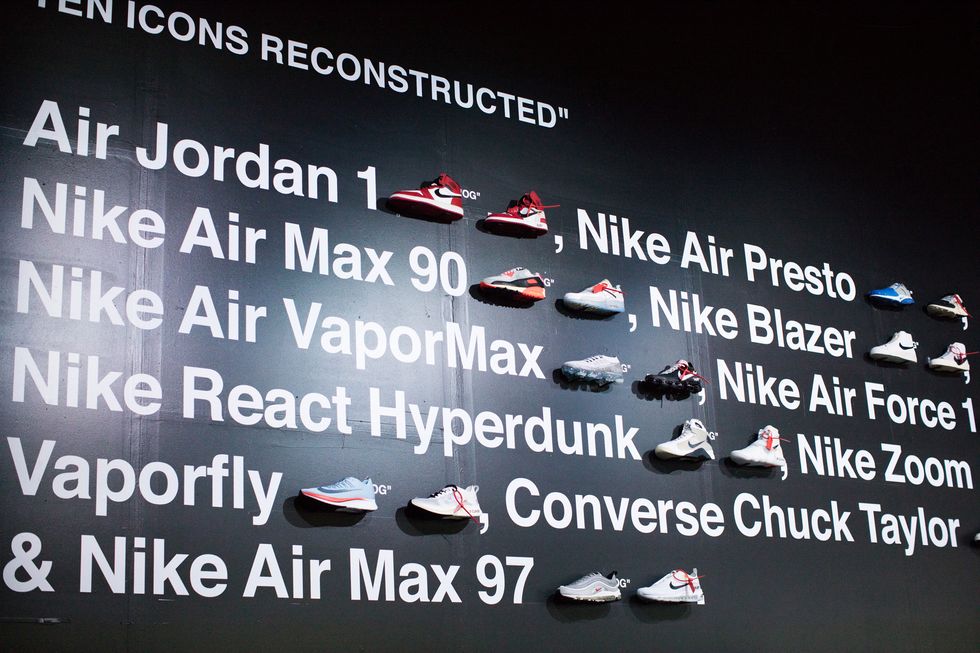 Using the success of Abloh's Off-White line as a barometer—as well as the social media fervor surrounding the Nike collaboration—The Ten are primed to become iconic yet again. Though you won't see Abloh making too much of a fuss about that.
"I'm numb to it," he says of seeing people in his designs. "I notice it, [but] I'm not that into signs of approval. I'm in my own space so I'm more inspired by actually [designing]. What happens afterwards is just a consequence."
Something else he doesn't pay much attention to? Keeping his own sneakers in pristine condition. When we asked for his expert tips on cleaning a pair of Nikes, he didn't have any.
"I like them dirty," he said. "That's just my vibe."