Endless Summer
Disregard What You Thought You Knew about Summer Fashion
After the strangest year yet, all bets are off.
Alexis Badiyi
Hair:
Makeup:
In contrast to most of history, fashion's only rule in 2021 is that there are no rules. Dated sartorial faux pas have no place in the conversation—please wear as much white after Labor Day as you would like. Compounded with a newfound sense of freedom after over a year of both sartorial and physical restrictions, this summer (a season already ripe with liberation due to the simple fact of less clothing requirements) promises a tantalizingly exciting fashion mindset at play. All bets are off.
With all that in mind, we plan on reimagining our wardrobe, breathing new life into pieces we had compartmentalized within our closets. Perhaps that's swimwear in place of regular undergarments—and on display, of course—cardigans left seductively unbuttoned, or skirts with slits cut shockingly high. And lest we forget, color! Dress up the neutral blacks and beiges that have muffled your style this past year with exuberant pops of cherry red and tangerine. You're free to do whatever you like.
Best friends Amalie Gassmann and Lindsay Vrckovnik, lensed by third musketeer Lumia Nocito in this instance, are approaching the season as such. Discover the sentiments behind their warm-weather mentality below, along with a few notes on friendship and their plans for summer.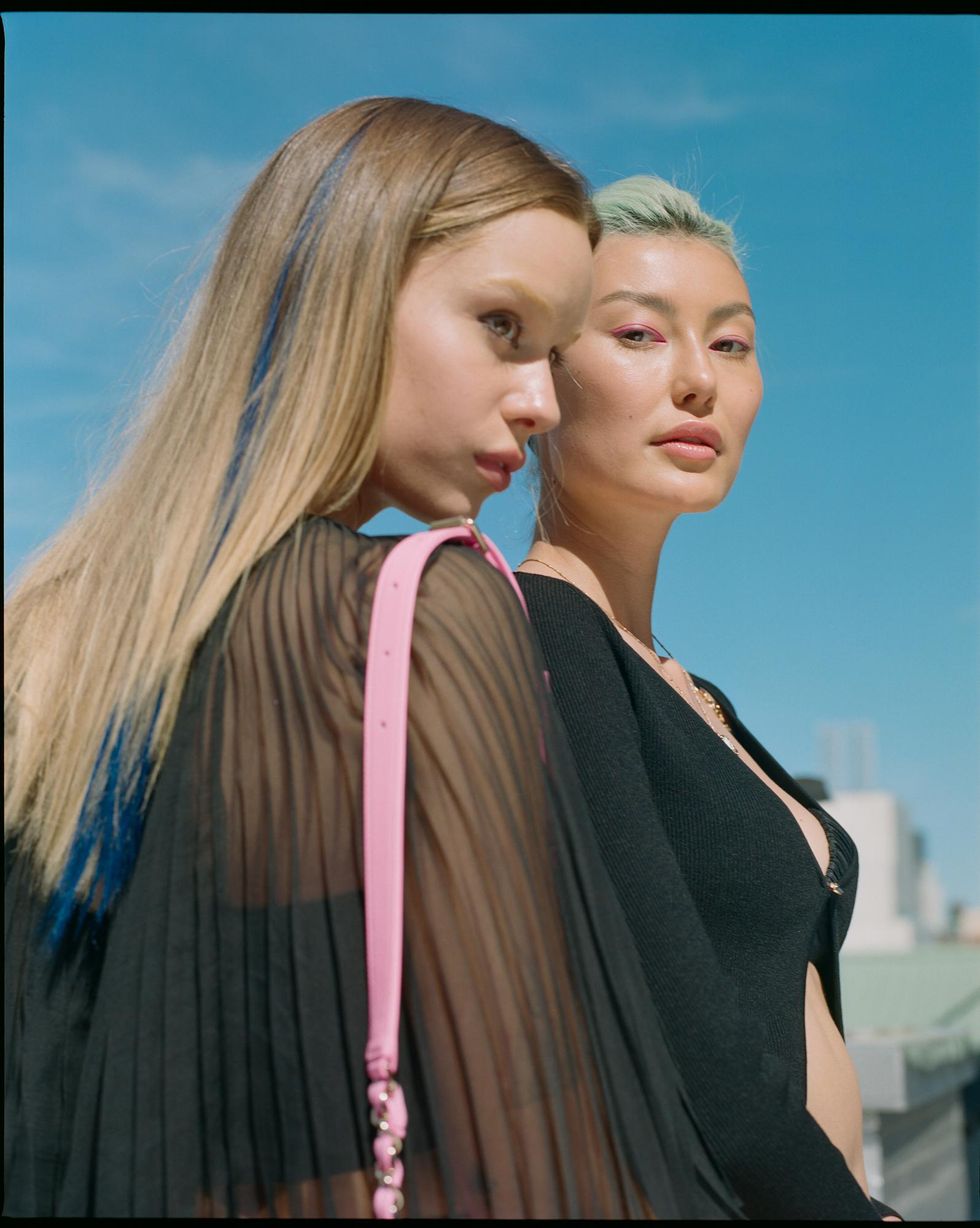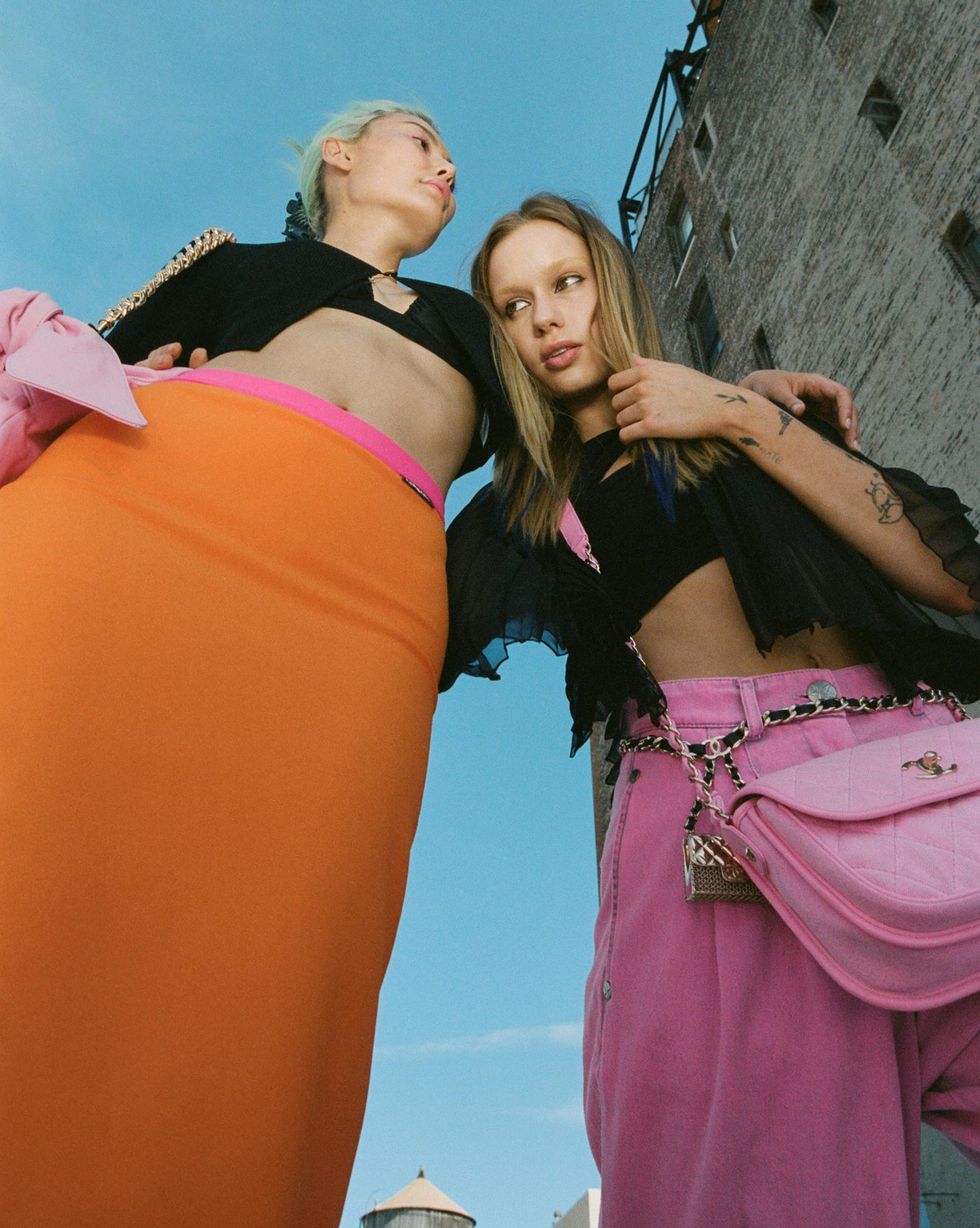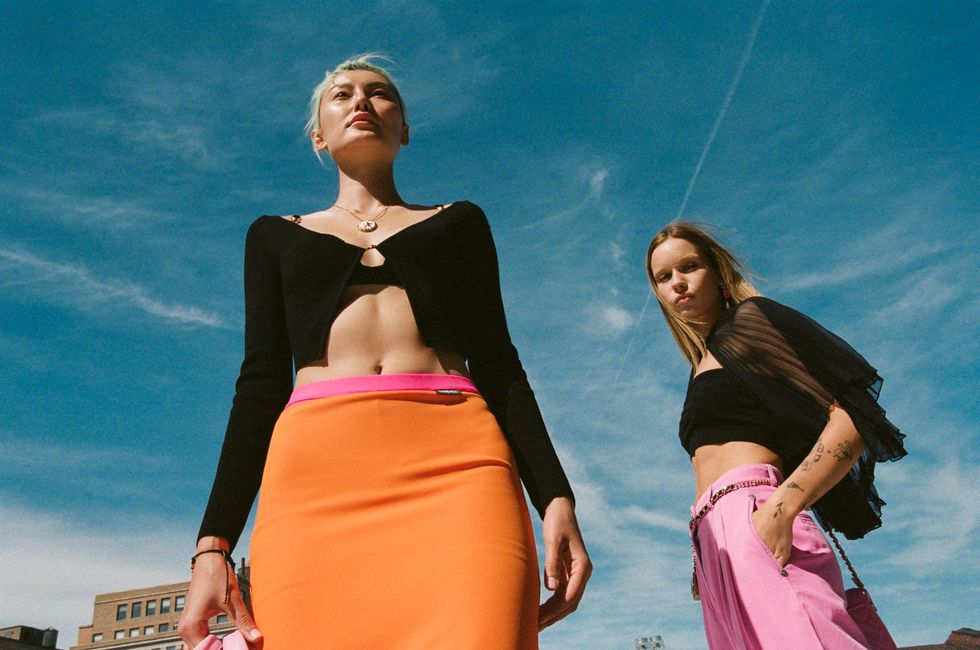 Amalie Gassmann wears: Versace shirt, bra, skirt, bag, jewelry, and shoes; Lindsey Vrckovnik wears: CHANEL cape, bra, jeans, bag, belt, jewelry, and shoes
After this crazy year, what are three characteristics you appreciate most in a friend?
Lumia Nocito: "I care about honesty, vulnerability (and the courage that comes with it), and a mind so open to the extent in which it stretches mine."
Amalie Gassmann: "The three characteristics I value in a friend are loyalty, honesty, and open-mindedness."
Lindsay Vrckovnik: "Someone who is selfless, optimistic—can look on the bright side—and someone who is passionate."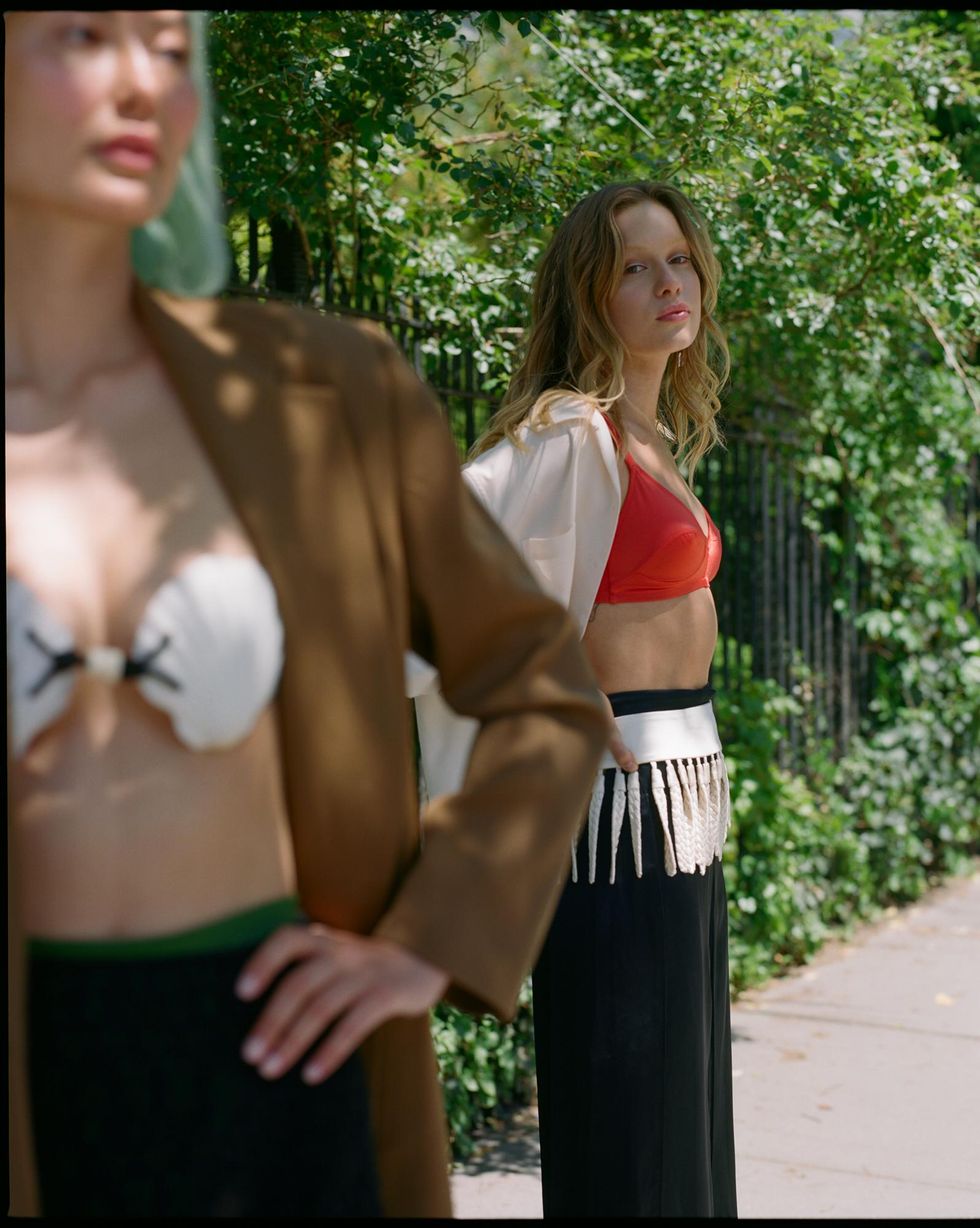 Gassmann wears: Maryam Nassir Zadeh bra, skirt, and shoes, CUUP swim briefs, Ralph Lauren blazer; Vrckovnik wears: Nu Swim bathing suit top, Bevza belt and pants, Frame button-up, Agmes jewelry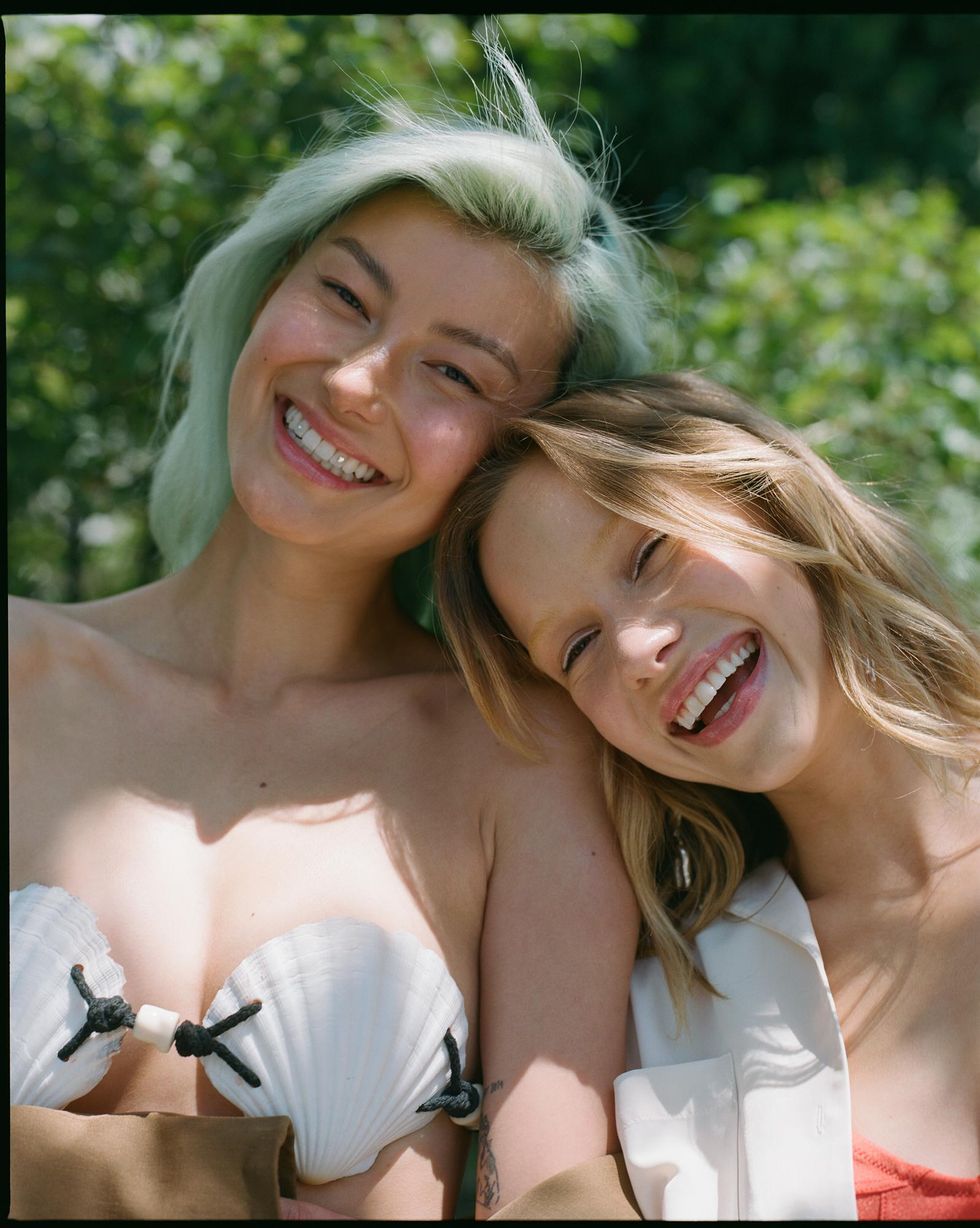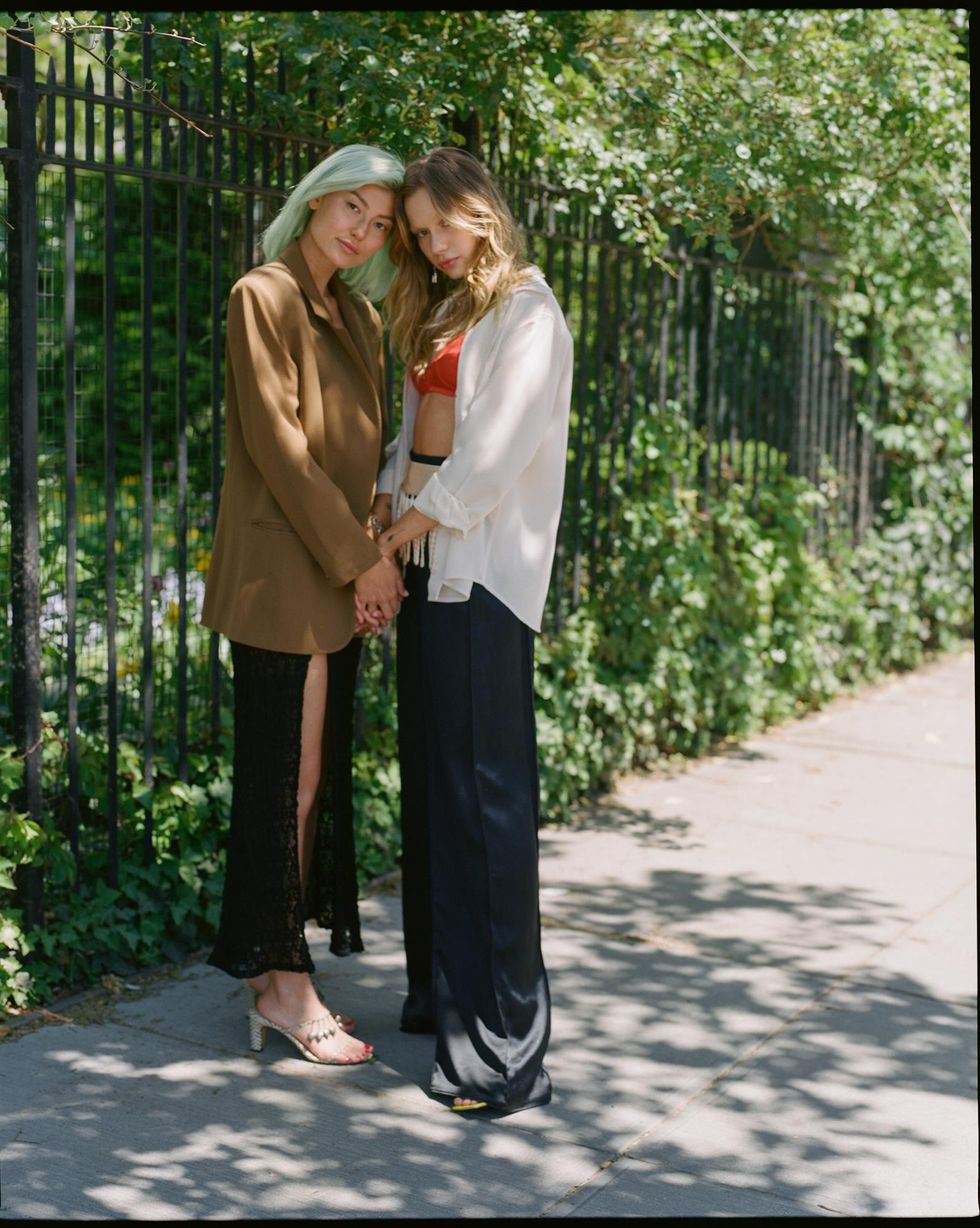 Let's pretend we're not experiencing a pandemic for a moment. If you could travel somewhere with your besties tomorrow, where would you go? What would you do?
LN: "I would love to do a weekend upstate or in the mountains somewhere, enjoying nature and allowing the silence of the woods to prompt relaxation. It would be nice to drive around and explore towns and nature during the day, and have wine in the evening—the photos would be really fun to shoot. It's important for me to go rogue every now and then. It keeps my head straight and my creative energy fresh."
AG: "Definitely somewhere secluded in Italy! We would ride bikes to the small town nearby, cook amazing food, drink wine, and listen to music. Maybe walk around in the fields and find a lake to swim in."
LV: "We would go somewhere in France or Italy to find the best possible charcuterie board and wine, and lie by the ocean!!"
Now back to reality: Favorite spots to hang out in NYC with your girls?
LN: "Fanelli's has been our go-to spot as of late—it's the best place to exchange tea. We love Flower Shop for cucumber gimlets, and Ronnie's new spot Little Ways has a cheese plate that bangs. We also like to go to the Dumbo fair on the weekends to shop around, or Central Park for a day picnic."
AG: "We love a long picnic on a summer day in Central Park, going out to dinner at Lucien or discovering a new restaurant in Brooklyn, and having a girls night. We usually meet up at Fanelli's Cafe, catch up, and walk around SoHo."
LV: "We love to sit at Fanelli's with glasses of wine while we people-watch, try new restaurants, or shop for vintage in Brooklyn."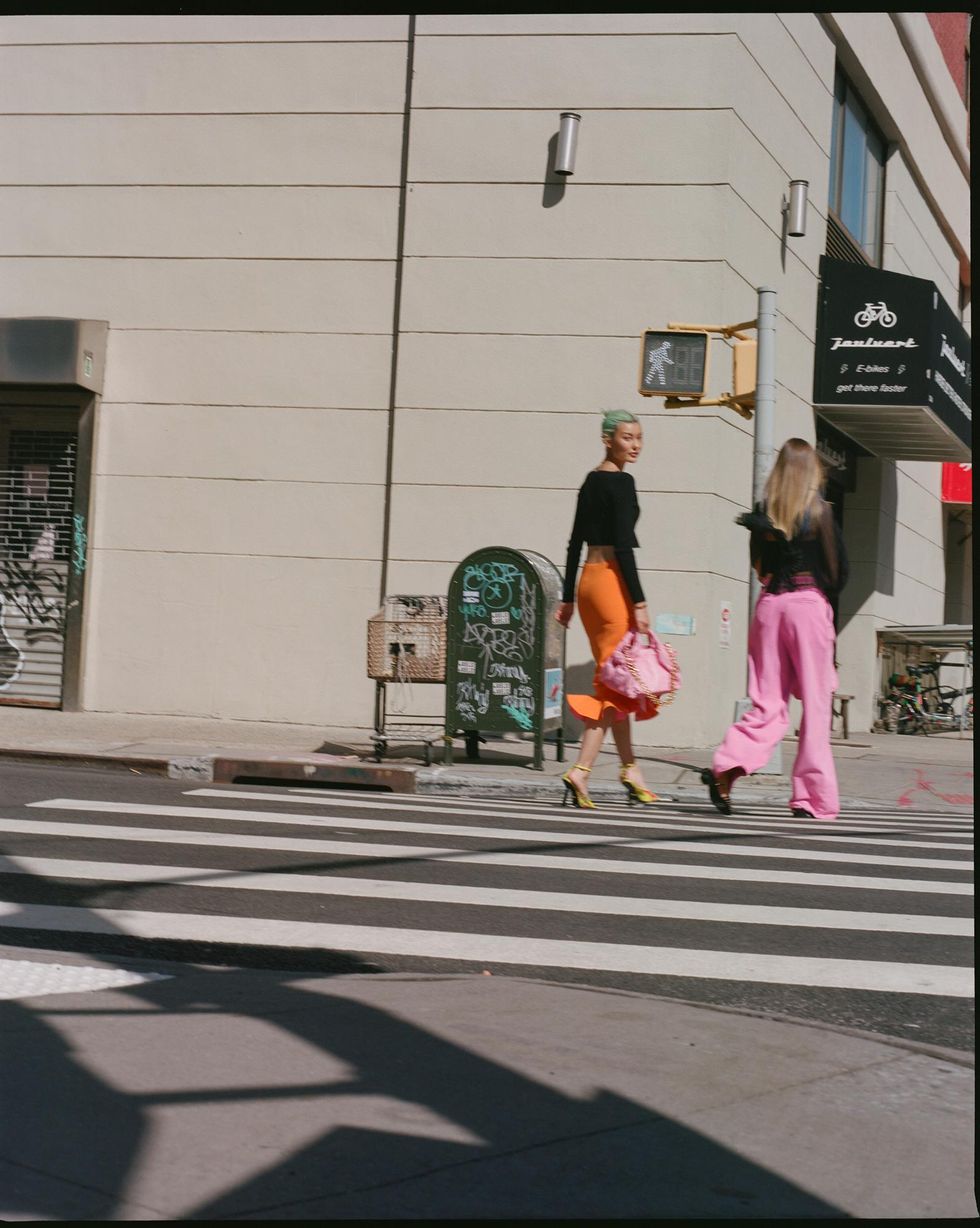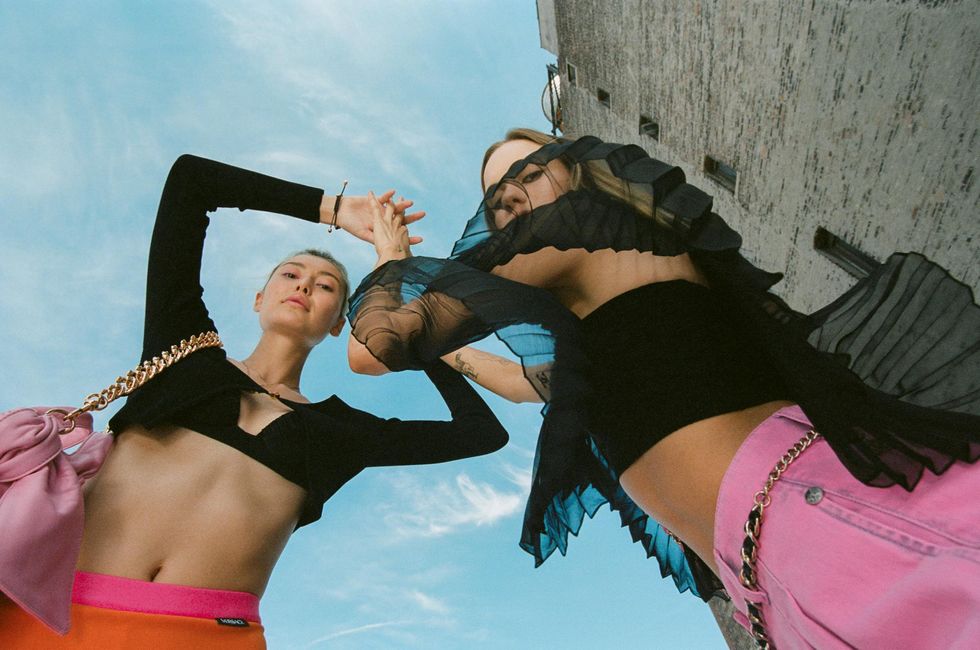 Gassmann wears: Versace shirt, bra, skirt, bag, jewelry, and shoes; Vrckovnick wears: CHANEL cape, bra, jeans, bag, belt, jewelry, and shoes
What are the aspects of your friends' styles you admire most? What are their signature summer pieces?
LN: "Lindsay is not afraid of colors, textures, and out-there staple pieces—and she's good at serving them. Lindsay's summer pieces are biker shorts in funky colors and patterns, and belts with buckles that have an organic form. Amalie isn't afraid of colors as well—her style is more clean-cut and minimal, and she has impeccable necklace game. Amalie is really good at pulling off classy and simple looks; I see her in a silk dress and a simple strappy open-toed heel."
AG: "Lindsay is so great at styling patterns and colors together and tying it all in with a great pair of sunnies and hairstyles. Her signature summer pieces are a statement shoulder bag and an oversize shirt dress. I love Lumia's minimal and monochromatic style and her choices in footwear. Her signature summer pieces are a corset and suit pants."
LV: "I love that Lumia can pull off both a super masculine/'boyish' look ( baggy jeans and hoodies), but also a more elegant, feminine look. She does both often, and it's cool to see someone pull that off so effortlessly. Her go-to pieces are definitely sneakers. I love that Amalie's looks always have such a fantastic color palette. Especially with her blue hair, she makes outfits that complement it so well, and I gasp every time I see her. Her signature pieces are a mini purse and an incredible stack of necklaces."
If each friend was a cocktail, what would she be?
LN: "Lindsay is an Aperol Spritz by day, and a jalapeño margarita by night. Amalie, during the day, is a glass of rosé. At night? Can a tequila shot count as a cocktail?"
AG: "Lumia would be a hot toddy, and Lindsay a cucumber gimlet!"
LV: "Amalie would probably be an espresso martini because she's full of energy. Lumia would be something spicy because nobody can mess with her."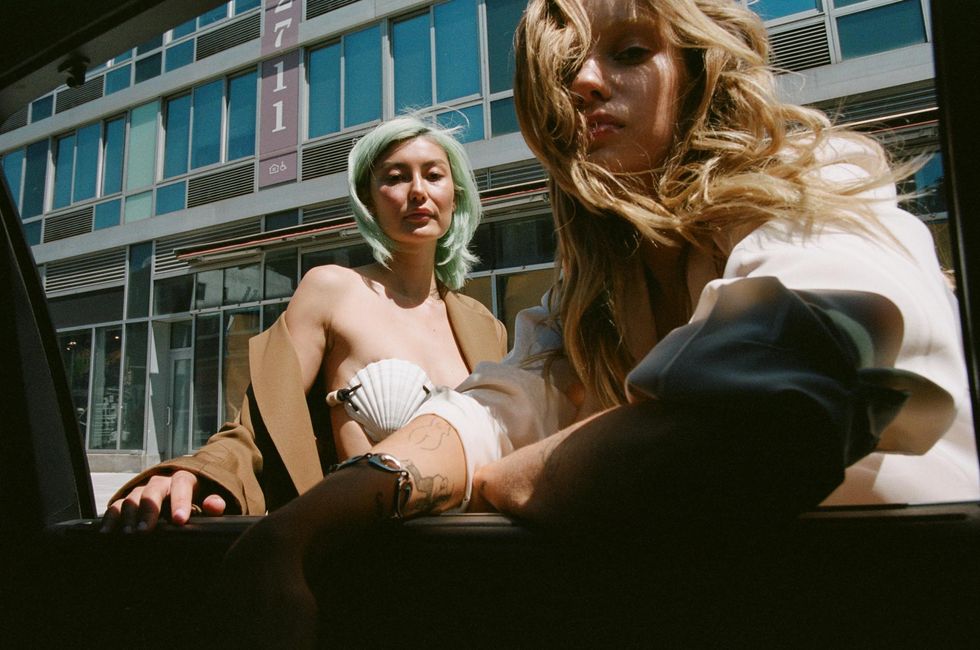 Gassmann wears: Maryam Nassir Zadeh bra, skirt, and shoes, CUUP swim briefs, Ralph Lauren blazer; Vrckovnik wears: Nu Swim bathing suit top, Bevza belt and pants, Frame button-up, Agmes jewelry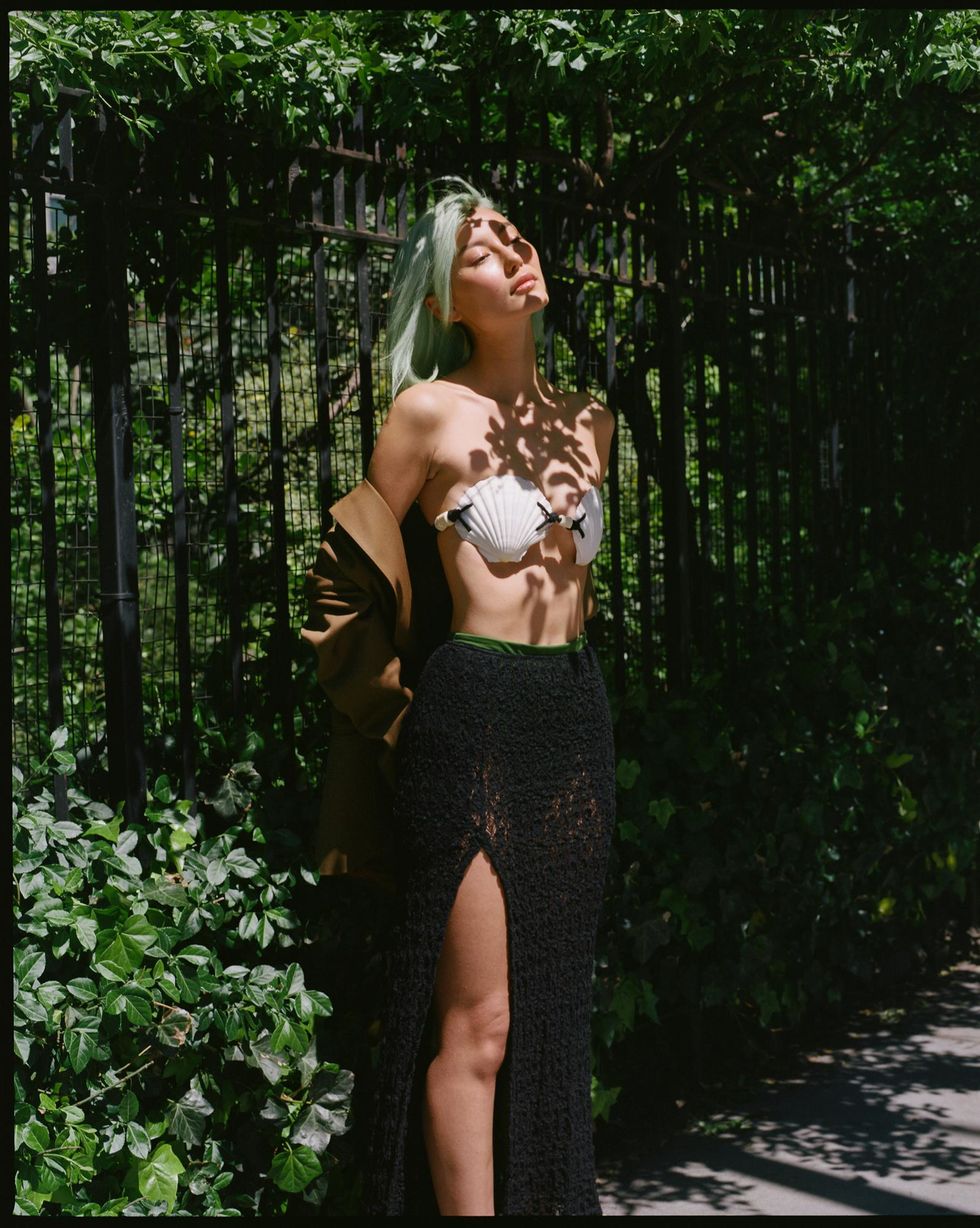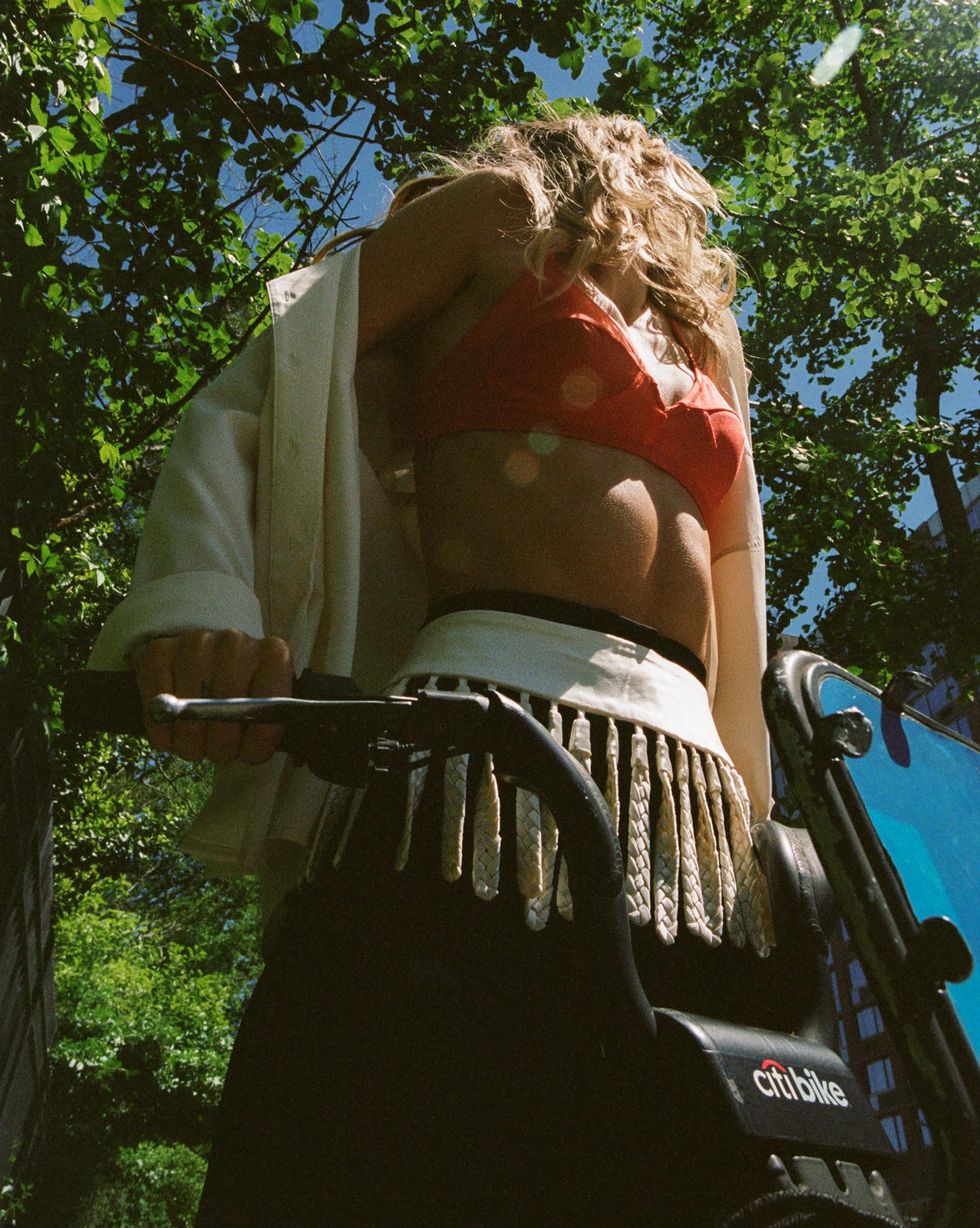 On a final (fun) note, favorite things about summer in the city?

LN: "The weather brings out something of a more fun, relaxed version of me. I'm pretty laid back in general, but I work often, and summer is the one season where I allow myself to have days in which I do nothing—without needing to plan these days into my schedule. Going to block parties, the park, museums, or having friends over to hang and play with less familiar art mediums, creates the sweetest summer days."
AG: "Walking around in the city and finding a cute spot to eat, going to parks, laying out in the sun on a rooftop."
LV: "I love to go on a long bike ride and afterwards have a cold drink on a patio where I can people-watch and enjoy the sun. The energy here in the summer is unmatched."