This Cult-Favorite Cream Revived My Dull, Dehydrated Skin
The $280 price tag is steep, but it's worth it.
We Tried It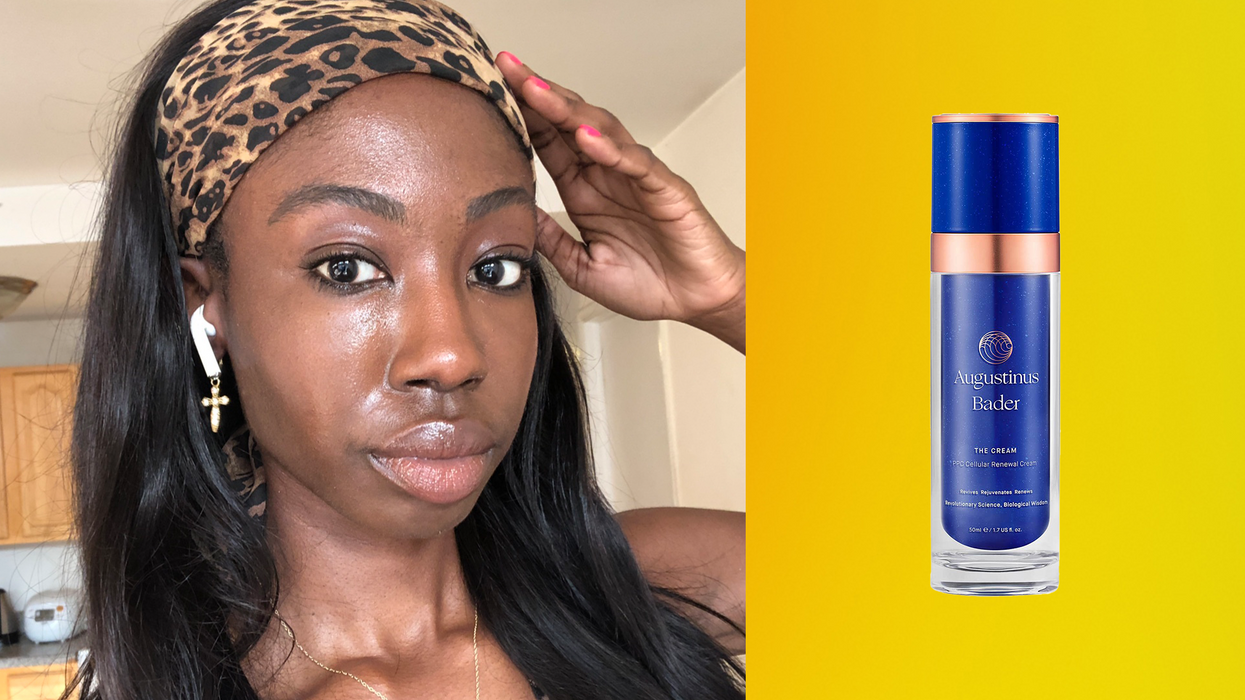 It can be difficult to figure out what products are worth your money in such a saturated beauty space, but here are two telltale signs: If celebrities recommend the product without being paid and if beauty editors, who get sent free products to test on the regular, say they'd spend their own money on it, chances are the product is worth a place in your routine.
Augustinus Bader's The Cream (for combination and oily skin) and The Rich Cream (for dry skin) check both these boxes. The Cream's word-of-mouth testimonials have given the product cult-level status. In fact, it's been recommended three separate times in I Swear By This, a franchise where creatives share their must-have beauty products.
"I felt like this product came out of nowhere; like one day, it popped up and everyone was recommending it. I have really sensitive skin, so I'm typically hesitant to try new products, but I gave this a go. When I woke up the next day, I was a believer. Everything that everyone says about this cream is true. The price point is definitely on the higher end, but it's so worth it." — Grace Pae, celebrity makeup artist
"This has become central to not just my routine, but the routine of many of our customers. We were the first platform to launch this product, and it was really exciting—the whole experience of discovering this beauty holy grail. It's been a best-seller since it launched." — Cassandra Grey, founder of beauty e-commerce platform Violet Grey
"If it's good enough for burn victims, it's good enough for me. It's expensive, but some stuff you can't really put a price on. Plus, I'm not using that much. My girlfriend buys it, so it's all over the house. Basically, when she's not around, I use it, so I don't get slapped on the wrist.
"This is an interesting product because it's become the hot chick thing. They sell this at The Row; it's the one. Every two to three years, there's a product like that. I don't even know if it's celebrity-driven because, with anything that becomes as big and popular as this, it's just because it's good and it works.
"Skin care and beauty are so personal. You can't just have beautiful packaging and marketing. It really does have to work, and there has to be a word-of-mouth element. That criteria doesn't exist in other categories." — Chris Black, writer, consultant, and co-host of the podcast How Long Gone
Augustinus Bader
Given all the hype the product has received, I decided to try it out myself. Below, my review on Augustinus Bader The Cream.
The Formula
In 2008, Augustinus Bader, a professor of applied stem cell biology and cell technology at the University of Leipzig in Germany, formulated a wound gel that heals third-degree burns, without surgery. The eponymous skin-care line was born from this breakthrough. The ethos behind Bader's work is the idea that your skin doesn't need a never-ending supply of new ingredients.
Our skin contains stem cells, which have healing and regenerative properties. However, according to research, in order to trigger the self-renewal process, the environment needs to give the stem cells a green light to do their job. If they're not receiving signals to activate, the skin stem cells lay dormant.
Both creams are formulated with Trigger Factor Complex, which contains vitamins, peptides, amino acids, and lipids—ingredients that nourish the environment and signal to the dormant stem cells to wake up. Once the body's stem cells are activated, the healing process promotes skin-care benefits like reducing redness, fading hyperpigmentation, and minimizing the appearance of fine lines and wrinkles.
The Results
After years of hearing the buzz about the brand, I decided to give it a try to see if the cream was actually as good as people say. I have combination skin that's prone to dehydration and dark spots, so I chose The Cream over The Rich Cream. The brand recommends using the product for at least 27 days (the amount of time it takes for cell turnover to occur). They also suggest using it alone, with no other skin-care products aside from cleanser. However, I decided to work The Cream into my existing morning and evening routines. After cleansing, I'd apply the product before layering my other serums on top.
Before
After
The Cream played well with the other products in my routine. Its lightweight texture glided smoothly across my skin and the formula didn't dry down sticky—there was no greasy residue left behind. My skin felt (and looked) plump after applying and it absorbed quickly. After a couple weeks of using The Cream, I started to notice a difference. My skin, which usually looks dull and extra parched in the mornings, felt supple and looked dewy. My stubborn dark spots were beginning to fade. Overall, my complexion looked healthier.
I still have a couple of weeks to go before I hit the 27-day mark, but The Cream has quickly become a staple in my routine. Yes, it's pricey, but because of its clinically backed formula and proven performance, I think it's absolutely worth the money.