Jenna Rennert Doesn't Get on a Flight Without This One Product
The beauty and fashion expert shares her must-have beauty essentials.
I Swear by This
Welcome to I Swear By This, an interview series where we chat with our favorite fashion and beauty insiders about the beauty products they use down to the last drop. This week, we asked Jenna Rennert to share all the products she's loving right now.
"I definitely prioritize skin-care products that do it all," says beauty and fashion expert Jenna Rennert. "One-stop shop moisturizers are ideal when you literally only have five minutes to yourself in the bathroom." Given that she held the beauty editor title at Vogue for seven years, Rennert's used to a busy schedule. But throw a five-month-old boy into the mix, and things can get a little hectic. "I am the fastest in my house to get ready and I only do a quick cleanse—usually with a cleaning balm, like Elemis or True Botanicals, or an oil (my favorite is from Sekkisei) before patting on my SK-II essence."
When it comes to makeup, Rennert's ethos is similar: "I find myself reaching for easy, on-the-go essentials," she says, adding that Nudestix beginner-friendly blushes and bronzers are great for those short on time. "I love to swipe the sticks on my cheeks and eyelids and buff them out. The whole thing takes less than a minute." Below, Rennert shares more skin-care, hair-care, and makeup products she can't get enough of.
Photo: Courtesy of Jenna Rennert
"I've been using this since I was a teenager—I swear it can heal any zit overnight. I have a bottle in literally every skin-care bag; I never get on a plane without it."
Clean and Clear
"The Concentrate is one of those all-star products that's not necessarily the most popular, but it seriously helps tone down redness and inflammation in my skin, and it's the ultimate makeup primer. Plus, it smells like lavender."
La Mer
"I love using the Crème when my skin feels parched or extra dry. I know I can always count on it to transform my skin to supermodel status in a mere few hours. I'm also obsessed with adding it into my foundation—my best-kept secret that's maybe not so secret anymore, ha!"
La Mer
"I am big on an effective nighttime skin-care routine—it's the best time to hit the reset button for our skin. This cream is an essential part of that routine for me. It's made with bakuchiol, a plant-based alternative to retinol, and it's an amazing exfoliator. It gives my skin an insane glow when I wake up in the morning. No joke. It's usually sold out, so my advice is to grab it while you can!"
Olehenriksen
"This is not your typical eyeliner. It's an aubergine color with a hint of magenta. I was nervous when [a makeup artist] applied it onto my lids for the first time a few years ago but oh. My. God. It sounds pretty wild for everyday use, but trust me when I tell you it will make you and your eyeballs look wide awake."
Charlotte Tilbury
"I do not go a day without using my essence. When I was an editor at Vogue, I interviewed Cate Blanchett and I was in awe of her skin. She told me her secret was a magical little bottle of Pitera essence, so naturally, I got a bottle and never looked back. It just makes your skin look brighter and happier."
SK-II
"I've been using Nivea for as long as I can remember. We always have a huge stash of it in my house, and whenever friends and family come over, someone inevitably always takes a bottle home.
"A huge bottle costs around $5, and it gives your skin so much hydration. It smells so clean, and it doesn't interfere with any fragrance layered on top of it. I love the Breathable formula because it absorbs immediately (aka you can slip on a super-tight pair of jeans within minutes after application)."
Nivea
"Growing up in Miami, I learned about the importance of sunscreen from a young age; it's a non-negotiable. I absolutely love this sunscreen. It wears so well, alone or underneath makeup."
Supergoop!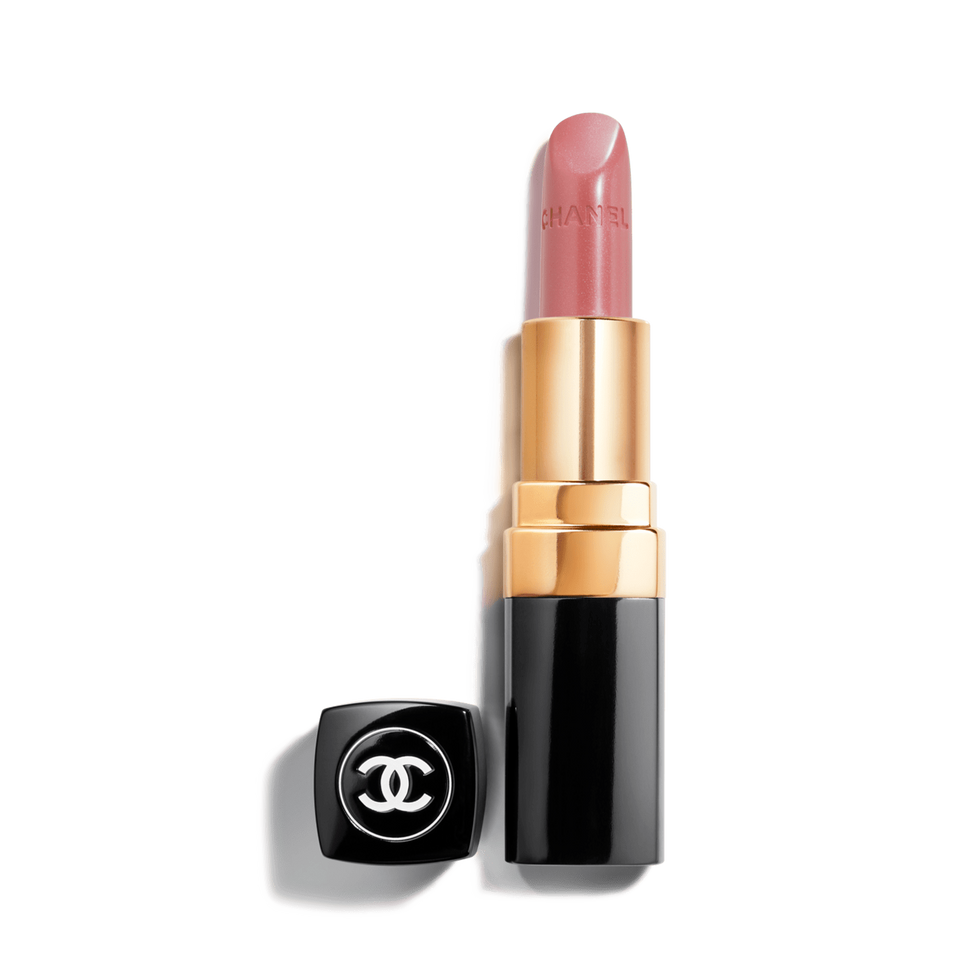 "At any given time, I have at least three or four lipsticks tucked in my bag. My favorite of the moment is Chanel's Rouge Coco in Cecile. It's the perfect combination of pink, mauve, and brown, and it pairs well with either a bare face or full glam.
"I'll let you in on my absolute favorite makeup trick for those who need to look good in a pinch. I'll dab my lipstick (always dab! Never swipe!) on my lips, and apply the excess onto my cheeks and on my eyelids. Voila—totally pulled together in literally 10 seconds."
Chanel
"This is my classic scent. All of my friends know me by this perfume—I've been wearing it for 10 years. I always have three extra bottles on deck because I'm petrified it will one day be discontinued.
"I love spritzing this scent in my hair and on my scarf in the fall or winter. For warmer days, my go-to is Frédéric Malle's Musc Ravageur—it's a lighter, more feminine version of tobacco. I started wearing this fragrance when I met my husband; it will always remind me of a fun weekend away we spent together."
Tom Ford