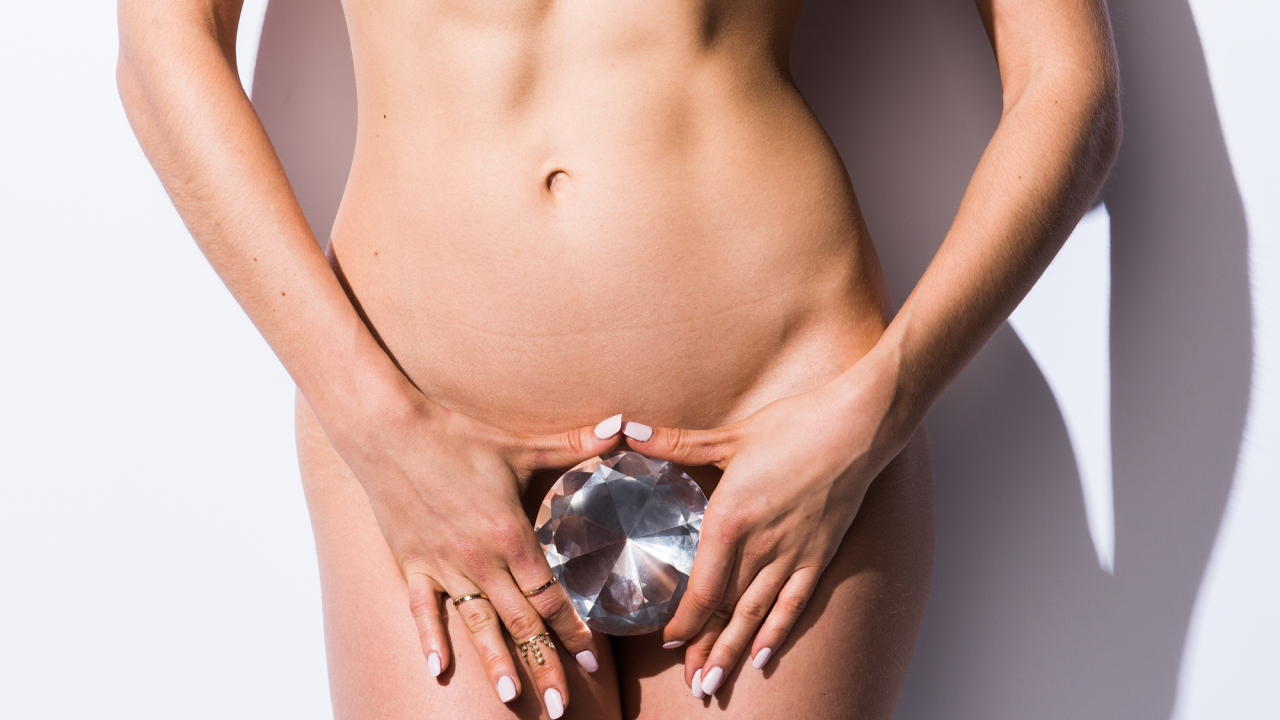 Does Your Vagina Need a Spa Day?
Probably—but not how you'd think.
Ever since quarantine caused us to spend nearly a year indoors, many of us took a deep dive into the realm of DIY beauty treatments and came out as self-taught lash technicians, facialists, and manicurists. But while you're learning how to cut your own hair and create intricate gel nail-polish designs, there might be one part of your body that's been neglected: your vagina, or more particularly, your vulvar area (aka everything outside of the actual vaginal canal).
I know, we've all heard it before: You shouldn't use harsh soaps and skin-care products on your vagina or vulvar area. Though that may be true, that doesn't mean that your entire nether region is a complete no-go zone.
"I just really believe that the time is now that we have clean, healthy, and effective beauty regimens for the vulva and vagina," says celebrity gynecologist and author Dr. Sherry Ross. "We're talking about it, we're now going to start taking care of our lady parts in a way that's going to prevent a lot of visits to the gynecologist."
According to Dr. Ross, the first step to manifesting your best vulvar energy is to actually talk and educate yourself about caring for this delicate part of your body.
"Women are very skeptical and, frankly, confused about so much of the vagina," she says. "I think the last three years, and certainly when my first book came out, She-ology, I couldn't get anyone to really say "vagina," and now we're really not only saying it, but we're really talking about caring for it."
For starters, Dr. Ross wants to make something very clear: The vagina and the vulvar area, although both part of your genitalia, are two completely different parts. This means that caring for these different areas should be thought of as entirely separate.
"I think the confusion is that, for starters, we are talking about the vulva, which is the outer part of the vagina and the entrance to the vagina," Dr. Ross explains. "What do we do about the inside? Do we really need to think about the inside of the vagina, versus if we use the term vagina for everything, it's even more confusing. I like that we separate the term because, just like our face and this area of the body, between the urine and the sweat and being this close to the anus, there's a lot of dirty bacteria. I think educating people is the first step and making it less of a confusing topic because we know the vagina is very sensitive. We know there's a lot of bacteria inside, and there's a pH balance we have to be very mindful of when we're talking about cleaning it and taking care of the outer area."
So let's talk about the vulvar area for a minute: Since this area still has skin, it's still prone to acne and other skin ailments, just like our faces and the rest of our bodies, Dr. Ross says. However, the skin in our vulvar area is much more sensitive than on the rest of our bodies, so we have to think about cleaning it in a gentler route.
"Even if you want to say the vagina itself is self-cleaning, it kind of, sort of is, but I like to think about it like the oven at home," Dr. Ross says. "It's self-cleaning, but you still have to clean the stovetop."
Although there are tons of millennial-pink feminine care products for us to choose from, Dr. Ross wants to reiterate how important it is to avoid anything with fragrances for the sake of your vagina's pH balance.
"A lot of our feminine hygiene products today have a lot of fragrances and scents and ingredients that may be more damaging to the pH balance and can disrupt the sensitivity of not just inside, but even outside," she says. "A lot of women like to wear sanitary pads, for example, not just for their period, but if they have a little discharge, they don't want to stain their underwear. Even the feminine hygiene pads have chemicals that can cause a lot of dryness of the vulvar area."
However, it's not just your lavender-scented pads that Dr. Ross wants you to think about: You should keep everything from your workout routine to the detergent you use in mind in order to keep your vagina in its tip-top shape.
"Certain sport activities, wearing your gym clothes, a lot of things can be irritating to the vulva and to the vagina itself, which can actually disrupt that pH balance," she says. "When that happens, it can lead to itching, dryness, an infection sometimes in the vagina, and burning. Even bubble baths and laundry detergent, lubricants, even sanitary wipes that we use. Not all are created equal, there's a very long list of things that can be disruptive. Being mindful of what you are using near and around the vulva and vagina is still important."
Other factors that Dr. Ross notes as major vaginal pH off-setters include douching, any products with parabens in them, and even condoms. But that doesn't mean you should be scared of everything for the sake of a healthy vagina. Dr. Ross notes that making small tweaks to your daily activities, like your diet, can make all the difference in the health of your vaginal and vulvar area.
"My pampering go-to can be as simple as your diet. Certain foods you eat make the vagina smell and taste a certain way, for example," she says. "Using extra-virgin coconut oil is my favorite pampering item that I've been recommending for years for women, to help the vulva get hydrated and moisturized. It's inexpensive and it's pretty easy to use. Even hydrating and drinking a lot of water is good for the tissue. Even probiotics and hyaluronic acid."
Wait, hyaluronic acid, like the kind you put on your face? Precisely: This ultra-hydrating ingredient is not only great for quenching thirsty pores on your face, but it's also great for dehydration anywhere else, including your vulvar area and vagina. However, while there are lubricants and treatments for the inside of your vagina, such as Bonafide's Revaree, there hasn't been an option for the vulvar area, which is why Dr. Ross has launched URJA Intimates in collaboration with URJA Beauty this month.
"Hyaluronic acid has been a favorite skin-care product for a long time because it's such a great hydrator and it's so great for the cells. Hyaluronic acid for the vagina is a buzzword now, because women need to moisturize the inside of the vagina, just like we do our face. Why don't we have any products that we can use specifically for the outside of the vagina?" she says. "There's just not a lot of options for the outside of the vagina, for the vulva. There's not a lot of great soaps that we can use, specifically that won't disrupt this important balance. Clean beauty that we can call now kind of healthy beauty for the vulva and vagina—that really was the drive for us."
From her partnership with URJA Beauty, Dr. Ross discovered another great natural ingredient for the vulvar area and vaginal canal: CBD.
"This is not the kind that gets your vagina high, but CBD is such an amazing anti-inflammatory ingredient," she says. "We use it a lot for different things; I know one, for sex, we use it as a pain reliever and feel-good for the tissue. It's great for the face, of course, for some of the blemishes and irritation, but it's a great antioxidant. It works really well in this calming process, to sooth the tissue."
CBD is a known relaxant for both beauty and wellness, which is why it's almost a no-brainer for it to be great for hydrating and calming your vaginal area, as well. But if you're suffering from dryness and breakouts on the vulvar area, there's one culprit that could be leading to this dryness in the first place: pubic hair removal.
"All the grooming of the pubic hair, whether it's shaving, waxing, lasering, can really lead to the ingrown hairs, the blemishes that you can get into the dryness," says Dr. Ross. "You can loofah the skin after these types of hair-removal processes to prevent the acne and ingrown hair. Certain antibacterial soaps and lotions are also very helpful. Keeping the razor blade clean—you just really have to be mindful of things that are kind of basic to prevent that process. Week after week, year after year, this can cause the dryness and really premature aging of the vulva. I see it all the time, and just because it itches and burns, it doesn't mean you have a yeast infection."
As for discoloration, Dr. Ross says it's pretty hard to avoid and brighten—but that's OK because discoloration is totally normal! So whether you have ingrown hairs or even a few blemishes, Dr. Ross notes that you can take care of a lot of these issues at home or with your gynecologist, which is why there's no need to book that trendy vajaycial.
"I'm not a big fan of some of these vulva facials, lasering, rejuvenations, the steam cleaning," she says. "I think those are more gimmicky, like if you do start from the beginning and you learn the right hygiene habits, and if you learn to moisturize the vulva, you're not going to have this dehydrated problem of the skin, the more you're going to really pick and choose some feminine hygiene rituals to prevent the aging and irrigation and dryness that you get because you're not taking care of it."
So what can you do to start prepping your vaginal and vulvar areas for their best look and feel? According to Dr. Ross, hydration is overall key to this area: Try using a vulva-sensitive product like a moisturizer to help combat dehydration, and soaking in a warm bath with extra-virgin coconut oil (not a bath bomb, which are known to offset the vagina's pH balance) will also help pamper your land down under. Dr. Ross also wants you to remember to actually clean this area using a special technique.
"You want to clean the entrance to the vagina, the introitus, and I even take a knuckle or two and I clean the immediate inside of the vagina, but not as important as just doing your daily care," she says. "You don't need all those other steaming, cleaning, trips to spas for more fad-like claims of anti-aging. It's like anything you do consistently, as long as you can. That's going to give you and yield the best results."
But no matter what you do, Dr. Ross says the most important thing when caring for your vagina is consistency. She says to practice these cleaning and pampering steps frequently in order to keep your vagina hydrated and healthy.
"I really believe, just like a facial, it's not really going to change the nature of your face unless you're doing something consistently," she says. "Just like any area, because we know the vagina ages, I honestly think it's consistent with the way you care for the area. Hydrating, avoiding things that are going to irritate are going to be your best go-to. If you're treating your lady parts correctly, you're not going to have problems. If you're treating your vulva and your vagina like your face and if you're consistent, you're not going to have these kinds of problems."
Want more stories like this?
What's Your Pandemic Birth Control Plan?
The Confusing Syndrome That Might Be Lurking in Your Ovaries
Lauren Wasser's Fight Towards Healthier Period Care Is Only Just the Beginning