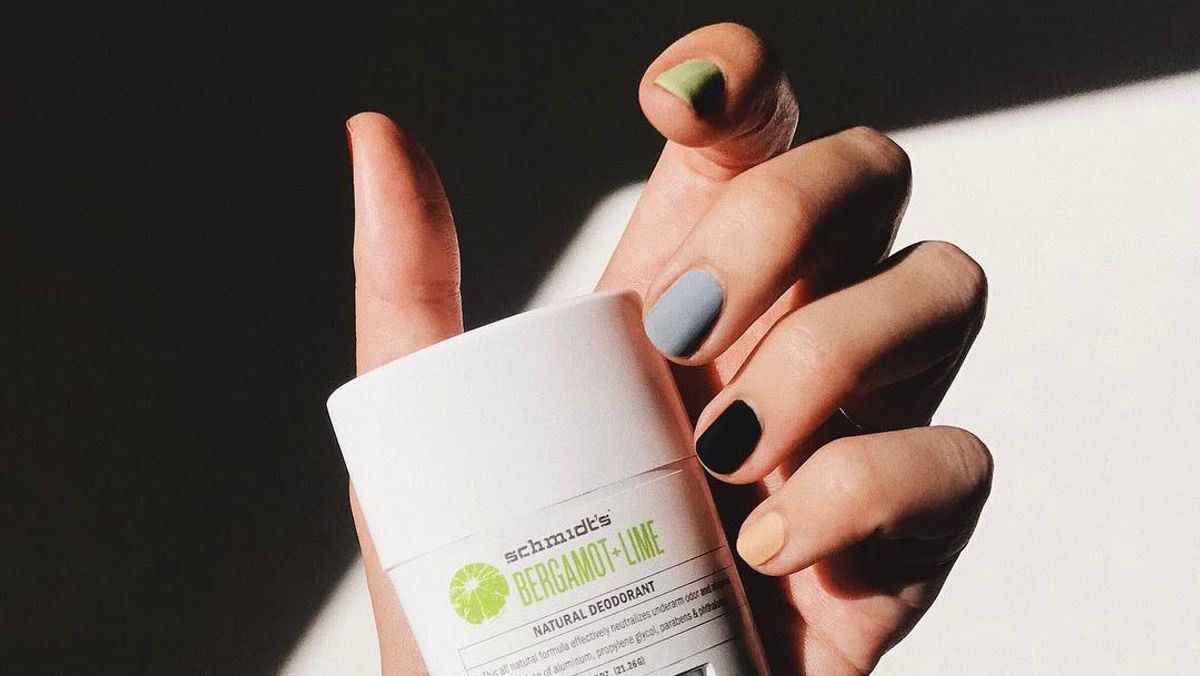 Skin
Their go-to moisturizing products (and helpful tips), ahead.
News flash: Our hands are
dry
. We're sure yours are too, with all the extra hand washing, sanitizing, and
anxious skin picking
happening in 2020. Even when we find a free moment to (safely) indulge in a manicure, our
irritated, often scaly hands
betray the lack of care they're receiving lately. So who better to teach us the ins and outs of hand maintenance than two bona fide hand models?
Lena Randolph and Yana Sheptovetskaya—otherwise known as
@main_muse
and
@gelcream
, respectively—are the hands (and often the brains) behind some of the beauty and wellness industry's most popular brand campaigns, from nail polish to tampons and everything in between. But there's more to being a hand model besides having impossibly elegant hands and nails—you need to take care of them day in and day out.
Obviously, hydration is a major concern for both women. "I've been blessed with lots of melanin, so it's very obvious when my skin is dry," explains Randolph. "Making sure that I'm drinking lots of water during the day always improves the look and feel of my skin, and getting into the habit of a moisturizing routine at night is an easy way to make sure my hands stay hydrated." Sheptovetskaya agrees, adding "accidental cuts" to her list of things to avoid. "I hate having a dry cuticle, and I am very good at cutting myself in new and unexpected ways. [And] with sunscreen, I just developed a habit—every time I apply it on my face, I use some on my hands." That will help prevent the
dark spots
from developing on that often-exposed area.
---
Aside from the products they swear by for hand and nail care (we're getting to those, we swear), they each have their preferred rituals for maintaining beautiful skin. "Every Sunday [I do a spa day]. I'm a bit obsessed with caring for my hands, not just because of the work I do as a hand model, but because I find it to be such a calming ritual. I usually start with a warm water soak with a few drops of essential oils or Epsom salt. I really take my time pushing (never cutting) my cuticles back and working on filing a perfect shape. If I'm not in the mood for polish, I'll finish up with a cuticle oil and a nice hand massage," says Randolph.
If you're not as confident with your
at-home manicure
skills, don't worry—Sheptovetskaya often sees a professional and makes a point to develop a relationship with her favorites so that they know what her hands and nails need. "I go to the nail tech a couple times a month just because they do a better job than myself. I cannot stress it enough—the quality of your nail tech can change everything. Sometimes, even when your manicure looks amazing, your nails can break badly. If you like to do your nails at a salon, do your research and find someone careful, with great attention to detail. Establish a very high manicure standard, and don't give up until you find someone to reach it." If she is removing polish at home, however, she's sure to use a soy-based polish remover to keep her nails from drying out.
And remember, if you're itching to create your own beauty content with your hands, or even dip a toe (er, a finger?) into the world of hand modeling, both women stress that finding those elegant poses isn't so easy. "It's hard to hold the pose while making sure the product is facing the right direction. And it can be tiring," says Sheptovetskaya. Randolph agrees, elaborating that "there are a million ways to hold something, and most of them are pretty unattractive to look at! Sometimes I find myself in some bizarre positions to get the pose right." Like any type of modeling, it's not as easy as it looks, so practice makes perfect.

Randolph stresses that even if you want to explore hand modeling, you don't need to go to extreme lengths to keep your hands in great shape (i.e., sleeping with lotioned gloves). A few thoughtful habits and quality products are all you need to keep your hands looking and feeling healthy. "Hydration doesn't just mean creams, lotions, or oils," she says. "Drink water! I have a full-time job that requires me to be on a laptop nearly the entire day. It's not realistic to moisturize my hands after every wash. Staying hydrated from the inside out is the best thing you can do for your skin, period." We wholeheartedly agree.

So if you're in the market for some exceptional hand-care products, check out the seven essentials two hand models swear by for their routines.
Lena Randolph: "Leah, the owner of Brujita Skincare, is not only an experienced holistic aesthetician but also a dear friend of mine. She personally sources all of the ingredients she uses in her products, and the quality is excellent. The Eternal Balm is the perfect consistency for a quick (or not so quick) hand massage, and it's made with avocado oil, which absorbs beautifully into my skin. Plus, it smells amazing!"
LR: "I once received the Aesop Hand Wash as a thank-you gift, and I've been addicted ever since. [It's my] daily cleanser, and I know it's a bit pricey, but I feel like I'm at a spa every time I wash my hands, and the gentle exfoliation keeps my skin soft."
LR: "To be honest I'm not a fan of hand sanitizers as alcohol can really dry out my skin. [I prefer] Nubian Heritage's African Black Soap."
Yana Sheptovetskaya: "I don't use many hand-specific products. I like to apply thick body cream on my hands while I apply it to my body, and I make sure to keep my cuticle healthy. Other than that, drinking a lot of water really helps to not need a hand cream. When I do need it, though, I have two moods: one is to apply it for pleasure, and then I grab Byredo, because I like the scent and it's like micro therapy for me."
YS: "And then [I have] an 'oh shit, my hands are dry and I hate it' mood, [so] I usually grab whatever I see. I recommend Dior Apricot Cuticle Balm. It's tiny and cute, works well, but is a little sticky. Whatever you choose to use, be consistent."
YS: "I use Aesop and Esker soaps. They don't dry my hands too much, but please, everyone—don't be shy. Put a thick cream layer on as often as you can [after washing]."
YS: "Recently I discovered a brand called Orris [that makes] soap bars. They are so pretty."