Living
Confessions of a New York City Bartender
Getting drinks thrown in your face teaches you a few things.
Alec Kugler
When I find out someone has worked in the service industry, I feel an instantaneous camaraderie. It's an unsaid acknowledgment that we're both fairly decent human beings who understand the hustle, and we can drink just about everyone else under the table. We tip well, say thank-you, pay in cash, and never ask our servers about their "real job." It's a strange, exclusive club and the only means of survival I had for four years in New York City. Even though I've been out of the game for three months now, I can easily spot the ones who have worked in a restaurant or bar. They've always got the best stories. I certainly do.
Within five days of moving to New York, I secured a lucrative bartending gig and found myself thrust into a booming nightclub culture with veteran bartenders who didn't seem the least bit rattled by the chaos around them. It was intimidating, to say the least, and if there's one universal truth about the industry, it's that you very quickly either sink or swim. At 24, I watched as others quit or got fired, unable to handle the grueling hours or combative customers. Before I knew it, a year had gone by, and I was the one behind the bar who could pour out dozens of cocktails in my sleep. Not that sleep was ever a priority.
---
My co-workers and I would work double shifts until 6 a.m., shooting Jameson and dancing so hard we'd need to hose ourselves down with the soda guns. Glitter became my new makeup of choice, and my outfits stripped down to short shorts, bra tops, and Dr. Martens. I was having more fun at work than I had in my life off the clock. It's also true that bartending, especially in a big city, can earn you far more than the typical first post-college job, which put me at odds with my peers.
While I watched friends in other industries struggle in their burgeoning careers, I was sleeping until 2 p.m. after watching everyone from Patti Smith to Skrillex perform the night before. I scrambled to offer any useful advice about salary negotiations when I was walking out of work with a month's rent in hand, all cash. My roommates regularly called me a vampire, and I couldn't disagree. There were days when I just barely caught the sunset while I made coffee in our tiny Midtown kitchen. The lifestyle was an all-consuming welcome respite from the adulthood concerns that had crashed down on me since college graduation. Worrying about my direction and purpose was constant—it just hadn't caught up with me yet.
Despite all the partying, free whiskey shots, and carefree Tuesday afternoons, there were often moments of frustration, and at times, anger. Nightclub culture, like most bars and restaurants, is often sexist, and where I worked was no different. I was verbally harassed by snide owners and misogynistic customers more than I care to acknowledge. I was asked if I had a tight pussy point-blank by one of my managers. I was punched in the face by an irate male customer; that moment was a textbook tipping point, although it still took another two years to leave. I admit, it's extremely satisfying to watch a crew of security guards, all built like professional football players, tackle a man who has just assaulted you.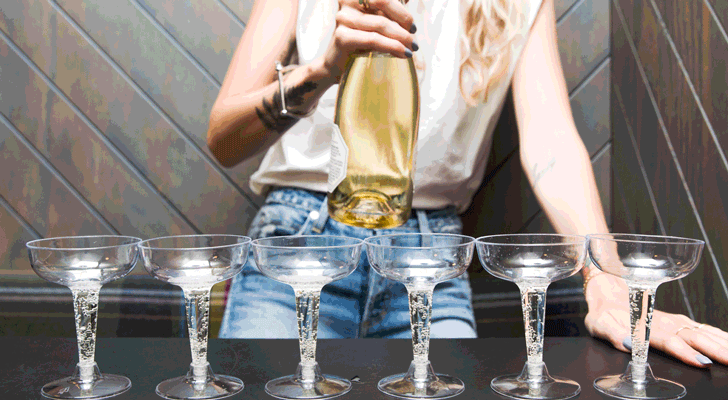 My co-workers—bartenders, waitresses, barbacks, security guards, loaders—became family. When a 19-year-old throws a drink in your face, or someone stiffs you on a $500 tab, you need a crew behind you that gets it. Some of my favorite memories, maybe ever, involve posting up on top of the main bar at the end of a horrendously busy weekend, counting out soggy dollar bills and laughing with people who are just as worn out, just as close to the breaking point, just as immersed in the insane job as I was.
Eventually, though, the exhaustion crept in, and no matter how many shifts I took or incredible shows I saw, a desire for something more substantial overpowered me. I'd always held internships or freelanced for various publications, and even left briefly for a disappointing series of full-time jobs that never amounted to much. The bar culture always pulled me back in until I had nothing left to give—no energy, no care, no hustle. I searched for something else that excited me and gave me a purpose beyond slinging drinks for rowdy club kids. I wrote more and often, submitting articles to places that actually published them and paid me. I found a new internship at the company I now work for, where I can write pieces that are challenging and meaningful. Soon, everything started to fall into place.
My last bar shift was more emotional than I could have ever predicted. Nine Inch Nails played the show, and I poured drinks with every ounce of flare and speed I had gained over the last four years. I danced, I cried, I drank too many rounds of Jameson to commemorate. It felt like a breakup that you and your ex dreaded, but knew was necessary for growing into the people you were meant to become. The 10 seconds spent pouring my last beer were more bittersweet than anything I had experienced in New York. It's rare that you know the exact moment an era in your life is finally over, but I had the benefit of realizing and appreciating every lesson that bartending had taught me. It's made all the difference. So, to all my fellow bartenders, current and former, let's grab a drink sometime and swap stories. First round is on me.
Want more stories like this?
I Refuse to Say I'm Sorry and It's Changed My Entire Career
I'm Proud of the Jobs I Didn't Get and the Times I Cried in Public
A Cannabis Candle Turned This Side Hustle into a Full-Time Career