Deskside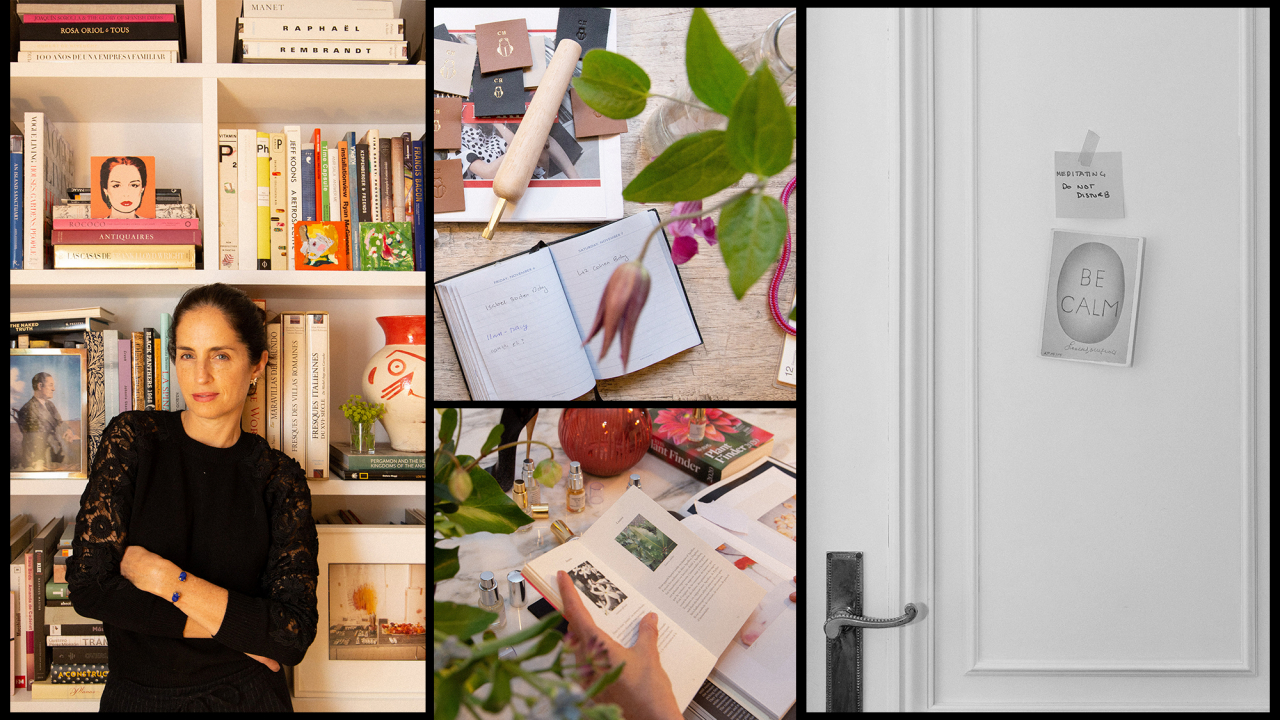 Carolina A. Herrera on the Power of Collaboration & Great Perfume
Plus, how curiosity keeps her creative.
Welcome to Deskside, where we check in with friends to see how they're finding balance and generally evolving and advancing their careers. This week we chatted with Carolina A. Herrera, the creative director of fragrance at Carolina Herrera. Read below on how she juggles work and raising children, sparking inspiration, and her incredibly chic WFH wardrobe.
How do you start your days?
"I usually wake up at around 7:00 AM, and I definitely start my day with iced coffee with almond milk. Always the same thing, literally since I was 13 years old."
Are you incorporating movement or exercise into your routine? If yes, anything you're loving at the moment?
"I usually work out three times a week, or four, depending, but I don't have a particular day. And I've been doing Tracy Anderson at the studio when possible, and otherwise at home online. I also like to run sometimes—usually if I'm in the country more than if I'm in the city."
Talk to us a little bit about your work environment right now:
"I am not back at the office. I'm mostly working remotely from home. So it changes—I don't have one particular work space, but I have around three different ones: my bed, my work table in my office, the dining room table, and then I have this little sort of greenhouse where I also have a table. And depending on the day, if it's not too cold, I can also work there. It also depends very much on what I'm working on, if I do one or the other."
What are the most critical things needed for creativity and to survive a workday?
"I think mostly peace of mind. For me, there isn't a special time for creativity. It comes and goes. Loving what you do, working on a particular project that excites you, talking to somebody and giving ideas back and forth. But for me, usually when I'm happy and in peace, and everybody around me is OK, I can survive any day."
How do you stay focused and motivated throughout the day?
"If I love what I'm doing, I'm usually focused and motivated. I mean, sometimes I tend to do four different things at once. And those days it usually takes me longer to finish a task because I'm working either on something related to work, or something related to a few classes that I take, or something related to the children, or just reading. So it depends very much on what I'm doing. But as I love everything that I do, that's the most important thing—to stay focused."
It's a tricky time in our world, and economically speaking, it's unclear what the future holds. How do you foresee this time impacting your industry?
"Well, it's already impacted the industry. And I think one of the things we all have to do is keep working to generate ideas, to generate different ways of working, and not being too negative about the situation, which is terrible, but just always pushing forward. And I think that usually happens when you have an amazing work team and you're all working towards the same goal. We give each other hope and ideas, and it makes everything more fun.
"I mean, we've had to change the way we do things. We realize that we can do things in a simpler way, which is also very nice, because usually you can become very creative when you don't have the exact means that you usually had. And I think we have to be very conscious of that going forward. Maybe we don't need to do as much travel. Maybe we don't need to get as many people involved to do one project, and I find that we've all become quite creative."
From a creative standpoint, who or what has been your biggest influence?
"I think the people I've worked with throughout the years, books, movies, my eyes. When you look at things that make an impact, whether they're beautiful or strange or you question them. But I don't really have one particular person or one particular thing. I usually learn something from situations I'm in. So I think that, for me, it's being curious. Having my eyes and ears open all the time."
Tell us a little bit about your style right now. What is your go-to uniform?
"I don't have one particular style. My go-to uniform is usually pants, and I've been wearing these great suede pants that are super comfortable. But now that it's wintertime, I love pinstripe pants and a cozy sweater—something comfortable, but also nice. I guess I was wearing the typical sweat moment at some point during the few months of lockdown, but like I say, always with a little red lipstick to spice it up."
Are there any essentials you rely on for your fall/winter wardrobe?
"I always wear perfume, even when I'm working from home. This summer we came out with a new variation of Good Girl called Good Girl Suprême. It's a bold and rebellious fragrance that instantly lifts my mood. I also love long cashmere coats and capes. I use different-colored hand-knitted shawls that I buy in Uruguay when I visit my sister, and turtleneck sweaters when it's really cold."
Are there any beauty products essential to your day-to-day?
"Sunscreen, lipstick, even though we're wearing masks. I do take it off when we sit to eat or at home. I love lipstick. I love the new Herrera beauty lipsticks. I love a brow comber, that sort of evens them out—I'm into brows lately, for some reason. I don't like fake brows, but I like nicely combed brows. And blush. I do like a liquid or a cream blush rather than a powder blush."
How do you unwind at the end of the day?
"I usually unwind by reading or just hanging out at home when the children get home from school with the dogs, the cat, and just chatting. And then at night, I watch a movie or my series, or read, and listen to music. And then, at one point or another, my daughter and I, my youngest and I, we're learning how to do different dances, like bachata salsa. All these Latin dances. Flamenco she dances really well, and I don't. And then just putting on really loud music and just sort of letting go. I was doing that for a while, last night, for example. A cocktail doesn't relax me—a cocktail is, like, more for a fun night out."
Photos: Courtesy of Carolina A. Herrera
Want more stories like this?
Meet the Mother-Daughter Duo Behind House of Aama
Jeweler Brent Neale Shares Her Secret to Staying Creative & the Value of Balance
The Co-Founder of Club House Global Talks the Power of Music & Creative Solutions