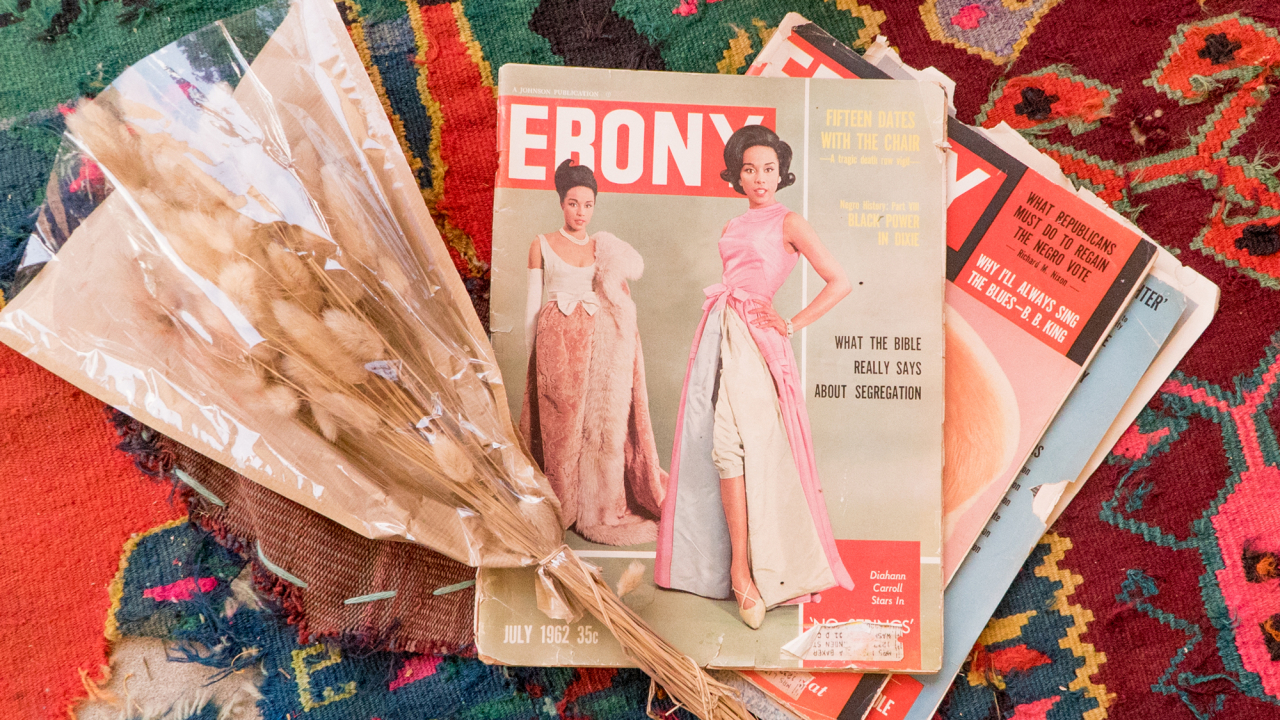 Clever Ways to Bring Flowers Into Your Home This Holiday Season
The experts at DNA Floral share their tips.
What is it about flowers that makes the mere sight of their bright blooms elicit instant positive emotion? Passing by a bodega with a smattering of daisies and sunflowers = instant mood lifter. Spotting someone walking home from work with a bouquet of flowers in hand = very invigatoring, indeed. Flowers are a visual and fragrant reminder of life and new beginnings, and after a year like 2020, it's not a bad idea to clear any negative energy in your home and replace it with a creative, restorative display of florals.
Beyond the bouquet, there are several approaches to incorporating flowers in your own space—just ask florists Nicole and Domino, the two geniuses behind Philadelphia-based, Black-owned DNA Floral. The duo's innovative approach to floral design reimagines the process from the ground up, beginning with mindful sourcing and ending with artful compositions. If you tend to stick to the same flowers in the same old vase and want to mix it up (especially for the holiday season), read ahead for DNA Floral's whip-smart tips.
Think Thrifty
"For [us], the vessel is the most essential because that sets the vibe on exactly what you're going to create," DNA Floral tells Coveteur. "[We] source most of [our] vessels from thrift stores. You can use nontraditional vessels such as deep cereal bowls, or even recycled old glass bottles are sometimes good depending on the shape of them. Using quirky containers adds character to the space."
Complement Existing Decor in Your Home
Rather than thinking of flowers as a free-standing vignette, the duo also encourages integrating them with the room. "Flowers can bring out decor details in your home more," they explain. An example from their catalog shows a cheery bouquet of flowers positioned inside an empty picture frame with dinosaur figurines on either side—in other words, you have carte blanche to have fun with it.
Try Dried vs Fresh
DNA Floral's dried arrangements have become their number one seller thanks to their uniqueness and longer lifespan. "You can get so creative with [dried] flowers, adding some to your fireplace to frame it or an arch walk-way in your home," they explain.
Reimagine the Wreath
"This year, with everyone being forced to be home due to the crisis, it has allowed many families to become more creative in how they're celebrating the holidays," they share. "We have included our dried tennis racquet wreath, which can also be used as wall decor—a more modern, non-traditional, and fun-at-the-same-time piece of art."
Line with Garland
Another way you can get in the holiday spirit is with garland. "[We] think botanicals bring a certain element and vibe into the home during the holidays," they share. "Garland's greenery always brings a soft touch and a very minimal look just to simply defend the shape of an archway, stairs, or fireplace."
Bring the Tropics Indoors
Another quick trick for upgrading your at-home florals is simply by choosing blooms you wouldn't normally get. "[We] really love tropicals [this time of year]," they explain. "Anthurium is an all-time favorite flower. [We] get lots of orders for our dried arrangements; so palms are great to work with, straw flowers, bleached ferns, dried birds of paradise leaves, dried amaranthus, and hanging heliconia."