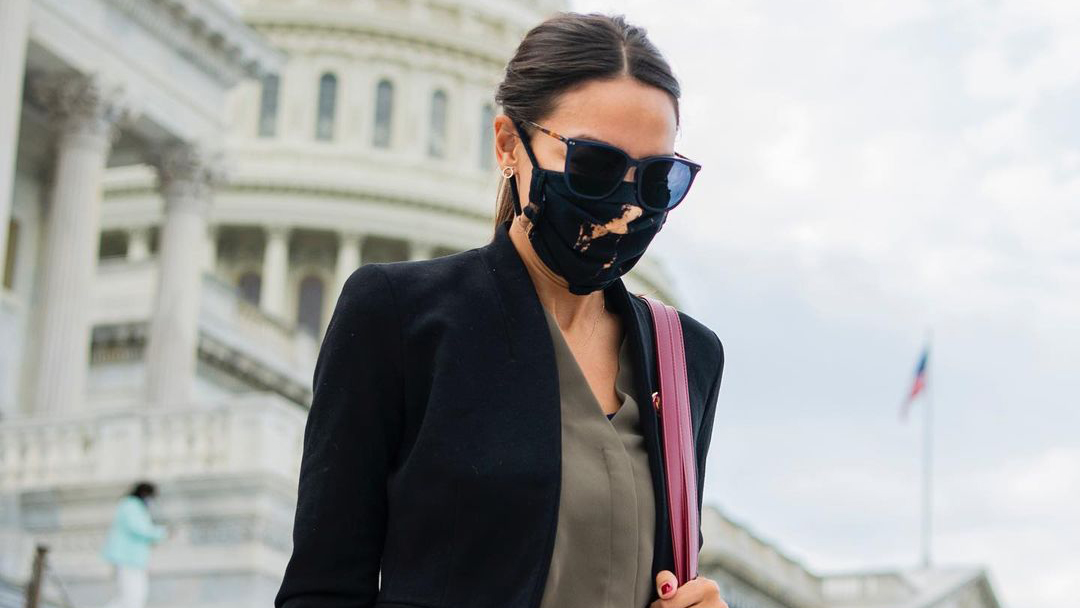 Reflections on 2020: An Unprecedented Year in Fashion & Where We Go from Here
2021, here we come!
We know you're tired of hearing the word unprecedented, but there are few other terms that so accurately describe 2020. Businesses (and consumers, for that matter) have been forced to react instantaneously to a lifestyle that they did not prepare for, and when we look at the course of events through a fashion lens, we find that the shift in the way we were (and are) living was directly reflected in what we wore.
We enter 2021 precariously—despite our hesitancy, we have also learned a thing or two. As we gear up for the new year, we know for the most part what life in a pandemic looks like. We know that despite the status of the vaccine, we will likely be able to socialize outside—the possibility of a bar crawl is much smaller than a day spent in the park. In other words, we know what we will be able to dress for much better than we did last year, which means we are better equipped to shop in a more strategic manner. And fashion consumers are hopeful and optimistic for a return to normalcy—a mindset that manifests itself sartorially in a variety of ways.
Biggest Trends of 2020:
Comfort Reimagined
OK, so obviously comfort was a winner this year—it should shock no one that in April, searches for sweatpants jumped 104 percent month to month, while joggers grew 123 percent according to the leading fashion shopping platform Lyst's Year in Fashion Report—but the longer we stayed in, the smarter we became at expertly lacing comfort into our day-to-day wardrobes. Aya Kanai, head of content and creative partnerships at Pinterest, points to "Ath-flow" as our next step in fashion, which is "the hybridizing of different categories that used to be separate" by reinterpreting leisure with an injection of elegance.
At Moda Operandi, that mindset is reflected in shoppers searching for basics that aren't, per se, basic. Their top-performing lifestyle categories were knitwear, outerwear, and off-duty boots—all simplistic categories of clothing, but the items themselves were anything but. Think statement Prada lug-sole boots in place of your typical moto style, a Khaite cashmere cardigan and bra set versus your typical knit crewneck, and a Max Mara Teddy coat in lieu of classic wool outerwear. "Yes, you can say that these err on the side of classic, but they're not quiet in their aesthetic," says fashion and buying director Lisa Aiken.
Lyst Top 5 Items of the Year:
Fashion and Politics
This year fashion acted not only as an aesthetic choice, but a medium of communication and even a way of voting with our dollars. We shifted our purchasing to support Black-owned and conscious fashion brands, and donned political slogans on our t-shirts. A spokesperson for Lyst describes fashion and politics—two categorically vastly different entities—as now being "intrinsically linked."
As the recent election, dubbed the most important in our lifetime, held a significant portion of our attention this fall, industries, specifically fashion, could not ignore it. Politicians served as de-facto fashion influencers, swaying purchasing habits like never before. The 24 hours after Kamala Harris' acceptance speech, searches for white pantsuits spiked by 129 percent while pussy-bow blouses increased 95 percent, according to Lyst. The vice president elect's footwear of choice (Converse) saw a 160 percent spike in searches. Alexandria Ocasio-Cortez also enjoyed her fair share of influence as her Instagram shout-out to Telfar stimulated a 163 percent increase in searches that week.
Top Performing Moda Operandi Products:
Fashion as Escapism
According to Fashion Snoops, a leading trend forecaster, cottagecore hit big this spring as individuals stuck at home dreamt of a fairy-tale lifestyle. We embraced novelty fashion trends spurred by TikTok, investing in statement masks and crocs emblazoned with fried chicken. Lyst data found that searches including "zodiac sign" or "birth sign" have collectively risen 56 percent year-on-year. We donned belted pillows for Instagram challenges, and activity-based fashion like tie-dye and crochet saw big jumps in popularity. We even let TV guide our fashion choices in what Depop, a peer-to-peer resale platform with a focus on millennials and the Gen Z community specifically, calls "Netflix Effect"—leopard and animal-print searches spiked 66 percent after the release of Tiger King. Basically, fashion was a tool of distraction during a tumultuous year.
Going Forward, We Will See:
Two Types of Consumers
Two dominant camps emerged on opposite ends of the shopping spectrum. Utilizing footwear as an example, Aiken explains that on one hand, the off-duty boot was their number one sales driver this past season—styles from Bottega Veneta, Prada, and Proenza Schouler spurred a substantial portion of traffic—but on the other, outrageous high heels from Amina Maudi and Mach & Mach were also high performers. The sales of a more classic, mid-heel pump, which normally sells consistently, suffered. "It's kind of polarizing to a certain extent," explains Aiken of their customer's behavior. "So she's very [laid-back,] or she's fabulously wild and wants to really enjoy herself."
Lyst found similar polarized insights. A spokesperson talked of seeing "searches for tailored coats increase in recent weeks, and the increase looks set to continue well into the new year, a sign shoppers are looking to smarten up—think modern-day 'Roaring '20s' style: short hems, bright colors and prints, and loads of embellishments." In opposition, there will also be those reluctant to "move away from stretchy waists and loose-fitting styles," what Kanai describes as an emphasis on "cocooning."
Lyst's Brands to Look Out For in 2021:
Brother Vellies
Paris Georgia
Chopova Lowena
Thebe Magugu
Medea
Vintage and Resale Are Here to Stay
2020 was a huge year for the secondary market. We saw it on the red carpet from celebs like Jennifer Aniston, and even Princess Beatrice wore a vintage dress to her wedding. In a report on the state of resale Vestiaire Collective released alongside Boston Consulting Group, they found that the share of secondhand clothing in people's closets is predicted to grow from 21 percent in 2020 to 27 percent in 2023 and that 70 percent of respondents in 2020 stated they feel compelled to buy secondhand goods in an effort to be more sustainable, compared with 62 percent in 2018.
Our Purchasing Habits May Have Changed for Good
Considering how the pandemic affected the financial state of this country, our priorities obviously shifted when it came to shopping. Moda Operandi found that people actually spent more per item than they had in the past. And while these items need to cater to our lifestyles, we also want to connect emotionally with them. "When she falls in love with an item," Aiken says of their customer, "we have seen the average unit retail grow, and I do think that's indicative of what we'll see in the future, where it's very emotional-based purchasing rather than strictly needs-based."
More than ever we are thinking about fashion as an investment. Back at the onset of the pandemic in the spring, more people were buying luxury handbags than ever. "I hadn't really anticipated the speed or the commitment our client had to making sure they got their hands on that Chain Cassette bag from Bottega Veneta," says Aiken. Their average handbag sold for $1,560 this fall, compared to $900 at the same time last year. The rise of the resale market only fuels this mentality as we keep a garment's potential for resale in mind financially.
Moda Operandi's Top-Performing Spring '21 Trunk Show: Valentino
Optimism
Despite lockdowns, people are still shopping for events that have been postponed—cocktail wear, heels, etc.—but that's not the only way we are seeing optimism emerge. "I also think there's a level of optimism that will come through in fashion trends versus consumer trends. I think that will be a return to really joyful dressing, like the fashion dream." Fashion will be louder, more fun. "When we're talking about optimism, we're seeing it on the trend side, too, that hit of color, a return to print, items being quite sexy"—the "naked" dress was another heavy hitter for Moda in terms of sales. We don't know about you, but that sounds like quite a relief to us.
Top photo: Courtesy of Instagram/@evanrosskatz
Want more stories like this?
The Journey of a Trend—Here's Every Factor That Moves Them to the Mainstream
The Fashion Stigmas We Need to Change In Order to Be More Sustainable
Why We Are Gravitating Towards Vintage Gifts This Season