WWWRN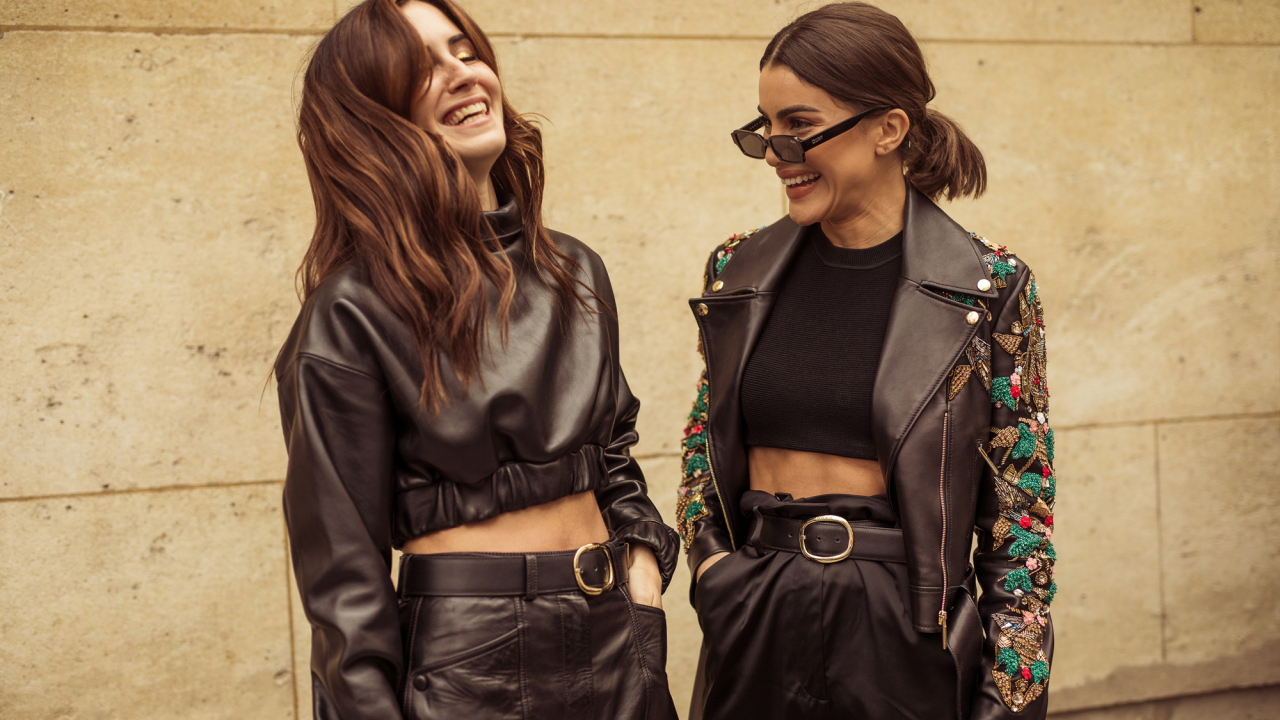 A Comprehensive Guide to Buying Vintage Leather & Shearling
Some things just get better with age.
A wardrobe staple, leather jackets have been universally loved  for decades. And though each season new iterations of the beloved classic are reintroduced, looking to the past may be the key to tracking down your perfect leather jacket.
In 2020 vintage goods are some of the most covetable on the market, praised for their sustainability as well as their proven ability to stand the test of time. Many of today's envy-evoking style crushes often turn to vintage and secondhand to curate a one-of-a-kind look. However, when it comes to leather, there's plenty to keep in mind in order to find the right fit. We talked to vintage experts at designer consignment sources Vestiaire Collective and The RealReal, as well as a leather care expert, to bring you the best tips, tricks, and insider secrets on what to look for.
View this post on Instagram
Leather
Leather comes in all sizes and textures, from ultra-durable cowhide to delicate lambskins. To narrow your search, know how to look for good quality. When evaluating vintage for Vestiaire Collective, Alice Hebrard Lemaire, the site's head of vintage, closely inspects the leather to ensure the piece was made to last. "Full-grain is the crème de la crème of leather and ages the best. The next-best option is top-grain because it's more affordable," she explains. "Vintage leather is also rarely mixed with synthetics, so your investment will be made to last longer."
Though buying secondhand means the chances you'll find anything in perfect condition are slim, these imperfections can add character to a garment. "Scuffs, natural creasing, and distressing contribute to a more rugged look," says Dominik Halás, The RealReal's vintage expert and authenticator. "Buying one secondhand will also likely remove any stress about scuffing or dirtying up the leather, especially if it's already nicely worn in." Bigger imperfections to look for include noticeable peeling, creasing, cracks, or oxidation on lighter-colored skins. For suede and shearling, be sure to inspect the fibers and fur for any spots or stains. If you're looking to improve the appearance of a vintage find, you may be able to repair minor blemishes using store-bought treatments like conditioners and dye products. For more serious flaws, bring your garment to a professional leather cleaner who specializes in restoration.
View this post on Instagram
Style
Classic leather jacket silhouettes, like motorcycle and racer styles, have remained popular throughout the years with little alteration to the designs. "These tend to be better investments than quirkier designs or pieces with dated details like excessive shoulder padding," says Halás. This year the leather blazer and other styles popularized in the '90s have seen a massive resurgence among buyers. The RealReal saw an almost +150 percent search increase for leather blazers compared to last year, while Lemaire has also noticed similar styles skyrocket in popularity among the Vestiaire Collective's clients. "We've seen many of our members interested in adventurous '90s-inspired pieces like leather blazers and trench coats, especially from designers like Claude Montana or Thierry Mugler," she notes.
View this post on Instagram
Cost
Budget-friendly vintage leather can go for under $100 at thrift stores and on eBay, or easily cost up to thousands of dollars on resale sites, so it's important to know what you want. "I would always recommend buying a leather jacket secondhand because of the value and investment factor," explains Halás. "Since they are cornerstones in most brands' merchandising assortments, their aftermarket values stay relatively stable over time as long as it's a classic style and color."
With purchasing new leather goods, there's the environmental price to consider as well. "Even vegan or faux leather negatively impacts the environment during production. I recommend choosing secondhand for this reason first and foremost," points out Lemaire. Deforestation, water overuse, and gas emissions are just a few of the negative environmental impacts triggered by modern-day leather tanning processes. By eliminating the destructive production needs required to produce new garments, vintage and secondhand shopping have emerged as both the most sustainable and cost-effective option for fashion.
Care
Proper care will lengthen both the wear life and pristine look of your favorite leather goods. David Mesquita, co-owner of New York–based leather care and repair service Leather Spa, recommends leather conditioner as the main trick to care for your vintage jacket. "Wherever you have faded spots, it darkens them a little bit, but you still have that worn look." His other leather-care must-haves include a wide hanger to maintain the shape of your jacket's shoulders, water and stain protector (which usually work well on any type of textile), as well as a brush for suede and shearling, the most delicate skins. "Think of it like if you have long hair. Before you go to bed, you brush your hair so you don't wake up with knots. You want to brush out any knots, dust, or dirt that might have accumulated throughout the day." His final care tip: Enjoy your piece. "The leather is exposed to the elements even if it sits in our closet. Use it because it is going to change over time."
Part of the series:
WWWRN