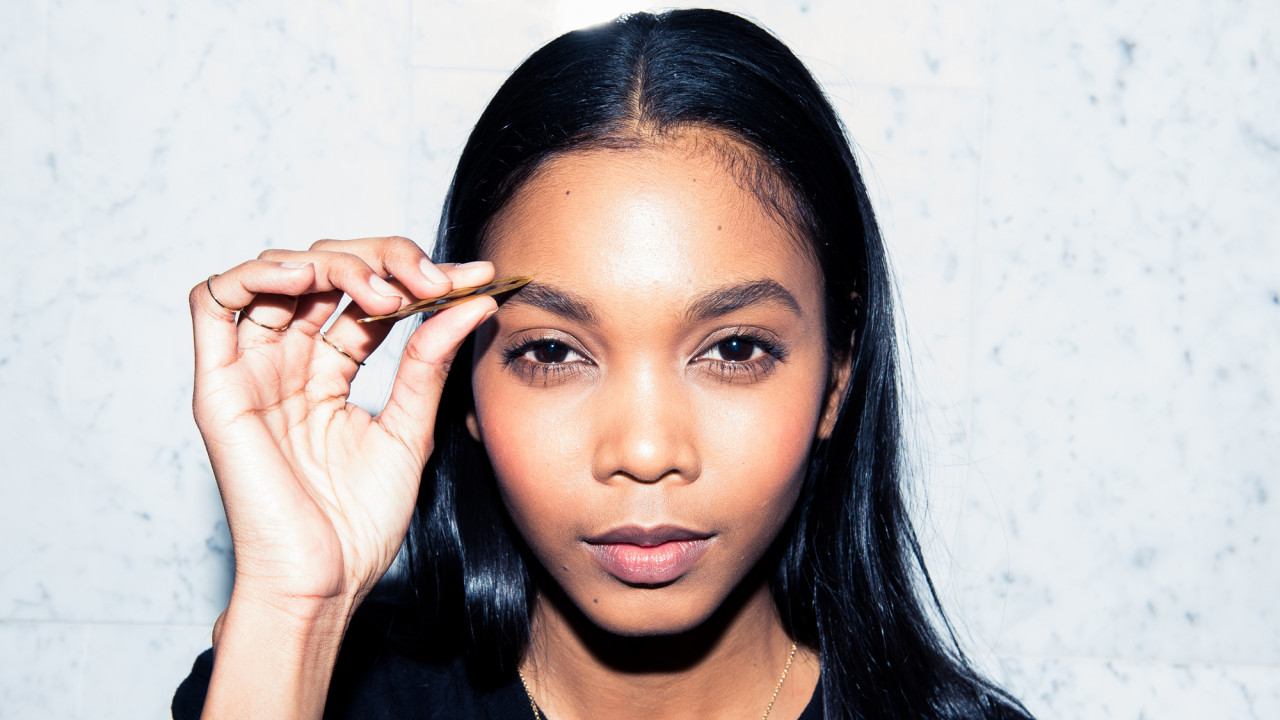 An Exhaustive List of Every Single Way to Enhance Your Eyebrows
From tinting and lamination to extensions and transplants.
Although brow trends have oscillated wildly through the decades, a gorgeously groomed silhouette will forever be a staple in our beauty regimens. But for those of us who lived through multiple eyebrow phrases—especially the Drew Barrymore–esque thinness of the '90s—our natural shape and fullness can be…lacking somewhat.
Luckily, there are now numerous professional treatments that can help enhance your brows, from permanent options to only lasting a few days. So many, in fact, that we often find ourselves wondering should I be investing in microblading, à la Jenna Lyons? Or is the new and much-hyped brow lamination procedure better able to deliver the results I want? And now that masks are emphasizing our brows even more, we're finding ourselves longing for our dream pair of full, fluffy brows without needing to use a gel, powder, or pencil every single day.
If you feel the same, but you're unsure of where to start, don't panic—we assembled a handy guide of all the different ways to enhance your eyebrows for the brow-curious among us.
General Maintenance
You've gotta walk before you can run, as they say, which definitely applies to your brows as well. To start, it's wise to develop a solid brow-care routine to maintain their look in between appointments. Most specialists will tell you to leave them relatively alone until you can visit again, but we all know that errant hairs will happen. According to Joey Healy, founder of Joey Healy Eyebrow Studio, your at-home maintenance all comes down to the tweezer.
"We use our elite sculpting tweezer," he explains. "It's a stainless-steel slanted tweezer. The technique is to pull each hair in the direction of the hair growth, and to make sure the skin is clean and dry. We do it faster [at the studio], and because we tend to have confident pulls, we're not breaking or accidentally curling the hair." So if you see one or two rogue hairs, break out your best tweezers and pull with confidence—otherwise, leave them for the professionals.
As one of the buzziest new brow enhancements of last year, brow lamination has legions of mega fans and naysayers alike. The semipermanent treatment (which is basically a perm for your brows) originated in Russia and gives clients that slick, brushed-up brow look similar to the "soap brow" phenomenon that's taken over TikTok. A setting lotion is applied during your salon visit, then your brows are brushed up, and a chemical neutralizer helps to reform the bonds in your individual brow hairs. With proper maintenance, you should be able to maintain the look for six to eight weeks.
Rene de la Garza, founder of Brow Down Studio and brow tender for Cardi B and Lizzo, swears by lamination for a range of hair types and textures. As he explains, "It's great for thick brows because it tames the hair and makes it supersmooth and lays the hair flatter. It's great for curly hair or hair that grows in different directions because it lays the hair in one uniform direction. And it's great for thin brows because it makes [them] appear fuller."
Stevi Christine, the brow artist behind Julia Roberts and Katy Perry, among other celebrity clientele, agrees that lamination can be a good option to enhance the brows if it's done right. She says, "It's great for someone looking for a fuller brow and/or a little more controlled brow, [like] if someone's brows lay down and you want a little lift. I'm not fond of the super over-the-top lamination look—it's much too harsh. My theory is you don't want your eyebrows to walk in the door before you do."
Microblading
Believe it or not, microblading has actually been around "officially" since 1979, but there is evidence that ancient cultures like the Egyptians also used to tattoo their eyebrows. Luckily, we've come a long way in the last few decades in terms of efficacy and safety, and now it is one of the most popular forms of permanent makeup or cosmetic tattooing. It's also different than your typical tattoo experience—microblading uses iron-oxide-based pigments and is placed more superficially in the skin, making it semi-permanent. The process takes about one to two hours depending on the shape you want versus your natural brows, and the effect can last between 18 and 30 months (with the possibility of touch-up appointments).
The industry has also seen the rise of specialists within the realm of microblading, like Kristie Streicher, co-owner of STRIIIKE and creator of the feathered brow. As she explains, "Microfeathering is a more subtle and refined version of the semi-permanent microblading procedure. Whereas microblading requires the removal of natural hairs before etching in pigmented strokes to create a hand-drawn brow, Microfeathering utilizes softer strokes to mimic the natural hairs and augment the client's brow fullness and shape, and it does not require the removal of pre-existing brow hairs." A longtime industry favorite, the treatment lasts eight to 12 months and requires zero tweezing for six to eight weeks prior to the procedure.
If you're curious to try either microblading or microfeathering, De la Garza stresses that you should do your research beforehand in order to achieve the results you want. "Be sure to check out before-and-after [photos] and healed results from the artist. But microblading is a great alternative [since] many times...the hair follicle is damaged and hair simply won't grow back."
However, not every professional we spoke with agreed that microblading is a good option. Healy never advises his clients to try the procedure, explaining that the brows lack dimension and look inauthentic. "The color fades unevenly over time, sometimes exposing unusual undertones," he says. "It requires touch-ups, and then you just get yourself into this muddy mess where you're trying to touch up on top of this faded tattoo, and you're kind of stuck in a cycle." He advises his clients to stick with products like powders and pomades to amplify your brows without the risk of unusual fading.
Tinting
Arguably the least invasive and most popular option among brow professionals (every single one of our experts swears by it), tinting is an easy way to add fullness and definition to your existing brows. "Tinting is one of my personal favorite things to do to achieve a natural, fuller brow with minimal commitment—it only lasts approximately three to four weeks. I am currently loving brow henna tints. We carefully place the color, adding a lot of depth to the arch ends of the brows, because this is the area [where] most of us are sparse. Do keep in mind [that for] the first 24–48 hours, you are a few shades darker then what the color ends up looking like," says Christine of the process.
Streicher also notes that in the process of tinting the hairs, the skin underneath can also be stained slightly, which offers a semi-permanent filled-in effect to sparse areas. "When done correctly, this can enhance the perfect shape and really fill in the brow by darkening all the hair (and skin) in its path," she says.
If you want to not only enhance the thickness of your brows but also the general surface area (more is more, right?), Healy says that tinting can utilize your surrounding baby hairs to create a bolder-looking brow. "We use vegetable-based dye, custom-blend the colors, and we hand-paint it in rounds," he says of his tinting process. "I'm targeting areas that need more help, [since] it's not just a one-size-fits-all color or application."
Extensions
Yes, these are a thing. Similar to the ever-popular eyelash extensions, the beauty world has figured out a way to use them on your brows. This procedure—wherein individual hairs are glued to the skin—can benefit people who have completely lost all of their brow hairs (due to alopecia, chemotherapy, etc.) but don't want to commit to microblading. For people who simply have sparse brows, the individual hairs are glued adjacent to the root with a special adhesive.
The results only last between five and 14 days, which makes them more appropriate for special occasions—De la Garza has seen many brides undergo the treatment (although he personally does not offer it at his studio). It's crucial to visit a specialist who can create a natural look as well—both Streicher and Healy feel they might damage your existing hairs and look too fake. But Christine stresses, "It's pretty tedious and high-maintenance, but hey, if it makes you feel better, that's priceless to me."
Transplant
This option isn't discussed very often, but it can be beneficial if you have a hole in your brows or if your hairs are falling out. As Healy explains, "It seems more dramatic because it's quite a process. They harvest hair follicles from the nape of the neck, and then they transplant them [to your brow area]. But I feel like if I had a big gap in my brow, I would be more likely to explore an eyebrow transplant than I would microblading because you get the texture and fluffiness. I think it is a good option if you're really in need of more brow immediately."
The procedure costs about $5,000 (depending on where you live) and involves the transplantation of follicles to your brows by creating small incisions in your skin and planting them in. The technique is similar to that of larger hair transplants (often called hair plugs) and will result in swelling and minor discomfort. During the healing process, you can't get your brows wet, and you'll see some minor flaking and scabbing. If you're curious about this option, it's important to find a doctor who is familiar with the treatment—and remember to ask for before-and-after photos.