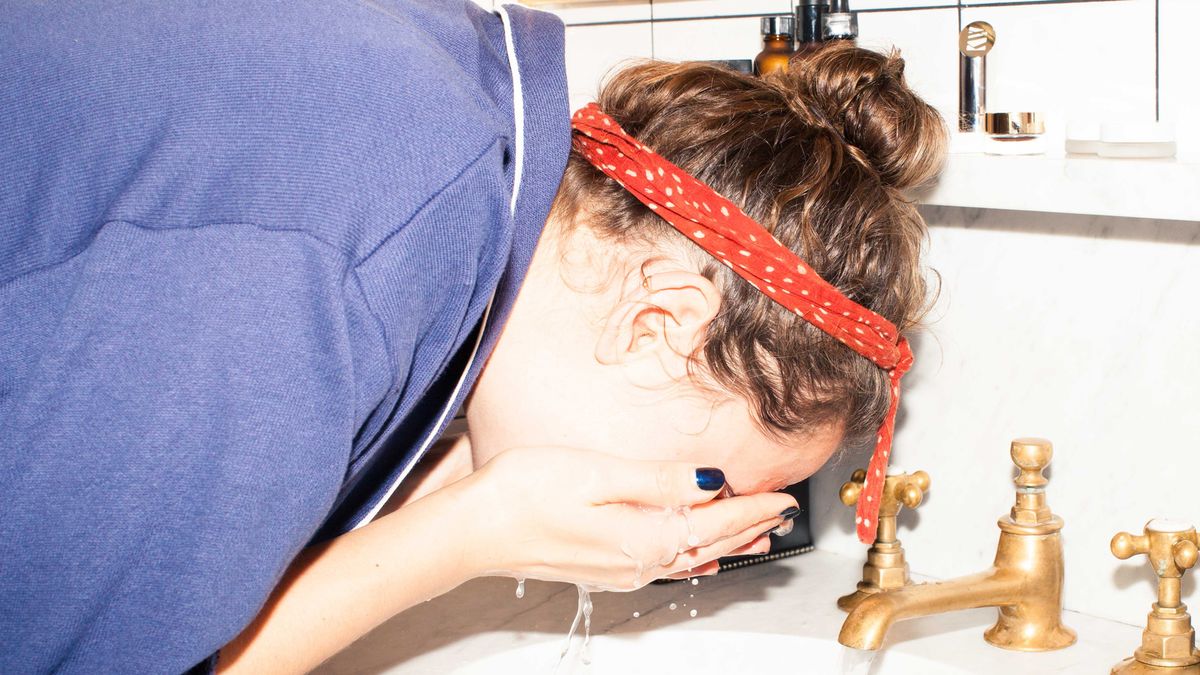 Skin
Luckily, the fix takes less than 10 seconds.
By now, face cleansing has become second nature for our morning and evening skin-care routines. A simple squirt of product here, a quick lather on our skin there—next thing you know, you're towel-dried and ready to move on to the rest of your regimen. But when was the last time you cleansed your skin mindfully, taking into account everything from the amount of product you apply to the water temperature you use? We know you don't do it on purpose—hey, life moves fast—but simply going through the motions of face washing without actively thinking about the process can negatively set the stage for the rest of your routine.

Experts agree that though it may feel cozy in the shower, washing your face with steaming hot water can have some major drawbacks for the health of your skin. But before you turn back the dial and use freezing cold water, know that this could pose some issues, too. To set the record straight on how to properly cleanse (as well as what water temperature to do it at), we reached out to two board-certified dermatologists. Keep scrolling to learn how to wash your face—the right way.
 

HOT WATER
Ever cleanse your skin hoping to reveal a smooth, glowing complexion, only to be left with dry, flaky, inflamed areas? The water temperature you're using could be to blame. According to Texas-based board-certified dermatologist
Dr. Flora Kim
, when the water temperature is hot, it will dry out your skin, which can lead to issues with your skin barrier function. "Think of the skin as a protective wall that prevents things in the environment from making their way inside (chemicals, toxins, and pollution) as well as keeps what should stay inside from escaping (moisture and hydration)," explains Dr. Kim. "When your skin is dry, this skin-barrier function (aka your skin's ability to protect itself) is compromised, potentially leading to increased sensitivity and heightened vulnerability to irritation."
Not to mention, if your
skin is already dry
, then the hot water can exacerbate dryness and lead to damage. "Extreme heat strips the skin of the natural oils that rest between the cells and can lead to the illusion of more wrinkles," maintains
Dr. Ellen Marmur
, board-certified dermatologist and founder of MMSkincare. It can also make the skin appear red (as it causes the blood vessels to dilate) and can increase
skin sensitivity
. 
COLD WATER
Now that we've nixed hot water from our vocabulary, does this mean cold water is best? Not quite. Unlike hot water, which causes your blood vessels to dilate in an effort to help cool your skin down, cold water does the opposite. Says Dr. Kim, "The colder the temperature of the water, the more vasoconstriction will occur (aka the constriction of blood vessels on your skin). This is an automatic response by your skin in its effort to help regulate temperature balance. When you are exposed to cold, the blood vessels constrict in its attempt to hold on to as much warmth as possible." So while cold water won't necessarily cause your skin harm, it could be too extreme of a temperature to feel comfortable, nor are there any tangible benefits (except maybe helping you wake up in the morning). 
HOW TO CLEANSE YOUR SKIN
Both Dr. Kim and Dr. Marmur agree that lukewarm water is best for face cleansing. Also, Dr. Kim stresses the importance of cleansing, period, as a part of your nightly ritual. "You must wash your face every night to ensure that all dirt, oil, pollution, makeup, sunscreen, and dead skin cells are removed," she explains. "Especially if you wear makeup, you must ensure that your skin is completely clean before you go to bed, otherwise you are setting yourself up for potential breakouts and congested skin."
Use a dime- to nickel-sized amount of product (
depending on the formula
), and with gentle (not excessively firm) pressure, use circular motions to cleanse the face for 30 to 60 seconds. If you prefer to wear foundation, using a makeup remover prior, or
double cleansing
, will ensure that you remove every bit of leftover product from your skin. Then always make sure to pat—versus rub—your skin dry with a towel, as rubbing can lead to irritation and make your skin lose elasticity, especially around the eyes, notes Dr. Marmur. Finally, make sure you're using a clean towel—if the towel is old, dirty, or has been sitting on your bathroom counter for several days, it could be a mode of transmission of bacteria to your face. Then follow with the rest of your skin-care routine before finally falling into bed.
---
SHOP OUR CLEANSER PICKS:
If you're looking for a lightweight cleanser that won't strip your skin of its natural oils, turn to this one by Dr. Dennis Gross, which harnesses the hydrating powers of marine algae, hyaluronic acid, and kiwi.
Have sensitive skin? Opt for an ultra-gentle cleanser, which Dr. Marmur says will help your serums penetrate the surface better. We like this pick from La Roche-Posay because it has a milky texture that won't mess with your skin's pH.
Dr. Kim notes that enlarged pores are associated with high sebum production, skin aging, and photodamage. Needless to say, if pores are a problem, choose this unique two-in-one cleansing exfoliator—it banishes buildup without causing dryness.
"If you have more oily or breakout-prone skin (or you have put on a lot of makeup that day), then wash with a double-cleansing routine," says Dr. Kim. Try this buttermilk cleansing balm as your first step—though it may remind you of pancakes, it uses a triple milk complex formula of goat milk, milk probiotic, and colostrum. The result is radiant skin, a healthy microbiome, and a craving for breakfast.
For a no-fuss cleanser that works for all skin types, add this one from Pacifica to your shopping cart. It leaves out all the nasties (think parabens, phthalates, and sulfates) and is made with vegan collagen and flower milk for skin that's balanced and refreshed.
Oily skin requires a cleanser that won't leave behind a greasy residue, which is why we like this one from Way of Will. It's packed with peppermint and essential oils to soothe and hydrate congested skin.