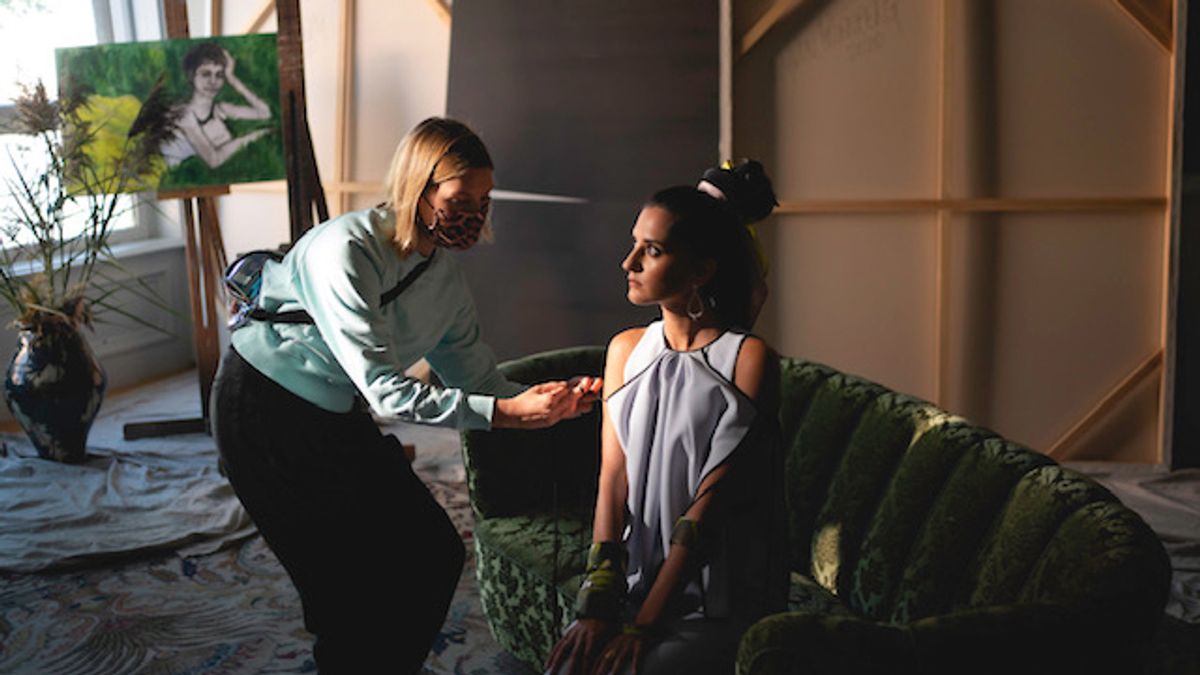 Fashion Week
The inside scoop on what the shows were actually like.
Covering fashion month this season has been slightly challenging. Travel is restricted. Show audiences are limited. Backstage access looks nothing like it used to. That said, we decided to tap our network and see what was going on inside all these different realms that have shifted so greatly this year. We spoke with
Lori Hirshleifer
and
Marci Hirshleifer Penn
of department store Hirshleifer's, hairstylist
Eugene Souleiman
, casting agent
Noah Shelley
, and celebrity stylist
Cat Pope
to get the inside scoop on what's actually been happening at fashion weeks across the globe.
---
Photo: Courtesy of Lori Hirshleifer
Which shows did you work on, and how many were in person versus being strictly digital?

Noah Shelley: "I worked on one in person in New York and three remote shows abroad."

Lori Hirshleifer: "We haven't seen anything in person this season. All of our appointments have been virtual. It's been really cool to see how brands present the collections. My favorite has been Khaite so far, they sent an amazing book with all of the looks, material swatches, a candle, and a clutch."

Eugene Souleiman: "There were very few shows to do in Paris. I did the Yohji Yamamoto show. Prior to that I did the Margiela film with Nick Knight and John Galliano."

Cat Pope: "This season, as I do most seasons, I styled the Bibhu Mohapatra collection. Normally the process of fittings, casting, styling, etc., takes up the majority of fashion week for me, but this time we worked hard to make a really special digital experience rather than a runway show, and so it was a totally different experience. We did a lookbook shoot as well as a film. The process was more streamlined and focused, and I felt overall there was more room for creativity."

Can you walk us through what a day of fashion week looks like for you this season?

NS: "Well, less 'walking through' anything I guess! A lot more sitting at a computer and a lot less sitting in a client's studio."

LH: "It's very different this season! Usually we are in Paris at this time and have been for years and years. At the moment, the days are spent watching the shows virtually and then shortly thereafter taking virtual appointments to see the collections."

Marci Hirshleifer: "Usually I send my V.I.P clients images from the showrooms in Paris, so this season it's a lot more challenging. We work with a lot of great brands who are helping us out as best as they can to write orders virtually. It's very different, but like everything this year, you adapt!"

CP: "Fashion week this season was certainly out of character from previous years. I have a friend who works at Marc Jacobs, another who is a stylist who normally works on shows, and I managed to have dinner with each of them midweek. I've never in all my years in the industry managed to have time for such dinners at this time. Everyone was shocked—no, let's say incredulous at the different pace! There was time to work on other projects and jobs, and I managed to check out the collections at my own leisure. It felt consistent with the feelings of anti-consumption and industry noise that were prevalent in conversations at the beginning of COVID. I didn't consume for the sake of consuming. It was a more thoughtful process."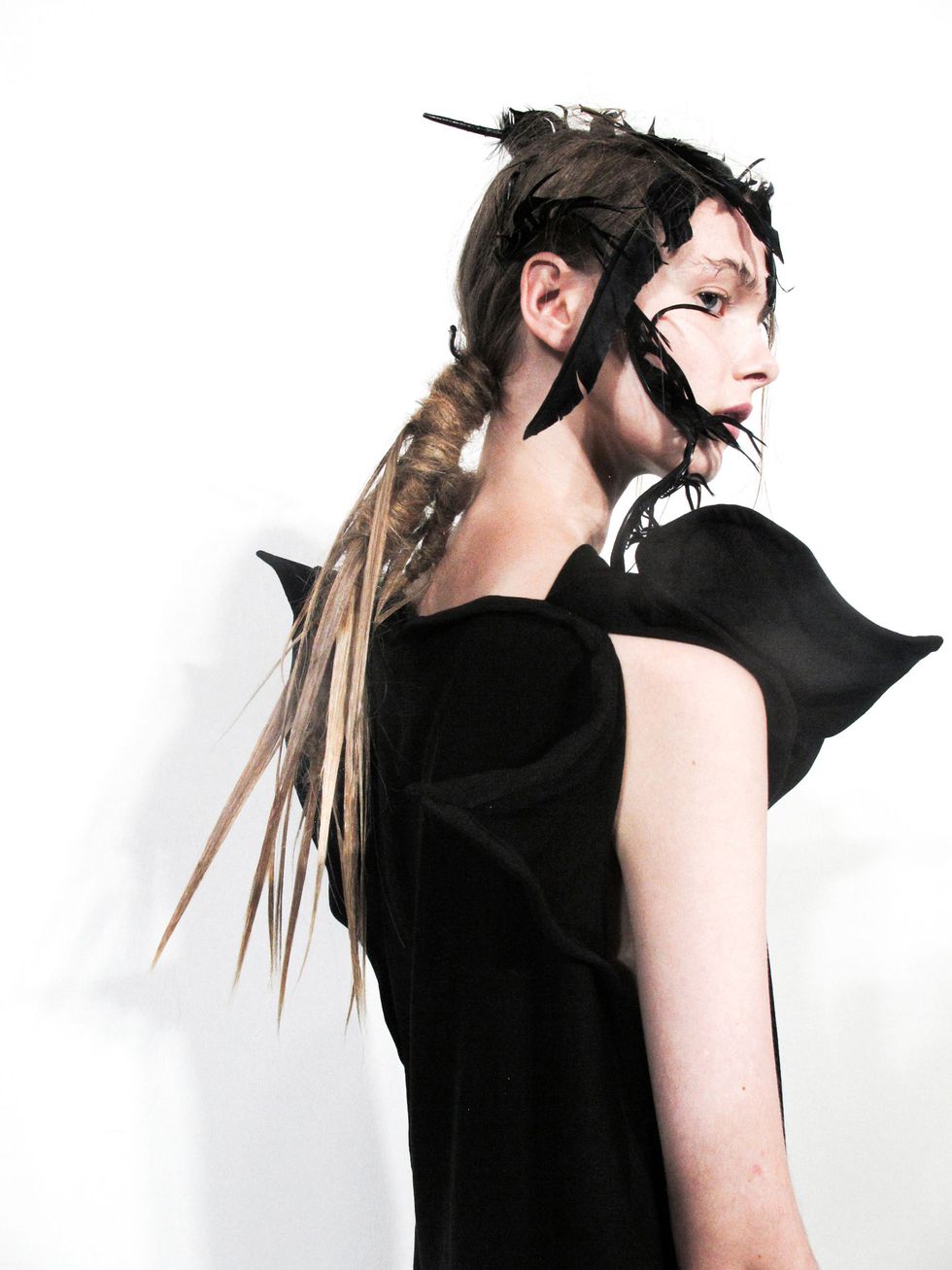 Photo: Courtesy of Eugene Souleiman
How has your process shifted this season? What new challenges arose?
NS:
"I suppose the biggest difference, besides not being in Europe for the first time in a decade, is the pacing of everything. Whether it's the collection I worked on physically in New York this season, or the remote consultations with my assistants facilitating abroad, everything was done with more lead and prep time. The shows are normally an exercise in controlled chaos, in that you prepare as much as possible for what is a very quick and chaotic few days prior to the actual event, with constant surprises. It was quite refreshing, to be honest, if not as exciting.
"The thing you miss is sharing the joy and excitement of the talent really making sense in the collection! Believing it will work, and having a client believe you is still not the same thing as seeing it for yourself."
LH:
"The biggest challenge is not being able to feel and touch the fabrics! It's a bit of a nightmare having to view everything online and not know how it will come in six months later. That being said, we are navigating through it and the brands we carry have been amazing and super helpful."
ES:
"Normally, I do about 30 shows a season. So now it's like semi-retirement. I have the time to do some really great stuff. I have the time to prepare. I love having the meetings and doing the Zoom calls and researching and trying ideas out and sending them over. For me, it's purely about experimentation, which is great. With John [Galliano], there was like, three weeks of work prior to that. I did a fitting at home and we had Zoom calls, and I sent them over and we discussed things. We'd work on certain elements that we thought were interesting, then we threw elements out. It was great."
CP:
"One huge way in which the process has changed is that, as a celebrity stylist, my needs have changed. Normally, I would be rapidly coveting pieces for my clients and their upcoming events and press tours, but this time I was looking at the collection with fresh eyes. What stance is the designer taking? What values are they conveying? I didn't look at the clothes as a commodity, but more a form of expression for the designer and an indicator on where they stood in today's climate."
What are your fashion week essentials? Are they different from those of previous seasons?
NS:
"Well, I'm still using my trusty
Staedtler pen
, but Zoom, face masks, and Purell, of course, are the new normal!"
LH:
"Phone chargers! Water, healthy snacks, and a good internet connection! Interestingly enough, they're pretty similar to what we take in Paris."
CP:
"They are definitely different this season. Normally, one needs to focus on endurance and hydration—lip balms, face sprays, water—but this season was a phone charger and ear pods for the digital experience…"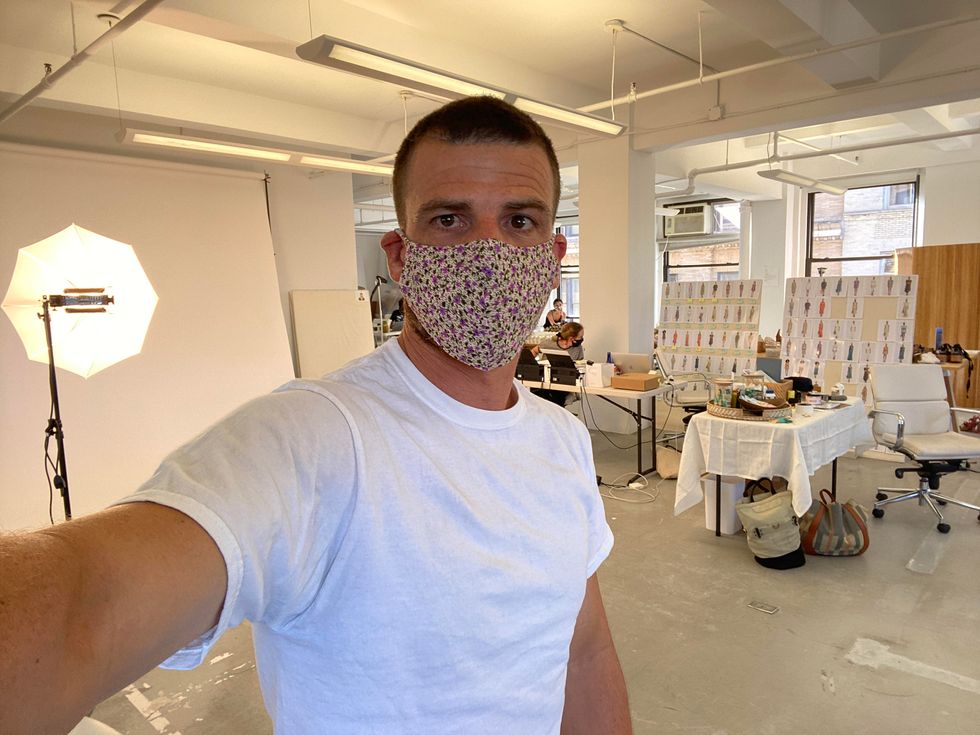 Photo: Courtesy of Noah Shelley
Is there anything that really surprised you this season?
NS:
"If I am honest, I was actually surprised anyone showed in person. I think being in America at the moment, it's hard to relate to taking such risks on an emotional level since we are undergoing such loss and tumult. But more positively, I was equally surprised at how very effective the results were for all the various films and presentations at being experiential online. I hope that in some aspect it pushes the industry forward and allows for an evolution in what we desire from a brand."
MH:
"I think how well everyone adapted to the new normal! It's been amazing to see how people present their collections and even do shows. Nothing beats going to the appointments and feeling the fabrics, but it's been a nice change. I think going back to Paris will be even more special."
ES:
"We got the girls [models] like, an hour and a half earlier than we normally would. We were in a bigger space. Everything was really well organized. There was no nervous energy. Everyone was really focused and completely into what they were doing. They really worked out the seating arrangements, which I thought were really clever. Every guest had a two-meter space. It felt very civilized and caring. It was really military precision."
Which presentations really resonated with you?
MH:
"We really loved
Khaite
,
Libertine
was cool, and we always love
CHANEL
!
Loewe
was really pretty, as well! Both Khaite and Loewe sent really amazing packages for their presentation, with lookbooks and branded goodies inside."
ES:
"I really liked the Jeremy Scott
Moschino video
. I thought that was intelligent. It was witty. I've never seen anything like it before, and I love seeing things I haven't seen before. I thought it was very, very clever. It went back to almost that old format of a couture show where a couture house would have like, 20
–
30 notable people in the audience that would be buying the clothes. I love the Hamish Bowles puppet, the Anna Wintour puppet."
CP:
"Knowing the heart and soul that
Bibhu [Mohapatra]
puts into his work makes him a special collection for me each season. Call me biased, but that man is full of creativity
and
heart and has been communicating the right message all along. Many designers are now catching up, but he is the real deal and his clothes convey that every season. The film he created with actress Ariana Debose was fantastic.
"Elsewhere, I also love
Tibi
. Amy [Smilovic] always has her ear to the ground and really knows what women are after. She's not too practical and not too aspirational. She finds the perfect balance. I loved the shoot outside her home in Connecticut. The team of models made it feel enough of an event, but it felt the right amount of excitement for fashion right now. I also adore watching the progress of Khaite from season to season—they really are gorgeous clothes made for the woman of today."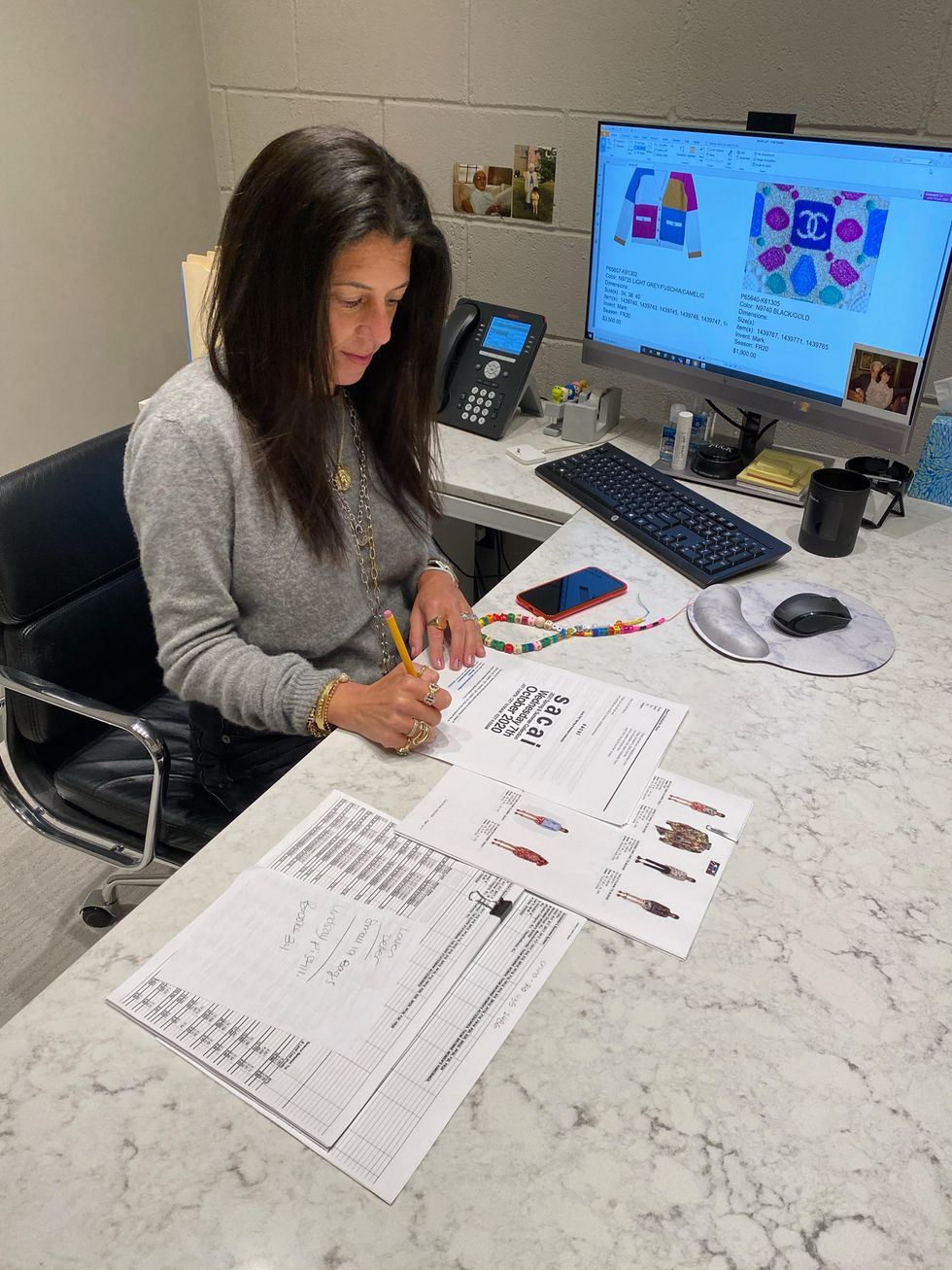 Photo: Courtesy of Marci Hirshleifer
Is there anything you think the industry can take away from this odd season and implement going forward?
NS:
"I'd say it's the same advice I'm trying to give myself as a human. This is an unexpected opportunity to be forced to pause and evaluate how and why we do the things we do. It's a good time to reflect and decide if there is a better, more dynamic way to do these things. When you are moving at a hundred miles an hour, all that matters is that you don't crash, and it's hard to see the forest for the trees."
MH:
"I think, again, just how important it is to see and feel the clothes in person."
ES:
"I don't think things will ever go back to normal in the way that we've known them. I think there will be bigger houses that are going to want to show, and then some really alternative brands that are going to want to show. I think people are going to present when they want to present. Maybe they'll do one a year, who knows. What I would love to see is the show come back with what we've learned now digitally. What if the shows were commentated on? It'd be great for someone like Suzy Menkes or Anna Wintour to speak, almost like a sports game. There's a lot of avenues that we haven't really explored digitally that I think we could."
CP:
"It's hard, in my opinion, to force more responsibilities on the designers themselves. They already have to deal with so much added responsibility nowadays, thanks to social media, but it seems to make sense for them to do something creative that communicates their inspiration for the collection, but then also something clean and useful for buyers. A runway show managed to address both channels in one event. Now there seems to be a need for two types of shoots…"
Top photo: David Mcintrye
Want more stories like this?
Our 11 Best Beauty Looks from the S/S '21 Runways
5 Things Fashion Month Street Style Influenced Us to Buy
Designers at Milan Fashion Week Balanced Wearability with Artistry